Opening New Doors: Timothy Cheek's Award-Winning Virtual Exchanges Segue into On-Site International Events
By Claudia Capos
When the pandemic forced universities to switch to remote learning two and a half years ago, Timothy Cheek, professor of music, accelerated a plan he had conceptualized early in 2020. With support from the U-M Virtual Exchange Initiative, Cheek and his long-time friend, Leonardo De Lisi, vice director of the Conservatorio Luigi Cherubini in Florence, Italy, arranged to jointly present virtual master classes to their American and Italian students over Zoom. Students also paired up to coach one another on Italian or English pronunciation and to impart greater understanding of the cultural and historical content in Italian and African American repertoires.
Cheek introduced these virtual exchanges in Italian lyric diction in fall 2020, setting the stage for exciting in-person international collaborations and events in 2022 and 2023 – and beyond.
"My goal was to use technology to enable our students to collaborate virtually with their European peers during the pandemic and later to expand to on-site collaborations without giving up the technological virtual-exchange component," said Cheek, who won the 2022 Provost's Teaching Innovation Prize for his virtual exchange project. "This award shows that U-M is looking forward and supporting the innovative use of technology for international collaboration," he remarked.
The loosening of COVID restrictions and the return to in-person classes opened up opportunities to continue this cultural exchange face-to-face at a jointly sponsored music festival in Florence, Italy.
Celebrating African American Composers and Music
In November 2022, Cheek and Louise Toppin, professor of music, accompanied two of their students to Florence to participate in the inaugural African American Music Festival. De Lisi and seven of his voice and opera students co-hosted the four-day event at the Cherubini Conservatory.
On the opening day of the festival, Native American tenor and Fulbright Fellow Bo Shimmin, MM '22 (a student in Cheek's original 2020 "Virtual Exchange Italian Lyric Diction" class), gave a recital of African American songs in a historic Florentine villa along the Arno River.
Over the ensuing days, Cheek and Toppin taught master classes for Cherubini Conservatory students focused on African American art songs. SMTD students, in turn, studied Italian diction and style with De Lisi. On the final day, Cheek and the two U-M students, soprano Amber Merritt, SM '23 (also a student in Cheek's original 2020 class), and bass-baritone Tyrique McNeal, MM '23, performed a public recital of African American songs to cap off the festival.
"This was the humble beginnings, but it was very successful," says Cheek, who invited De Lisi and his conservatory colleague, Anna Toccafondi, to guest teach on-site at SMTD in January.
The virtual exchanges in Italian lyric diction will continue throughout 2023, and plans are already underway for a second African American Music Festival in Florence in 2024.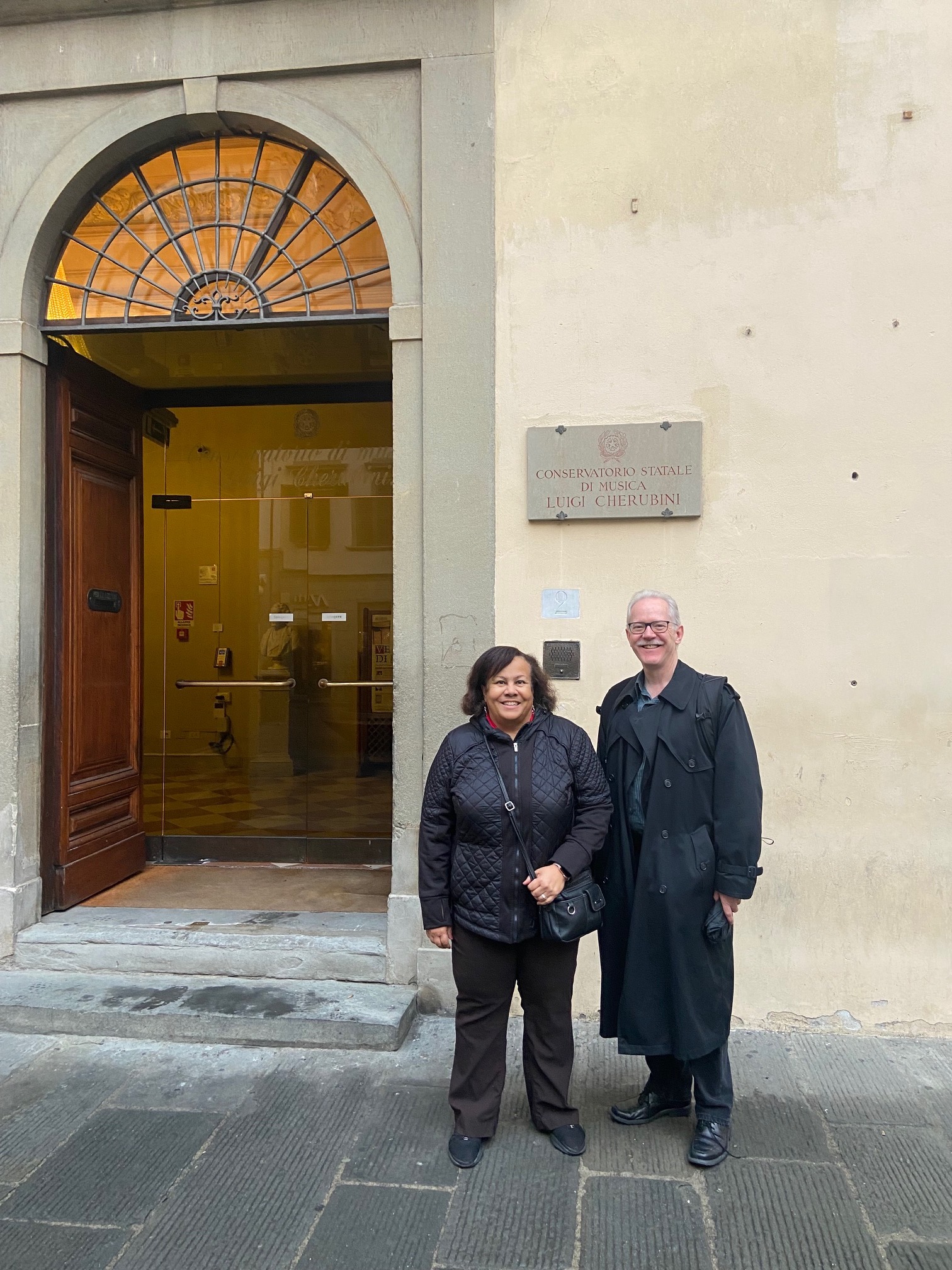 Louise Toppin and Timothy Cheek in front of the Cherubini Conservatory in Florence.
Reflections on the Festival
Merritt found the unique experience of fully immersing herself in Italian culture while sharing the history of African Americans through song life-changing. "The opportunity to share and expand the reach of African American composers like Eugene Hancock, Undine Smith Moore, and Margaret Bonds was personally and professionally exhilarating," she remarked.
During the master classes with Cheek and Toppin, the Cherubini Conservatory students learned the contextual meaning behind the selected African American repertoire and then fully embodied those emotions in their interpretations of the music, Merritt said. "It was a proud moment to witness their growth as vocalists and to see the music being treated with sensitivity and care," she added.
The "pinnacle of her career to date" was sharing a piece of her heritage with the Italian audience by singing songs such as "Prayer" by Leslie Adams, "Dream Variations" by Brandon Spencer, and "City Called Heaven" by Hall Johnson. "When I returned home, I had an overwhelming sense of pride from witnessing the transcendence of African American art songs to other countries," Merritt noted.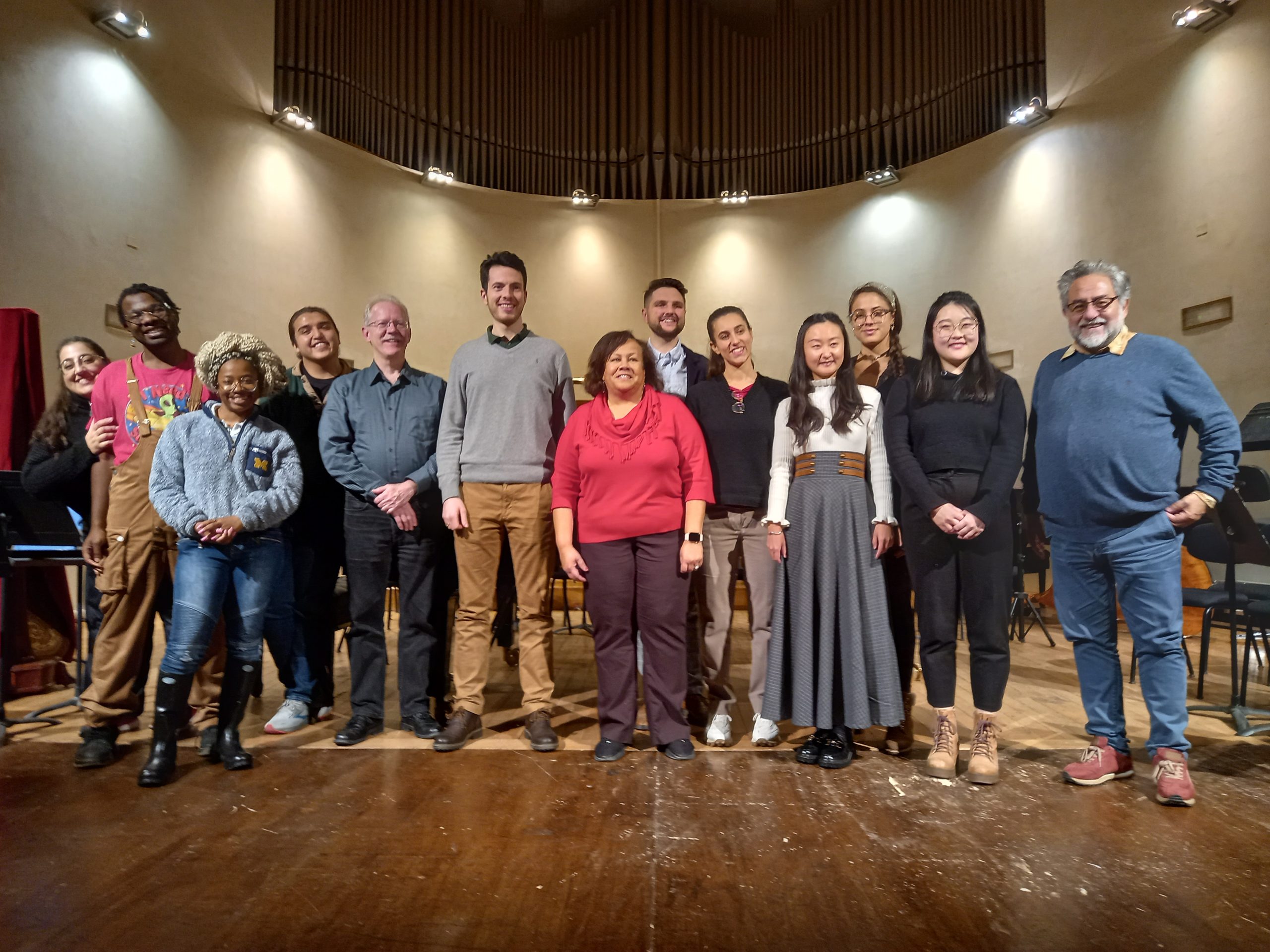 A group photo from the 2022 African American Music Festival in Florence (l. to r.): Natalia Novoa Nohora, Tyrique McNeal, Amber Merritt, Bo Shimmin, Timothy Cheek, Niccolò Yacus, Louise Toppin, Ondřej Potůček, Maria Tortorelli, Yize Wang, Eleonora Visentin, Cheng Tan, Leonardo De Lisi.
For McNeal, who had never flown in an airplane before, the international flight to Florence transported him to an unfamiliar, yet captivating, Old World setting. "Florence definitely left a great impression on me," he said. "The sights were beautiful, and art was around every corner. I had a blast just walking around and seeing the sights. The Cherubini Conservatory was gorgeous as well. It's a beautiful facility filled with such talented singers."
Participating in the African American Music Festival was a fruitful and important experience for him. "It was so cool to see the students at the conservatory not only learn this underrepresented genre of music, but also love it, as well," he remarked. "It was truly an honor to be a part of this event and to share this music I love singing so much."
Florence native Niccolò Yacus, who earned a bachelor's degree in voice and is studying for his master's degree in opera at the Cherubini Conservatory, had never heard or studied African American repertoire prior to the festival.
"I learned a lot from working with Professors Toppin and Cheek, not only about diction and technique, but also about the interpretation and understanding of African American songs," Yacus commented. "Professor Toppin is an expert in this repertoire, so it was interesting to hear what she had to say about the music, text, and composers/poets, who, in many cases, she knew personally. I also discovered how these songs want and need to be approached in true operatic style."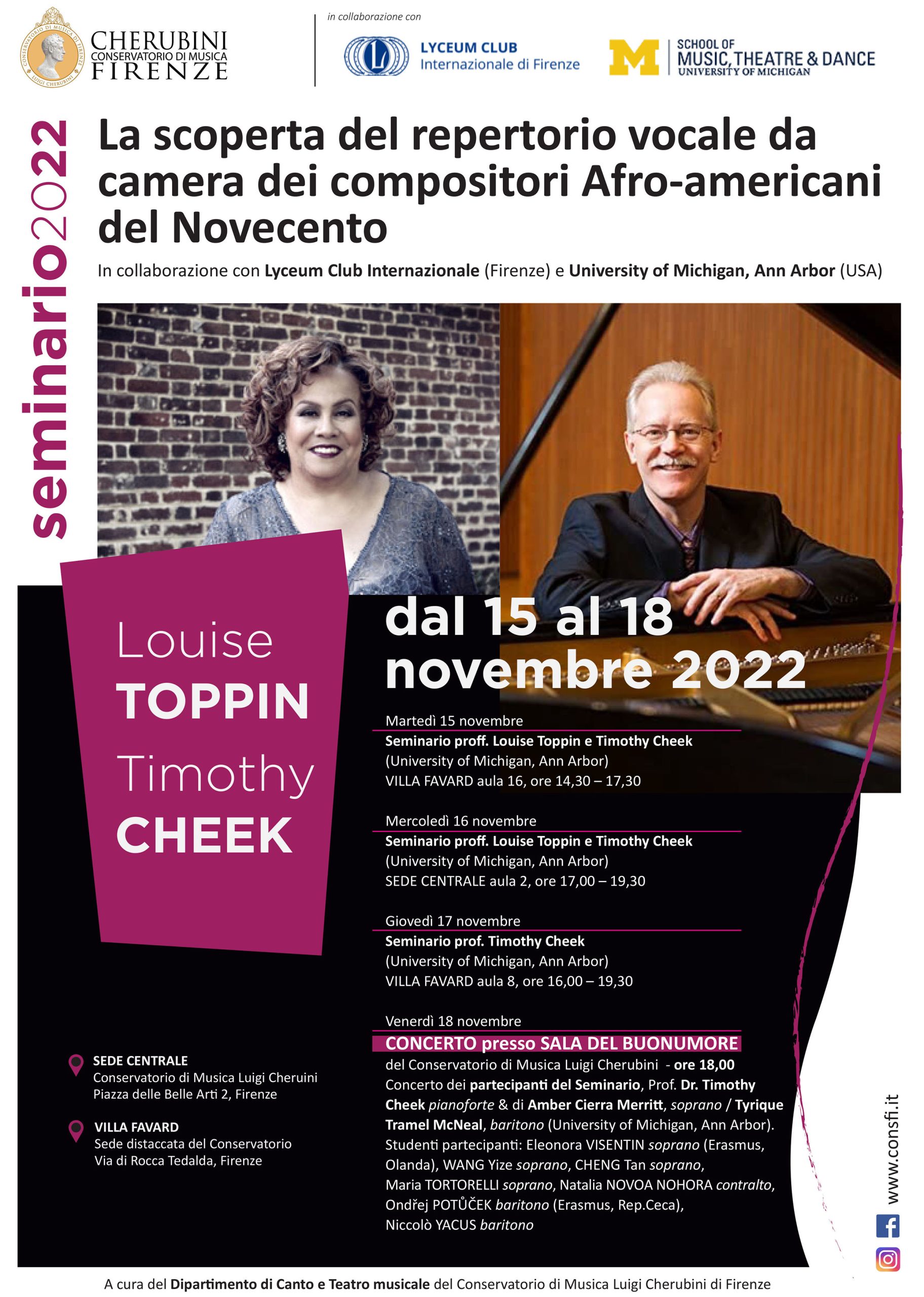 A flyer promoting the 2022 African American Music Festival, which took place in Florence at the Cherubini Conservatory.
Yacus says he is looking forward to the conservatory's concert in February, when he and his fellow students will sing several of the African American pieces they worked on during their master classes at the festival. In March, they will participate in a virtual exchange with SMTD students in Toppin's African American song class.
Third-year conservatory student Natalia Novoa Nohora, a native of Montevideo, Uruguay, was already acquainted with Black history and music through her country's tradition of candombe, a genre of folk music and dance performed during Carnival by the Uruguayan descendants of liberated African slaves, and her prior study of Negro spirituals.
At the festival master classes, Novoa Nohora learned the personal stories of leading African American composers such as Florence Price and Charles Lloyd Jr. and the historical events that inspired their music. Listening to SMTD students perform African American songs in their recitals enabled her to experience the beauty of the music and "hear the soul" of the composer, she said.
"The music, the professors, and the whole festival experience made me more aware of how powerful and magnificent music can be – it shakes your soul and your heart," remarked Novoa Nohora, adding that the knowledge and understanding of other types of music will help her mature as a singer. "I feel fulfilled, and I am looking forward to continuing this enriching experience of music and human growth."
To encourage this ongoing global engagement, Toppin has added a provision allowing international students to compete online in the annual George Shirley Vocal Competition, a three-day event held at U-M that recognizes the contributions of African American composers, showcases their music, and invites singers and composers to receive feedback from world-renowned judges.
Zooming Dvořák and Burleigh Across Continents
During the 2022 winter term, Cheek expanded his virtual exchanges, using Zoom to connect SMTD students in his "Czech Vocal Literature" class with European voice students at the Janáček Academy of Music in Brno, Czech Republic.
Through the virtual exchange, U-M students were coached by Czech students on songs written by 19th-century Czech composer Antonín Dvořák. Czech students, in turn, learned songs by African American composer Harry T. Burleigh, who introduced Dvořák to American spirituals and folk music, part of the inspiration for his New World Symphony. "The Czech students didn't know Burleigh's songs, and many U-M students were unfamiliar with them, so we all learned together," Cheek said.
Over Zoom, Cheek and his Czech counterpart taught master classes, and the students performed songs by Burleigh and Dvořák for one another during class. "It was wonderful," Cheek remarked. "The Czech students really loved singing African American songs."
The Czech students subsequently performed their Burleigh songs at recitals and competitions in the Czech Republic, and one student entered the 2022 George Shirley Vocal Competition last May.
This high-tech-fueled interconnectivity also led to a unique proposal for an in-person collaboration involving SMTD, the Prague Opera Studio, and Czech dancers during summer 2023. "This is still in the planning stages, but it looks very exciting," Cheek said. He anticipates that U-M students majoring in voice, dance, and design & production will fly to Prague to participate in master classes with vocalists from the Prague Opera Studio and local dancers. The combined group will present a joint performance of the operetta Candide, with music by Leonard Bernstein, in August.
"When you mix collaboration and diversity and then expand this combination internationally, you get never-ending waves of synergy and opportunity in the performing arts," Cheek said.
Making Virtual Exchanges Mainstream
Encouraged by the overwhelming success of the virtual exchanges, Cheek has set his sights on making them mainstream for university lyric diction and vocal literature classes.
To guide that process and share lessons learned, he has spoken at conferences and has written a new book, Reimagining Lyric Diction Courses: Leading Change in the Classroom and Beyond (Routledge, 2023).
"My book is about breaking free from the constraints of a classroom, creating maximum diversity, and using digital resources to help singers learn in the best way and to create a pathway to better performance," Cheek said. "If, along the way, these technological tools spark a fire in students to learn about different cultures and collaborate with people from different countries, then that's fantastic. It will open new doors for them."