Striking a Balance: A Mix of High and Low Tech in Costume and Scenic Design
By Judy Galens
As with many disciplines, professors of scenic and costume design in SMTD's Department of Theatre & Drama incorporate technology in ever-evolving ways into their own practice and into their teaching. But without a foundation of low-tech, hands-on skills, even the most innovative technology would be meaningless. The key to a well-rounded educational model is finding the right balance of high- and low-tech methods so the two work together, each enriching and enhancing the other.
Building a Base of Physical Skills Before Using Technological Tools
Kevin Judge, scenic designer and associate professor of theatre & drama, acknowledged that finding that balance can be a struggle in this age of lightning-fast technological development. "The technological tools, especially the most cutting-edge stuff, are an incredible asset to your work; they can speed up what you do and open up new horizons," he said. "Every year there's new technology, and there are new layers of cool stuff, and you need time to teach those." But, he acknowledged, those tools help "most effectively when you have a solid base to leap off from." Using a laser cutter for cutting materials or a computer program for 3-D renderings is more efficient than cutting or drawing by hand, for example, but there is value in first honing the physical skills.
Sarah M. Oliver, costume designer and assistant professor of theatre & drama, expressed a similar need to balance the teaching of high-tech tools and low-tech skills in designing and building costumes. While the technology available for students is amazing, she explained, "there's something that can be lost in translation if they don't get to touch the three-dimensional." Student designers can sketch out costume ideas on an iPad and easily share those ideas with the production team. But if they haven't mastered the basic skills of figure drawing, the iPad won't help them. "It's just a tool," Oliver said. "You only get out of it what you put into it. You still have to know how to draw a figure. You have to understand shadow, form, and shape." Oliver described how software like Procreate, the choice of many costume designers, allows designers to explore the properties of countless different fabrics. "You can pull a fabric sample and drop it onto your iPad," Oliver noted. "You can squish it, manipulate it, squeeze it, twist it. But if you want to actually understand how it drapes on the body, you've got to put it on the body and drape it."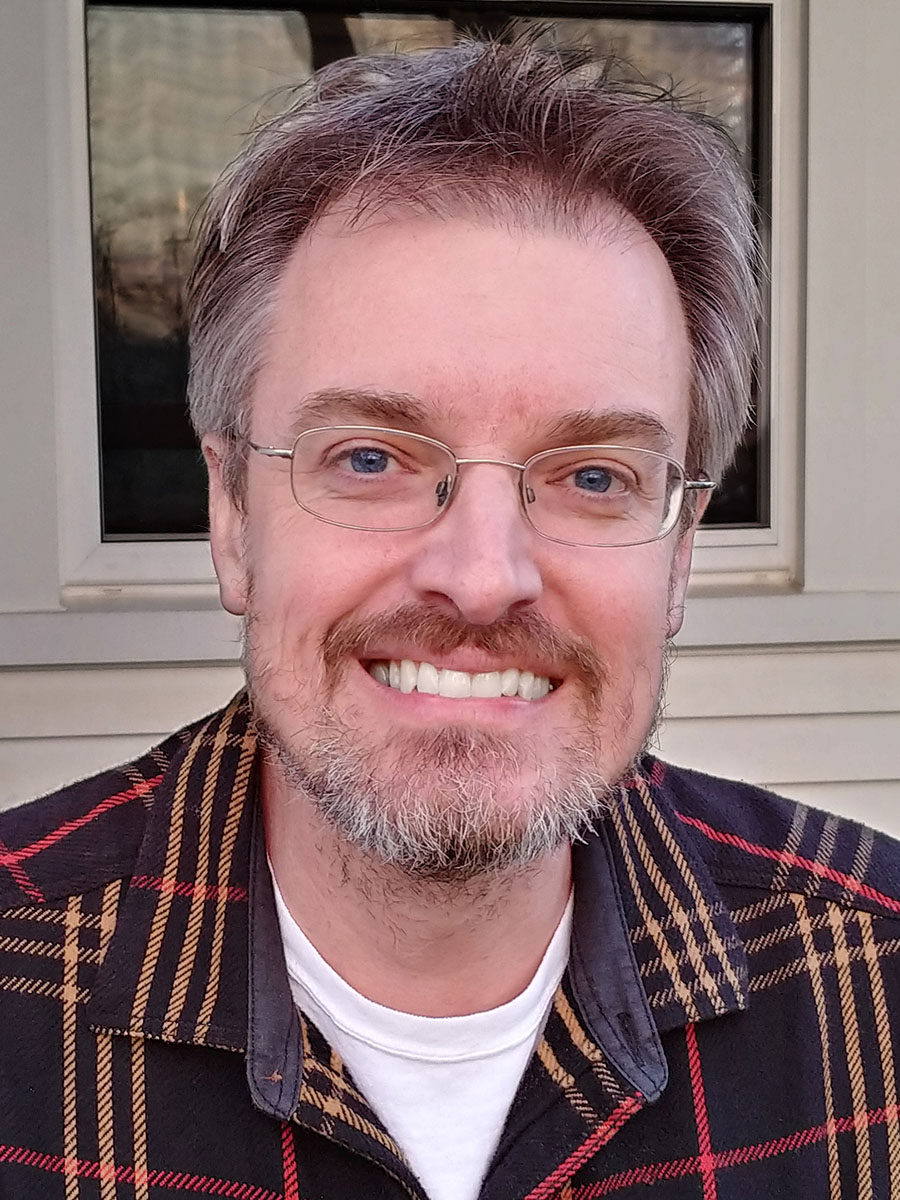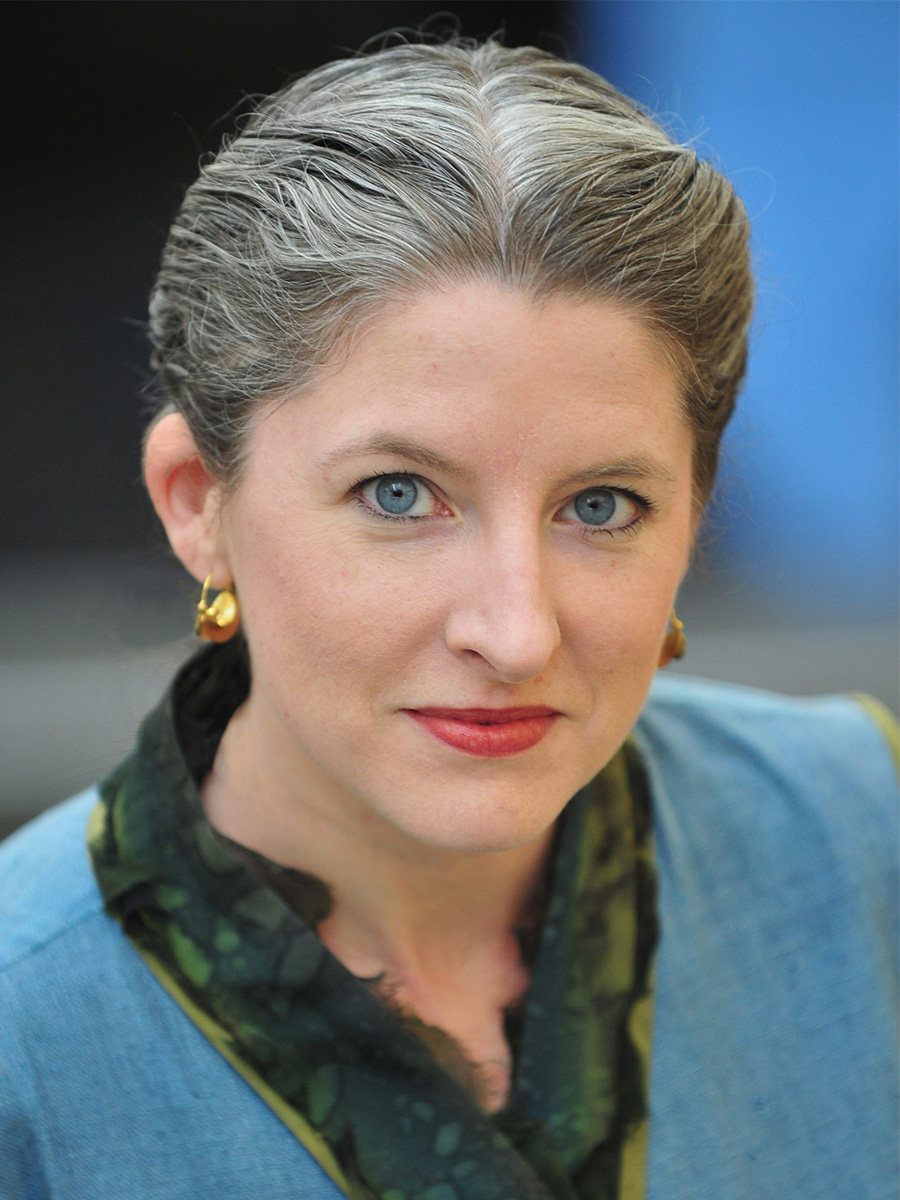 In other words, a designer must have a mastery of the physical skills to design and build sets and costumes before employing any technological tools. And learning these skills requires extensive practice and repetition. "Showing you how to do scale-model techniques or hand painting work, that's interesting, but it doesn't help you learn it," Judge explained. "It has to be shown and then integrated over multiple design processes." The design & production educational model gives students ample opportunity for that iteration. Coursework begins with broad introductions to a given discipline, enabling students to determine what aspect they are most interested in. For costume design, for example, students may decide to focus on design or on costume creation, perhaps specializing as a stitcher or a draper. They might also focus on wardrobe – getting costumes ready for productions and handling quick changes during the show – or on costume shop management and logistics. Regardless of their specialty, students are given progressively more responsibility throughout their time at SMTD, going from observing and shadowing to assisting to serving, in some cases, as lead designer on a production. It's what Oliver calls a "teaching hospital model."
Another challenge in striking the right balance of mastery of hands-on skills and the use of high-tech tools: SMTD graduates could find themselves working anywhere along a broad spectrum in the world of theatre in terms of budgets and resources, from local theatre productions to big-budget shows in major cities, or in an educational setting. Judge recalled his own first job after college as an assistant set designer: "I went to a guy's house, and we worked in basically his living room, and what he didn't have in his living room was a big 3-D printer or a big laser cutter. He was like, make this model, and it was just, you sit there and make it." In Judge's mind, the ideal way to use instruction time wisely is to teach the fundamental designing and building skills and then add onto those a general understanding of how software and other high-tech tools work. "You don't ever want to find yourself teaching software," he said. "You want to teach them how to learn software."
Looking for Inspiration in Cutting-Edge Places
Recently, Judge found himself exploring a method he had never tried before in the design process for the fall theatre & drama production The Heart of Robin Hood. Much of the play takes place in Sherwood Forest, and as the scenic designer, one of Judge's earliest tasks was to determine how best to recreate trees on stage. Creating realistic replicas of trees is an onerous task, so the question Judge asked himself was, "How am I going to abstract these trees?" And then, "How am I going to take that and make it into something that is creatable and potentially repeatable on stage in some way which is not totally cost and labor prohibitive?"
To answer those questions, Judge started as he usually does, by turning to the art world – sculptures and art installations – for inspiration, but he wasn't finding anything that struck his fancy. He decided to explore a technology that has recently made astounding strides: tools that use artificial intelligence (AI) to generate images. He went through numerous iterations, each time feeding the AI tool different prompts about trees and various art movements and styles. The tool spit out image after image, until finally, it created one that sparked ideas in Judge's mind. He developed a design concept, which was readily approved by the director, Geoff Packard, assistant professor of theatre & drama.
And then Judge found himself grappling with issues unique to the AI-inspired process. When using actual physical works of art as inspiration, he knows that the objects in those works must be reproducible, because the artist produced them. But with AI, he explained, "I had this realization: I kind of understand what this is, but it's also kind of total gibberish, and it has never existed, and I don't know if I can actually make it do what's happening" in the image. He began to play around with computer renderings, and then, he returned to basics: he and the assistant scenic designer, Karalyn Hood (BFA '24, theatre design & production), began building scale models. From there, they refined the concept, built a full-size prototype in the scene shop, and refined the concept further, draping the trees with fabrics and lights. Finally, a team of students and scene shop professionals built a dozen trees that would later represent Sherwood Forest on the Power Center stage.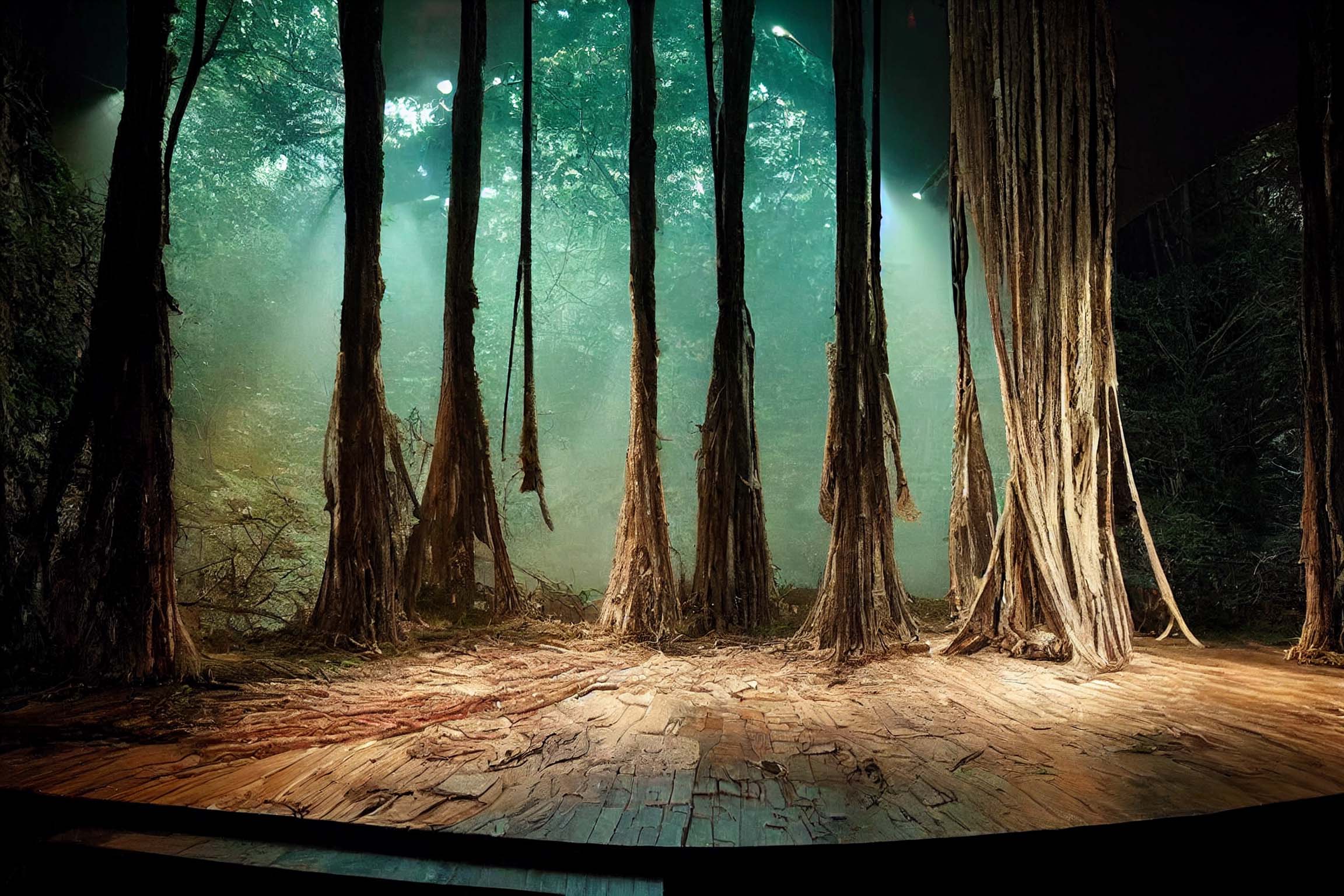 Tree Research 1
Judge found the experience of finding inspiration in AI-generated art so intriguing that he made it part of the research process for his design students' coursework. He couldn't help but wonder, though, how long this newfound expertise would be relevant: "Next semester will any of the platforms and websites that we used even exist, or will they have already been swallowed up by something else?," he wondered. Regardless, he realized that the key is to be open to novel approaches and be ready to continually adapt.
A New Kind of Classroom Enables a Unique Blend of High and Low Tech
Many times in recent years, Sarah M. Oliver, costume designer and assistant professor of theatre & drama, has sought to capitalize on technology to facilitate costume design collaborations. In an international collaboration with designers in the United States and makers in Hong Kong that she led, the participants never met face to face, designing via videoconferencing. She has done collaborations in the academic space as well, with tailoring students working virtually with a designer. These methods became especially important during the pandemic, she noted. The recurring theme lately, however, has been glorying in the return to fully in-person classes. This academic year, she explained, "has been about how we could get back to using our hands as much as possible, because we'd all spent so much time in the virtual world."
During the fall '22 semester, Oliver had the opportunity to explore the ideal marriage of high tech and hands-on learning in her course Fashion & Costume: Western Silhouettes, taught in the brand-new Central Campus Classroom Building. The classroom is modeled on the theatre-in-the-round concept, with the instructor in the middle and seating for students in concentric circles. Huge monitors are positioned high on the walls around the entire room. Instructors teaching in the space must undergo training to use the room's specialized equipment. "It's like giving a Ted Talk twice a week," Oliver said.
In teaching the course, she used the monitors to reinforce concepts with abundant visual examples. Then, students would gather in the middle of the room to demonstrate those concepts by draping fabrics on miniature mannequins. Using their phones to mirror to the monitors above, the students could then project their work onto the screens, getting feedback from Oliver and sharing with their classmates. "What this classroom gives them is complete access to all this amazing research, all these amazing visuals," Oliver noted, "but they still need to put their hands on things and do the tactile work, and then they can leverage that and look at the information again with a whole other lens."
Teaching design and production in the twenty-first century will never be an either/or proposition in terms of high- and low-tech approaches – it's always going to be a merging of the two. "As an instructor, you want your students to know the hands-on ways of creating things," Oliver said. "That's what they should go out into the world knowing." But at the same time, the possibilities opened up by technology present a thrilling frontier. "It's exciting," Judge said. "Everytime you turn around, it's like, Whoa, this is a whole new thing! I was gonna teach this, but look what I just encountered yesterday! The stuff is changing so fast that now I feel like I'm just the person in the front of the line on an expedition of finding out new things."