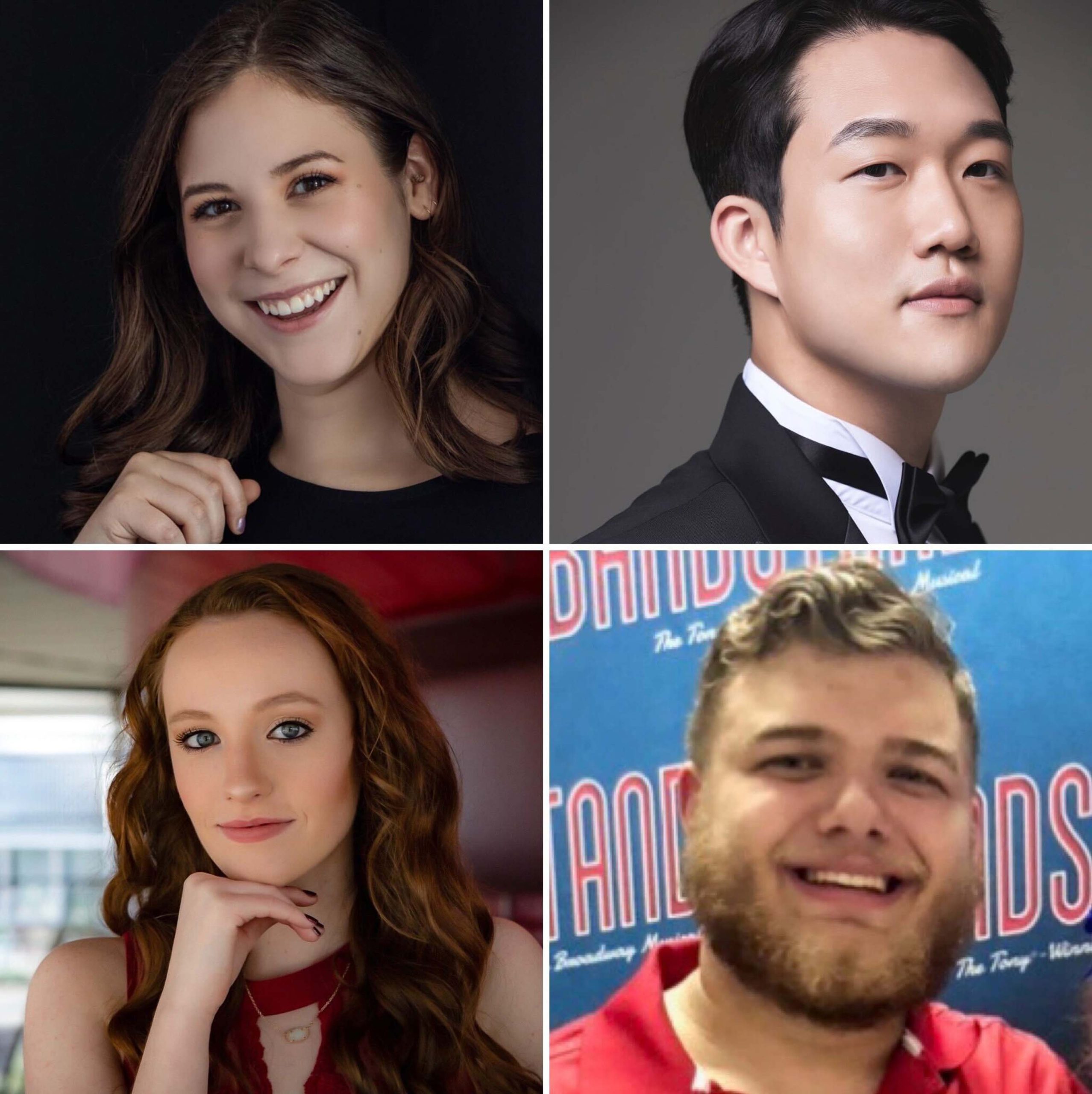 Friends of Opera Competition

Each academic year, the Friends of Opera – those who support SMTD's Department of Voice through annual giving – holds the Friends of Opera Competition, awarding prizes to vocal performance students in each of two categories, graduate and undergraduate. The 2022–23 competition, held on October 2, 2022, in Britton Recital Hall, featured an unprecedented number of entrants, with 43 students competing. In the graduate category, Danielle Casós, MM '23 (voice), won the Anna Chapekis Award, and Taewon Sohn, MM '23 (voice), won the Graduate Encouragement Award. In the undergraduate category, Abigail Lysinger, BM '23 (voice), won the John Knapp Award, and Benjamin Powell, BMA '23 (voice), BFA '23 (jazz studies), won the Undergraduate Encouragement Award.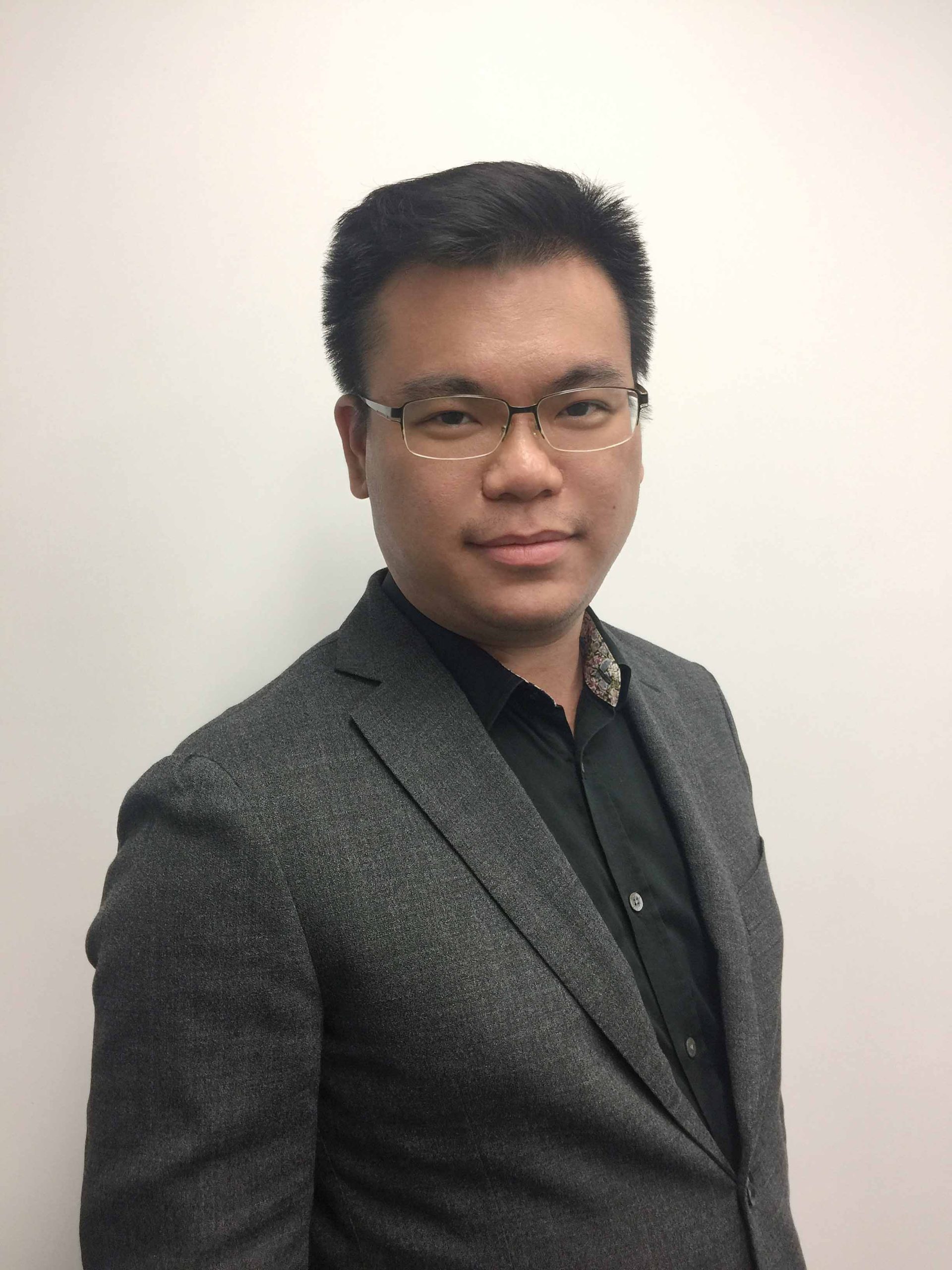 Hontak Cheng, MM '23 (harpsichord), was selected for SMTD EXCEL Lab's Performing Arts EXCELerator Fellowship, a venture incubator supporting student teams and their early stage arts ventures with startup funding and mentorship from industry experts. His project, the Hong Kong Youth Music Festival, was held for the third time during summer 2022, garnering positive feedback from students, parents, and faculty. Cheng and his team will meet with new students in late December in preparation for the fourth festival. On December 9, 2022, Cheng played continuo with his youth orchestra, the New Hong Kong Philharmonia, in the auditorium of Shatin City Hall in Hong Kong. They performed works including Vivaldi's Four Seasons and works by Corelli and Bach.
Cooper Cromwell-Whitley, BM '23 (trombone) recently won a two-year position as a Paul J. Ross Fellow with the Pittsburgh Symphony Orchestra. The Paul J. Ross Fellowship program, open to musicians who identify as Black or African American, provides extensive performance, training, preparation, and mentorship opportunities, with substantial financial support, for musicians embarking on a professional career.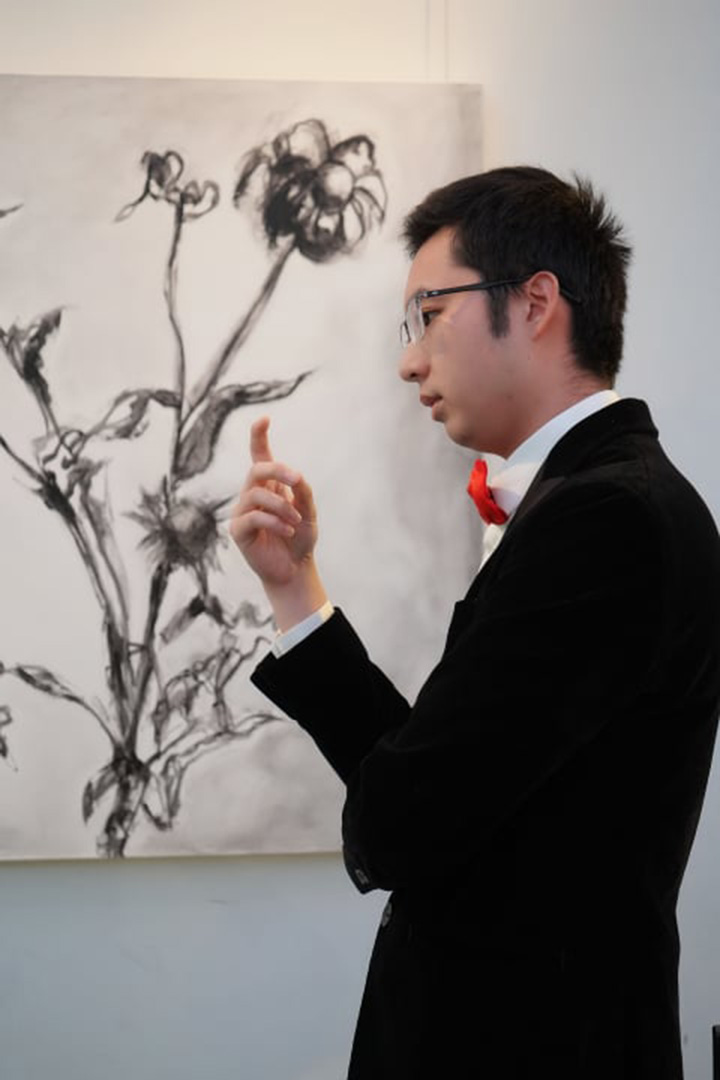 During the summer of 2022, Zhengyi Huang, MM '23 (piano, chamber music), attended the Gilmore, Rebecca Penneys, and PianoTexas International Festivals, all with full tuition scholarships. During the fall semester, Zhengyi received top prizes in Rubato International and Seattle International competitions. He is preparing for his DMA auditions.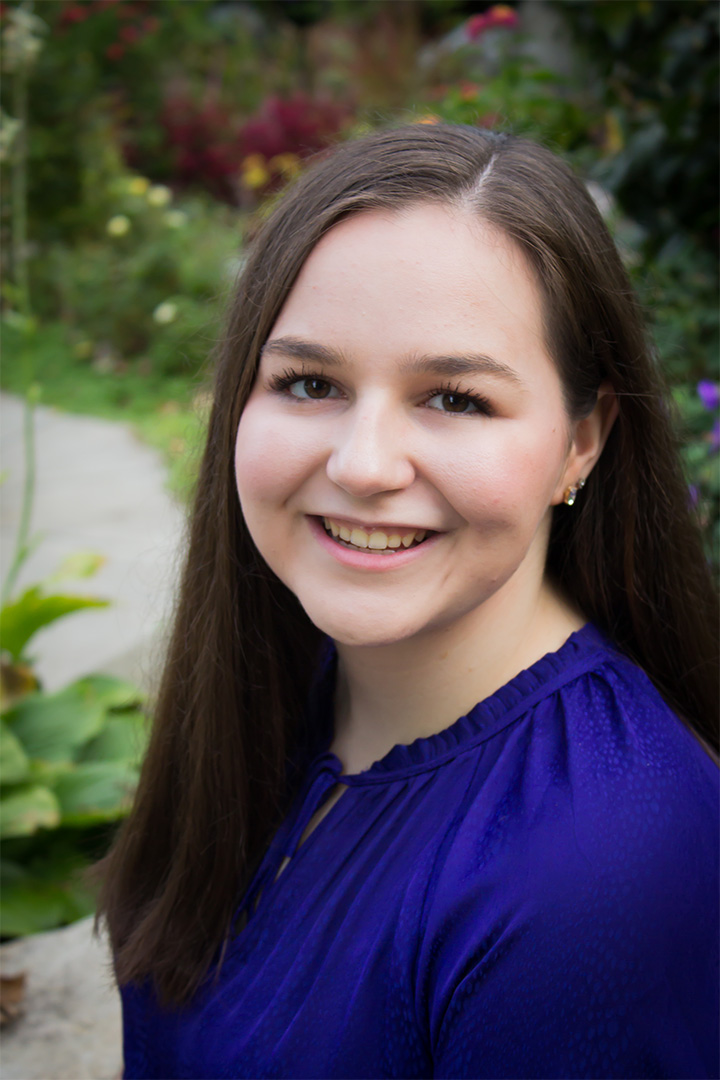 Abigail Labbé, BTA '24, spent her summer as a member of the U-M Shakespeare in the Arb company, portraying Peter Quince in A Midsummer Night's Dream. She continues to work as a teaching artist with Crescendo Detroit through the SMTD Office of Engagement and Outreach.
SMTD Concerto Competition
In early January 2023, SMTD held its annual Concerto Competition, with undergraduate students competing on January 4th and graduate students on January 5th. The undergraduate winners were Ben Deighton, BM '24 (cello), and Nathan Landers, BM '24 (clarinet). The graduate winners were James Koo, MM '24 (percussion), and Nhi Luong, DMA '24 (piano). Each of the winners will perform their competition piece with one of the school's orchestras in a future concert at Hill Auditorium.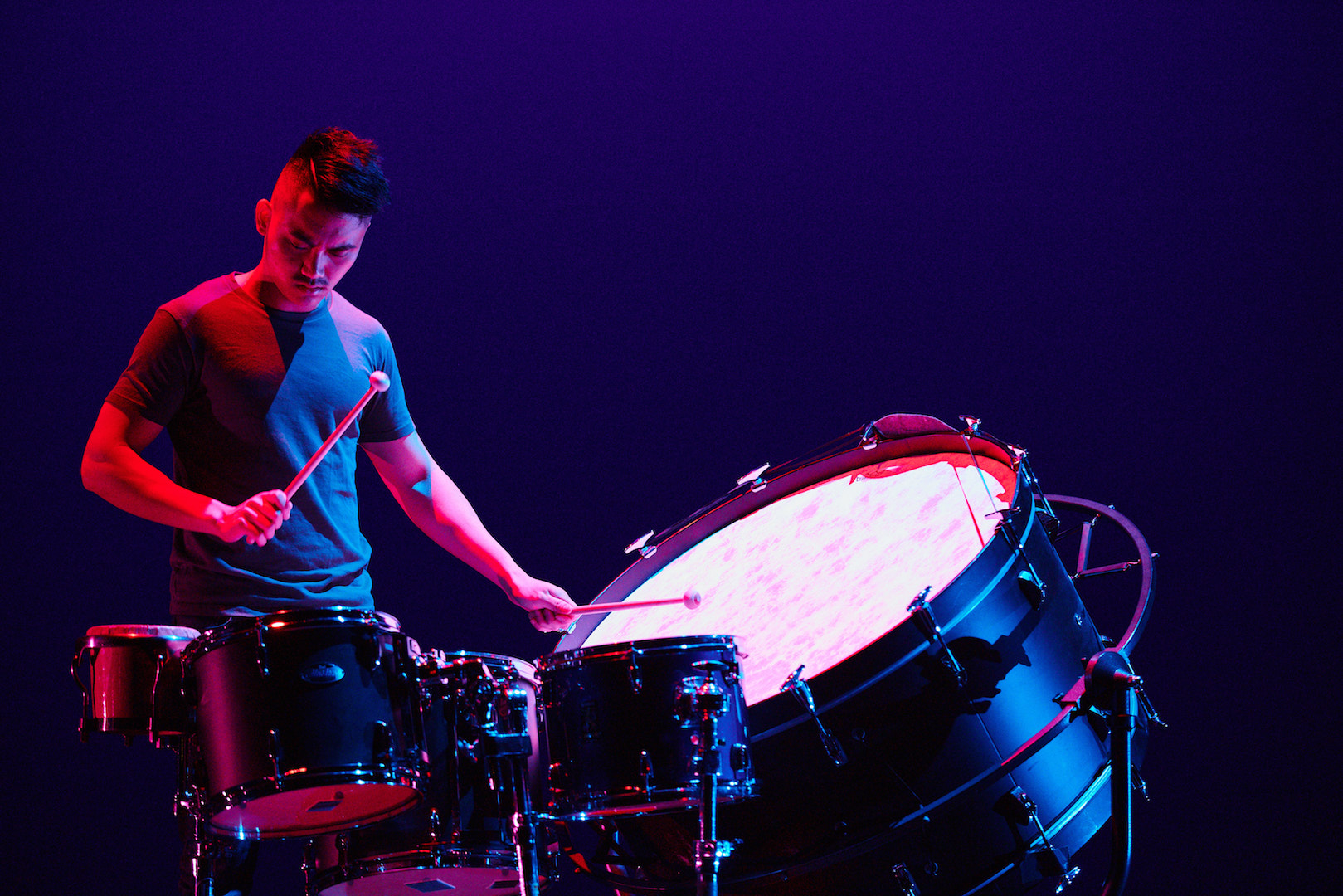 James Koo. Photo credit: Dave Green Photography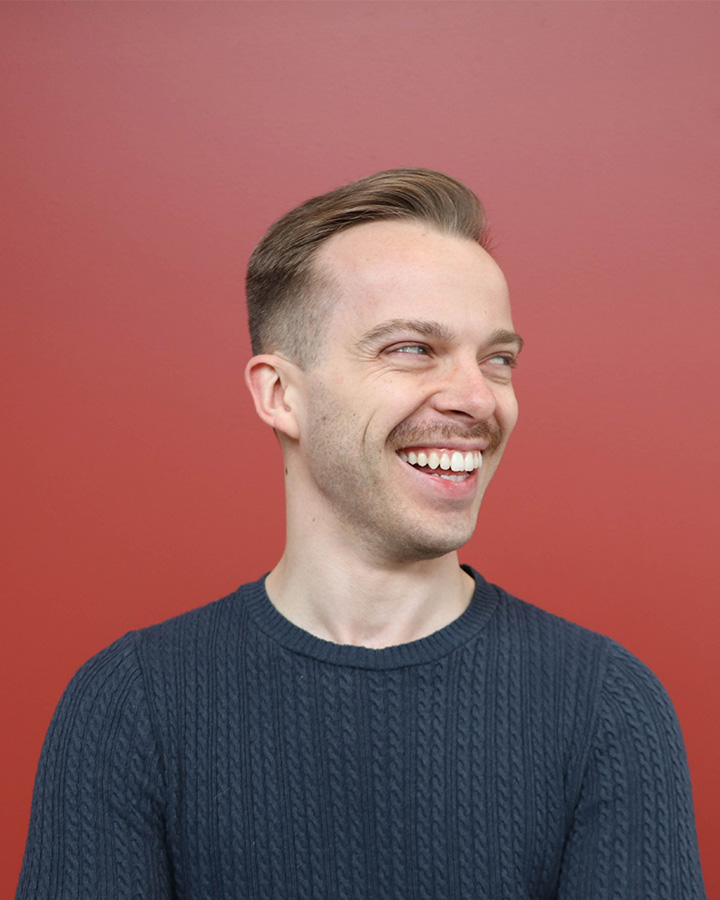 Ryan Lindveit, DMA '23 (composition), has been commissioned by the Santa Fe Chamber Music Festival to compose a new string quartet for the FLUX Quartet to premiere on August 4, 2023.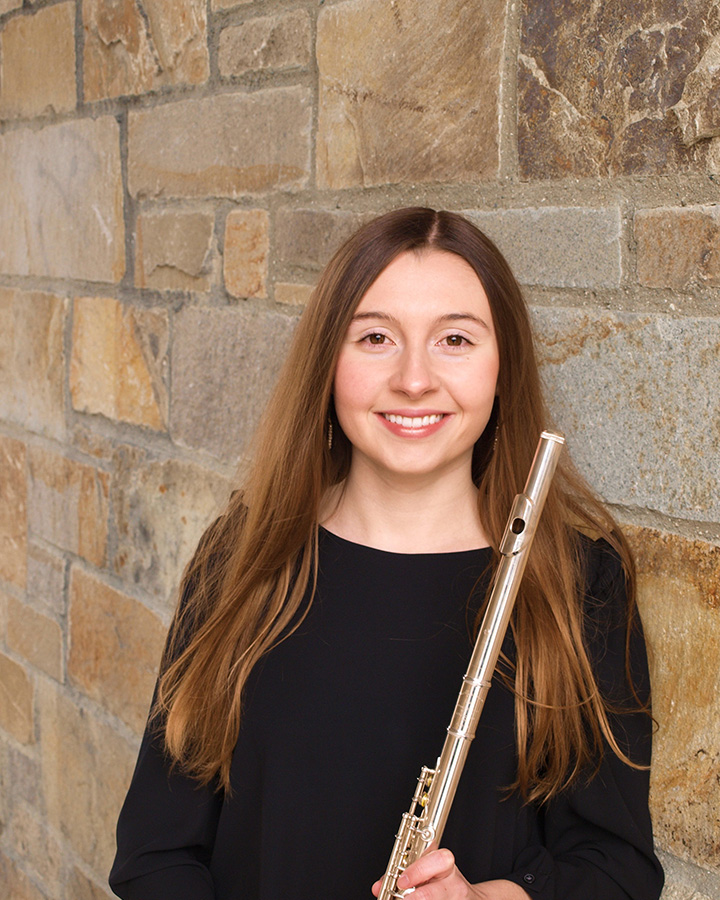 Competing in the San Diego Flute Guild's 2022 Collegiate Artist Competition, Annalese Lohr, BM '23 (flute), was awarded second prize. She performed Asphyxia by Nicole Chamberlain and Sonatine for Flute and Piano by Darius Milhaud.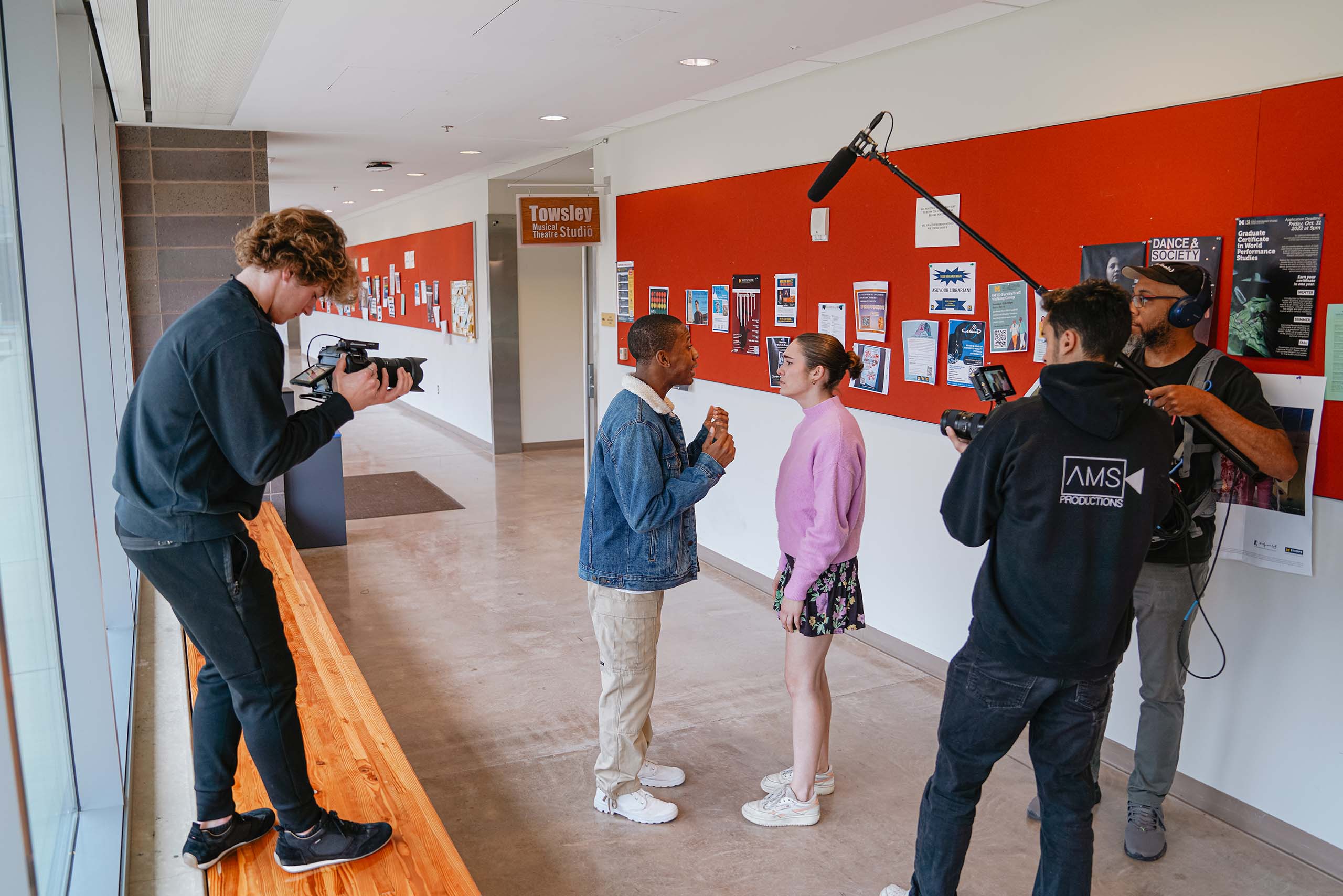 Cast and crew film a scene from Becoming BFA.
Alyssa Melani, BFA '23 (theatre), and the rest of the senior BFA acting & directing class are creating a short film centered on the experience of putting together a senior showcase. Becoming BFA is a 30-minute mockumentary short film following a group of senior college theatre students with diametrically opposed personalities and a love of the limelight. The students must learn to work together to prepare for their momentous final showcase that could make or break their careers as emerging artists in a competitive industry.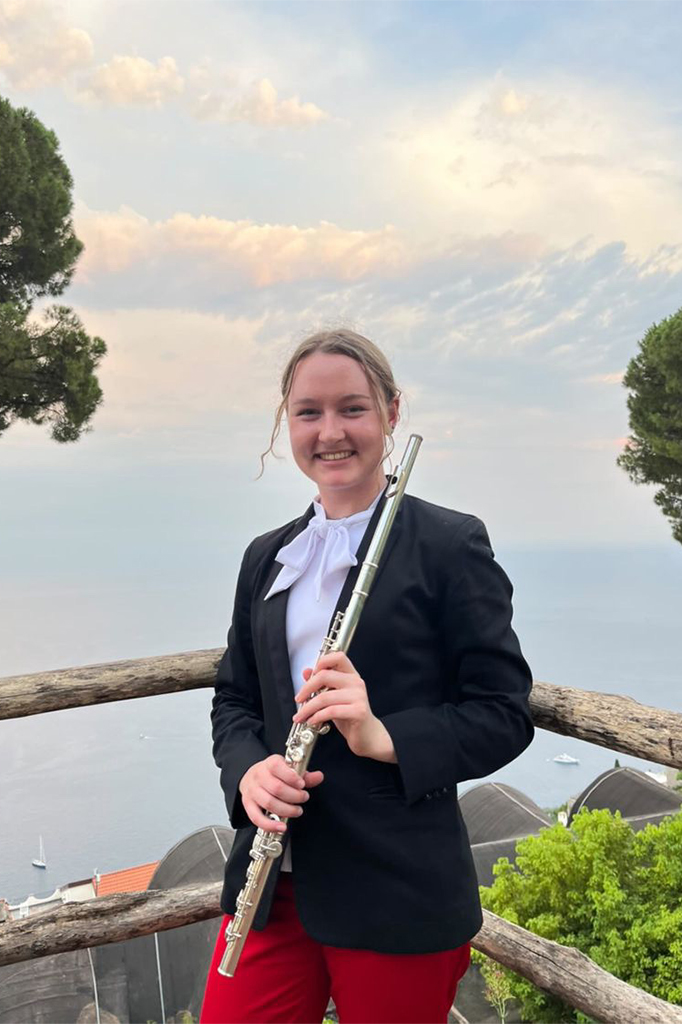 During summer 2022, Abigail (Abi) Middaugh, BM '26 (flute), joined the National Youth Orchestra of the USA, performing Gustav Mahler's 5th Symphony and Edward Elgar's Cello Concerto in Carnegie Hall and embarking on a 10-day European tour under conductor Daniel Harding and with guest cellist Alisa Weilerstein. In November 2022, Middaugh appeared with the Ann Arbor Symphony Orchestra at their Music in the Middle youth concert, performing Poem for Flute and Orchestra by Charles Griffes.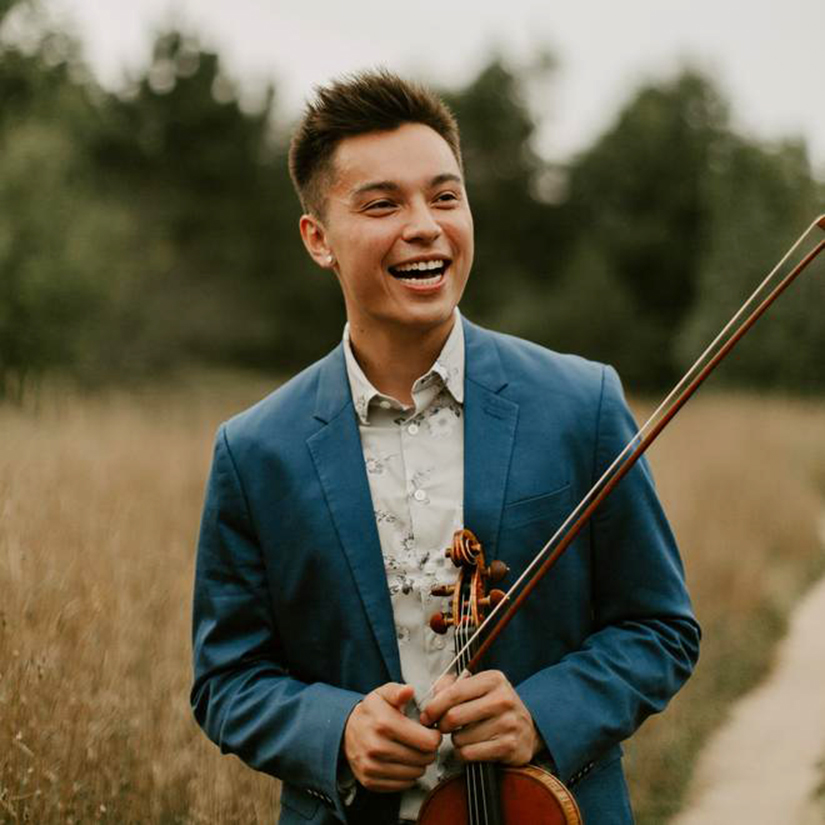 Michael Romans, MM '20 (violin), who is currently pursuing a DMA degree in violin performance, was recently named concertmaster of the Adrian Symphony Orchestra. In that position he serves as principal first violinist and as a liaison between the musicians and the music director.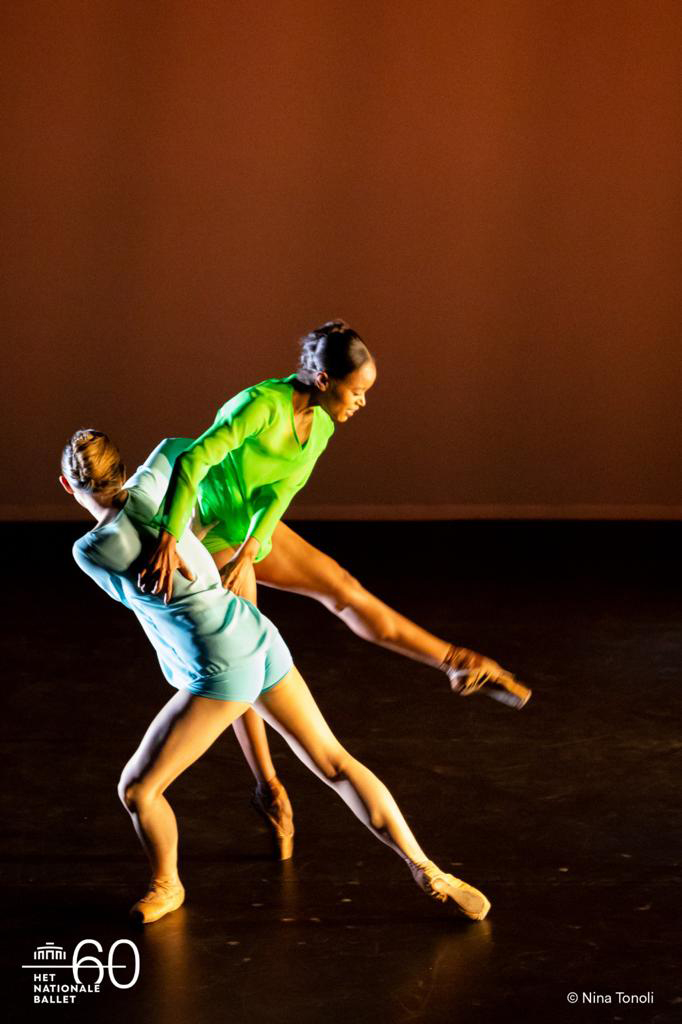 From "Shadow and Echo." Photo credit: Nina Tonoli
On October 23, 2022, the Dutch National Ballet performed "Shadow and Echo," choreographed by Kara Roseborough, MFA '24 (dance), as part of their Black Achievement Month celebration. Roseborough was the only American choreographer presenting work on that program. "Shadow and Echo" originally premiered as part of Dutch National Ballet's New Moves concert in May 2022. The piece is partially set to an original word score written by Roseborough and her writing partner, Katie Steele (a writing MFA at the University of Nevada), and deals with reconciling changing perceptions of one's home and one's self.
SMTD Team Wins Songs for Democracy Contest
Democracy & Debate, a campus-wide pro-democracy initiative, and SMTD recently hosted Songs for Democracy, a student songwriting competition. Designed to emphasize the connection between music and political activism, the competition invited students to submit songs. Five finalists, including a number of SMTD students, were chosen based on the songs' concepts, lyrical impact, and how the music amplified the song's message. On January 21, 2023, the finalists performed their songs for an audience in Hill Auditorium.
The winning song, "Our Fighting Isn't Done," was written and performed by SMTD students. Cortez Hill, BTA '24, wrote the song; Caleb Middleton, BMA '24 (voice), played the piano; and Aidan B. Jones, BFA '24 (musical theatre), Oluchi Nwaokorie, BFA '25 (musical theatre), and Andrew Otchere, BFA '23 (theatre & drama), were the vocalists. The group received a $3,000 prize as well as an opportunity to professionally record their song and produce a music video in the James and Anne Duderstadt Center.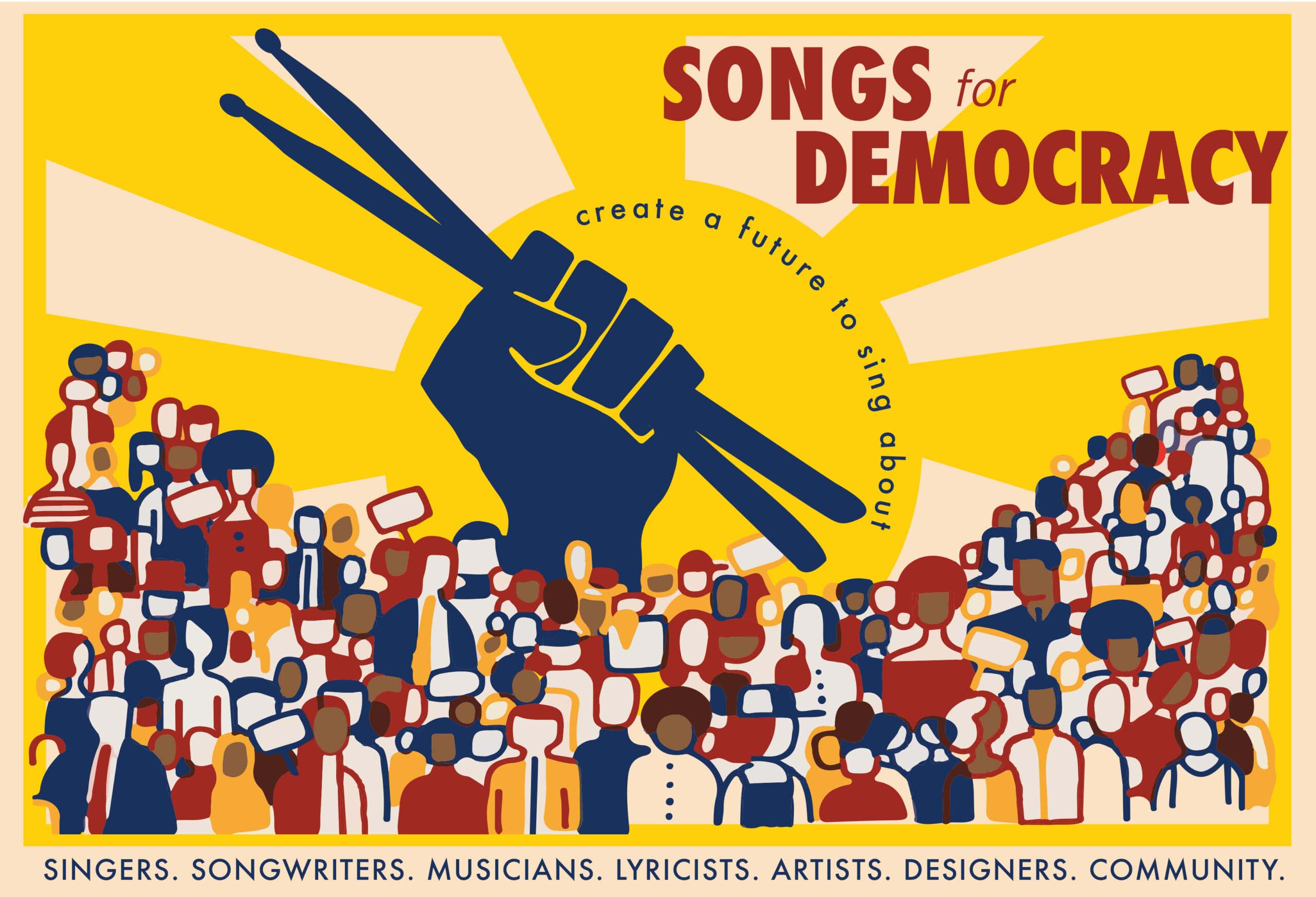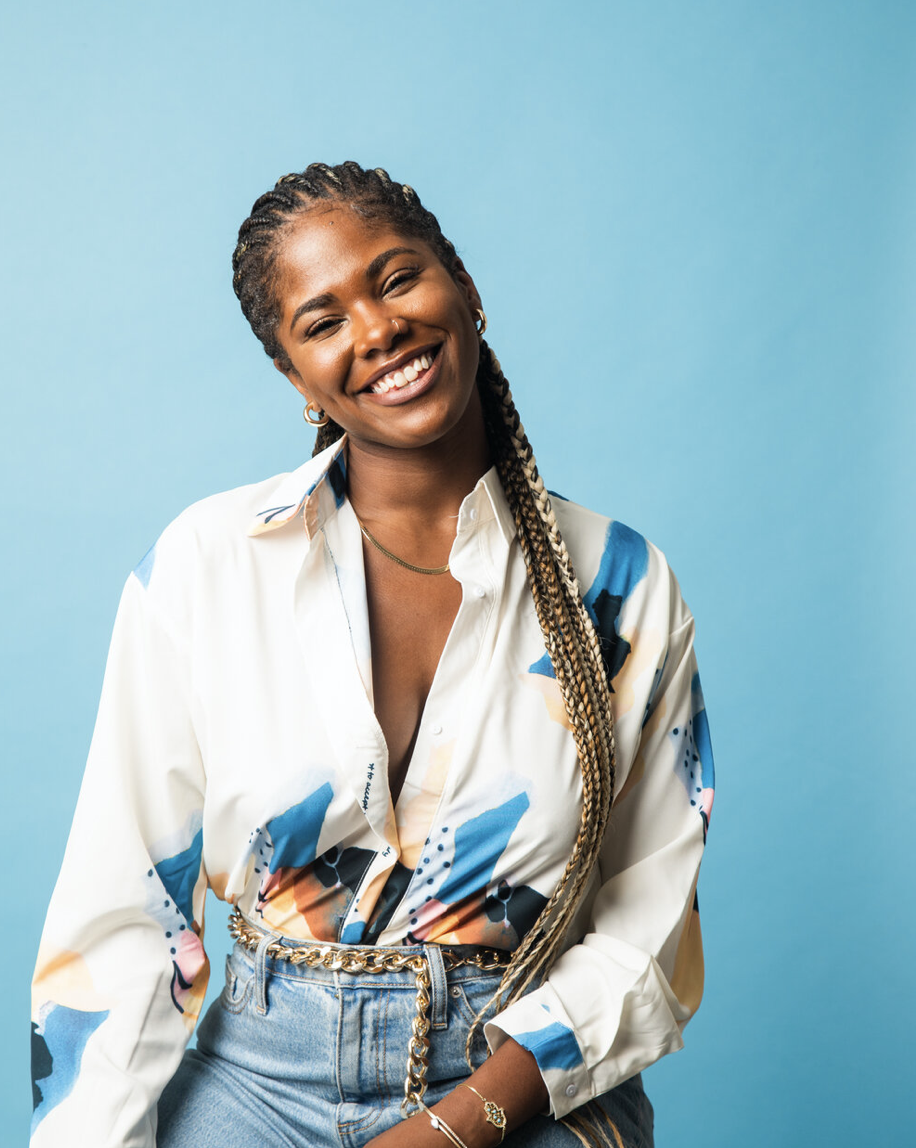 During the summer of 2023, Njeri Rutherford, MFA '23 (dance), earned a summer research grant from the Anti-Racism Collaborative, administered by the National Center for Institutional Diversity (NCID). The NCID awarded summer research grants, co-sponsored by Rackham Graduate School and the Center for Racial Justice (CRJ) in the Gerald R. Ford School of Public Policy, to 27 University of Michigan graduate students, to support engagement in research projects focused on racial inequality, racial equity, and racial justice. Rutherford's project, "Where Are All the Black People?: An Inquisition of Black Dance Across the African Diaspora," focuses on dismantling oppression and white supremacy in the field of dance, emphasizing how Black dance relates to and influences Eurocentric genres of dance.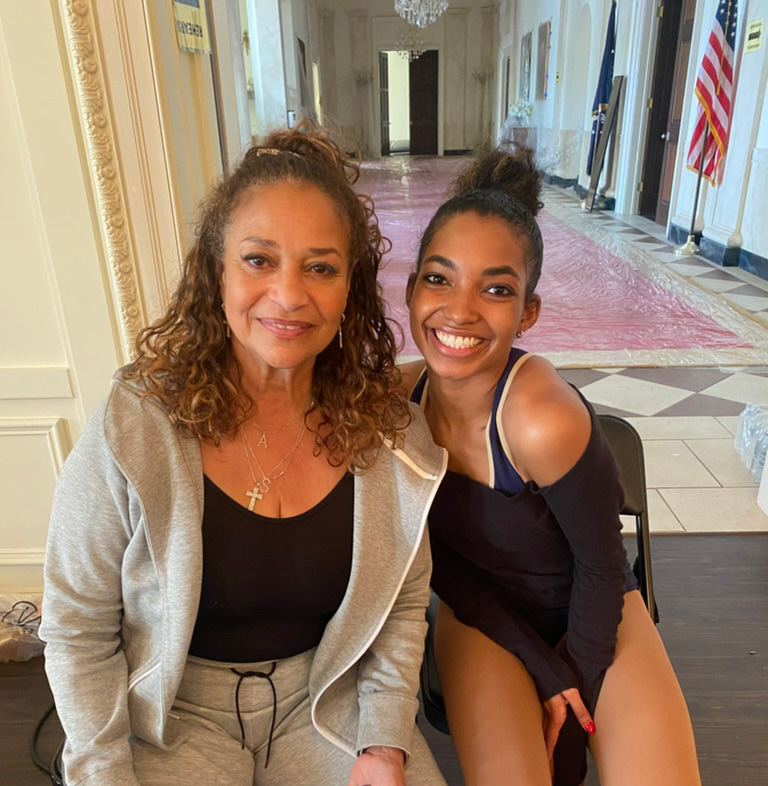 Brooke Taylor (right) pictured with choreographer Debbie Allen.
Brooke Taylor, BFA '23 (dance), performed as a dancer in a Netflix film, Tyler Perry's A Jazzman's Blues, choreographed by Debbie Allen.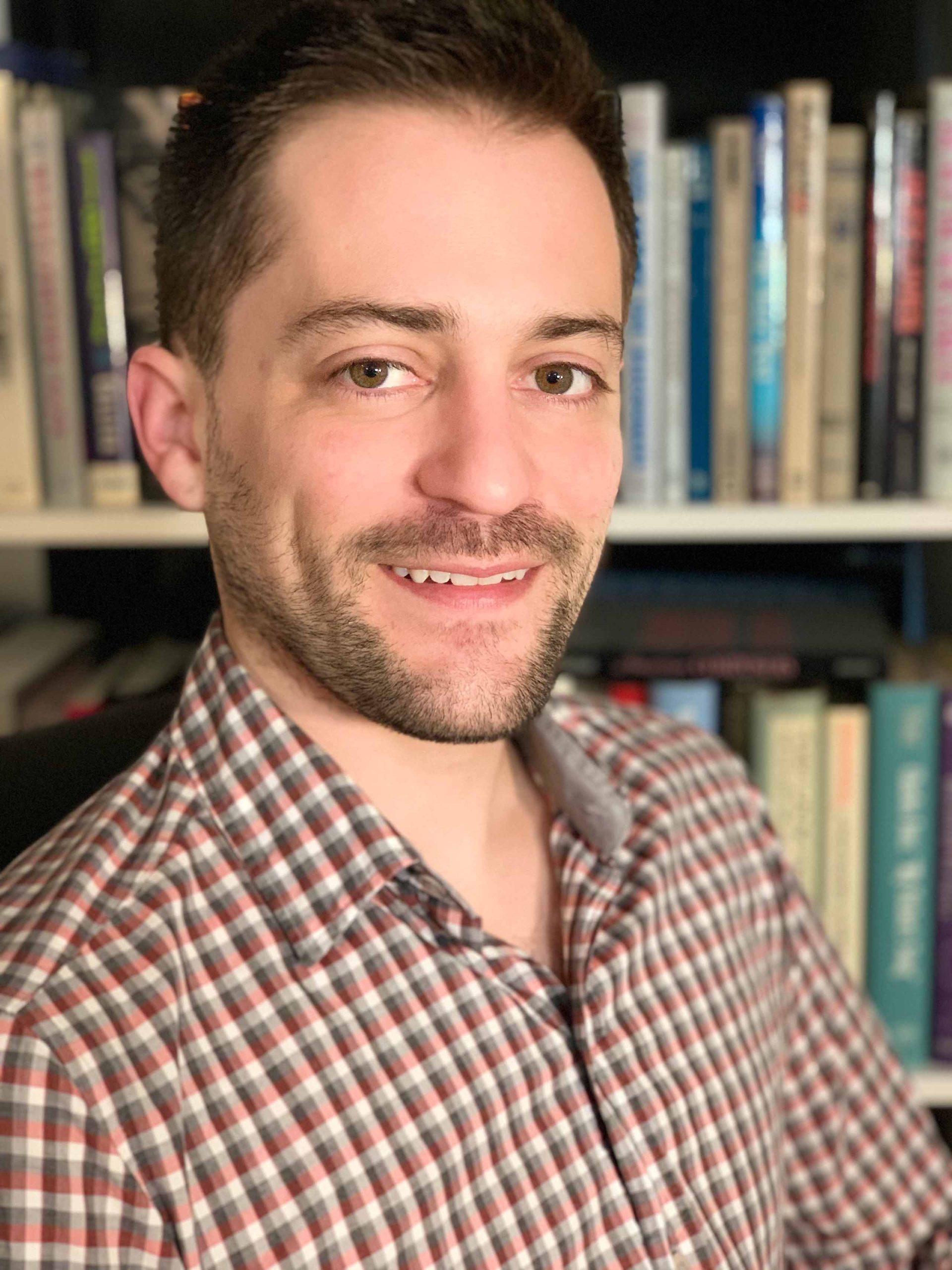 PhD candidate Kai West (musicology) recently had an article published in the Journal of the American Musicological Society. A study of the opera Porgy and Bess, the article uses critical race theory to examine the construction and roles of whiteness in the narrative and musical structure. It also analyzes how the opera frames whiteness in relation to the Black characters at the center of the story, in order to better understand musical accounts of US race relations from the Jim Crow era to the present. West noted the role of a number of experiences at SMTD, including his work as an editorial assistant for the Gershwin Initiative, and the encouragement and mentorship of his advisor, Charles Hiroshi Garrett, for the achievement of having an article accepted by this highly respected musicology journal.
Yanchen Ye, DMA '23 (composition), was the 2022 American Prize composition winner in the orchestra division, and he also won second place in the instrumental chamber music division. In addition, he made his Italy debut in the Alba Music Festival with the Estrella Consort saxophone quartet in May 2022. Together, they are collaborating on a concerto for alto saxophone and orchestra for a premiere in the 2023–24 season.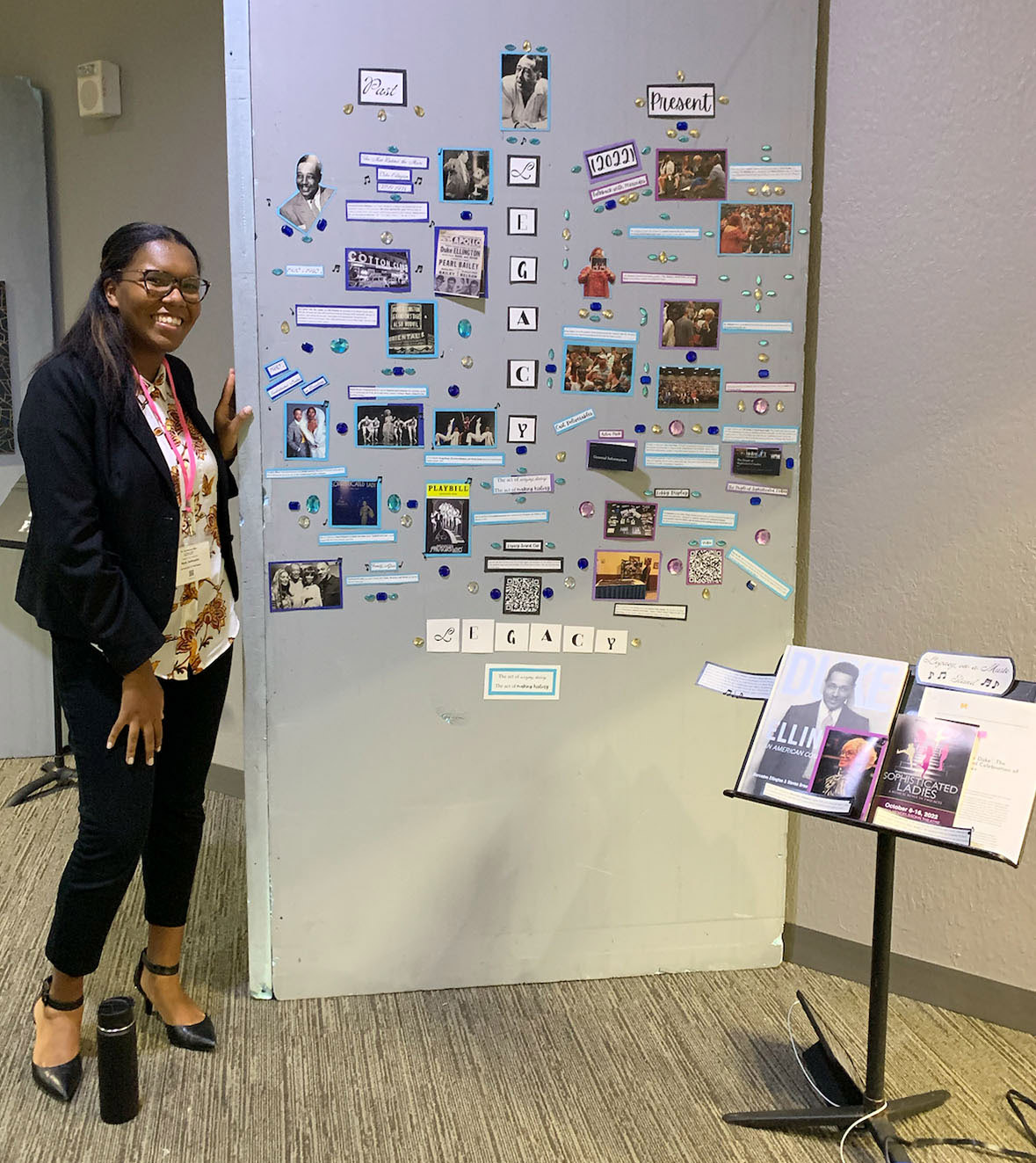 Nya Johnson poses with her display. Photo credit: Sarah M. Oliver
Stellar Results at KCACTF Festival
Several SMTD students were recognized for accomplishments in their crafts at the recent Kennedy Center American College Theatre Festival (KCACTF) Region 3 Festival. The 2023 Region 3 Festival – encompassing university theatre entrants from Illinois, Indiana, Michigan, Wisconsin, and western Ohio – was held January 11–15 at the University of Michigan-Flint. Nya Johnson, BTA '23, won the Student Dramaturgy Award for Sophisticated Ladies – her sixth production as a student dramaturg. Abi Farnsworth, BFA '23 (design & production), received an honorable mention for her lighting design work on Moscow Moscow Moscow Moscow Moscow Moscow. In the Design Storm category, two SMTD students collaborated with other students across institutions to prepare a team design concept presentation. Their proposals for a hypothetical production of Much Ado About Nothing received honorable mention. Nate Sheehan, BTA '24, served as director and dramaturg, and the team's costume designer was Ellie Van Engen, BFA '26 (design & production).