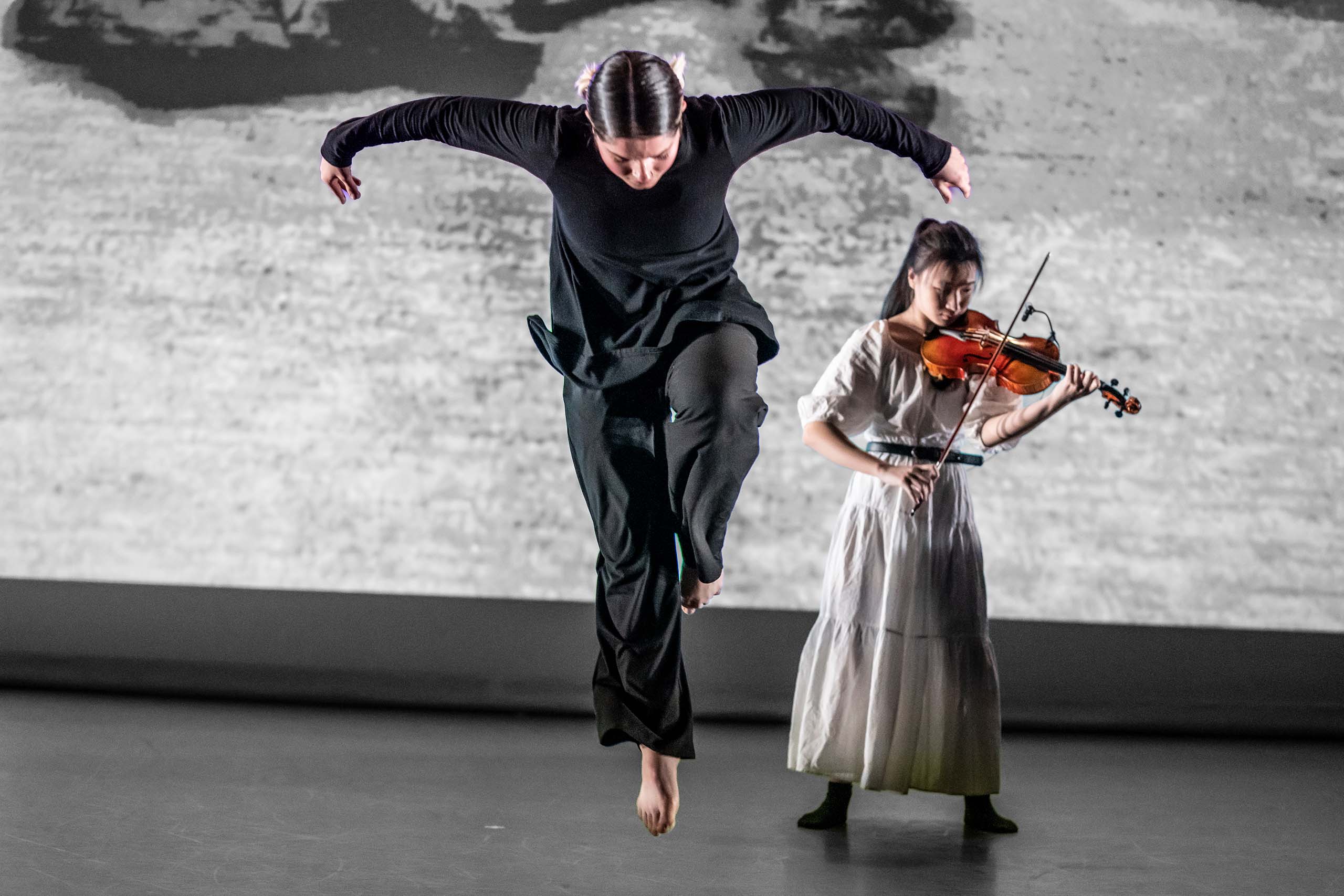 Rae Beck (left) and Angela Lee perform during JOINT. Photo credit: Kirk Donaldson
A JOINT Performance
Danielle Belen (violin) and Shannon Gillen (dance) recently presented JOINT, a performance collaboration featuring dance and violin students joining together in an immersive experience in the Dance Building's Studio One. The students spent months working with each other to develop the pieces and explore the movements of both dancers and violinists. They also collaborated with photographer Natali Herrera-Pacheco, whose images were projected onto screens during the performance. Scott Crandall (theatre & drama) was the lighting designer for the performance; Roger Arnett, performing arts sound and recording engineer, was the sound designer; and Sean Hoskins, event design coordinator for the dance department, was the stage manager.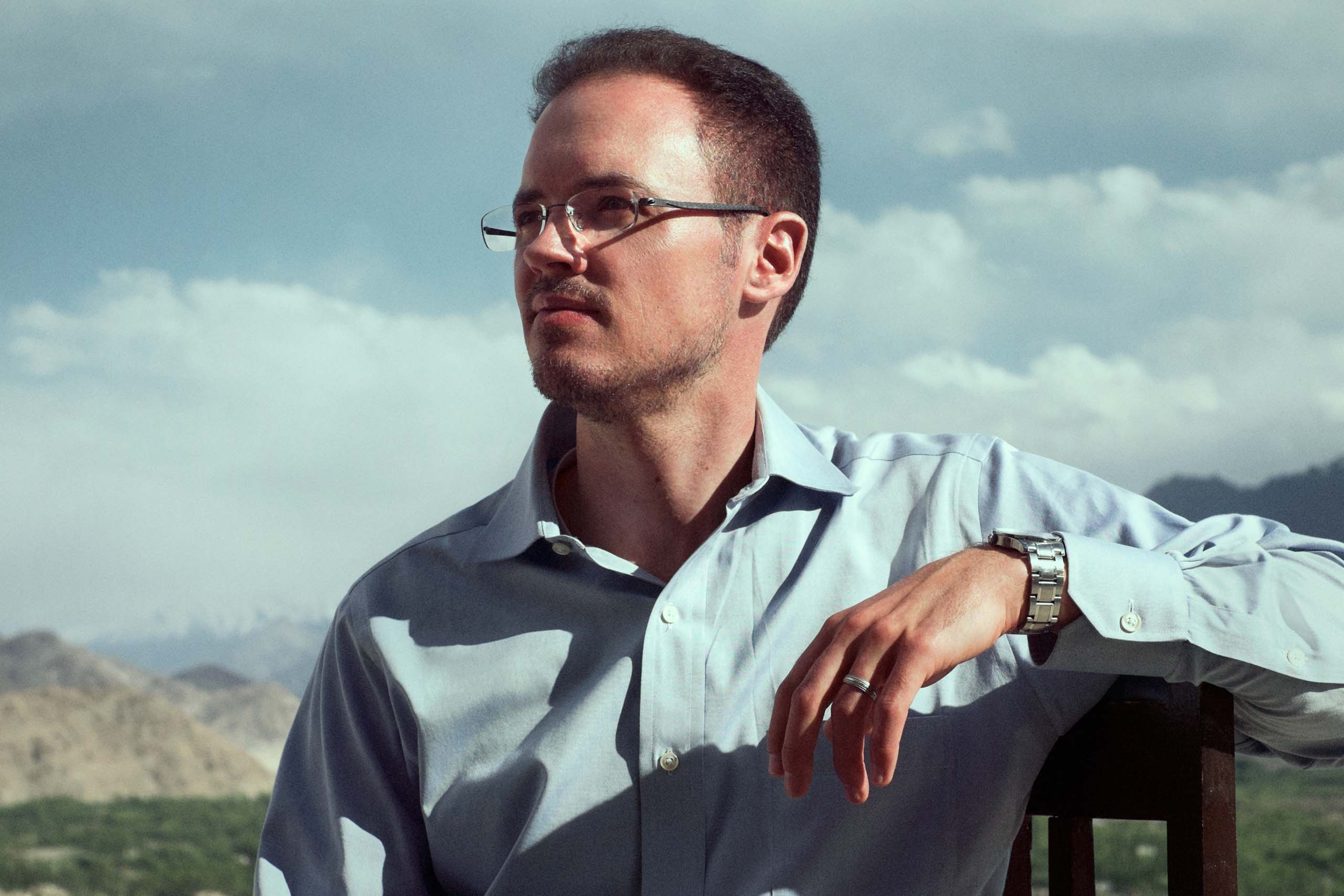 Matthew Bengtson. Photo credit: Jarek Kotomski
Matthew Bengtson (piano) had his recording of piano music by Roberto Sierra released on IBS Classical to rave reviews. The album won the Melomano de Oro, a major prize for recordings in Spain. Bengtson was involved with the Scriabin Society of America to organize the International Scriabin 150 Festival – celebrating the birth of composer Alexander Scriabin – held via Zoom in November 2022. Among many other offerings, that Zoom festival featured a documentary film, Scriabin in the Himalayas, about a celebration held in Ladakh, India, in 2015, where Bengtson performed an all-Scriabin recital. The film was released on the winter solstice.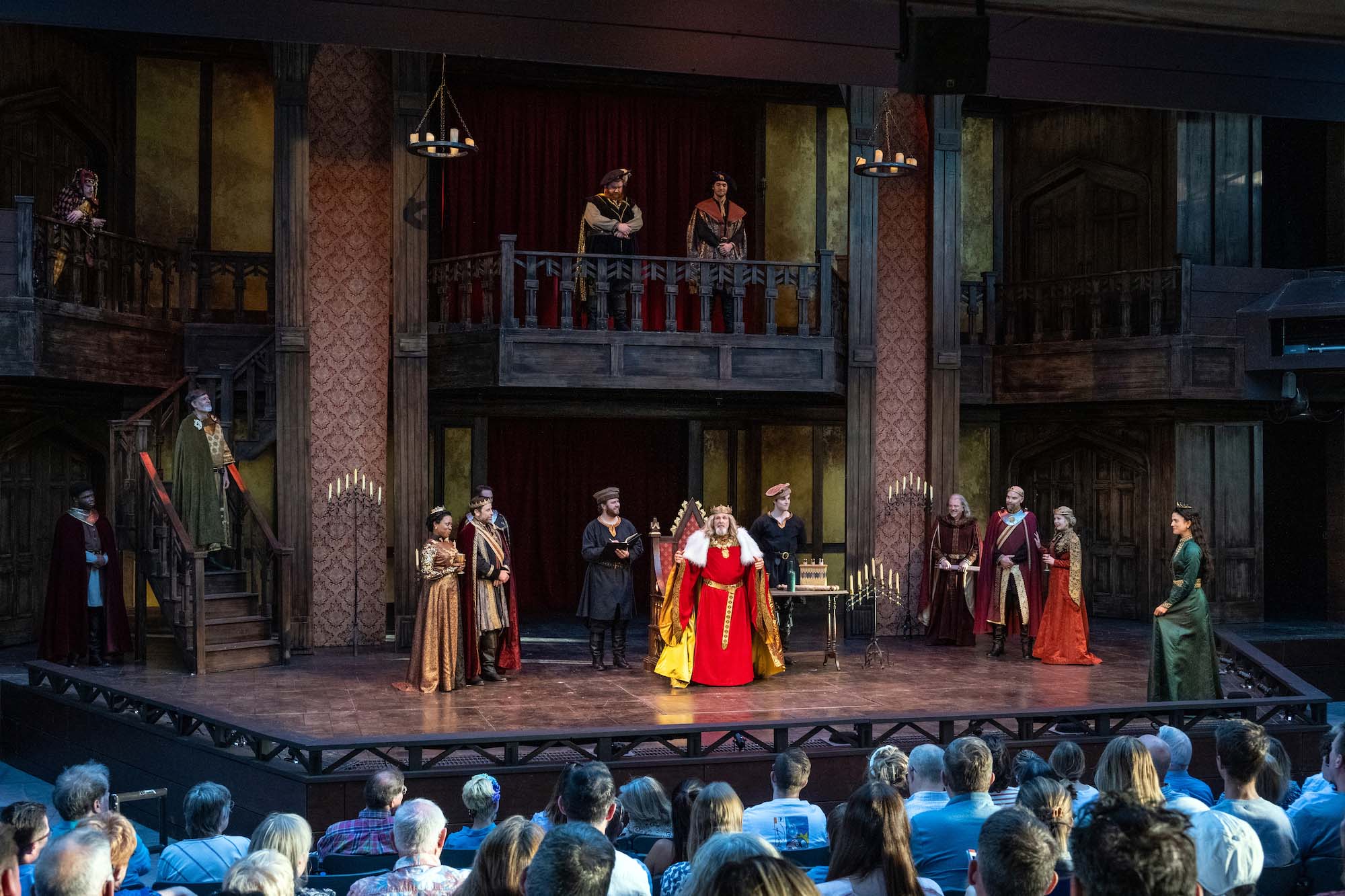 King Lear, directed by Vincent Cardinal. Photo credit: Karl Hugh. Copyright Utah Shakespeare Festival 2022.
Vincent J. Cardinal (musical theatre) directed King Lear at the Tony Award-winning Utah Shakespeare Festival. The production starred Anthony Heald and ran from June 22 to September 10, 2022, in Cedar City, Utah.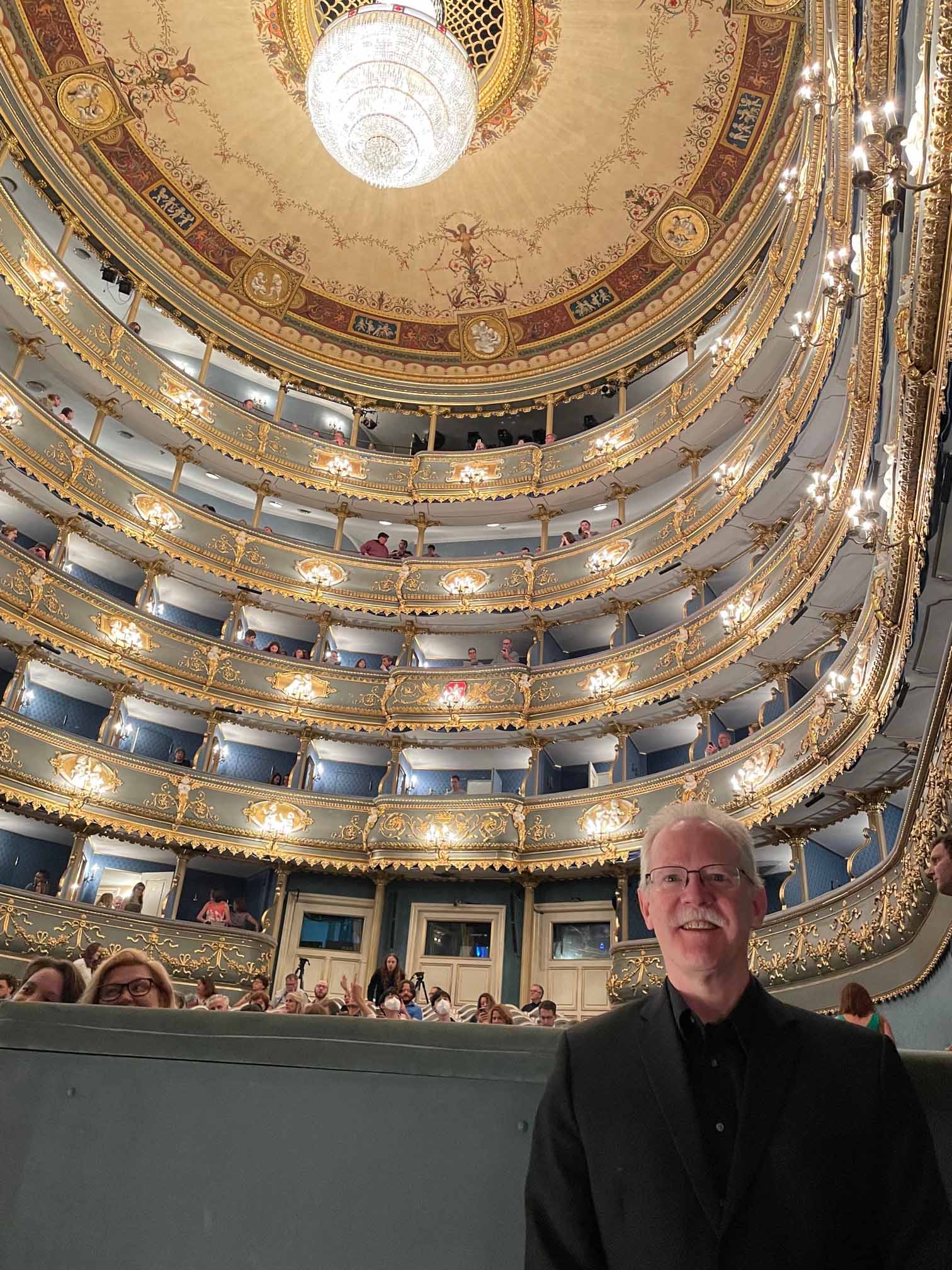 Timothy Cheek at the Estates Theatre, Prague
Timothy Cheek (voice) returned to the Prague Summer Nights Festival as head vocal coach, rehearsal pianist, and performer of recitatives for Don Giovanni at the Estates Theatre, and coach/performer of Czech opera scenes. In collaboration with co-author Anna Toccafondi, his book Perfect Italian Diction for Singers was published by Rowman & Littlefield in October. His book Reimagining Lyric Diction Classes: Leading Change in the Classroom and Beyond was published by Routledge in November. Cheek returned as official pianist for the American International Czech and Slovak Voice Competition in October, and he served as guest coach for a Czech opera scene for Juilliard's Undergraduate Showcase.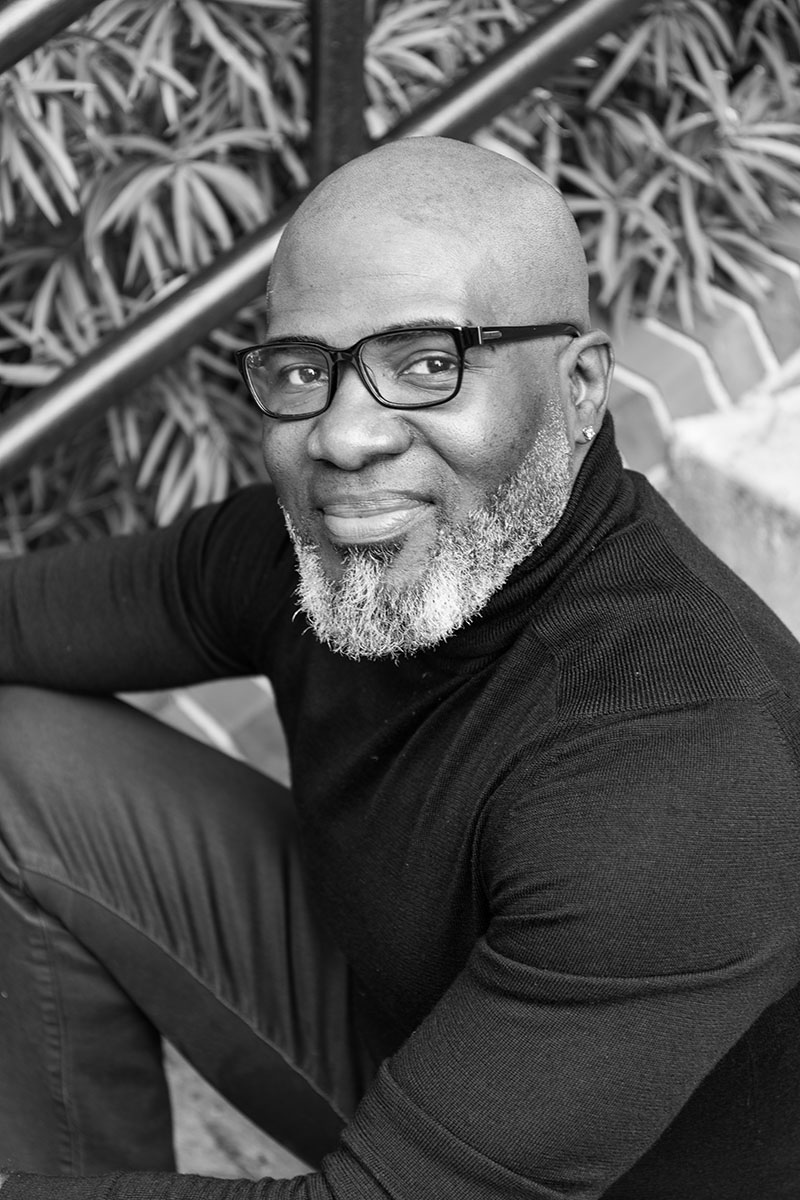 Antonio C. Cuyler. Photo credit: Anna Prentiss
In recent months, Antonio C. Cuyler (entrepreneurship & leadership) presented papers at the 12th International Conference on Cultural Policy Research in Antwerp, Belgium, and at the 2022 Social Theory, Politics, and the Arts conference in Seoul, South Korea. He served on panels at the European Network of Cultural Administration Training Centres Congresse in Brussels, Belgium, and at the State of the Arts symposium in Valletta, Malta. In addition, the Journal of Arts Management, Law, and Society published a special issue Cuyler edited on the arts and social justice, including a paper he co-authored on the impacts of COVID-19 on BIPOC artists and arts administrators.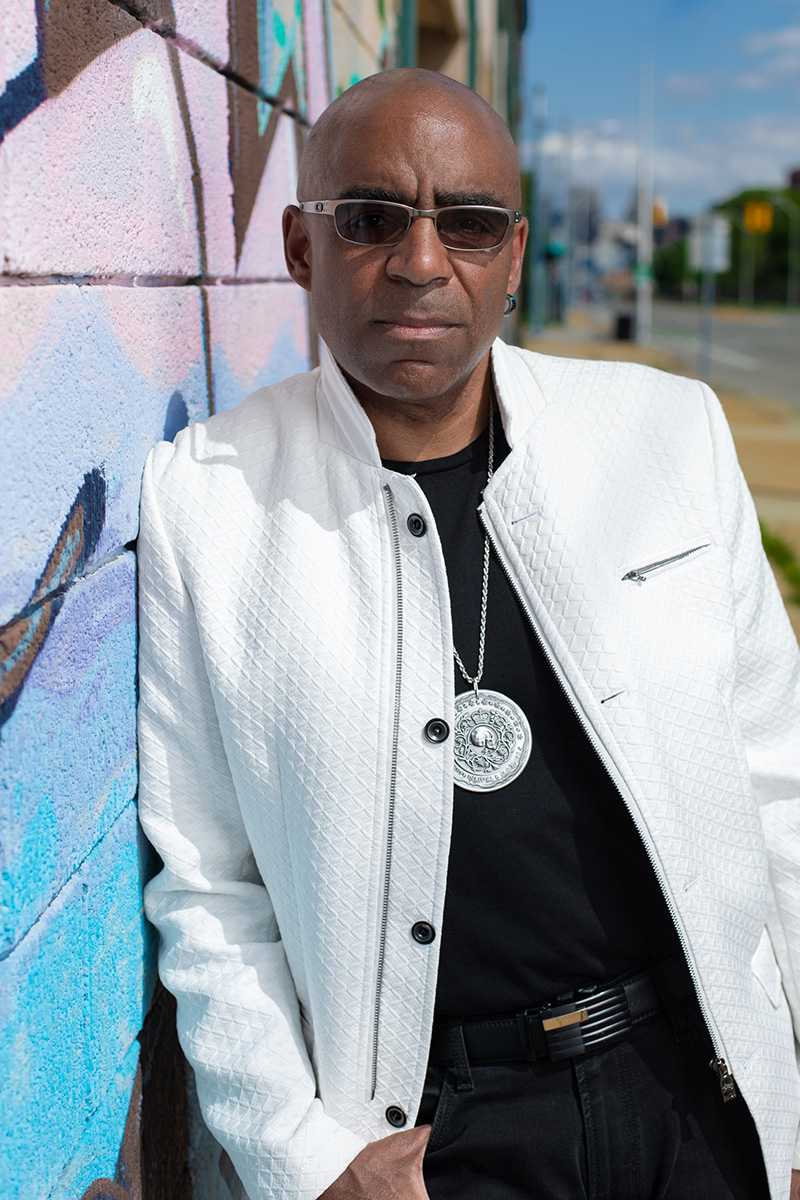 Aaron Dworkin. Photo credit: Shawn Lee
Aaron Dworkin (entrepreneurship & leadership) was recently named the writer-in-residence for the Charles H. Wright Museum of African American History; poet-in-residence for Ovation TV arts network, Shar Music, and the Rodham Institute at the George Washington School of Medicine and Health Sciences; and poet-journalist-in-residence for the Max M. & Marjorie S. Fisher Foundation.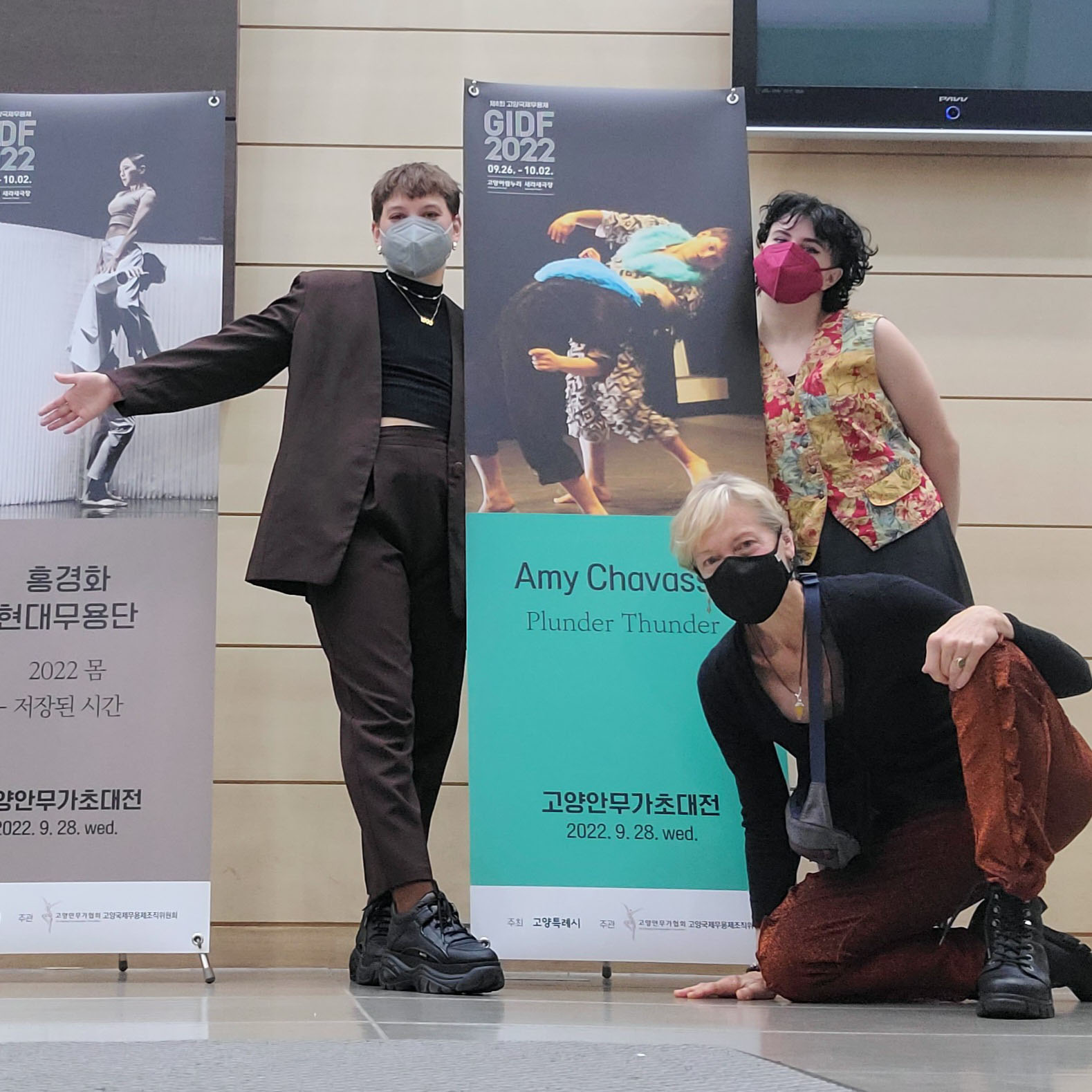 Rowan Janusiak, Amy Chavasse, and Stephanie Gennusa in South Korea
Exploring South Korea's Contemporary Dance Scene
From September 19–29, 2022, Amy Chavasse (dance), artistic director of ChavasseDance&Performance, traveled to Seoul, Daejeon, and Goyang, South Korea, with BFA dance alums Stephanie Gennusa and Rowan Janusiak. She was invited to present her duet, Plunder Thunder, at the New International Dance Festival, hosted by the 21st Century Modern Dance Research Circle, and at the Goyang International Dance Festival. At both festivals, they joined an auspicious group of contemporary dance artists from across South Korea for two multi-week presentations of contemporary dance and performance. In addition to their own performances, they were able to attend many of the performances and meet many important artists defining the dance scene in South Korea today. Chavasse taught improvisation and technique workshops at Gangnam University in Daejeon and in the Department of Dance at Kyung Hee University in Goyang. She found the creativity and talent of the students to be incredible, adding to the success of the performance residencies. Chavasse established many important connections with the students and faculty at both universities and with dance professionals in South Korea. She plans to create ongoing opportunities for her work and for SMTD dance students.
In 2022, Kate Fitzpatrick (music education) published articles in the International Journal of Music Education and the Journal of Research in Music Education and a reprint of an article on mixed methods integration in the Journal of Mixed Methods Research. She recently presented at the Music Research and Teacher Education National Conference, the 35th International Society for Music Education World Conference, and a District Arts Leaders Roundtable with leaders from the largest US urban school districts. She just completed a six-year term on the editorial committee for the Journal of Research in Music Education and was selected as 2022–23 fellow of the Big Ten Academic Alliance Academic Leadership Program.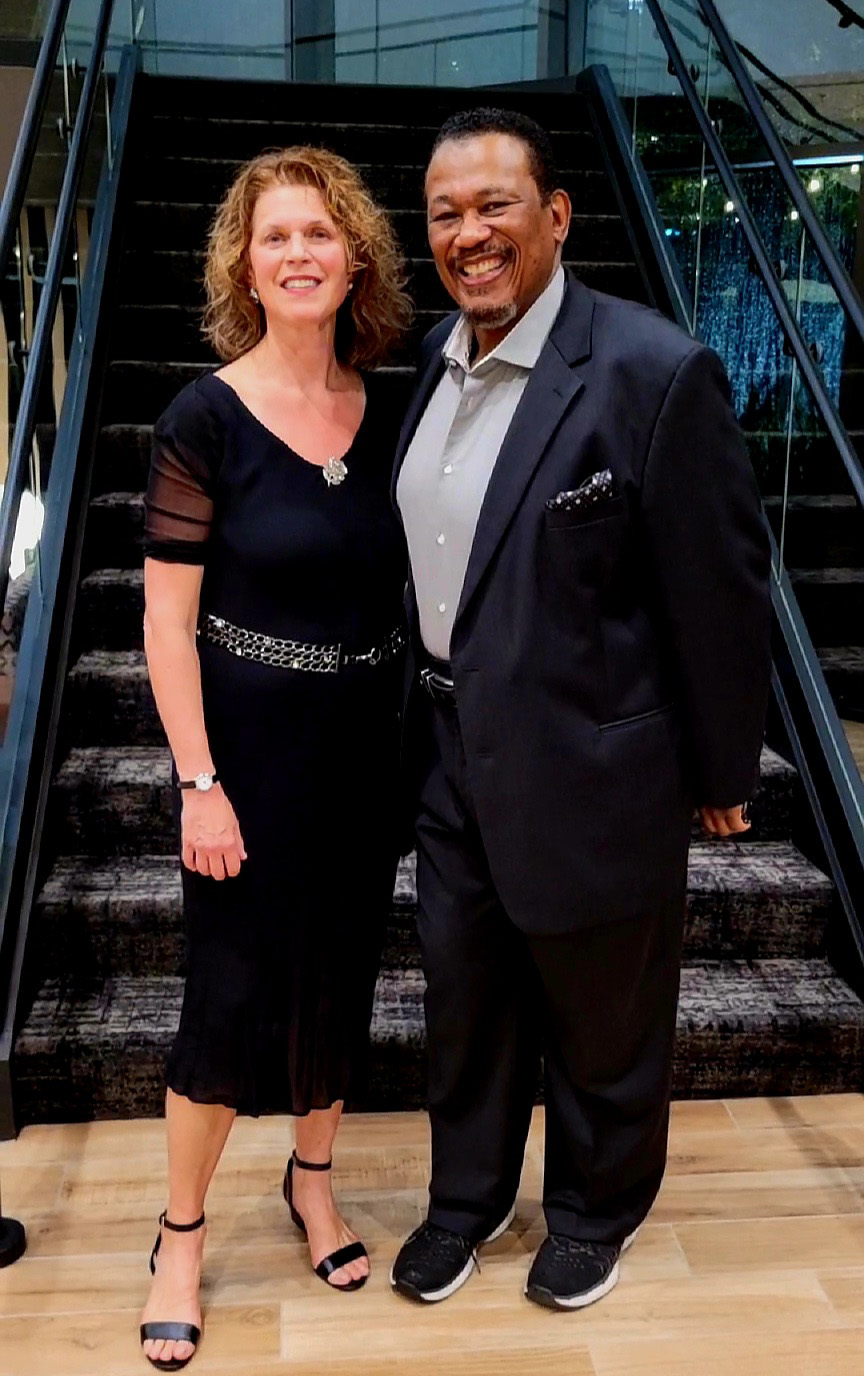 Kathryn Goodson (left) and Daniel Washington
Kathryn Goodson (piano, voice, dance), collaborative pianist and coach, and Daniel Washington (voice) gave the California premiere of four songs commissioned by Washington from Detroit composer Sylvia Hollifield at the 25th anniversary conference of the African American Art Song Alliance in October 2022. In November they performed 14 songs from Schubert's Die Winterreise, and Goodson played solo piano works by Florence Price for the Glacier Hills Retirement Community in Ann Arbor.
Marc Hannaford (music theory) recently published a new open-access research article in the Journal of the Society for American Music. Titled "Theory on the South Side: Muhal Richard Abrams's Engagement with Joseph Schillinger's System of Musical Composition," the article addresses music theory and its relationship with Black American music.
Áine Heneghan (music theory) gave a keynote lecture at the Annual Conference of the Society for Music Analysis in the United Kingdom. Her talk, titled "Metaphors of Musical Morphology: Recovering the Origins of Tight-knit and Loose Organization," blends the history of music theory with music analysis. Prior to the conference, she conducted a workshop on musical form for the Formal Theory Study Group (FTSG, supported by the Society for Music Analysis). Heneghan currently serves as vice president of the Society for Music Theory.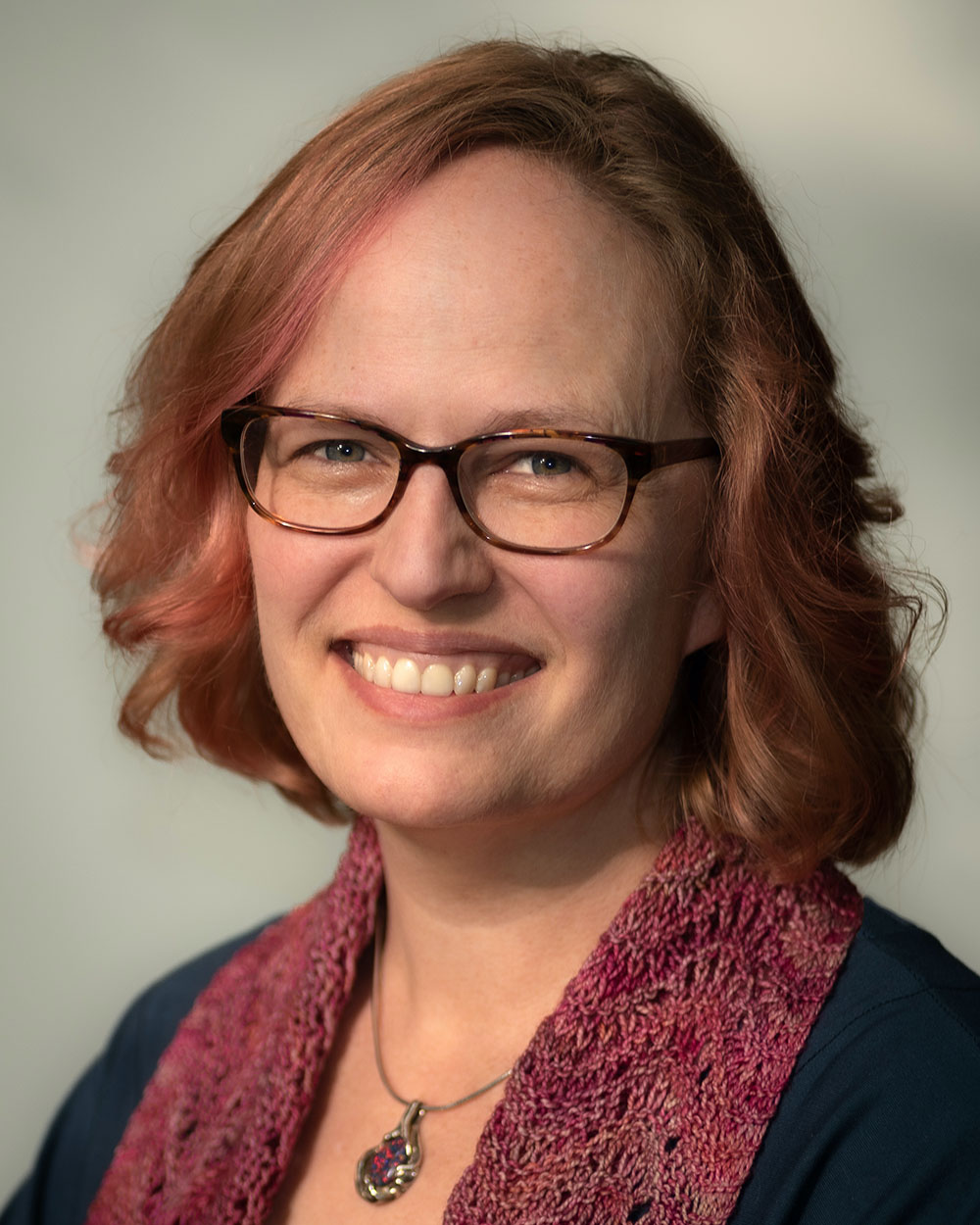 Amy E. Hughes. Photo credit: Scott D. Dexter
Martin Katz (piano), who specializes in collaborative piano and opera, is honored to be the only American to hold the position of honorary professor (they call it a "docent") at the Sibelius Academy in Helsinki, northern Europe's preeminent music school. He recently enjoyed a 10-day visit, working with singers, opera coaches, and collaborative pianists. He will return in 2023 to conduct Mozart's Magic Flute.
Nancy Ambrose King (oboe) performed and presented master classes as faculty member of the Round Top, Sarasota, and Sewanee Music Festivals. She performed the world premiere of Miguel del Aguila's Concierto con brio for oboe, clarinet, and piano with Ryan J. King at the Michigan City Chamber Music Festival. She appeared as recitalist at the University of Iowa, University of Oregon, and Schoolcraft College recital series and presented master classes at the Universities of Iowa, Oregon, and Bowling Green, and as faculty of the Advanced Double Reed Institute of Texas.
A Full Schedule of Teaching, Performing, and More
Louise Toppin (voice) organized a successful 12th annual George Shirley Vocal Competition at Michigan in May with worldwide student participation. Based on her database the African Diaspora Music Project (ADMP), she was invited to give four presentations for the League of American Orchestras at their national conference in Los Angeles in June. Also in June, she was a keynote panelist for the conference "Theorizing African American Music" at Case Western Reserve University. Toppin directed the second annual Singing Down the Barriers Institute for teachers and Mpulse for high school students in July. She was also the national master class clinician for NANM (National Association of Negro Musicians) in Atlanta in July. In August Toppin sang in "Masters of the Spirituals" in San Francisco's War Memorial Hall and gave a presentation for the Public Radio Content Conference in New Orleans. In September she began the McMasters Residency at Bowling Green State University (Ohio) and another at Duke University (North Carolina) to work with faculty and students on diversifying vocal repertoire in the studio. In October she co-hosted the Minnesota Orchestra's concert with Maestro Watanabe as a part of the "Listening Project" (performing and recording music of African Diaspora composers), which was broadcast on Minnesota Public Radio. That month she was also the master class clinician and presenter at the African American Art Song Alliance at the University of California – Irvine. She also presented a master class for the University of California at Fullerton. In November she appeared on a panel for the Hugo Wolf Akademie on Black song from Germany, and she was the soloist with the Akron Symphony (Ohio) in the premiere of Julia Perry's Frammenti dalle lettere de Santa Caterina. Also in November, working with colleague Timothy Cheek, Toppin presented classes for an Italian African American Music Festival in Florence, Italy, involving students from the Cherubini Conservatory.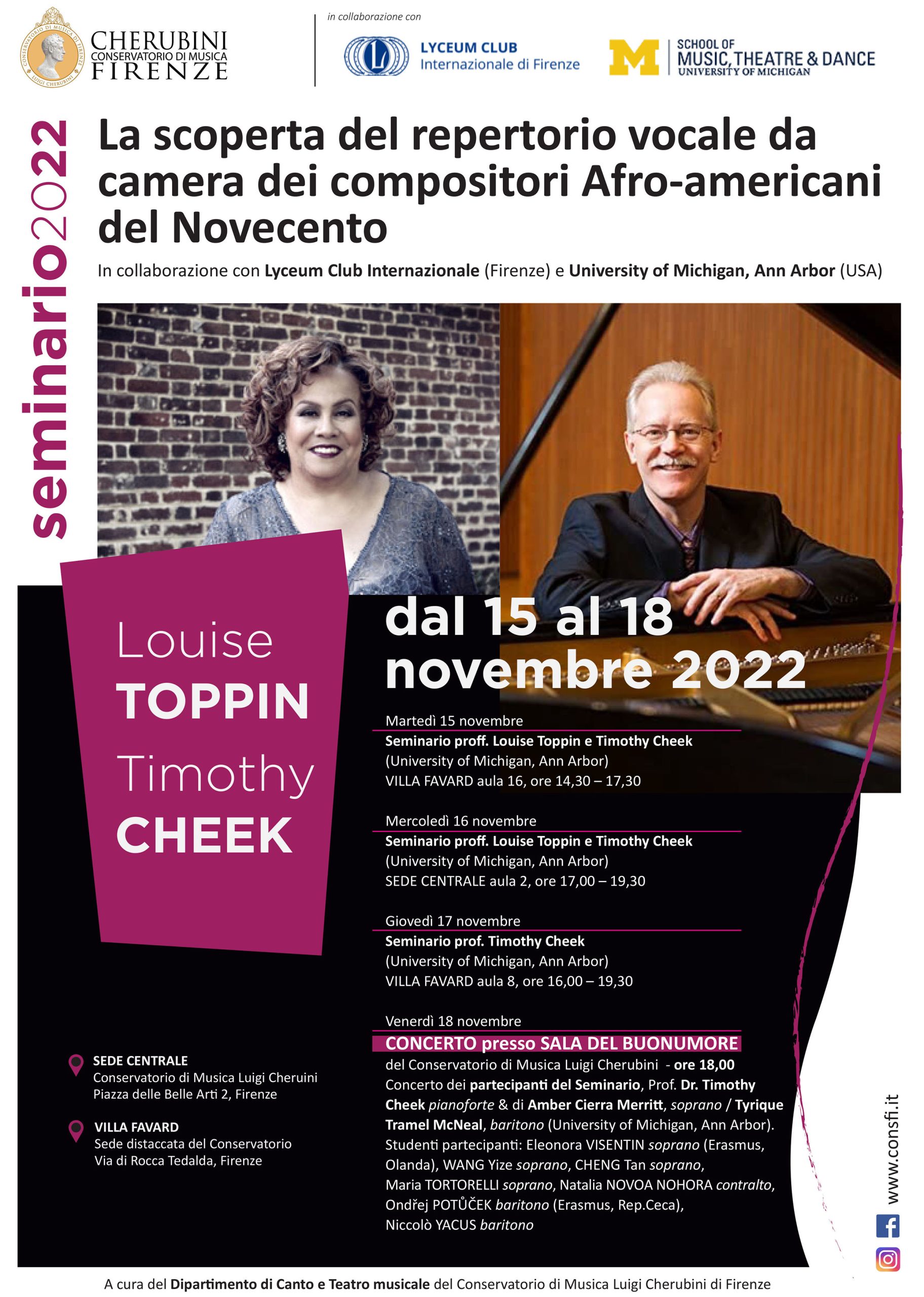 Poster from the Italian African American Music Festival in Florence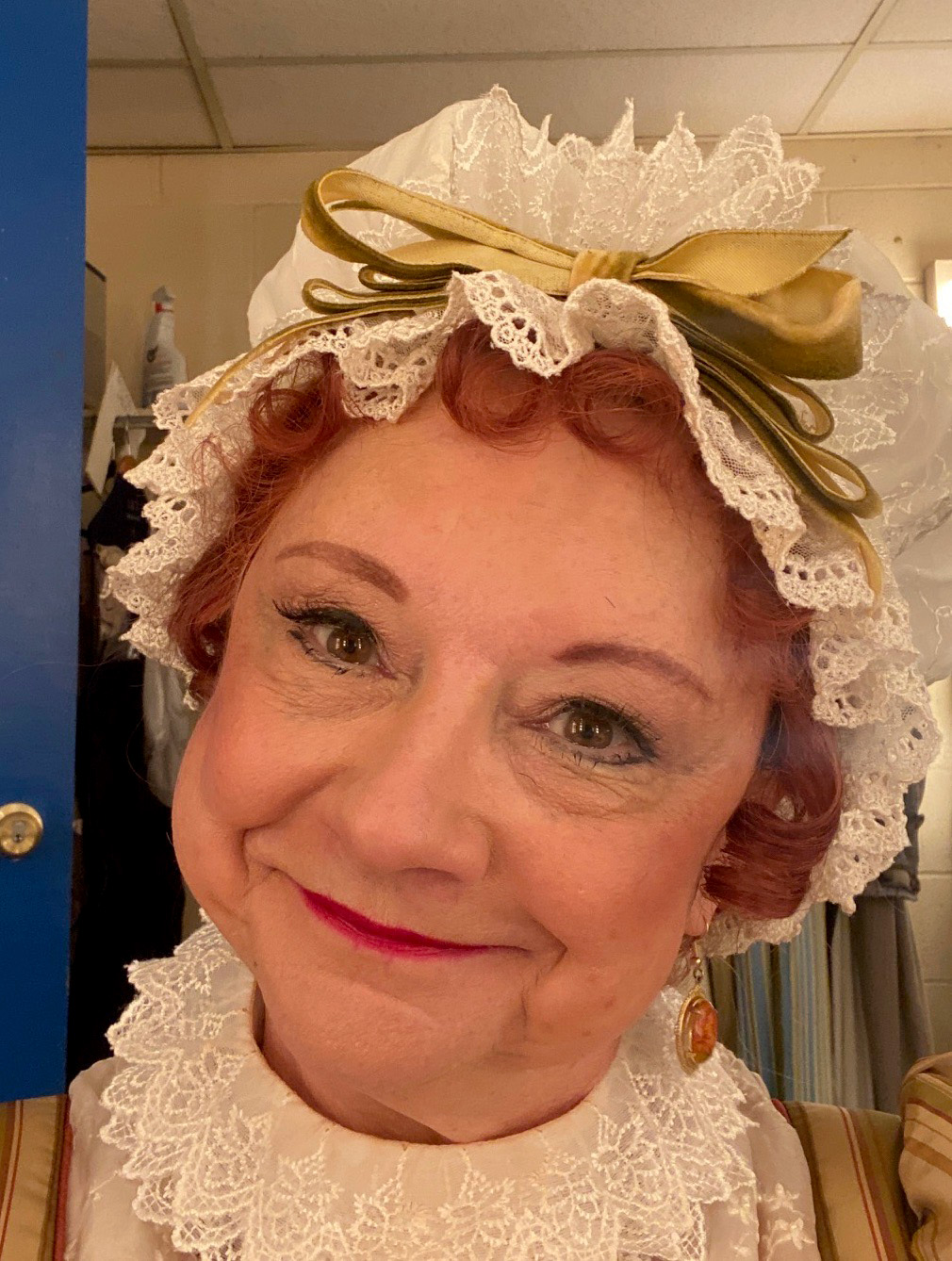 Priscilla Lindsay as Mrs. Jennings in Sense and Sensibility
During the fall semester, Priscilla Lindsay (theatre & drama) returned to her artistic home for many years, the Indiana Repertory Theatre, in Indianapolis. She played Mrs. Jennings in Jessica Swayle's adaptation of Jane Austen's Sense and Sensibility, directed by Peter Amster. In the audience for one performance were her four grandchildren, seeing Lindsay on stage for the first time. The 2022–23 season is the theatre's 50th; Lindsay was involved with the theatre for a total of 35 years, as a company member and then associate artistic director.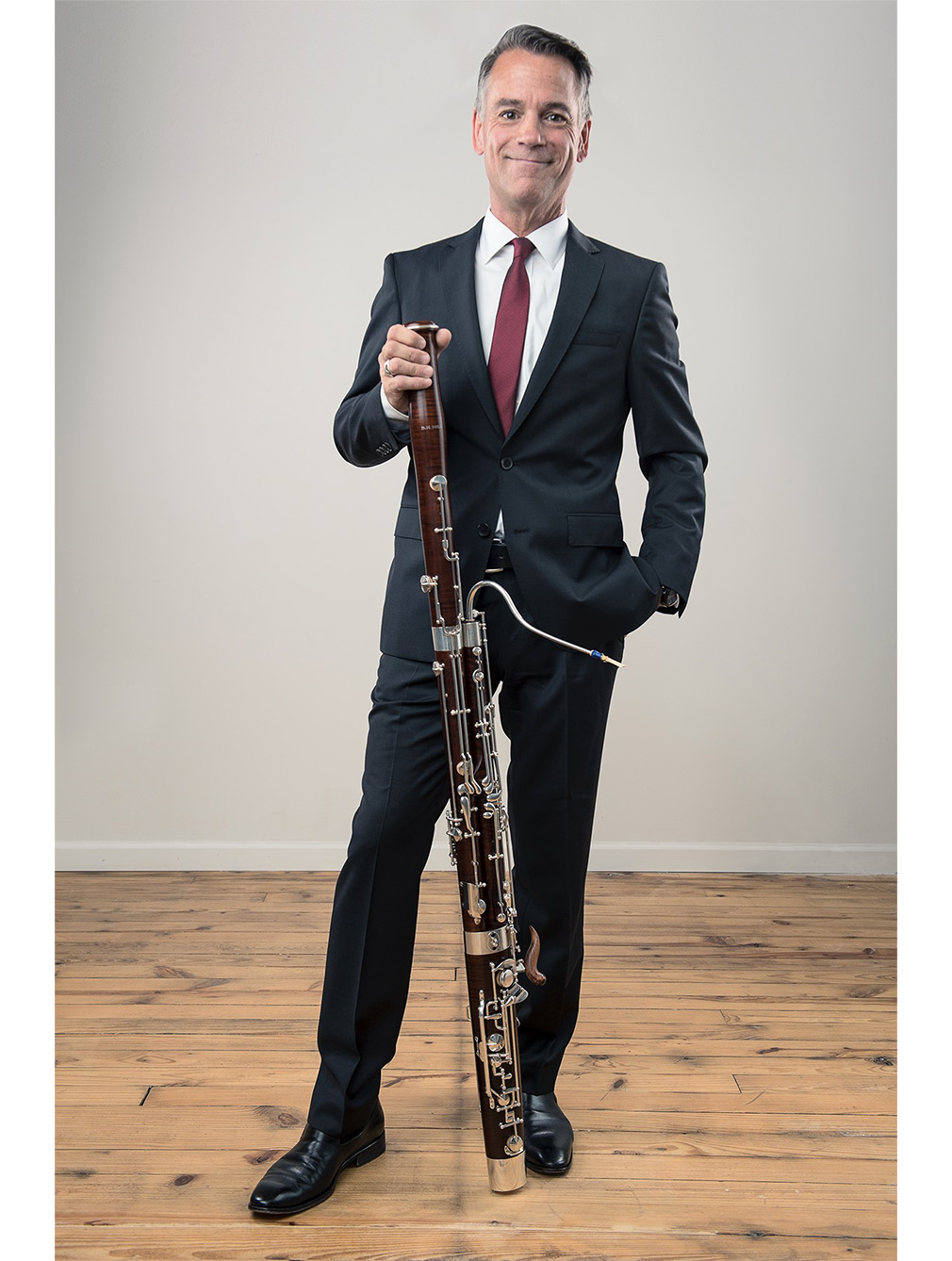 Jeffrey Lyman. Photo credit: Chris Stranad
Jeffrey Lyman (bassoon) returned to his specialization in French music and history in fall 2022 with two major projects. The first is a profile album of the composer and bassoonist Alexandre Ouzounoff, who has been a champion of contemporary music for decades. Lyman and colleagues Caroline Coade (viola), Ian Antonio (percussion), and Liz Ames (piano), and bassoon alum Daniel Fendrick recorded multiple virtuoso duos by Ouzounoff for release in 2023. Lyman returned to Paris in November to work in the archives of composer André Jolivet at the Bibliothèque nationale de France to compose a history of Jolivet's groundbreaking Concerto pour basson, orchestre à cordes, harpe et piano.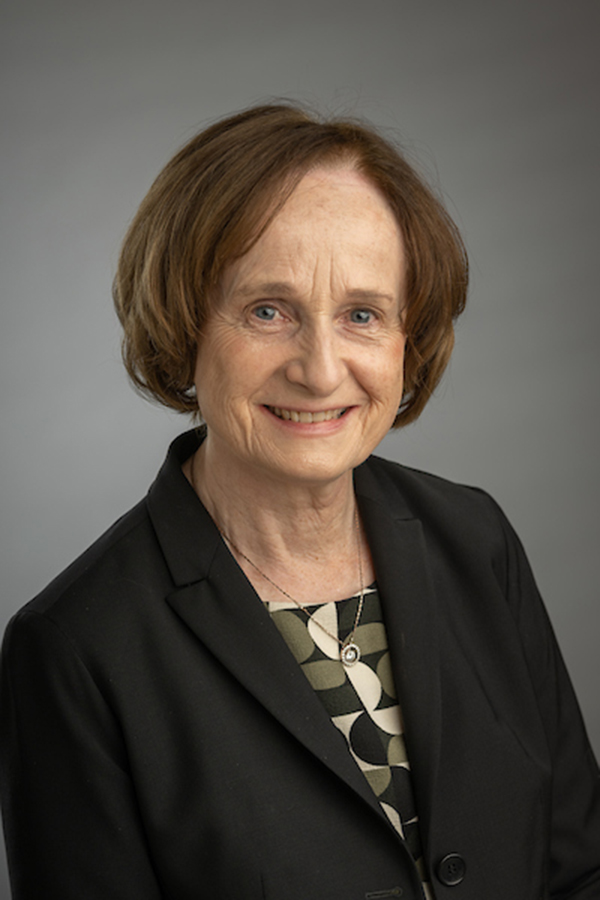 Marie McCarthy (music education) continues her multi-part project to document the history of African American music education, including the documentation and appraisal of research literature completed during the past century. As editor of the Journal of Historical Research in Music Education, she co-edited a special issue, Sankofa: African American Music Education. Her recent scholarship appears in three book chapters published by Cork University Press, Oxford University Press, and Routledge. She was a visiting scholar at the 2022 SongWorks Conference in Dallas last March/April. In November she was the recipient of the 2022 Senior Researcher Award of the National Association for Music Education.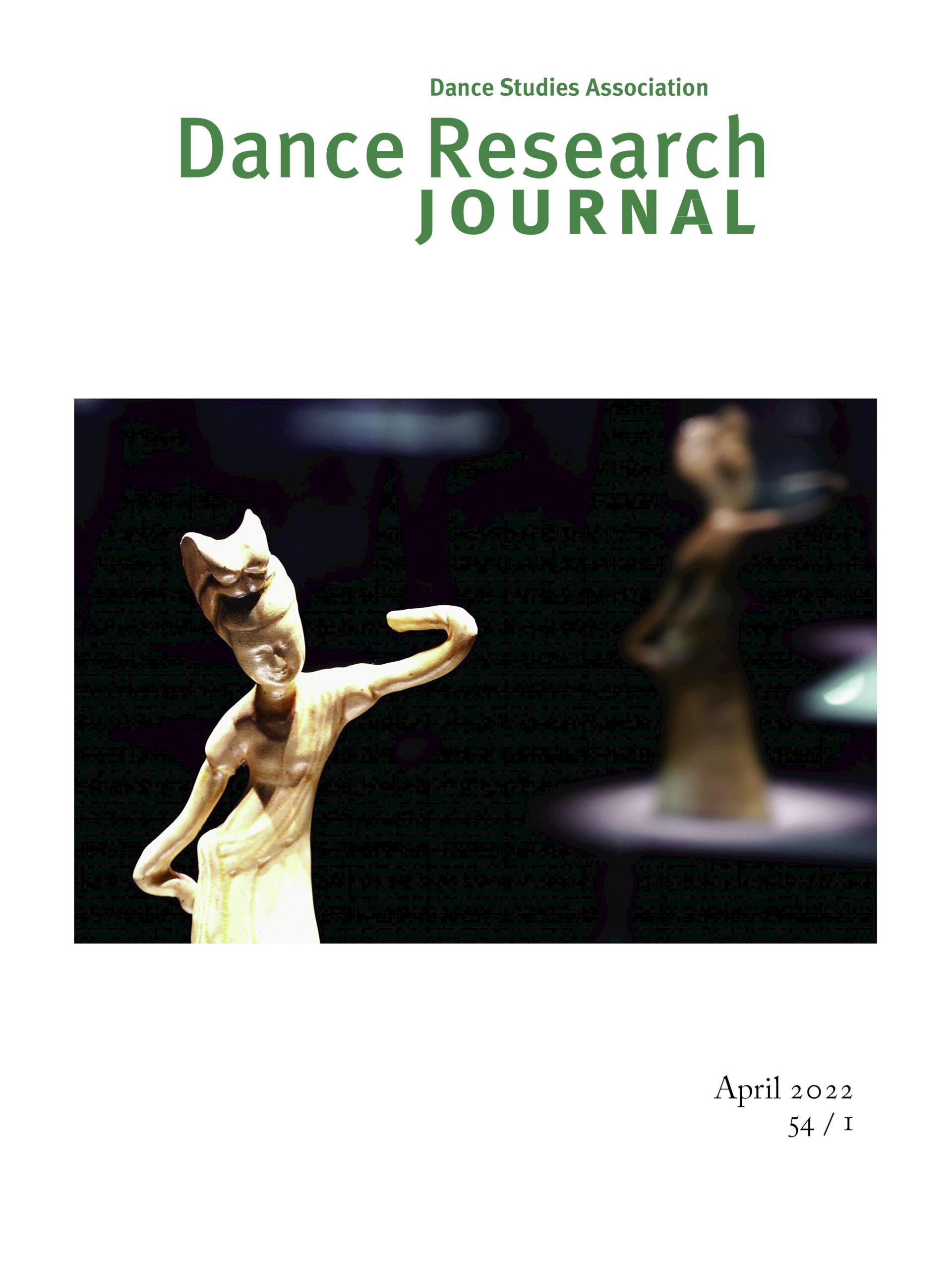 Dance Research Journal with cover image from Fangfei Miao's article
In September 2022, Fangfei Miao (dance) began serving on the board of directors of the Dance Studies Association, a US-based international organization that promotes research of dance histories and theories. She also published her article "Mis-step as Global Encounter: The American Dance Festival in Reform Era China" in Dance Research Journal, Vol. 54 (1), 2022. DRJ is the premier journal of dance studies in English-speaking academia, and her article is its first research article on dance in China. Furthermore, one of the pictures in the article was chosen as the issue cover.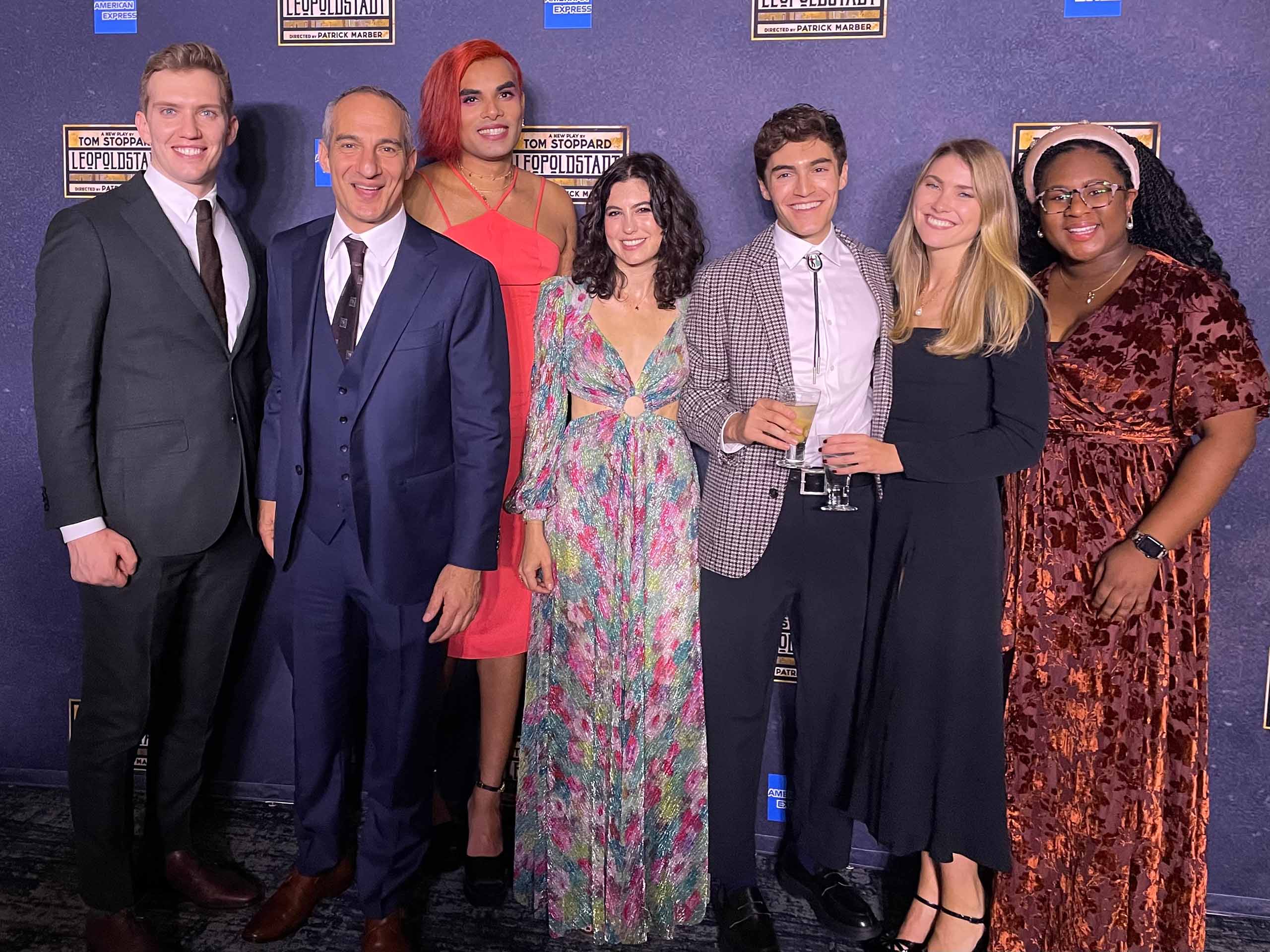 Daniel Cantor (second from left) with Michigan alums, all part of Leopoldstadt team (L to R) Marty McGuire, Saawan Tiwari, Tedra Millan, Jesse Aaronson, Maureen Kelleher, and Carli Cooper
Daniel Cantor in Leopoldstadt on Broadway
Since its opening in fall 2022, Daniel Cantor (theatre & drama) has been in the cast of the original Broadway production of Tom Stoppard's Leopoldstadt, along with SMTD theatre & drama alums Jesse Aaronson and Tedra Millan. Several other SMTD alums are involved in the production as well, serving in management and casting director positions. The play explores the endurance and resilience of one family in Vienna throughout the twentieth century.
Christianne Myers (theatre & drama, costume design) is excited to be a part of developing a new module for the Black Music as Protest MOOC developed by Louise Toppin and Scott Piper, both of the Department of Voice. She is discovering how to merge traditional costume design processes with the technology used in creating virtual reality.
Tiffany Ng, newly appointed chair of the Department of Organ, launched the website CarillonWomen.org in collaboration with student researchers and an international faculty research team. She also made her debut in Portugal in the sixth CICO International Carillon & Organ Festival. Her appearances at mobile carillons and tower carillons in Montalvo, Abrantes, and Porto included the world premieres of Sarah Davachi's "Hall of Mirrors" for carillon and electronics and "Light Dances" by Jane Brockman, the first woman to earn a doctorate in composition at SMTD. Ng also performed song covers on the mobile carillon in support of #MeToo survivors.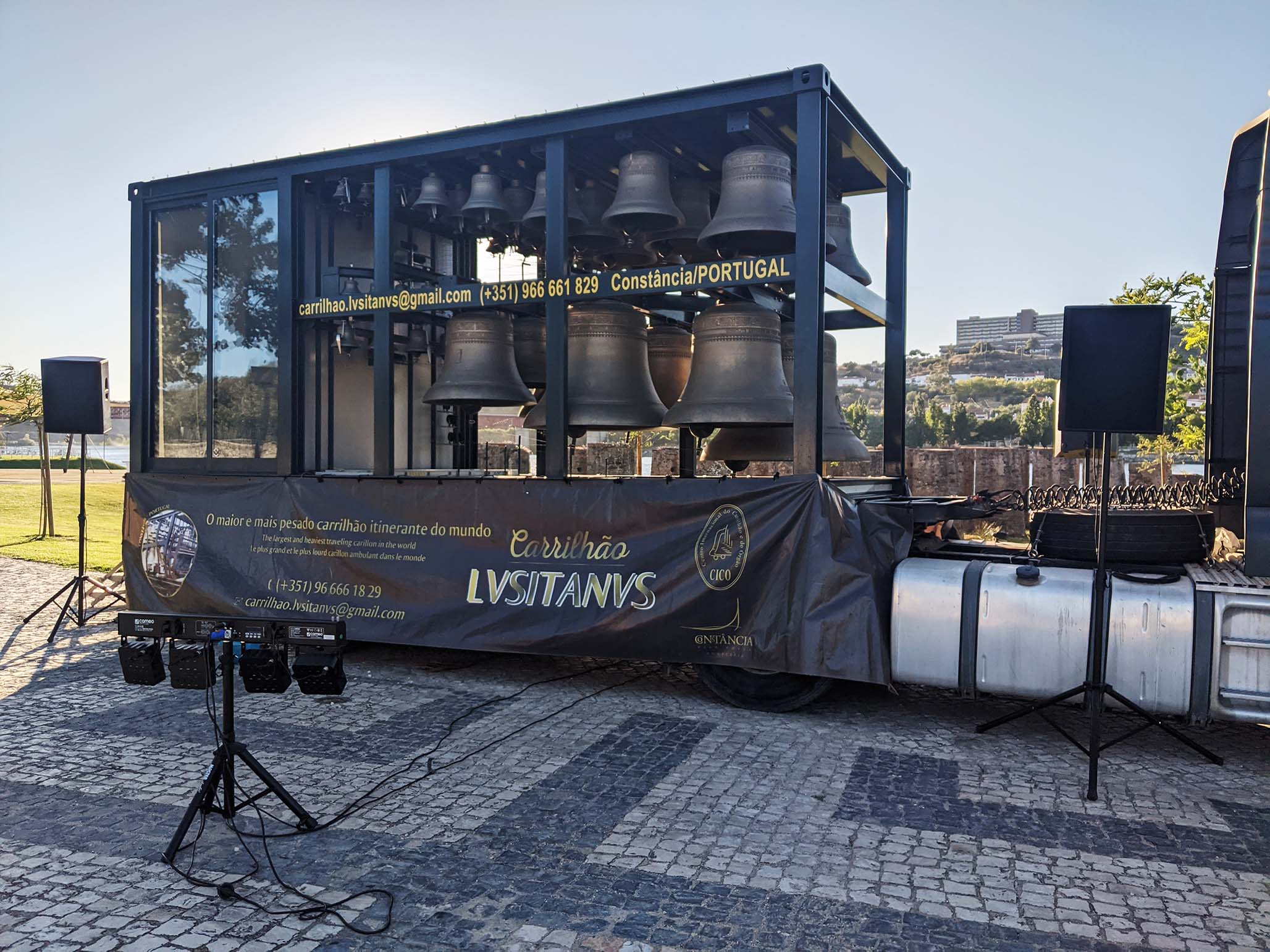 The CICO mobile carillon for Tiffany Ng's concert in Abrantes, Portugal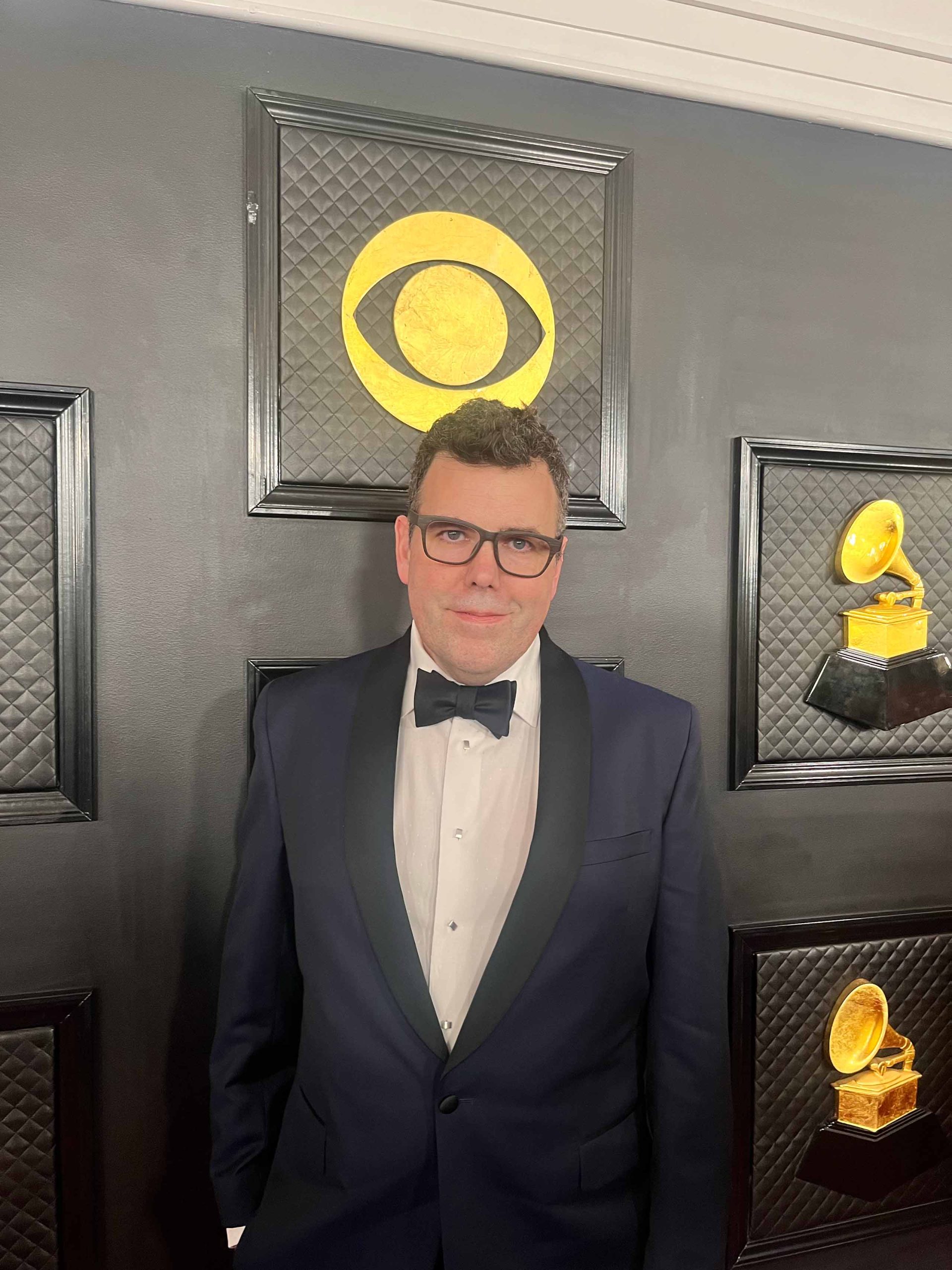 Doug Perkins at the GRAMMY Awards ceremony
Last summer, Douglas Perkins (percussion) took the U-M Percussion Ensemble on tour to premiere Michael Gordon's new work Field of Vision at the Caramoor Festival, Bang on a Can's LOUD Weekend at MASS MoCA, and PS 21. Gordon workshopped this piece in 2022, and the ensemble plans to tour it again in spring 2023. Perkins also produced and directed a recording of John Luther Adams's Sila: The Breath of the World, which was released in September on Cantaloupe Music. This album, which was subsequently nominated for a GRAMMY Award for Best Orchestral Performance, featured the U-M Percussion Ensemble, members of the Department of Chamber Music, SMTD faculty, and others. The BBC Music Magazine calls it "a profoundly arresting album."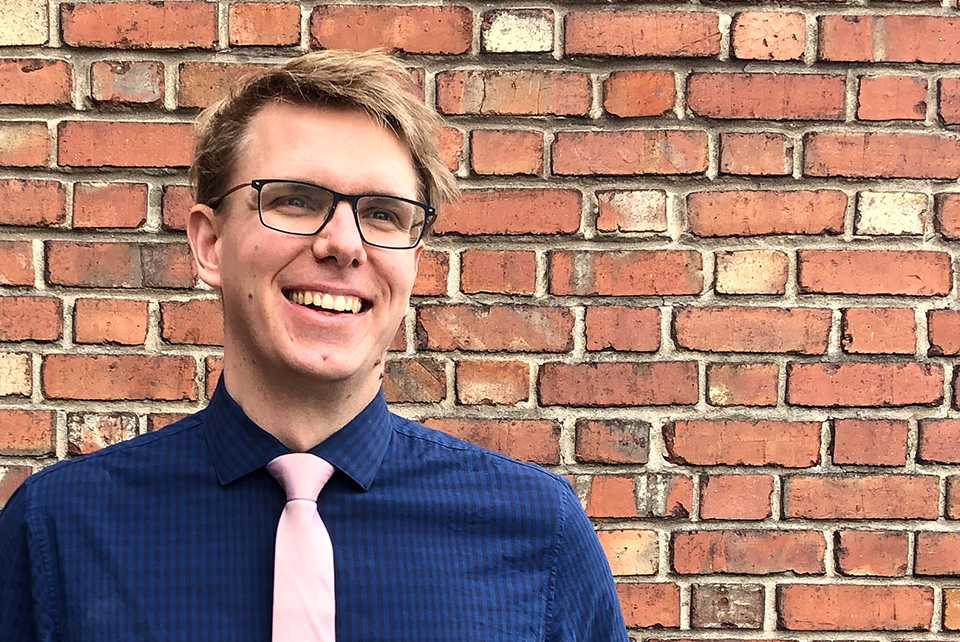 Mackenzie Pierce (musicology) has published an article in the Journal of the American Musicological Society, the world's most prestigious journal for musicology. "Global Chopin: The 1949 Centenary and Polish Internationalism during the Early Cold War" is about how Poles have treated Frédéric Chopin as a global figure, one who they believed could connect their country to the world and facilitate international diplomacy. It also addresses the early years of the Chopin International Piano Competition, which remains to this day one of the world's most consequential music competitions. To write the article, Pierce visited numerous archives in Poland, reconstructing how composers, pianists, music critics, and diplomats participated in Chopin-themed commemoration during the 1940s.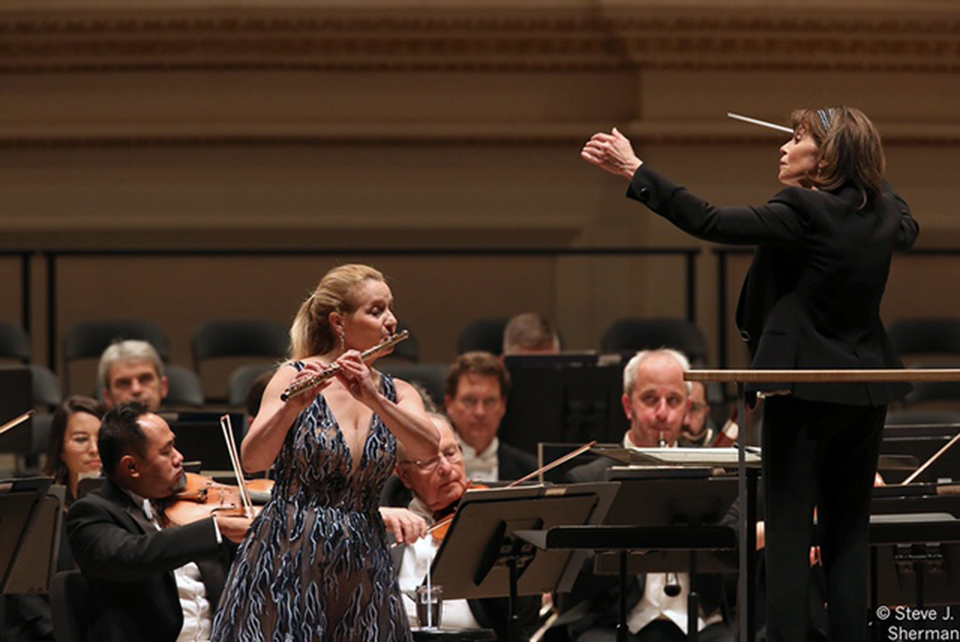 Amy Porter in Carnegie Hall with the Buffalo Philharmonic
Amy Porter (flute) was an active soloist in fall 2022. She played the Renaissance Concerto by Lukas Foss for the composer's Centennial Celebration with conductor JoAnn Falletta and the Buffalo Philharmonic, performing in Kleinhans Hall in Buffalo and in Carnegie Hall in New York City. She returned to Buffalo to record the concerto with the orchestra for the NAXOS label. She then performed with Trio Virado for Corvalis Chamber Music in Oregon as well as ArtsLive in Dayton, Ohio. As founder of the Southeast Michigan Flute Association, she was the featured guest at the 20th anniversary festival in October and celebrated with a recital and master class in Farmington Hills, Michigan.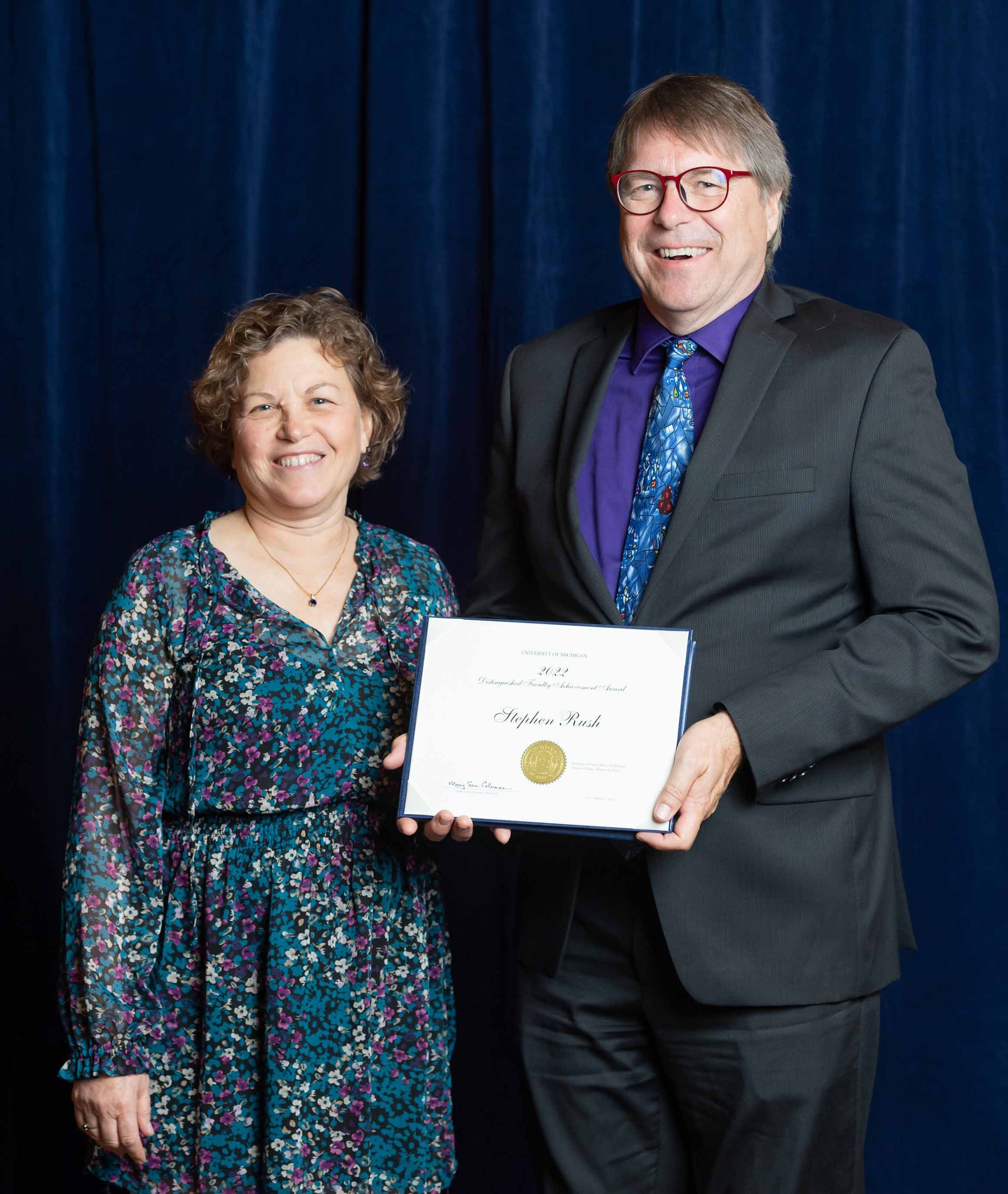 Stephen Rush (right) and his wife Merilynne Rush. Photo credit: Ahziala Brewer
Stephen Rush (performing arts technology) won the Distinguished Faculty Achievement Award and gave concerts of new piano music at Bowling Green State University, University of Redlands, Michigan State University, U-M, Michigan Technological University, and University of Calgary (Canada). His Ice Guys Fluxkit opera will be premiered in 2023. The work is about the only American (William Bakewell) on the first expedition to Antarctica. Rush presented his installation work World without Ice at the Percussive Arts Conference; presented his work Jeweled Net at a gallery in Portugal (for two months); performed La Monte Young's Composition 1960 No. 5 at the 8th International Conference on Music & Minimalism; and wrote Folk Song Suite, which concerns itself with Native American songs.
Unexpected Invitations for Christi-Anne Castro
Christi-Anne Castro (musicology/ethnomusicology) gave the first keynote ever for the University of the Philippines College of Music graduate student conference, Saliksik-Musika. After that, she found herself in uncharted waters with a couple of unexpected invitations. For the first, she presented a keynote lecture for the US Department of Commerce–National Oceanic and Atmospheric Administration's observance of Asian American and Native Hawaiian/Pacific Islander Heritage Month. For the second, she served as the composer-in-residence for the 2022 conference of the Classical Mandolin Society of America. The piece she wrote was performed by a 110-person ensemble that gathered at the conference.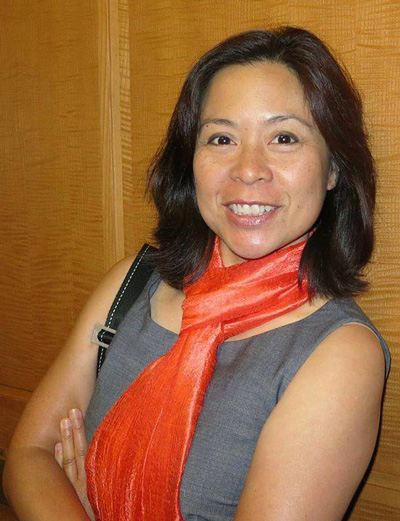 Kirk Severtson (voice) was awarded the 2022 Weston Noble Award from Luther College for Outstanding Achievement in the Field of Vocal Music.
Jeremy Sortore (theatre & drama) was the first theatrical voice and speech trainer to earn the distinction of PAVA-Recognized Vocologist from the Pan American Vocology Association, in August 2022. He has recently been invited to speak about theatrical intimacy practices for the National Alliance of Acting Teachers and about anti-oppressive pedagogy at the Voice and Speech Trainers Association annual conference in Sonoma. In November, Sortore co-led a three-day voice workshop for the Fitzmaurice Institute and served as voice and movement coach for Dr. Liz DeBetta's autoethnographic spoken-word piece "Un-M-Othered," presented at the world's largest solo theatre festival in New York City.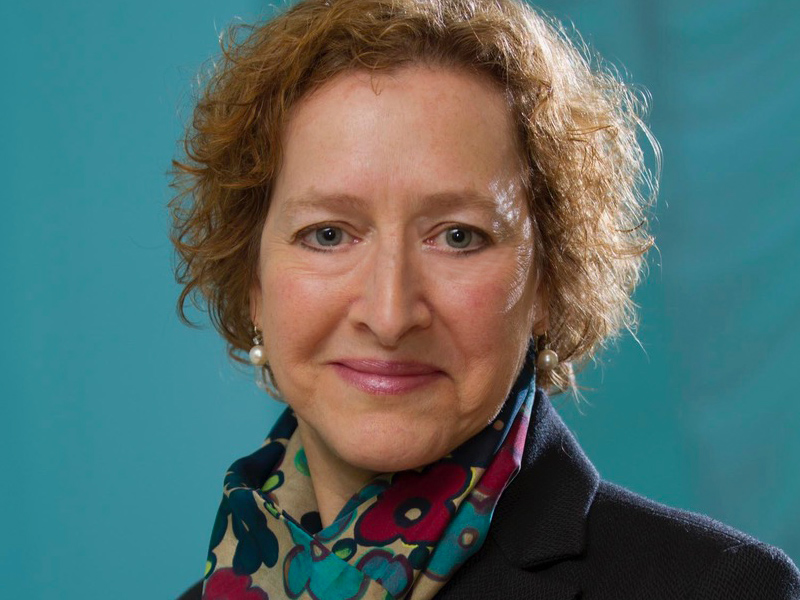 In late February 2023, Louise K. Stein (musicology) presented a paper for the American Handel Society conference: "'An old idea came into Handel's head.' Scarlatti – Handel Connections through Il gran Tamerlano." On March 10, she is giving the pre-opera talk at Detroit Opera's performance of Handel's Xerxes, which is only the second baroque opera that Detroit Opera (formerly Michigan Opera Theater) has done. On March 24, Stein is giving a pre-concert talk in Chicago for Haymarket Opera's production of the oratorio La Giuditta, by Alessandro Scarlatti.
Michael Udow, professor emeritus of music, was inducted into the Percussive Arts Society's Hall of Fame in November 2022. In celebration, several former students performed a concert of his original compositions at the PAS International Convention in Indianapolis. The alumni featured on the concert were Shoko Araya, Roger Braun, Pius Cheung, Anthony Di Sanza, Joseph Gramley, Renee Keller, Payton MacDonald, Takako Nakama, Dan Piccolo, and Patrick Roulet.
Since March of 2022, Amy West (dance) has been teaching ballet and serving as an on-ice coach and a health and wellness coach for the Michigan Ice Dance Academy (MIDA), which is headed by Olympic gold medalist Charlie White (2014) and his wife, Olympic silver medalist Tanith Belbin (2006). In January 2023, the MIDA skaters competed at the national level at their most important competition of the season. West has worked very closely on and off the ice with several of the competing teams, including Caroline Green and Michael Parsons, who took second place; Emily Bratti (a U-M student) and Ian Somerville, who finished in 5th place; and Katarina Wolfkostin and Jeffrey Chen (both U-M students), who finished in 7th place.
Mo Zhou (voice) is directing Rinaldo – music by George Frideric Handel, libretto by Giacomo Rossi – at Minnesota Opera.