An Impressive Showing for SMTD Saxophone Alums and Students
Several current and former members of the SMTD Saxophone Studio had a historic showing at the Naumburg Foundation International Classical Saxophone Competition in New York City held October 4-9. Valentin Kovalev (MM '22) was awarded co-first prize winner, Chance Stine (BM '19) was awarded second prize, and current DMA student Walt Puyear (MM '21) was awarded the finalist/honorarium award. The studio was also well represented earlier in the competition with semi-finalists Chad Lilley (BM '19) and Maria Torres-Melagares (MM '22). Additionally, a special recognition award and cash honorarium was awarded to SMTD collaborative pianist Liz Ames. Professor Timothy McAllister served on the competition jury. In addition to having his Carnegie Hall debut recital next season, Kovalev will receive a $20,000 cash prize and will have a commissioned work funded by the Naumburg Foundation.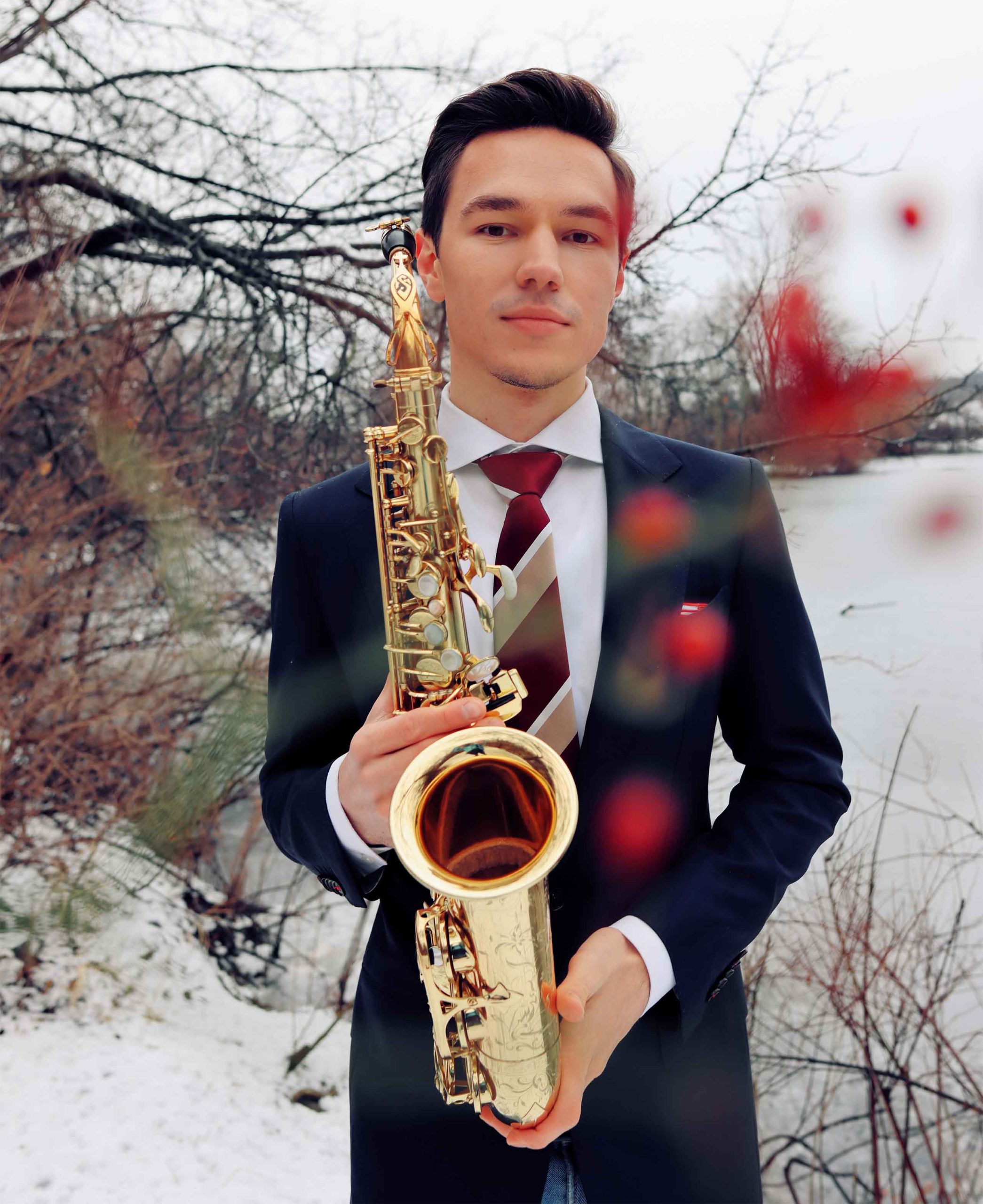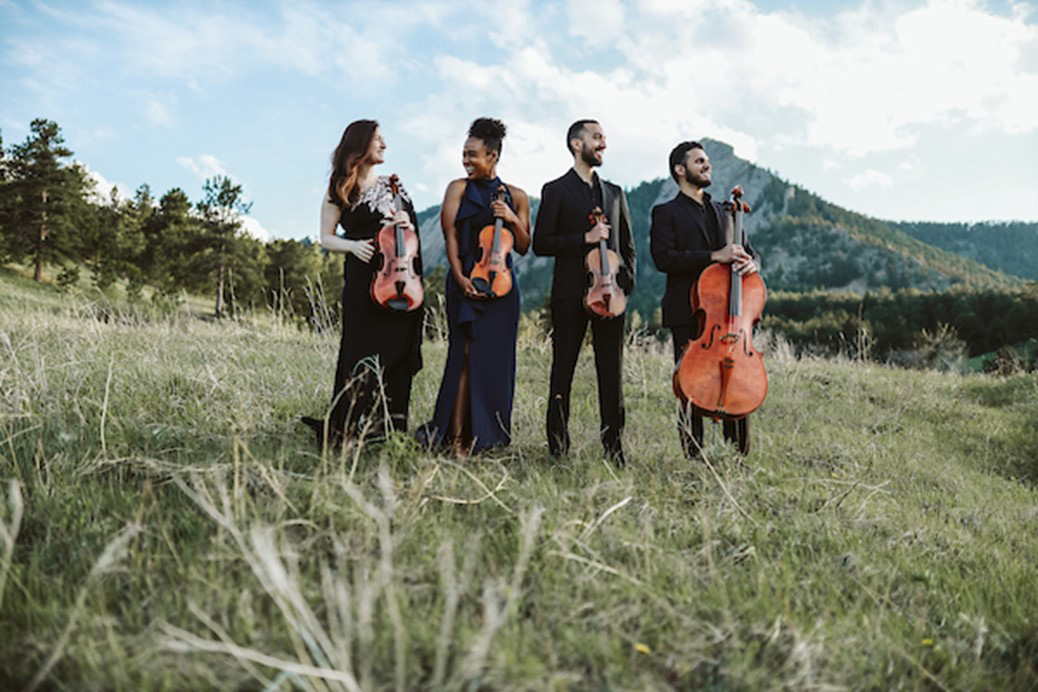 Ivalas Quartet (l to r) Aimée McAnulty, Tiani Butts, Reuben Kebede, and Pedro Sánchez
The Ivalas Quartet, consisting of Tiani Butts, MM '21 (violin, chamber music); Reuben Kebede, attended '18–'19 (violin); Aimée McAnulty, BM '19 (viola); and Pedro Sánchez, MM '18 (cello), was recently named the graduate resident string quartet at Juilliard. The quartet was formed at MPulse Center Stage Strings in 2017.
Kimberly Fleming, DMA '22 (wind conducting), joined the faculty at the University of Illinois Urbana-Champaign as the assistant director of bands. In this role, she conducts the Hindsley Symphonic Band and teaches courses in conducting.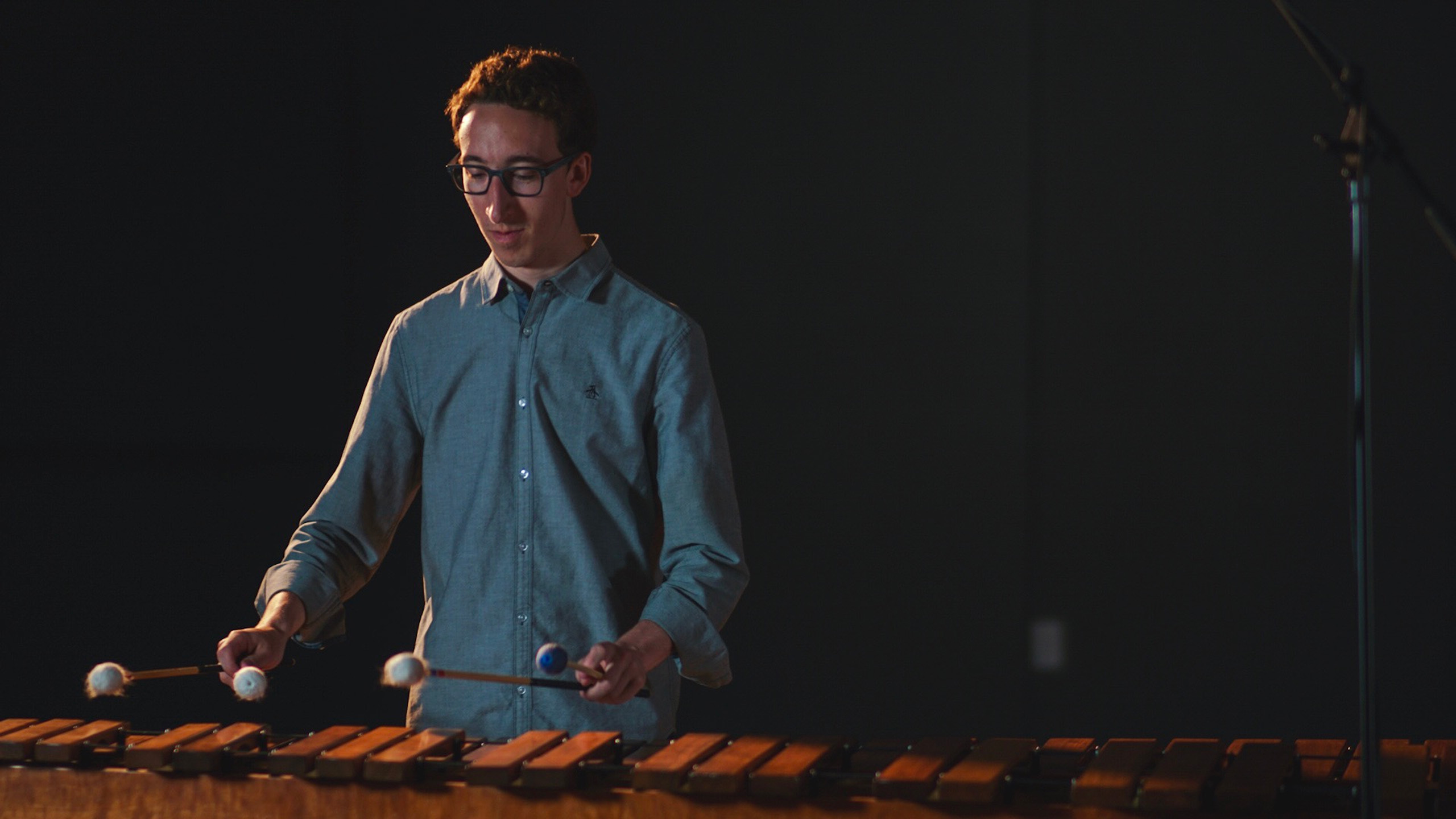 Reed Puleo. Photo credit: Nick Stevens
Reed Puleo, MM '22 (percussion, chamber music), was selected as one of 28 players worldwide to take part in the 2022 edition of the TROMP International Percussion Competition in Eindhoven, the Netherlands, in November. The jury consisted of acclaimed percussionists from all over Europe, Asia, and the United States.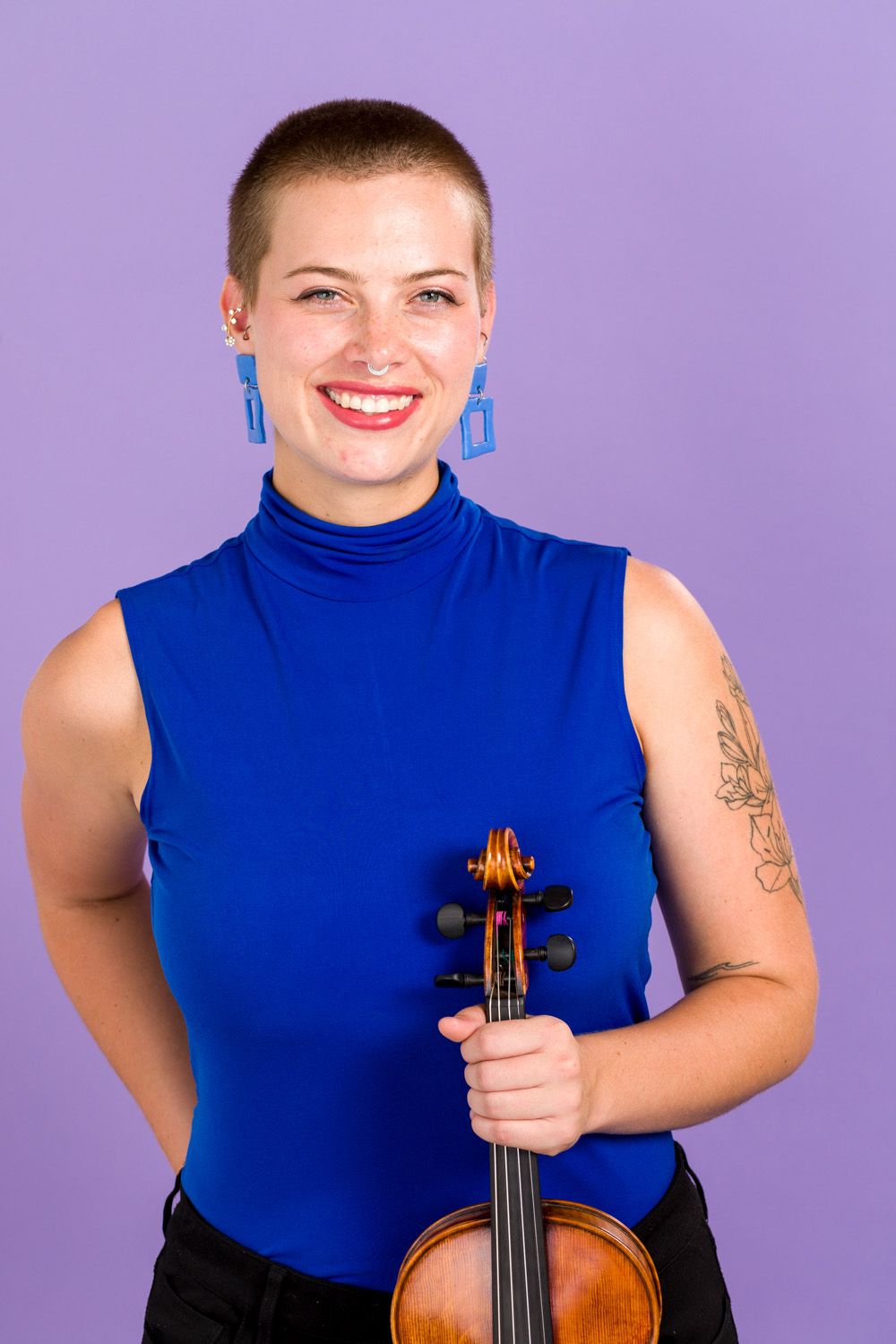 Meg Rohrer. Photo credit: Clay Larsen
In July 2022, Meg Rohrer, MM '20 (violin), was appointed as the new violinist in Hub New Music, a quartet composed of violin, cello, clarinet, and flute that commissions, premieres, and tours new repertoire from today's foremost composers. Rohrer's first season with Hub included the long-awaited October premiere of Requiem for the Enslaved by Carlos Simon, DMA '17 (composition). The season will also include 2023 premieres of new works from Andrew Norman, Tyshawn Sorey, Angélica Negrón, Marcos Balter, Donnacha Dennehy, Nico Muhly, and Jessica Meyer.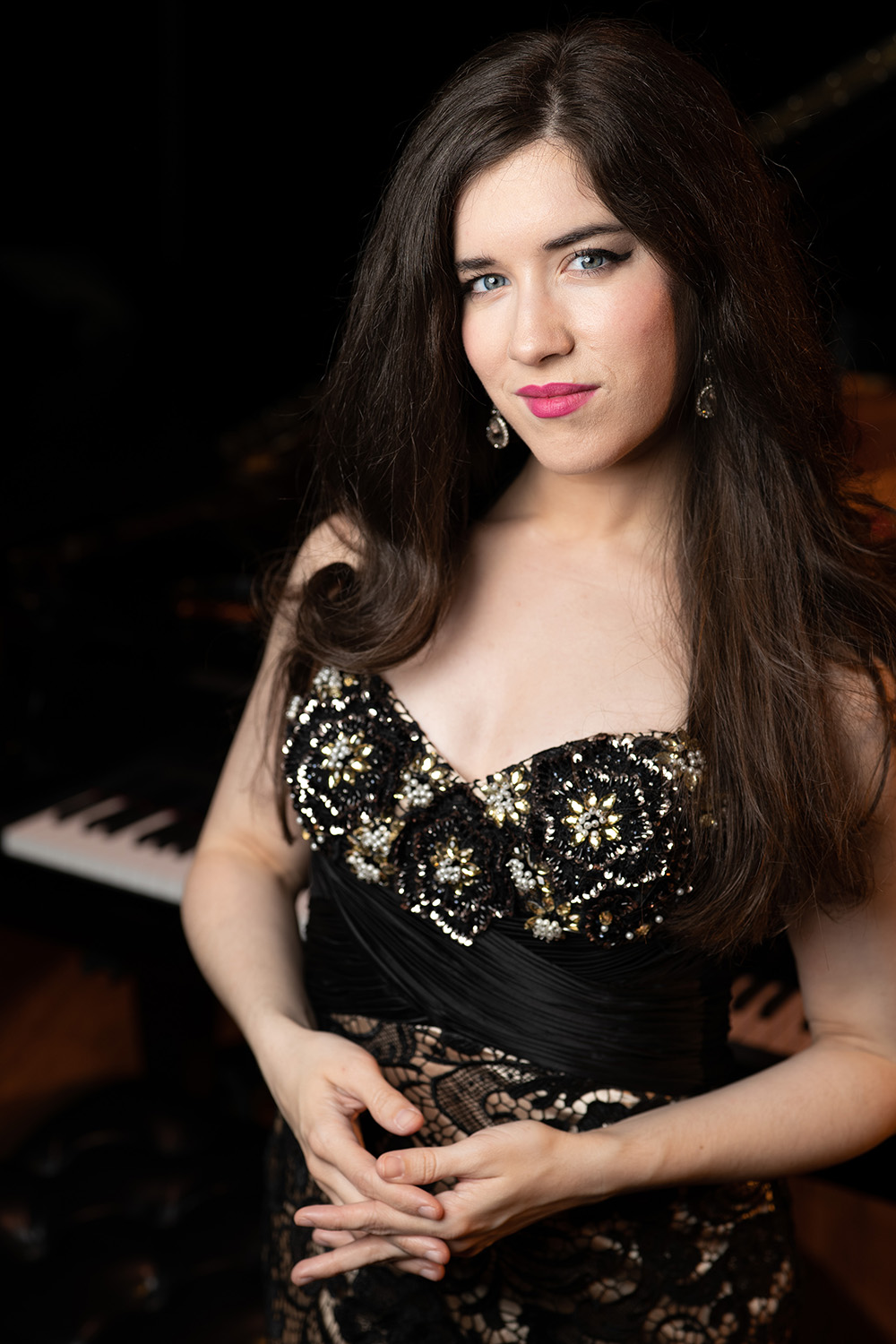 Natalie Sherer. Photo credit: Peter Schamp
Natalie Sherer, DMA '22 (collaborative piano), accepted a tenure-track position at Florida State University's College of Music, where she is now assistant professor of vocal coaching and collaborative artist. She is enjoying coaching and teaching students and performing with faculty and guest artists.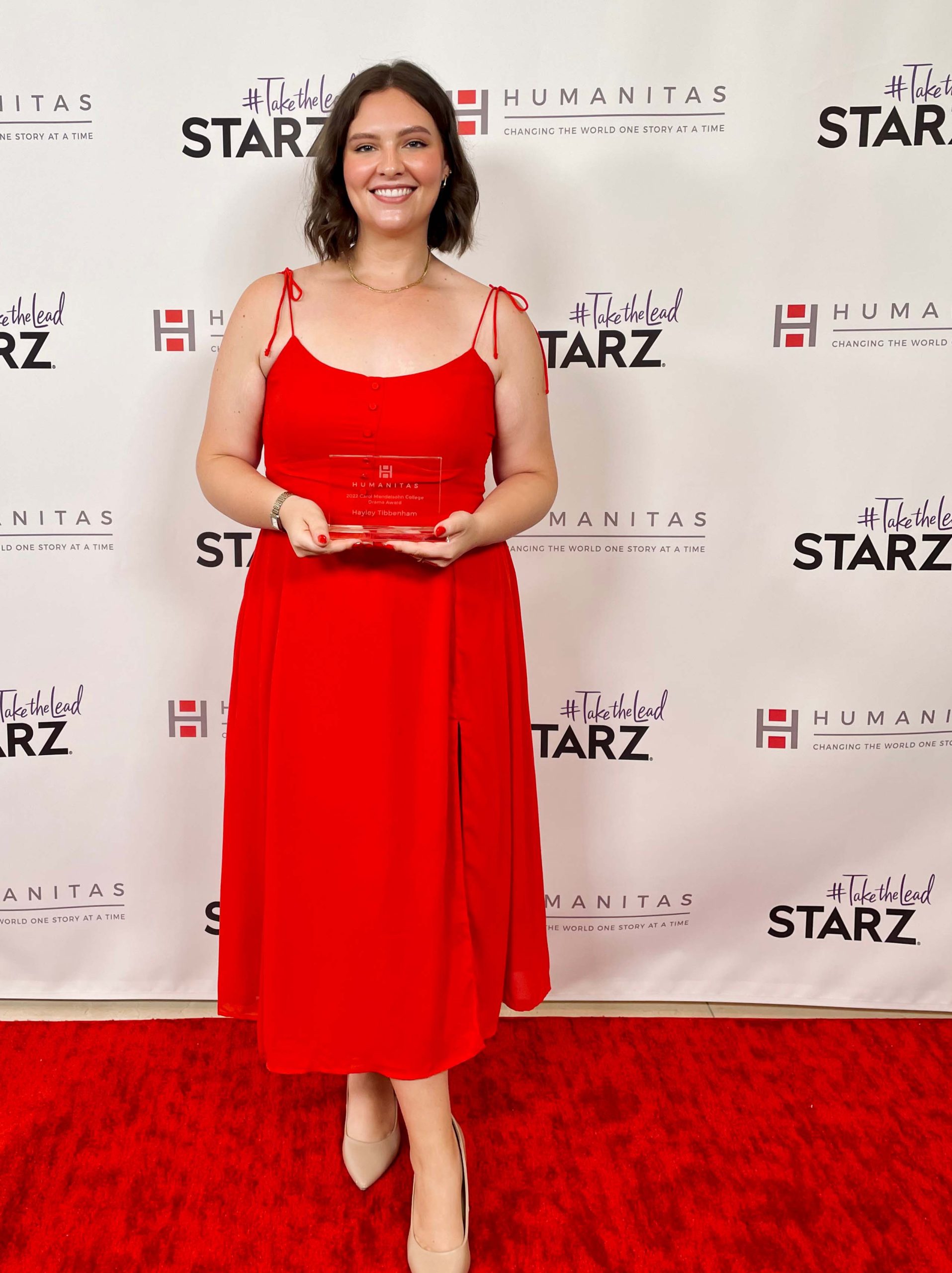 Hayley Tibbenham, BMA '20 (voice), graduated from the American Film Institute Conservatory with an MFA in screenwriting. During her time at the AFI, Tibbenham wrote a feature screenplay based on the music and life of unsung composer Fanny Mendelssohn. The script, Songs Without Words, was named winner of this year's Humanitas Prize for College Drama and placed in the top 50 scripts considered for the prestigious Academy Nicholl Fellowship.
Mike Vecchio, MM '13 (euphonium, music education), PhD '22 (music education), is currently serving as lecturer of music education at the University of Illinois, teaching courses in instrumental music education.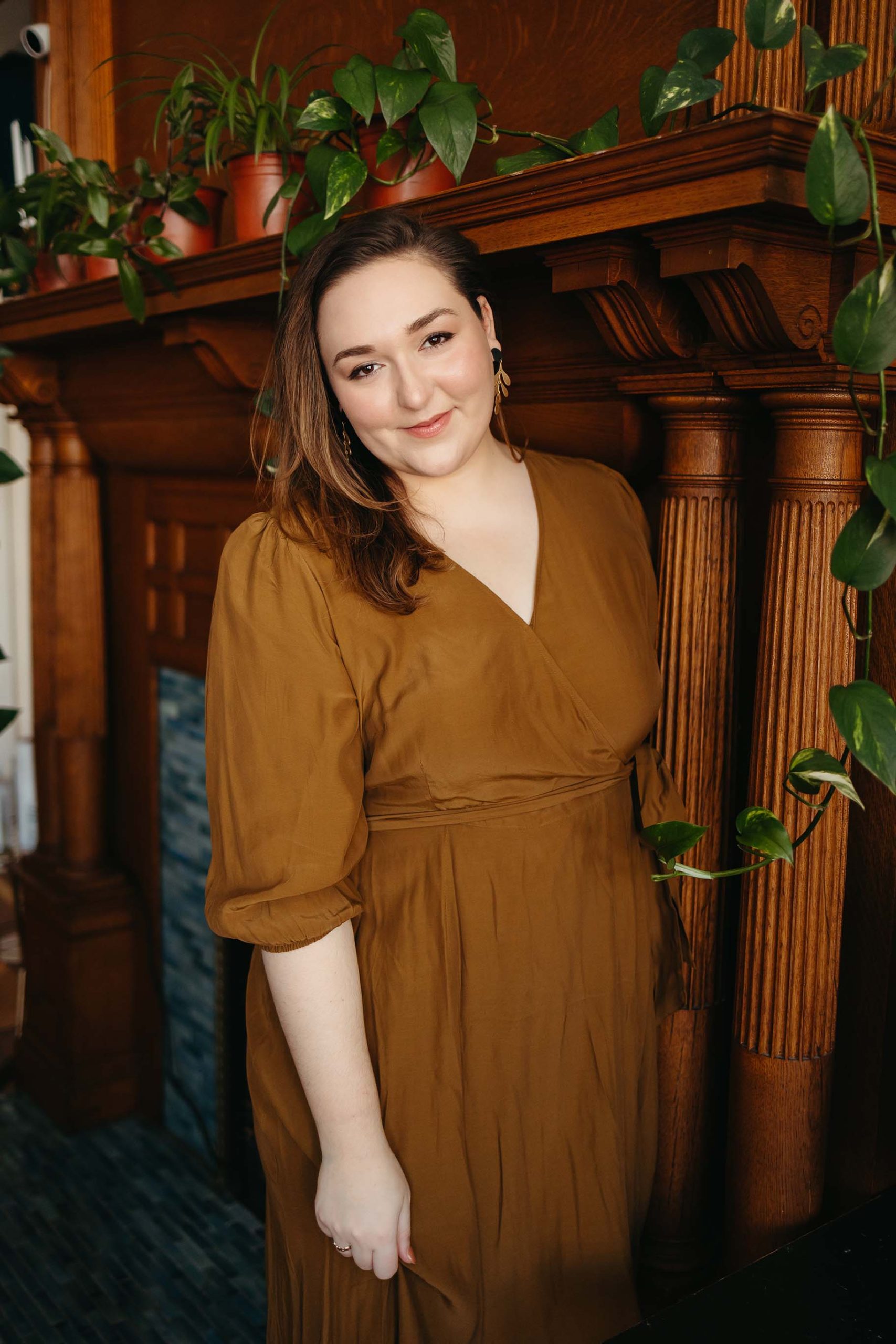 Katrina Fasulo. Photo credit: Meredith Hart Photography
Fasulo Chosen for OPERA America Mentorship Program
Beyond serving as full-time director of development at Opera Saratoga, Katrina Fasulo, BMA '17 (voice), serves as program book consultant with the University Musical Society (UMS) in Ann Arbor. Additionally, she began working last fall with a variety of independent artists and small nonprofit arts organizations as a consultant. Recent speaking engagements include guest lecturing last October with the private entrepreneurship and business coaching programs of Ann Marie Calvaneso, BM '17 (voice). In January 2023, OPERA America announced that Fasulo had been selected as a protégé in the 2022‒23 Mentorship Program for Women Administrators. The program pairs rising opera administrators with industry leaders who can help them overcome barriers to advancement and develop plans for professional growth. Fasulo is paired with mentor Julia Noulin-Mérat, general director and CEO of Opera Columbus.
In fall 2022, Joel Ayau, DMA '10 (collaborative piano), joined the faculty of New England Conservatory as senior vocal coach. His recent appearances with Renée Fleming included a performance (along with Hao Jiang Tian and Bela Fleck) at the Kennedy Center as part of the Coal + Ice Exhibition and in virtual galas for the Metropolitan Opera and the Lang Lang International Music Foundation.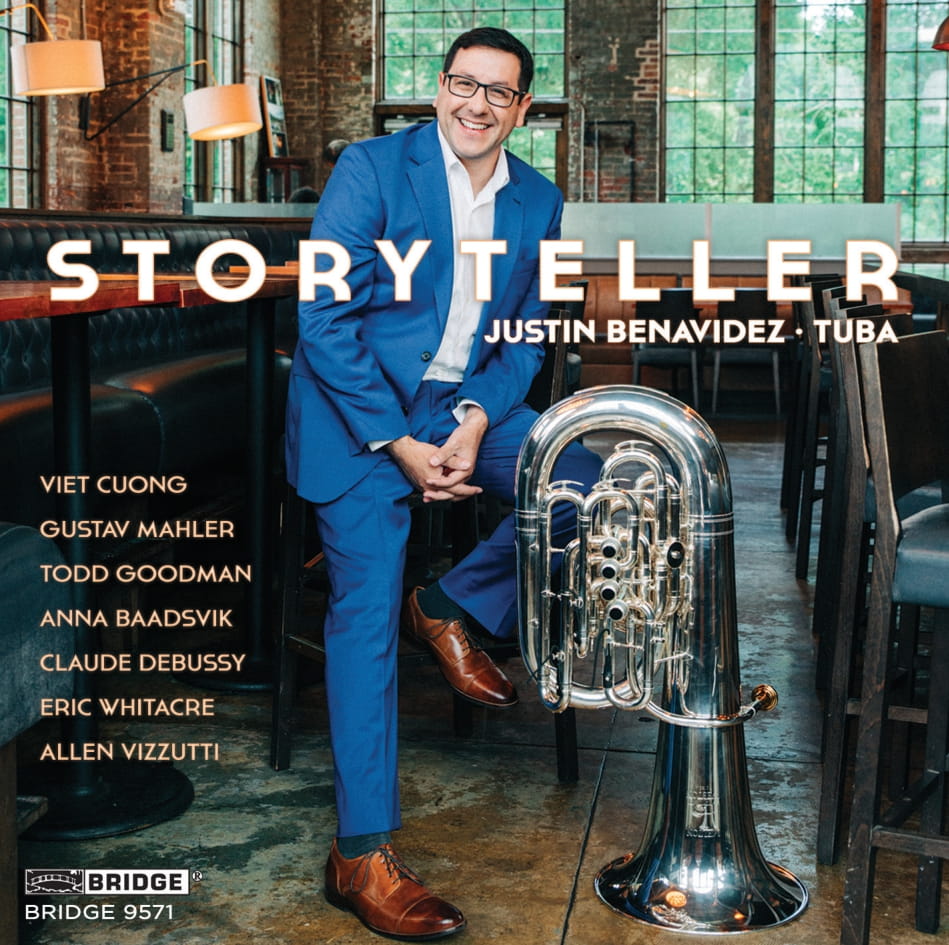 Justin Benavidez. Photo credit: Alicia Osborne Photography
Justin Benavidez, MM '07, DMA '10 (tuba), professor of tuba and euphonium at Florida State University, recently released Storyteller, his second solo album. The album features the premiere recordings of three new tuba concerti performed with the wind ensembles of the FSU College of Music, and it was awarded Silver Medals in the Classical Album and Solo Instrumentalist categories of the Global Music Awards.
Kevin Kolton Bradley, BFA '04 (acting), is a New York-based director, actor, and teacher. He recently earned an MFA in directing from Boston University. He has directed at several theatre companies, including Huntington Theatre Company, Gloucester Stage Company, SpeakEasy Stage Company, New Repertory Theatre, Lyric Stage Company, and Detroit Repertory Theatre. Most recently he was a part of the Boston premiere of The Inheritance by Matthew Lopez and The Play That Goes Wrong by Henry Lewis, Jonathan Sayer, and Henry Shields.
Kurt Clare, BM '19 (voice), was promoted to manager, events and individual giving, within the development office at Kaufman Music Center in New York City.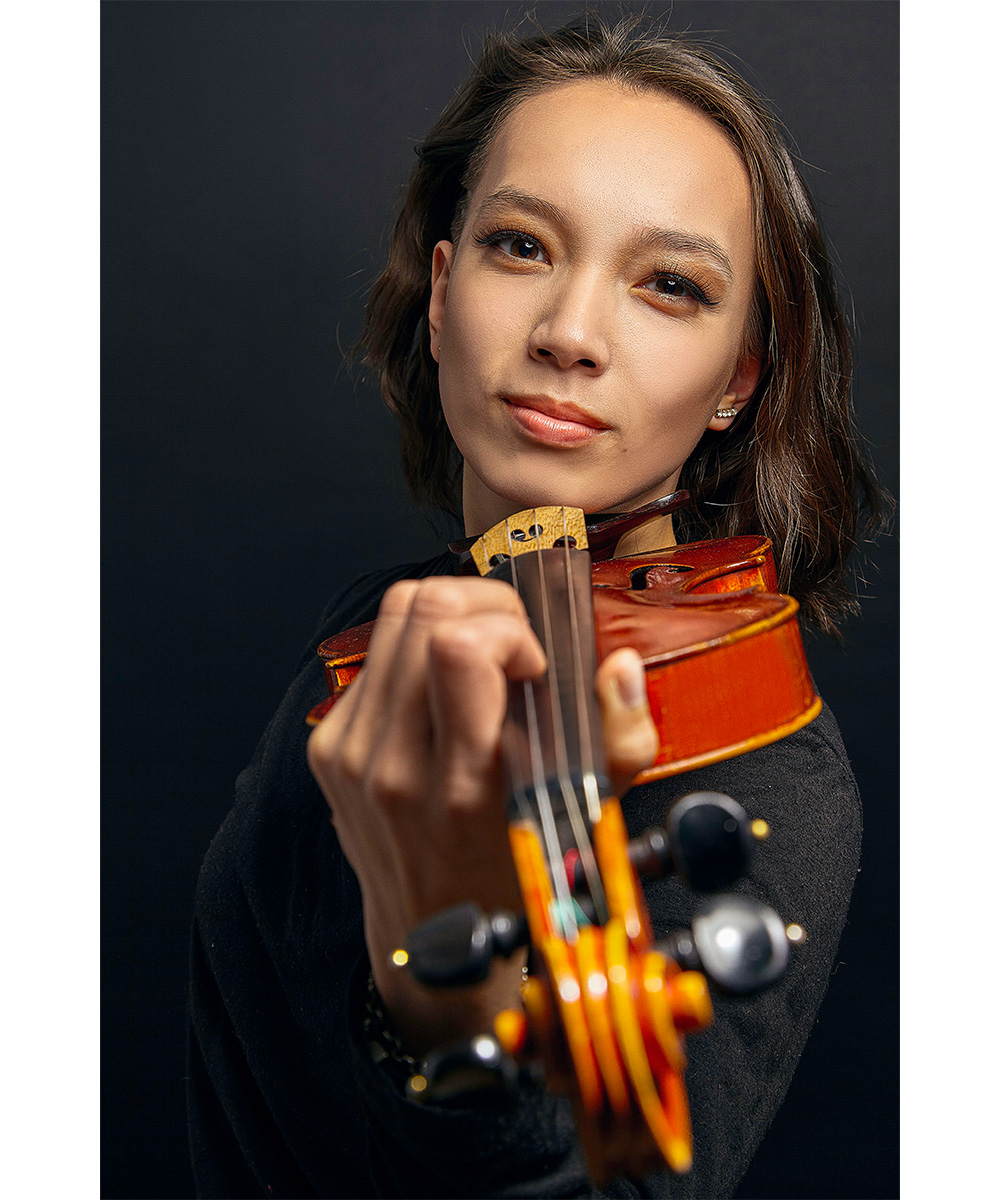 Teagan Faran. Photo credit: Naomi Vand
Teagan Faran, BM '18 (violin), has been named the new violin professor and co-director of the Electronic Experimentation Lab at DePauw University in Greencastle, Indiana. In addition to leading the violin studio, Faran is also developing projects across the string department to facilitate collaborations with the film department and student dance groups. Through the university, Faran and the string department have commissioned Yaz Lancaster and will be producing a full music video of the work this spring.
Shannan Hibbard, BM '00, MM '05 (music education, voice), PhD '17 (music education), an elementary general music teacher, recently received the Fred Martin Detroit Educator of the Year award from the Coleman A. Young Foundation. Hibbard also recently accepted an offer to join the faculty at Wayne State University as an assistant professor of vocal music education.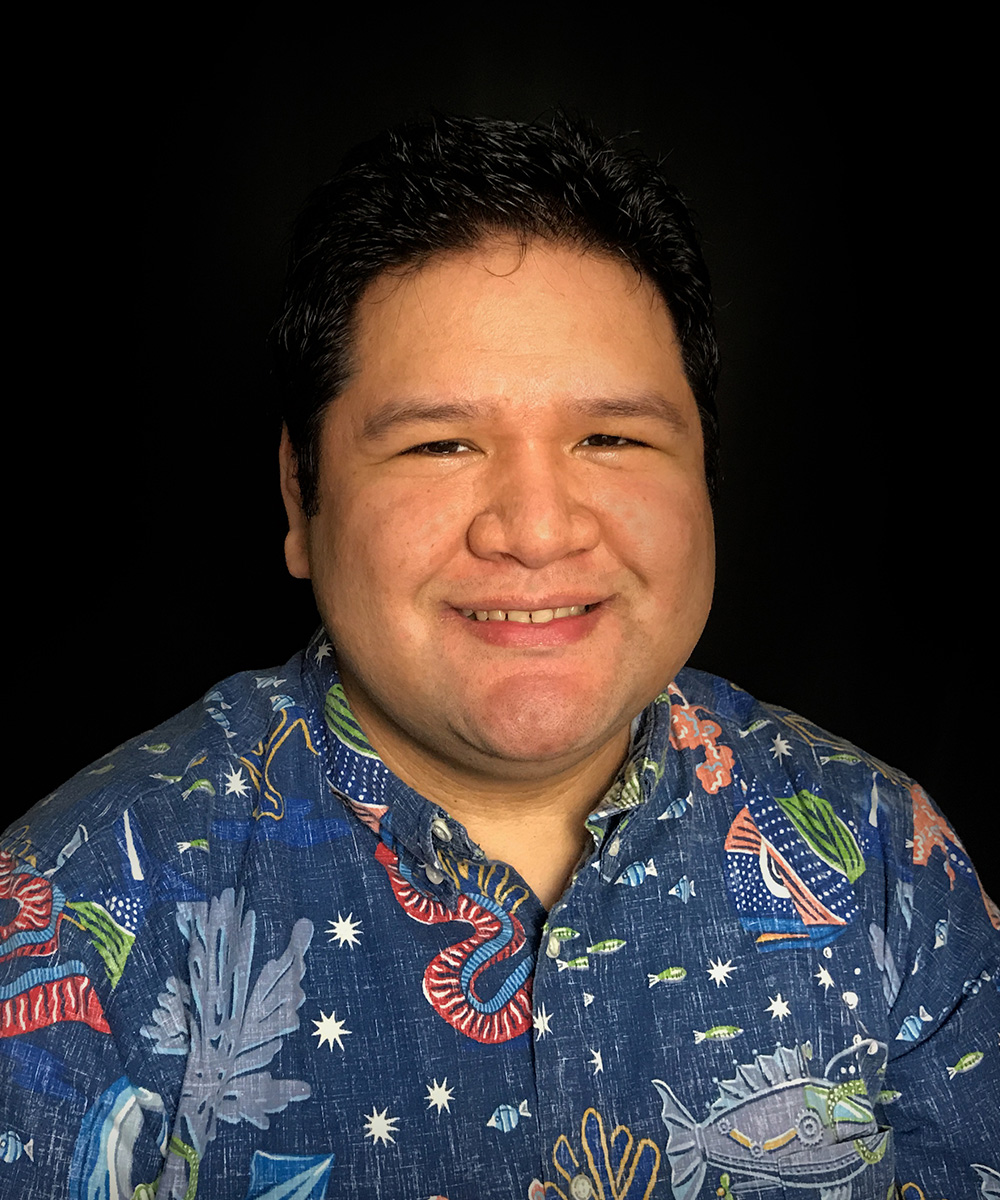 Michael-Thomas Foumai, MM '11, DMA '14 (composition), was appointed director of artistic engagement and the first composer in residence for Hawai'i Symphony Orchestra. In November 2022, his arrangements (commissioned by the Los Angeles Philharmonic) of music composed by Florence Price premiered at Walt Disney Concert Hall.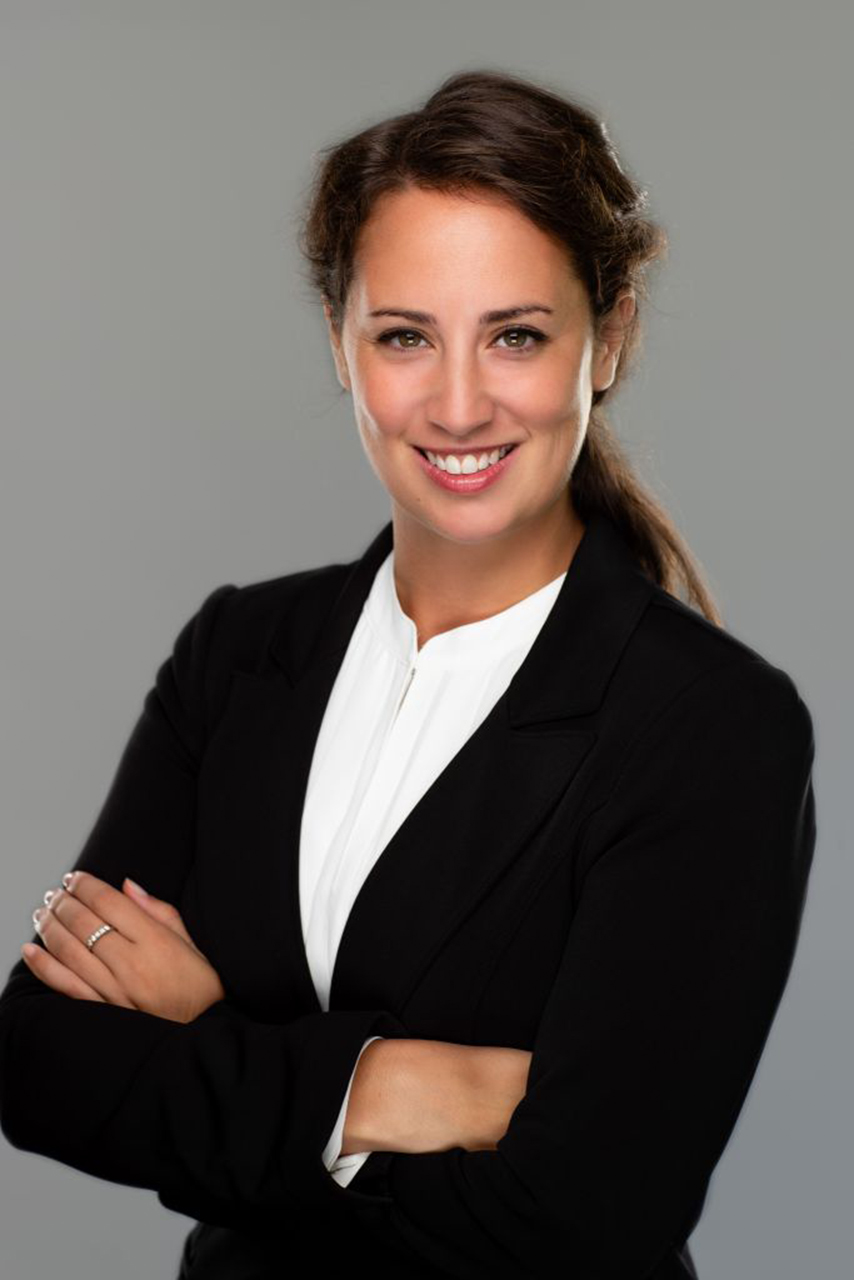 Chelsea Gallo, DMA '19 (orchestral conducting), was appointed assistant conductor of the Florida Orchestra and principal guest conductor of the Orlando Philharmonic Orchestra for the 2022–23 season. Additionally, she is a 2022 winner of the prestigious Sir George Solti Conducting Career Award. Gallo will be a cover conductor with the New York Philharmonic and will make her debuts with the symphonies of Mexico City, Virginia, Sarasota, and Bridgeport. She has upcoming musical projects with NASA and the New York Yankees. Coming off the heels of her tenures with the Detroit Symphony, Dallas Opera, and the Louisiana Philharmonic, Gallo recently signed with William Reinert Associates and Spinto Talent agencies for representation.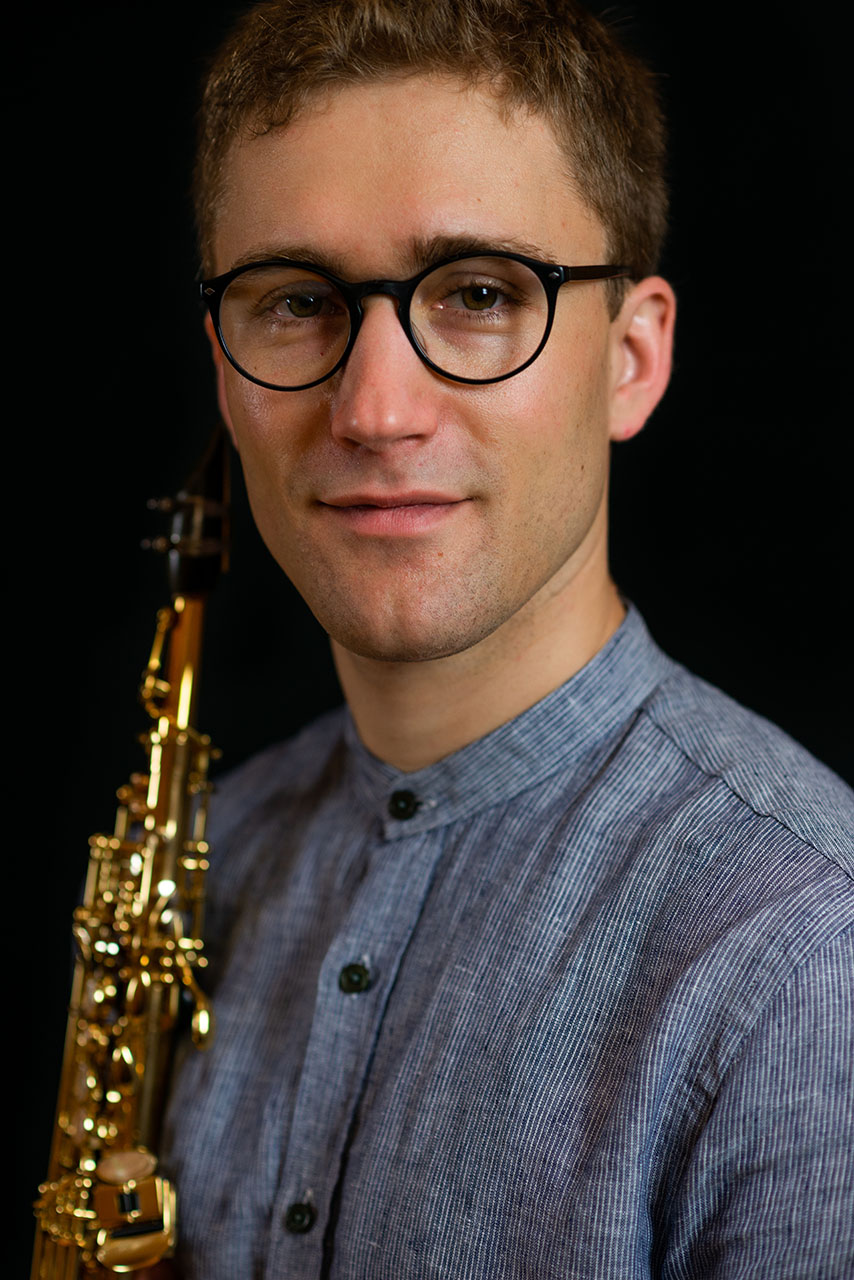 Jonathan Hulting-Cohen, BM '12, MM '14 (saxophone), performed John Williams's Escapades for Alto Saxophone and Orchestra with Maestro Peter Jaffe (father of James Jaffe, BM '10 (cello)) and the Stockton Symphony in November. This was Hulting-Cohen's sixth performance of Escapades, including two with Maestro Bruce Kiesling, BFA '95 (musical theatre), MM '98 (voice, choral conducting), of the Sequoia Symphony in California and Adrian Symphony in Michigan. Other fall highlights included guest recitals at the Boston Conservatory and Kent State University, leading a commissioning consortium for a new chamber work by Annika Socolofsky, MA '14 (composition), five world premieres with the New Thread Quartet in New York, two solo world premieres, and a performance of Anton Webern's Op. 22.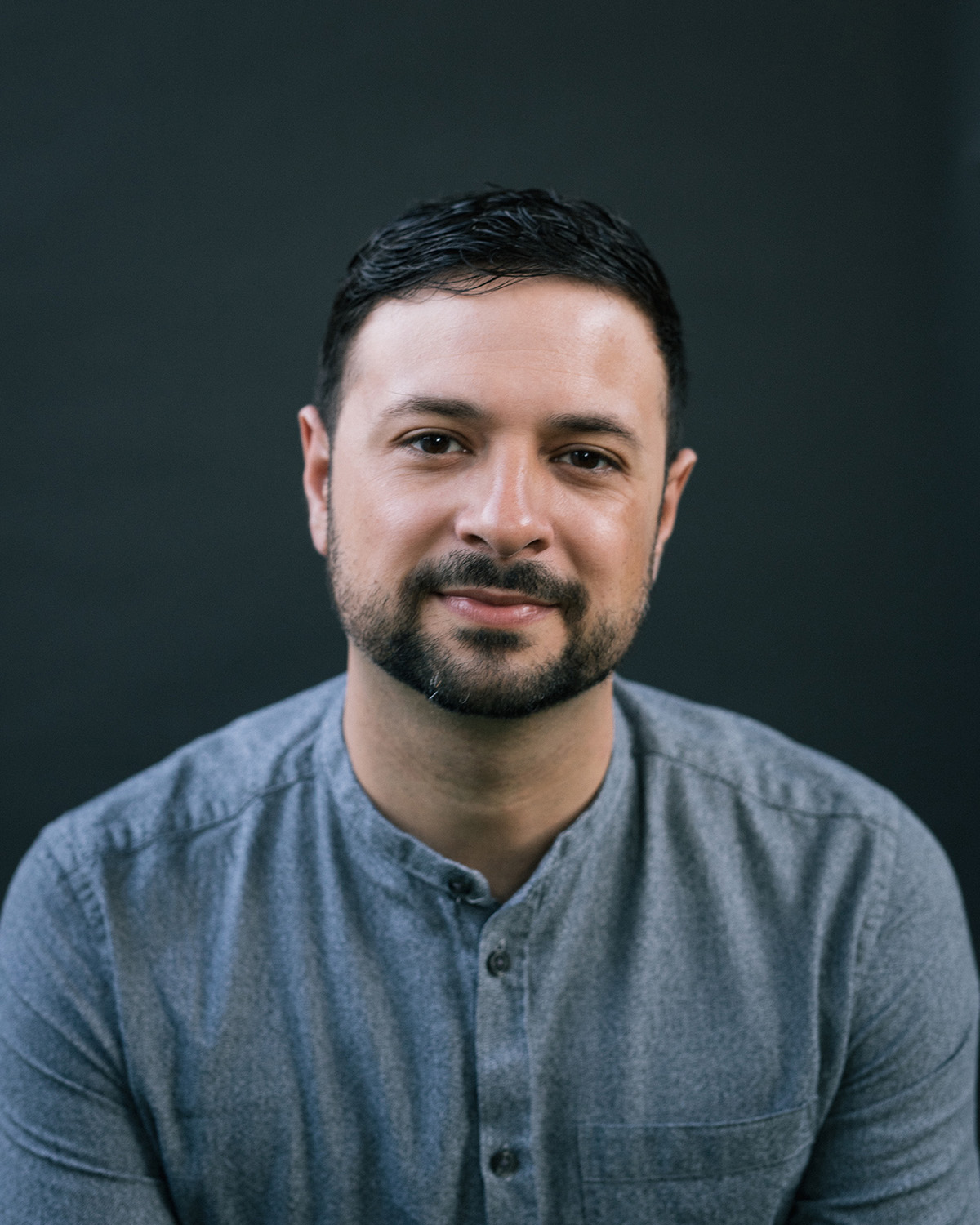 Michael Malis. Photo credit: John Mark Hanson
In August, Michael Malis, BFA '11 (jazz studies), released From Darkness We Awaken on Brisbane-based Made Now Music. The recording features Malis on prepared piano alongside Virago, the SMTD-founded chamber-improvising ensemble who commissioned the piece. From Darkness We Awaken was premiered at the Detroit Institute of Arts alongside a new chamber arrangement of Malis's Imperfect Intervals suite and the world premiere of a new solo piano work, Hold Tightly Your Vision of How Things Could Be. In December, Malis's duo project with saxophonist Marcus Elliot, released its second album, Conjure, on Detroit-based Two Rooms Records.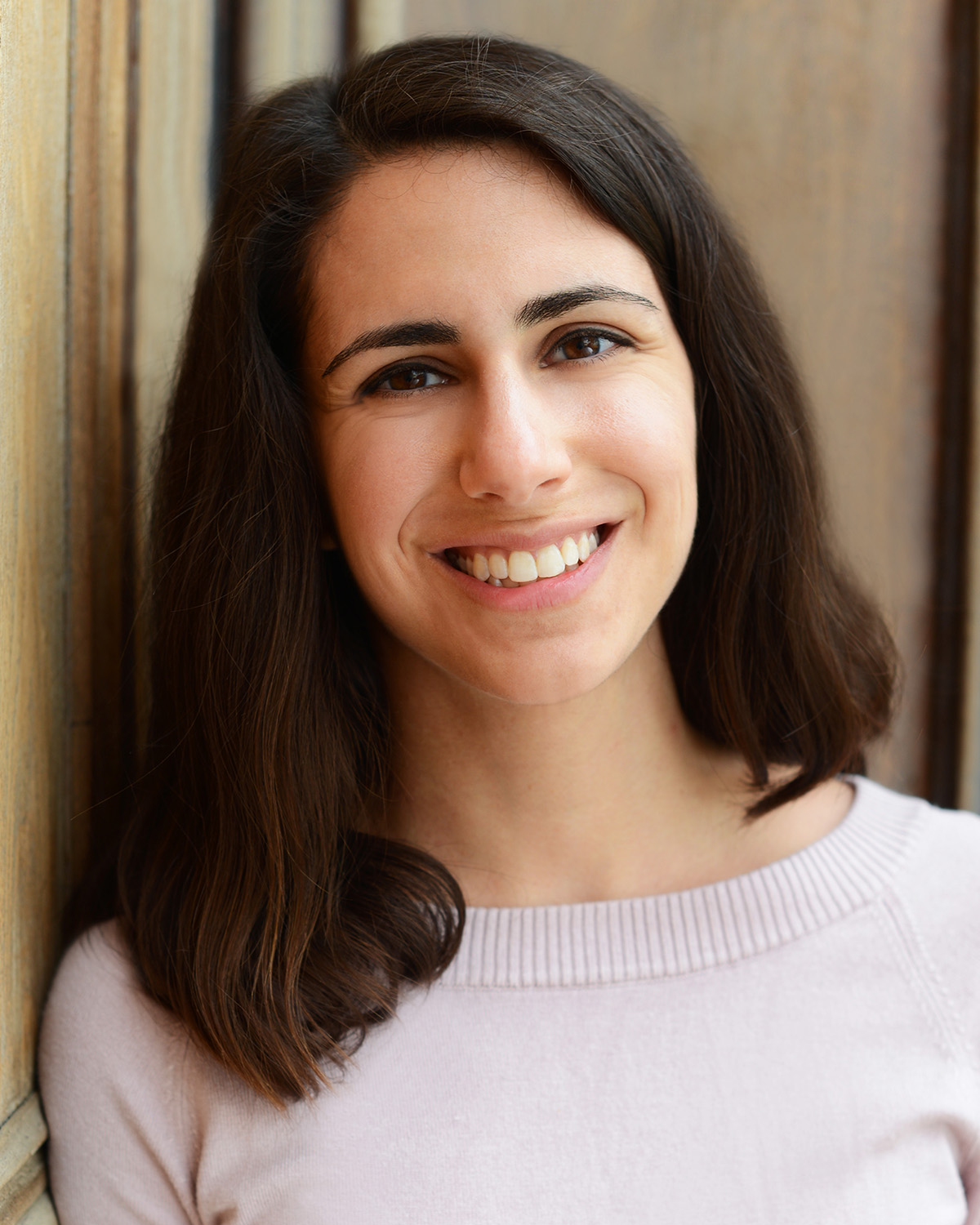 Christina Manceor. Photo credit: Britt Olsen-Ecker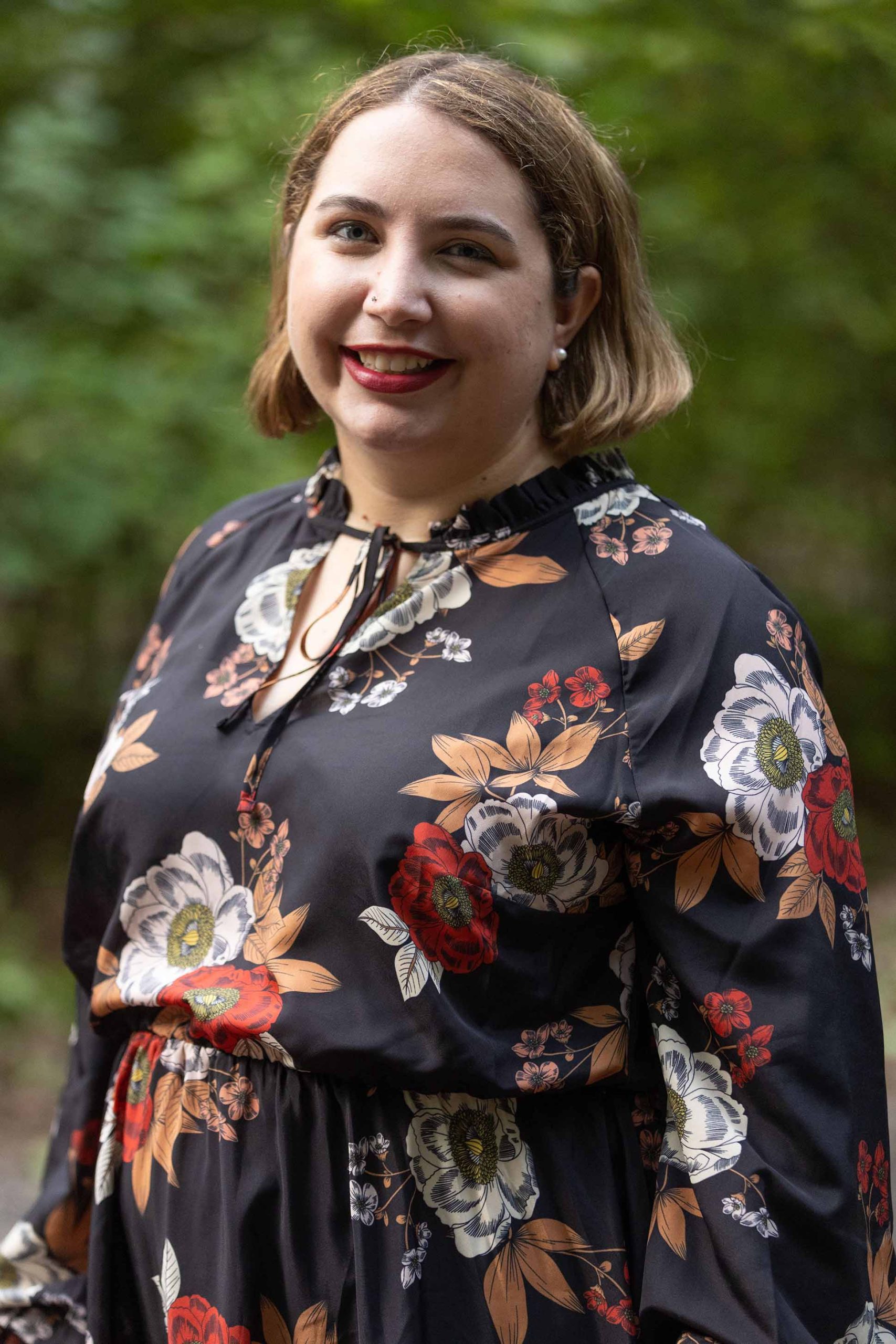 Joanna Miller. Photo credit: Samantha Tadelman
Joanna Miller, BTA '14 (performing arts management), started a new role in May 2022 as manager of project implementation in the client services department at Granicus. She manages a team of remote project managers delivering modern websites for local governments across the United States. When she's not at Granicus, Joanna also volunteers helping to end homelessness in the Washington, DC, area and moonlights as a wedding officiant.
Andrew Munn, BMA '14 (voice), returned to the United States as a guest artist at the Pennsylvania State University School of Music, working with students and presenting a recital of Eisler, Schubert, and Shostakovich. While in the United States, he sang the bass solos in Mozart's Requiem and presented his English adaptations of Bertolt Brecht's poems set by Hanns Eisler in the Hollywood Liederbuch. In December 2022, he performed Schubert's Winterreise with his duo partner, Rami Sarieddine, at the ARTE Center of Nicosia, Cyprus.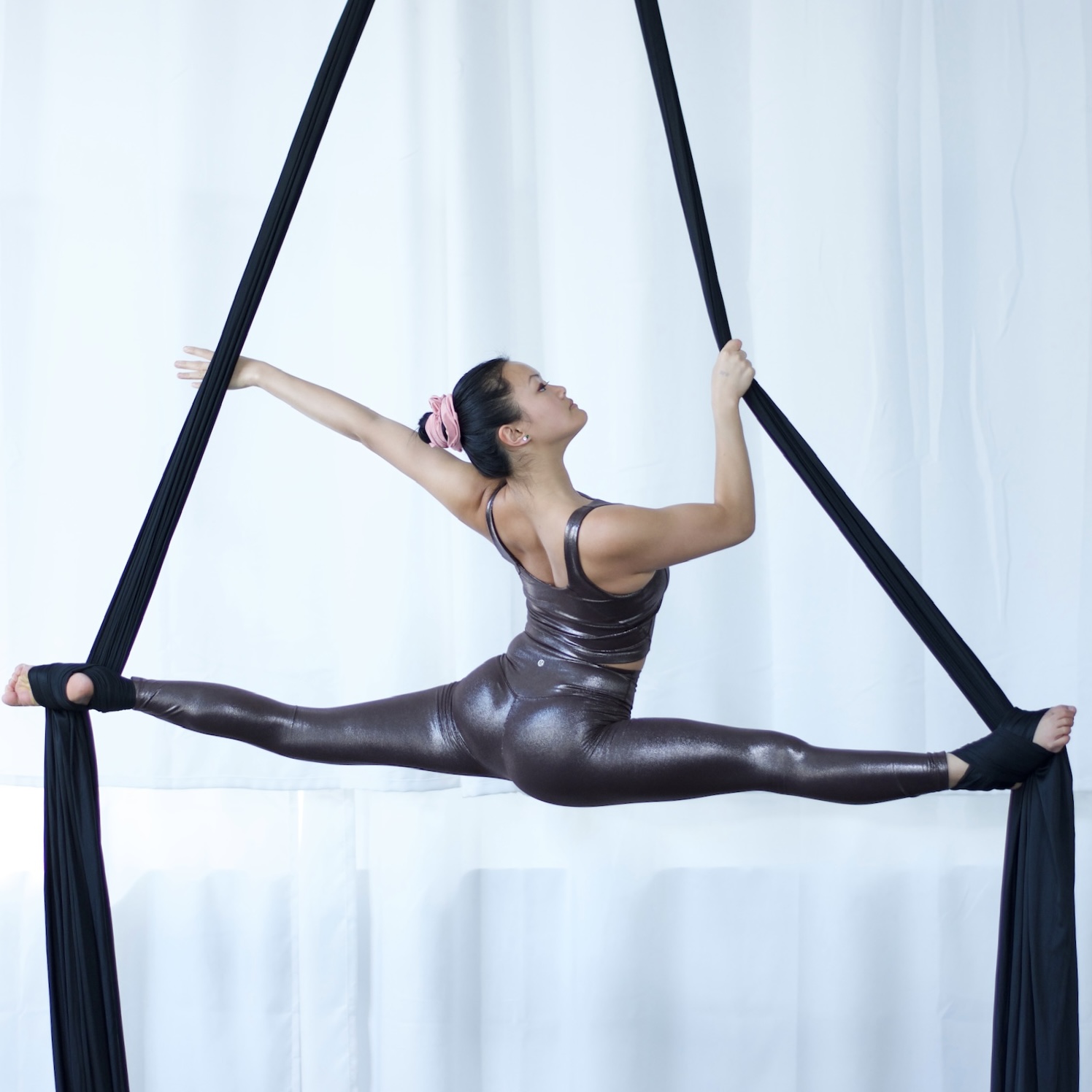 Anna Nordmoe plays violin and piano and does aerial acrobatics in Teatro Zinzanni's newest show.
Anna Nordmoe, BM '19 (violin), is a New York City-based violinist who most recently appeared in Hadestown on Broadway as well as on its national tour as the violin substitute. Since receiving her master's degree recently, she has performed in major venues across the United States with Michael Buble, The Who, and Il Divo. Anna can be seen for the next several months performing with Teatro Zinzanni in Seattle as a violinist, pianist, and aerial acrobat. Having been a part of the engineering school during her time at Michigan, Anna balances her performing career with working for Amazon's Alexa Smart Home organization.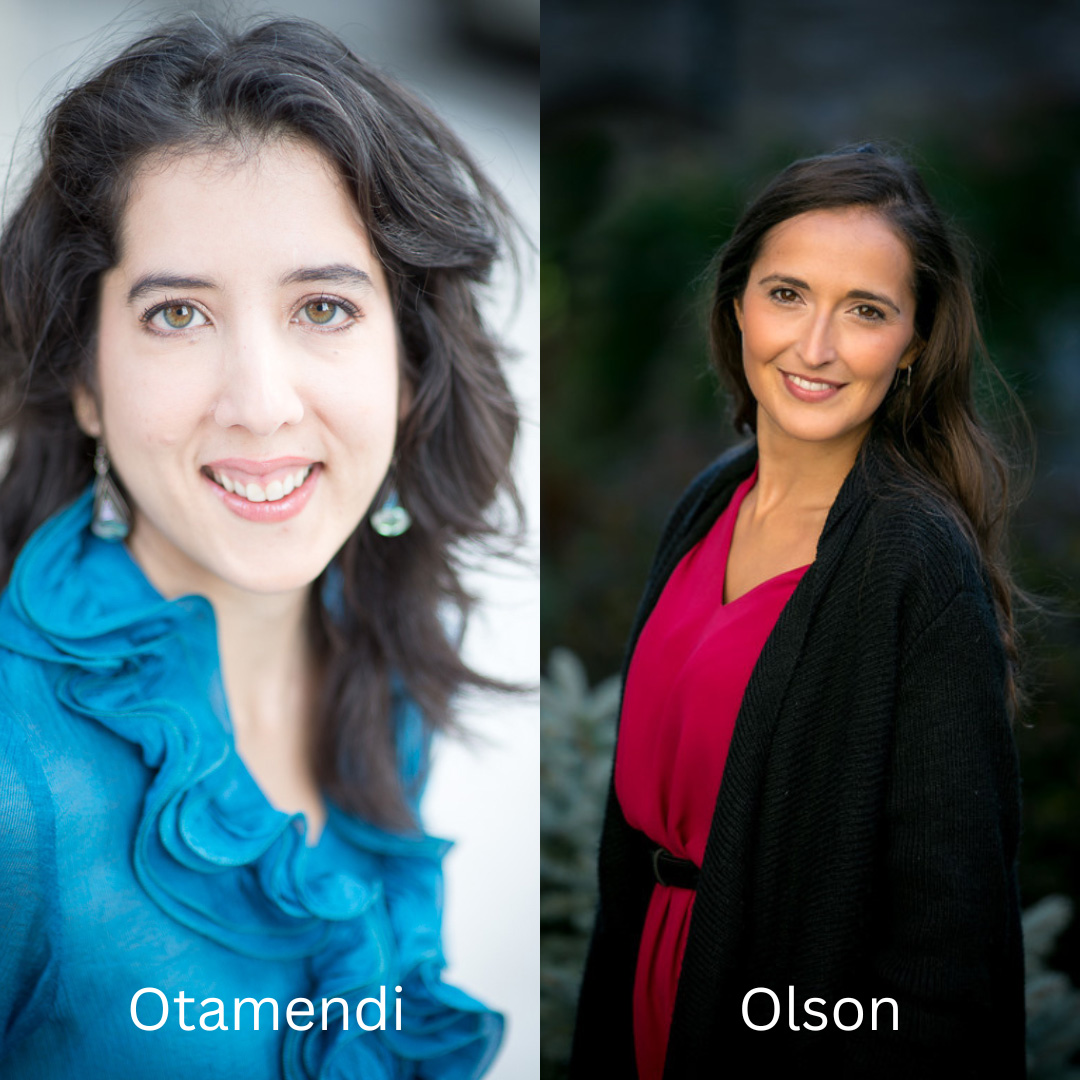 Ana Maria Otamendi and Jennifer Olson
On October 7th, Ana Maria Otamendi, DMA '11 (collaborative piano), and Jennifer Olson, MM '10 (voice), released their album of South American art songs, Cantos y Cuentos (Songs and Tales), on Centaur Records. The recording includes songs by Jaime León (Colombia), Juan Bautista Plaza (Venezuela), Alberto Ginastera (Argentina), and Ernani Braga (Brazil). Cantos y Cuentos can be found on all streaming platforms.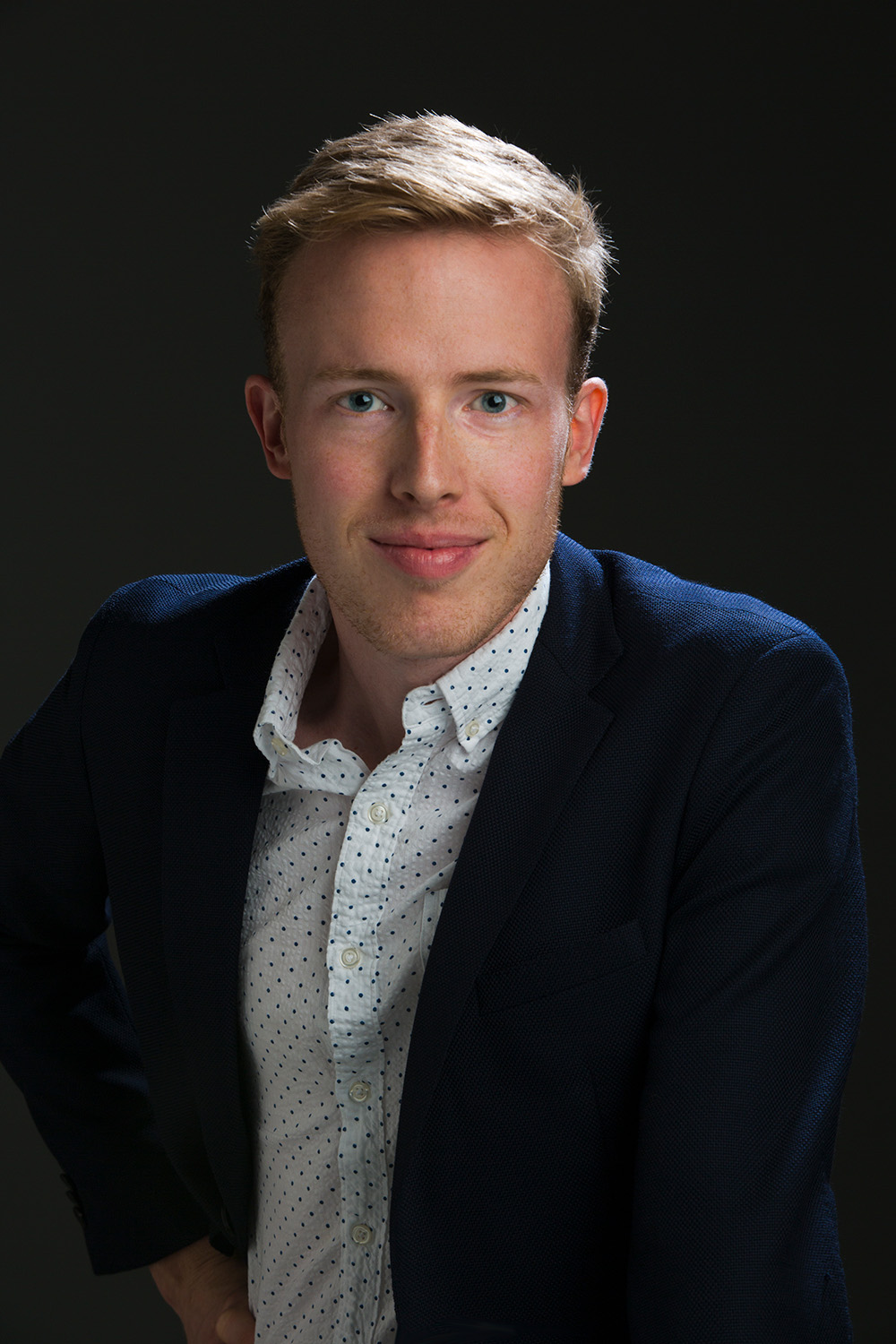 Jules Pegram. Photo credit: r.r. jones
Jules Pegram, MM '15, DMA '18 (composition), has been commissioned by a consortium of 18 universities to compose L.A.TUDES, a travelogue for wind ensemble in which each étude depicts a different locale in the City of Angels. Michael Hancock will conduct the world premiere on February 28, 2023, with the University of Central Arkansas Wind Ensemble ahead of performances by wind ensembles at the University of Michigan, University of Southern California, Michigan State University, University of Illinois, and more nationwide.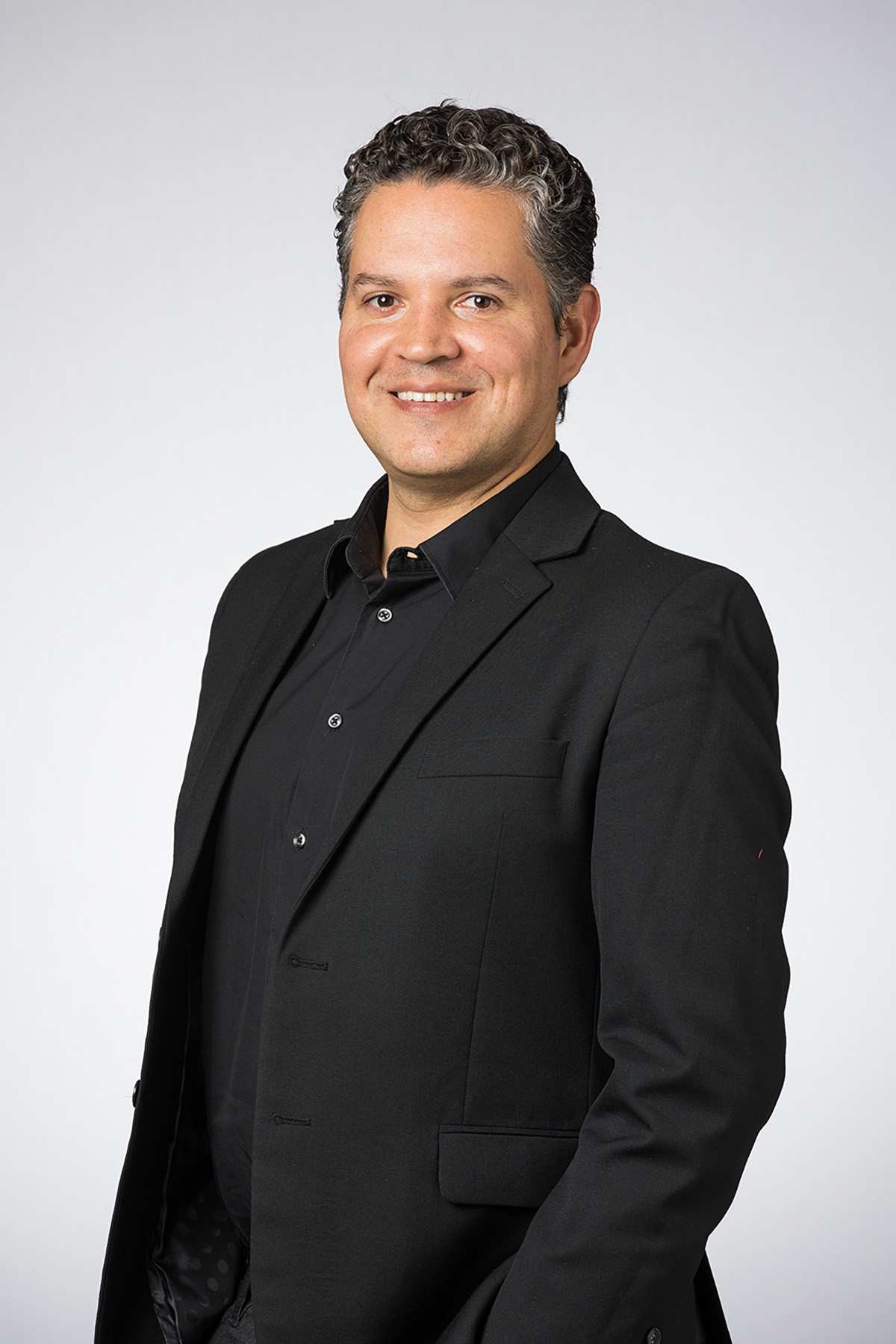 Diego Piedra, MM '05 (violin), MM '08, DMA '18 (orchestral conducting), has been awarded an honorable mention with the American Prize, Conductor Division, for the year 2022.
Jared Rawlings, PhD '15 (music education), has been appointed to the advisory board of the Bulletin of the Council for Research in Music Education (CRME) for a term of six years (2022–28). The Bulletin provides a forum where contemporary research is made accessible to all with an interest in music education. Advisory board members represent researchers and scholars from numerous intellectual traditions across the field of music education.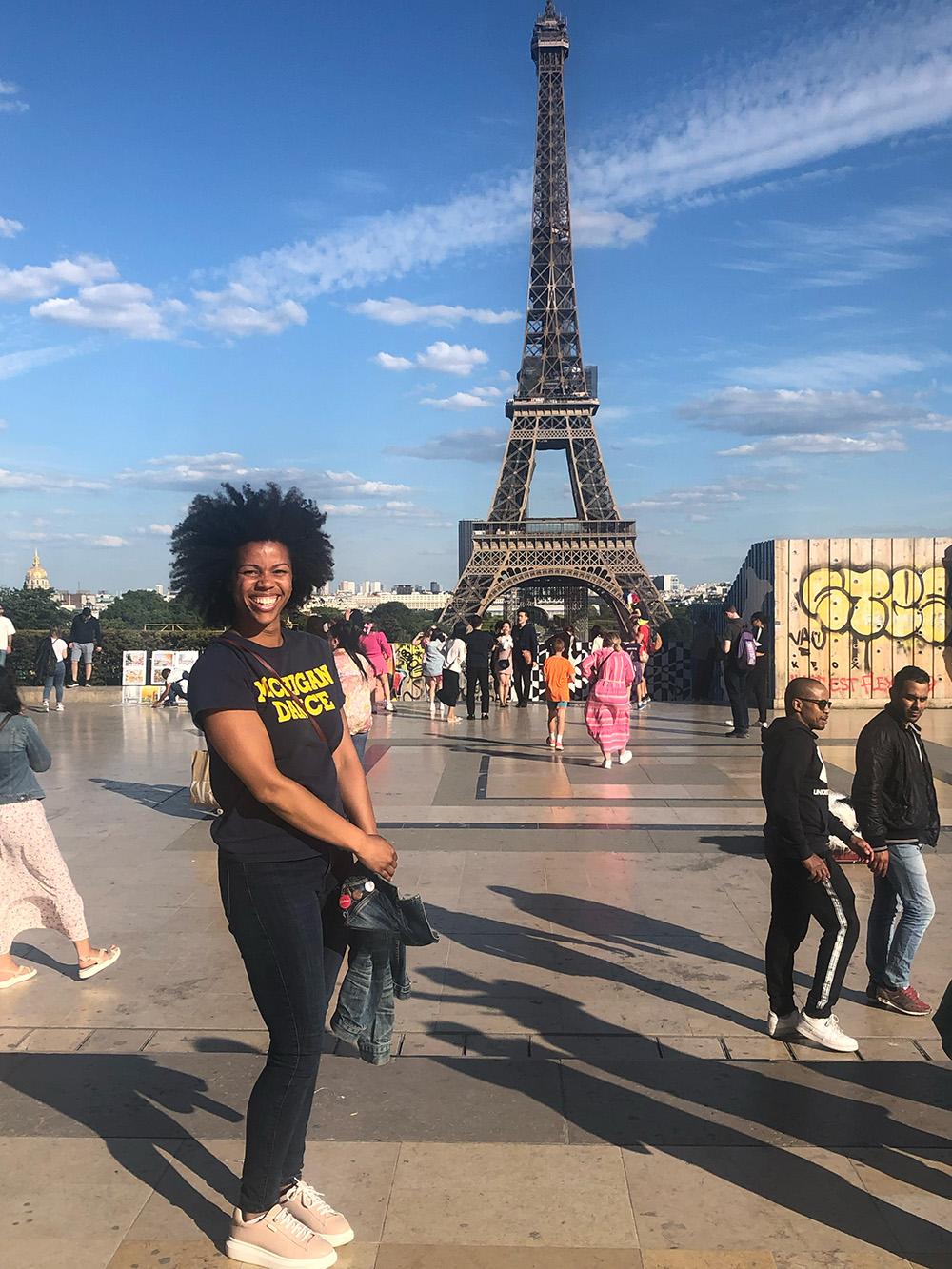 Briana Ashley Stuart, BFA '13 (dance), BA '13 (sociology), recently completed her 2022 tour of her solo, Becoming Together, throughout Belgium. She also was invited to perform at the HIGH FEST International Theater Festival in Yerevan, Armenia; choreographed for Belgian singer Nele Needs A Holiday's latest music video; and in June 2022 traveled to Paris to perform with Belgian percussion company ZIKIT. Currently, she is working on her latest work, Moving Meditations, which will premiere at the Koninklijke Vlaamse Schouwburg in Brussels in March 2023. Stuart is the president of the U-M Alumni Club of Belgium.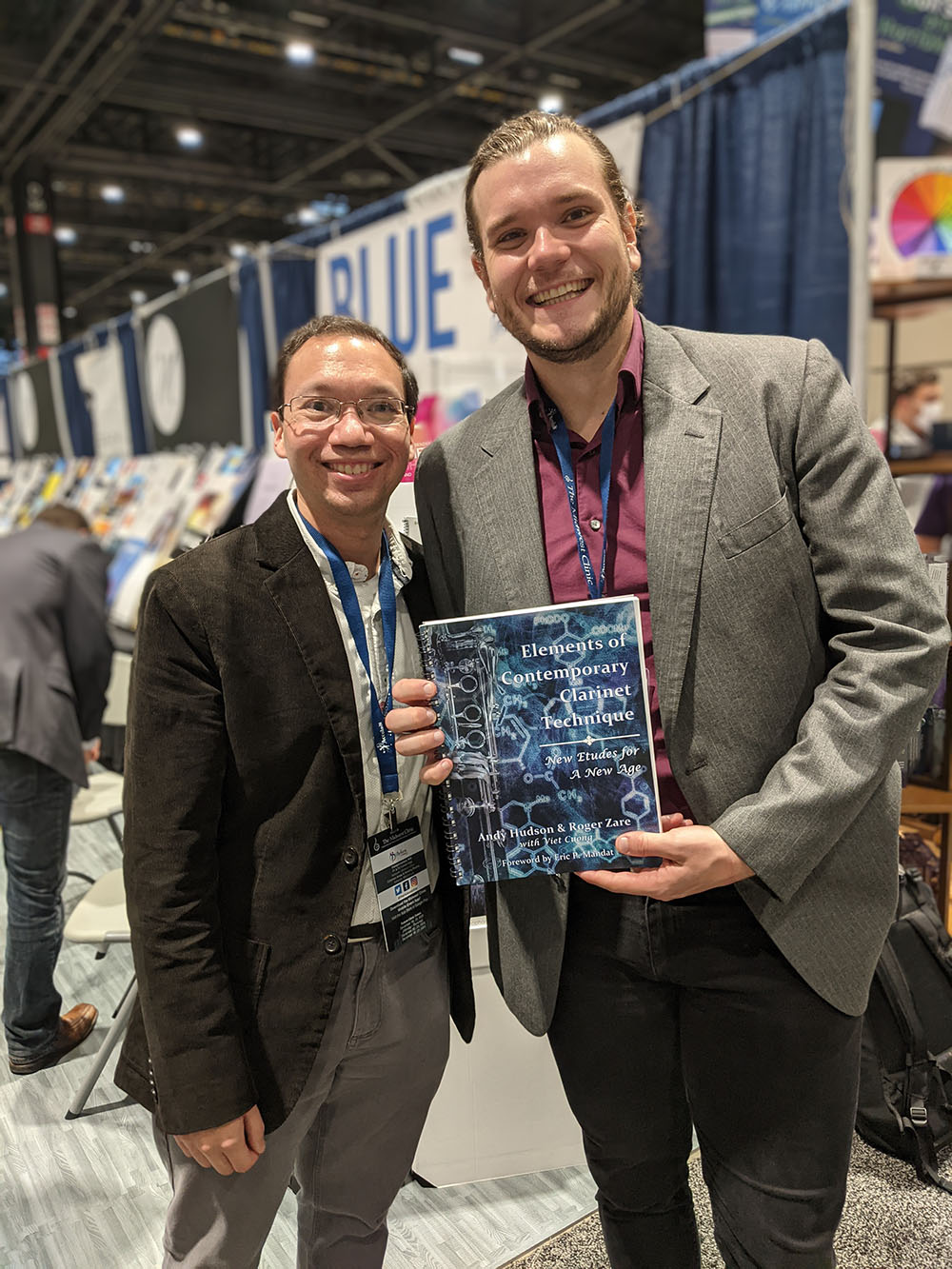 Roger Zare (left) and co-author Andy Hudson
In fall 2022, Roger Zare, DMA '12 (composition), was appointed visiting assistant professor of music theory and composition at Appalachian State University. Zare was selected last fall from over 150 applicants to be the Fermilab composer in residence for 2023. Additionally, Zare collaborated with clarinetist Andy Hudson to compose a book of concert études for bass clarinet. Titled Space Bass, this collection of 13 wide-ranging new compositions and pedagogical write-ups by Hudson is published by Conway Publications in Ann Arbor.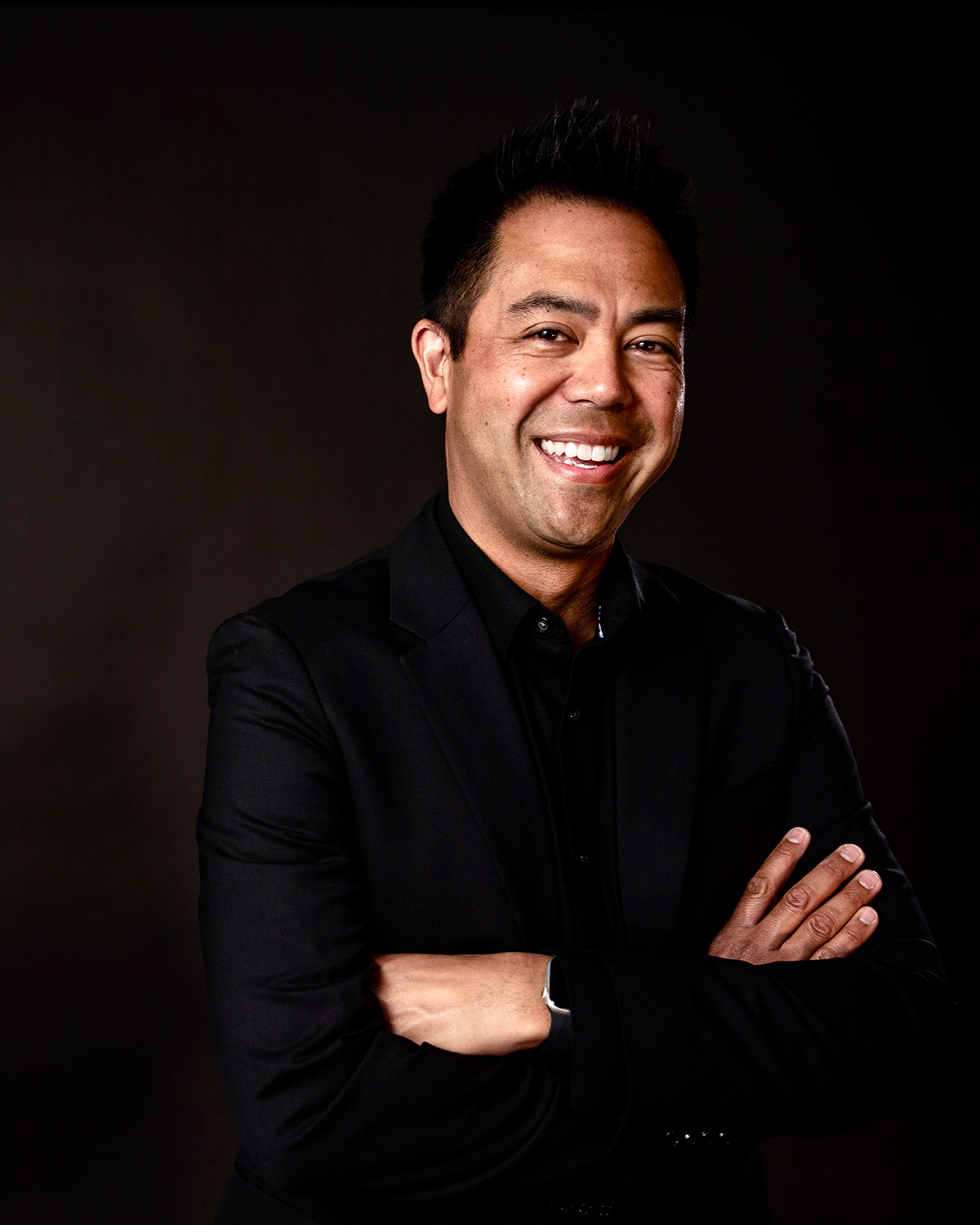 Nikolas Caoile. Photo credit: Charley Voorhis
Nikolas Caoile, DMA '07 (orchestra conducting), will lead Portland's Third Angle New Music Ensemble in a performance of Philip Glass's one-act sci-fi melodrama, 1,000 Airplanes on a Roof, beneath the towering Spruce Goose's tail, commemorating the 75th anniversary of its lone 26-second flight.
Kent Eshelman, BM '02 (tuba), BFA '02 (jazz studies), appeared as the invited guest artist at the 37th annual Leonard Falcone International Euphonium and Tuba Festival hosted at Blue Lake Fine Arts Camp in Michigan. He performed a solo recital and a concerto with band, presented a master class, and served as one of the competition adjudicators. He is presently professor of euphonium and tuba at Baylor University.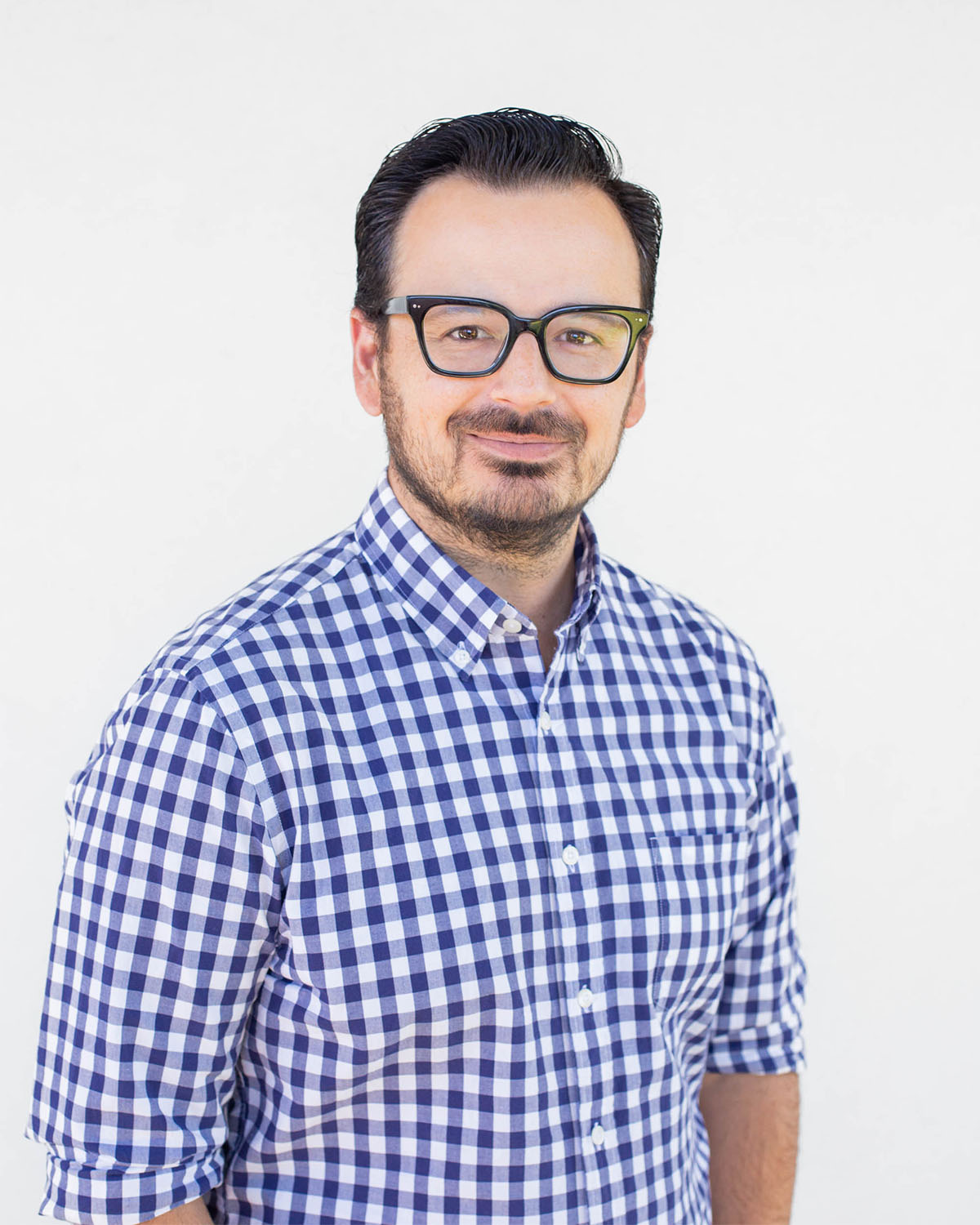 Ryan Foy, BFA '07 (musical theatre), has been named director of produced theatre and special programming at the Gallo Center for the Arts in Modesto, California. In the newly created role, he will be part of the center's senior leadership team and will oversee all in-house produced theatre and special programming projects. This includes acting as artistic director of the Gallo Center Repertory Company, which produces four shows a year in the center's 440-seat Foster Theatre, and programming concerts and special events in the center's outdoor Modesto Rotary Music Garden.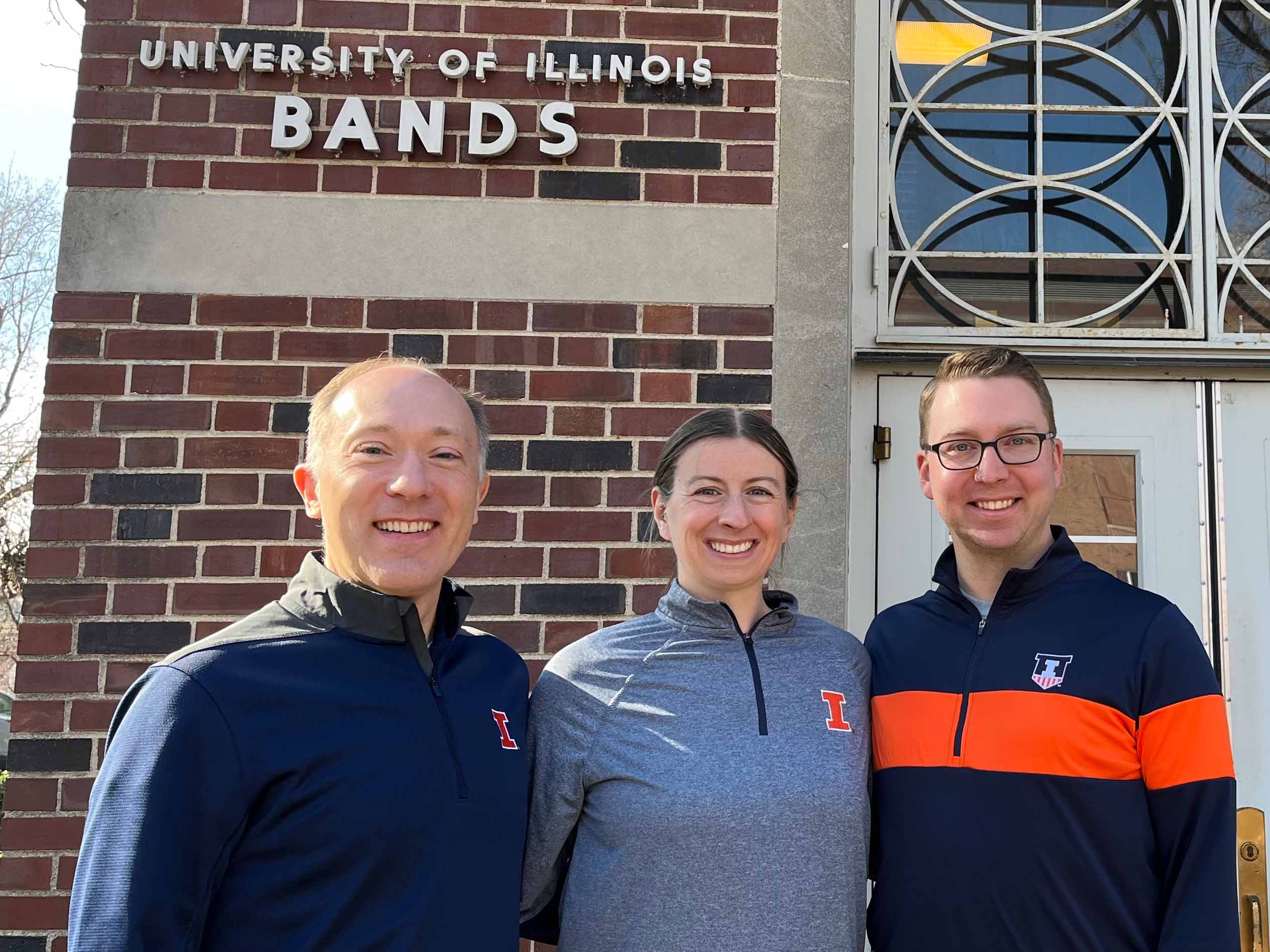 Kevin Geraldi (left), Kimberly Fleming, and Michael Vecchio
Kevin Geraldi, MM '98, DMA '05 (conducting), was named director of bands at the University of Illinois and began his tenure in August 2022. His responsibilities include conducting the internationally renowned Illinois Wind Symphony, guiding the graduate program in wind conducting, and providing administrative leadership for the university's comprehensive and historic band program. In May 2022 he presented a keynote lecture for a meeting of the Spanish Musicological Society, held in Vigo, Spain. Two other SMTD alums also joined the faculty of the University of Illinois School of Music in fall 2022: Kimberly Fleming, DMA '22 (conducting), assistant director of bands; and Michael Vecchio, MM '13 (music education, euphonium), PhD '22 (music education), lecturer in music education.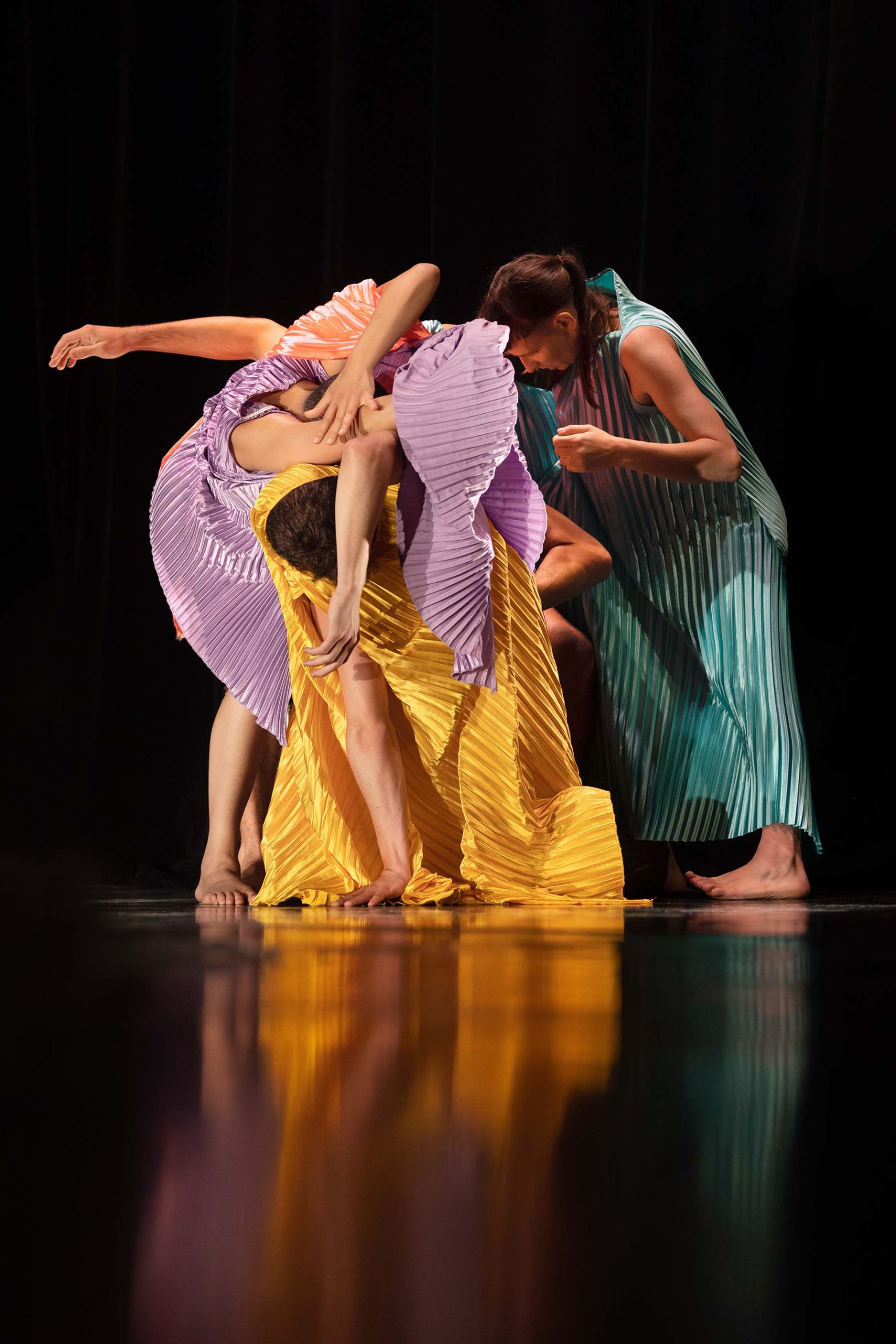 Alex Springer and Xan Burley's work parts. Photo credit: Kathryn Butler
Dance Collaborations
Last summer, Alex Springer, BFA '08 (dance), and Xan Burley, BDA '07 (dance), had their transdisciplinary performance project parts presented in New York City through freeskewl at Prospect Park and New Dance Alliance's Performance Mix Festival at Abrons Arts' Experimental Theatre. Springer was a guest performer in Doug Varone's iconic work Rise at the Joyce Theater. Together they performed at the Bates Dance Festival's 40th Anniversary weekend and taught a three-day composition workshop. As assistant professors of contemporary dance practice at the University of Florida, they collaborated with a colleague in the Center for Arts in Medicine on a multidisciplinary youth camp using dance and coding to understand scientific phenomena.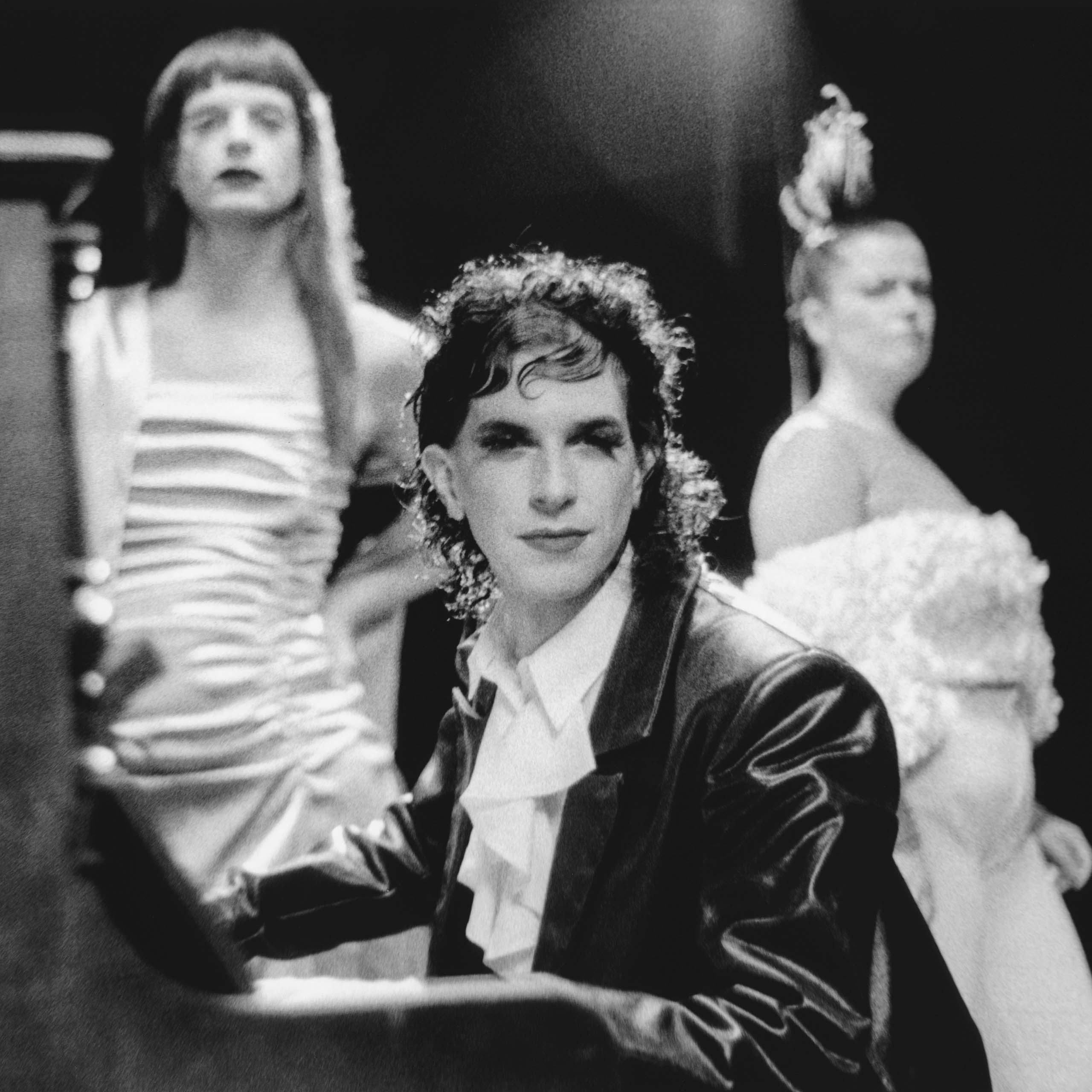 T-Word (left), Josephinex, and Madeleine Duke in the video for "I'll Never Learn." Photo credit: Jason Harrell
Last fall, Josephinex Hansis, BFA '06 (performing arts technology, media arts), released the EP Playing the Victim with their band, Godmother, accompanied by a music video for the song "I'll Never Learn" and a concert at the Berghain Kantine in their homebase of Berlin. Earlier in 2022, Josephinex took part in documenta fifteen, Kassel, as part of the ZK/U collective's floating experiment in sustainability, "citizenship." Their latest endeavor is on the stage of the Volksbühne Berlin in the choir of the feminist, antifascist musical Hyäne Fischer.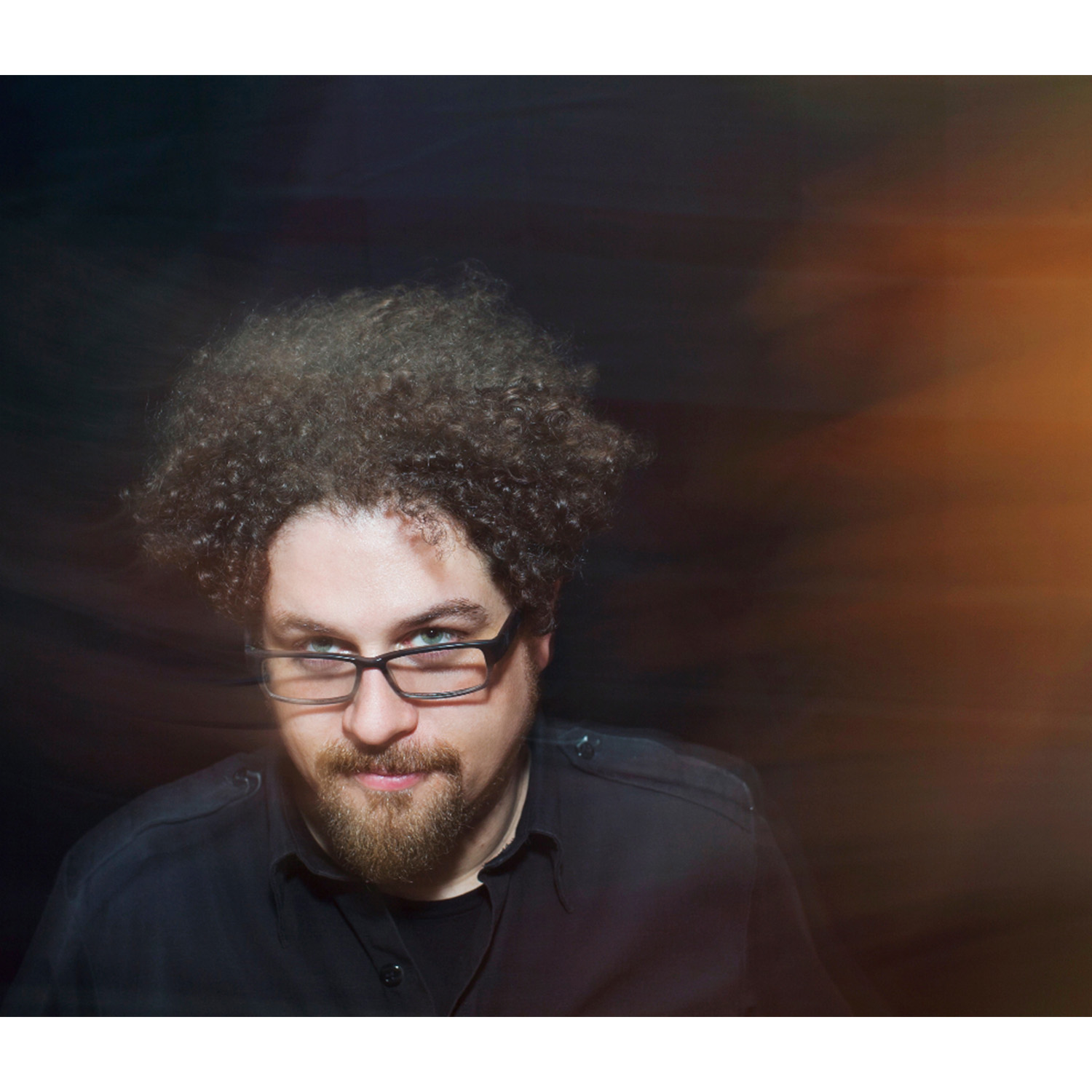 David T. Little. Photo credit: Merri Cyr
Black Lodge, the most recent opera film by David T. Little, MM '02 (composition), premiered to sold-out crowds at Opera Philadelphia's O22 Festival last October. Produced by Beth Morrison Projects, featuring a libretto by poet Anne Waldman, and starring Kazakh American tenor Timur, Black Lodge explores the dark mythologies of artists William S. Burroughs, David Lynch, Antonin Artaud, and others. Little's third opera to become a film, it follows Opera Philadelphia's GRAMMY-nominated film of his first opera, Soldier Songs, and Houston Grand Opera's film of his comedy Vinkensport. Black Lodge will stream for a year on the Opera Philadelphia Channel. The soundtrack will be released in March 2023 on Cantaloupe Music.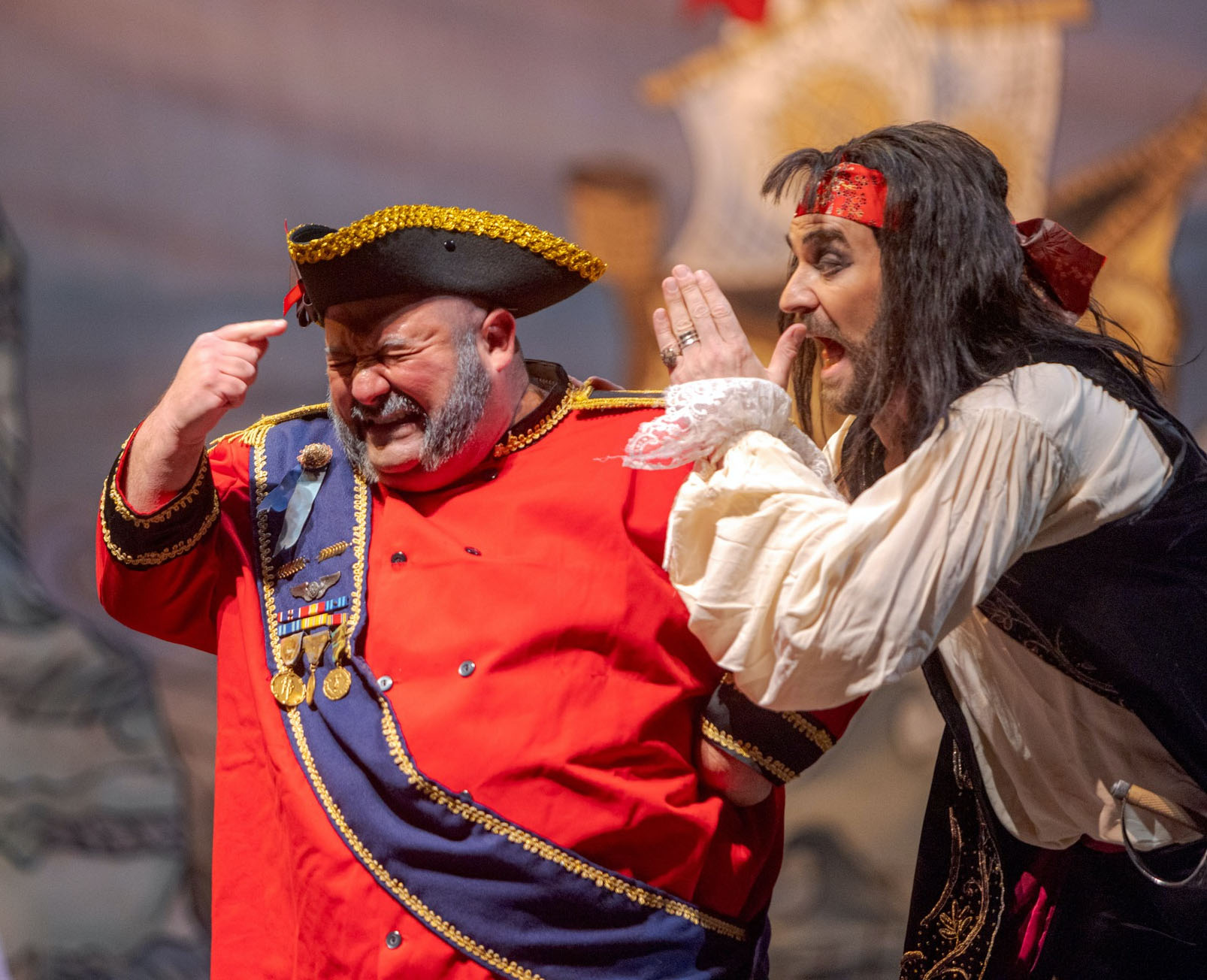 Andy Papas (left) as the major general in The Pirates of Penzance. Photo credit: Denny Wells
From coast to coast, Andy Papas, BM '07 (voice), has been cracking up audiences with his comic antics, singing in no fewer than eight opera productions in 2022. He performed Don Magnifico in La Cenerentola in both Connecticut and North Dakota, made his Strauss debut as the MusikLehrer in Ariadne auf Naxos in Seattle, and sang his first Falstaff in New Hampshire. Papas concluded his season in Alaska as the major general in The Pirates of Penzance with Anchorage Opera, the same role that began his season at Opera Naples. This spring he will perform the title role in Don Pasquale for Opera Saratoga.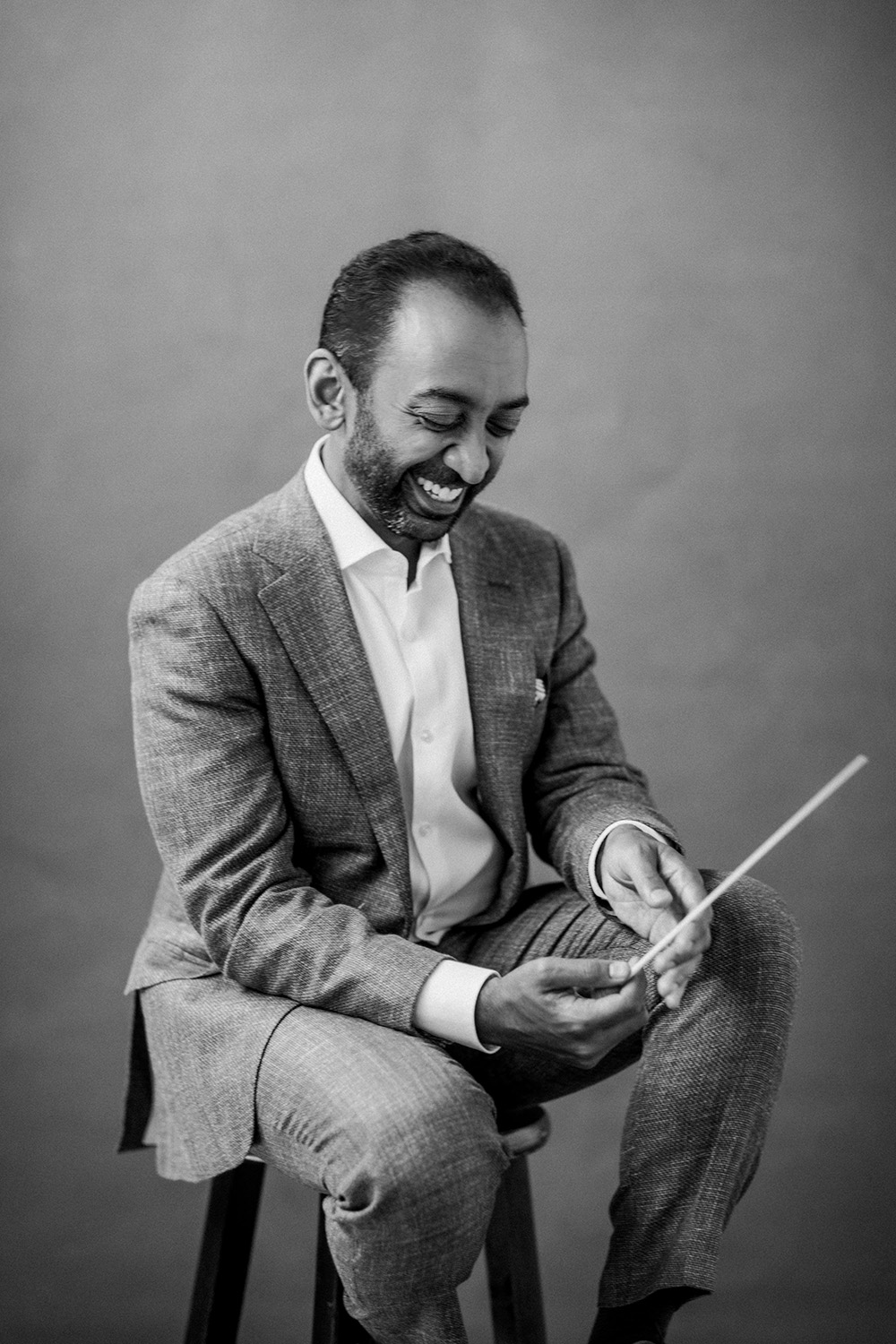 Sameer Patel. Photo credit: Sam Zauscher
Sameer Patel, BM '04 (music theory, piano), MM '07 (orchestral conducting, piano), is the newly appointed artistic director of the San Diego Youth Symphony (SDYS), a transformational organization that reaches more than 3,000 students in its community through its 13 ensembles, El Sistema-inspired classroom programs, and early childhood music classes. In addition to conducting the two most advanced orchestras at SDYS, Patel also continues his guest conducting work with professional orchestras and this season will conduct the Chicago Symphony Orchestra, the Florida Orchestra, the La Jolla Symphony and Chorus, and the Princeton Symphony Orchestra.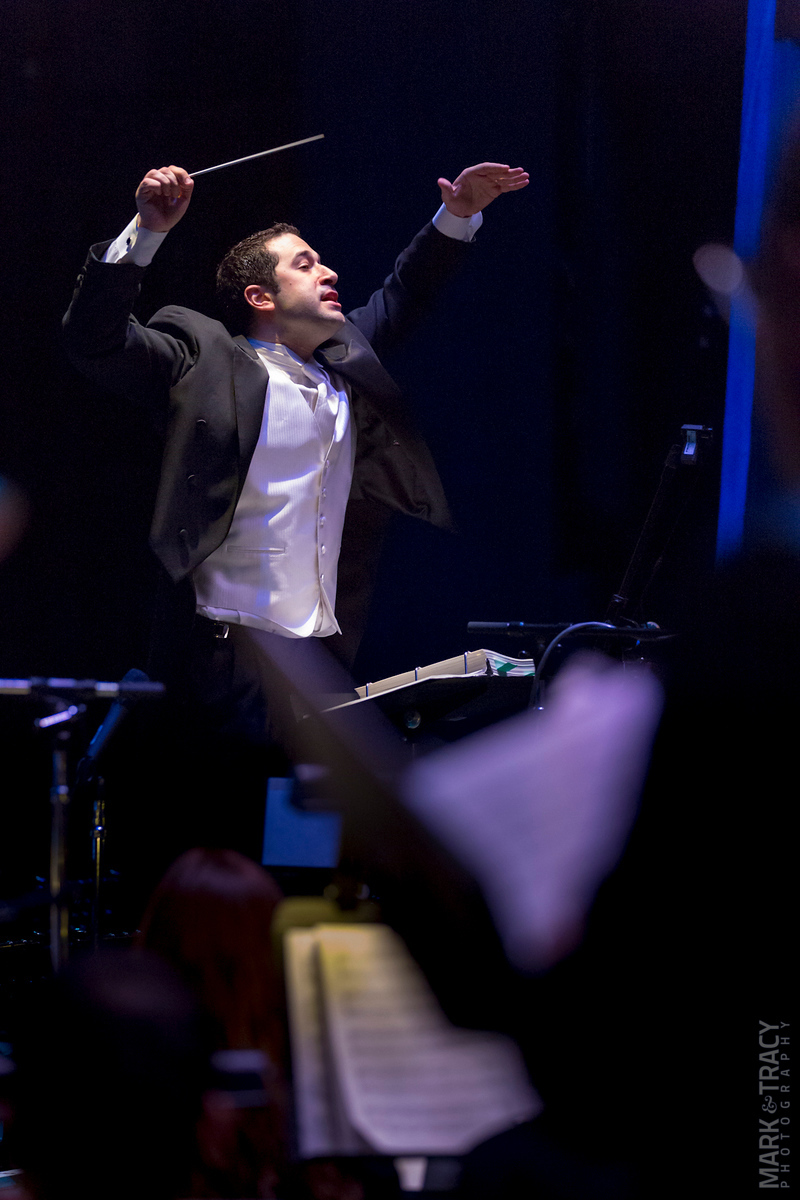 Producing and Arranging for Stage and Screen
Ian Eisendrath, BMA '03 (voice), is executive music producer and conductor for three feature films with music by Benj Pasek, BFA '06 (musical theatre), and Justin Paul, BFA '06 (musical theatre): Spirited (starring Ryan Reynolds, Will Ferrell, and Octavia Spencer); Lyle, Lyle Crocodile (starring Shawn Mendes, Javier Bardem, and Constance Wu); and Disney's live-action Snow White (starring Rachel Zegler and Gal Godot). Eisendrath remains music supervisor and arranger for North American and international companies of Come from Away.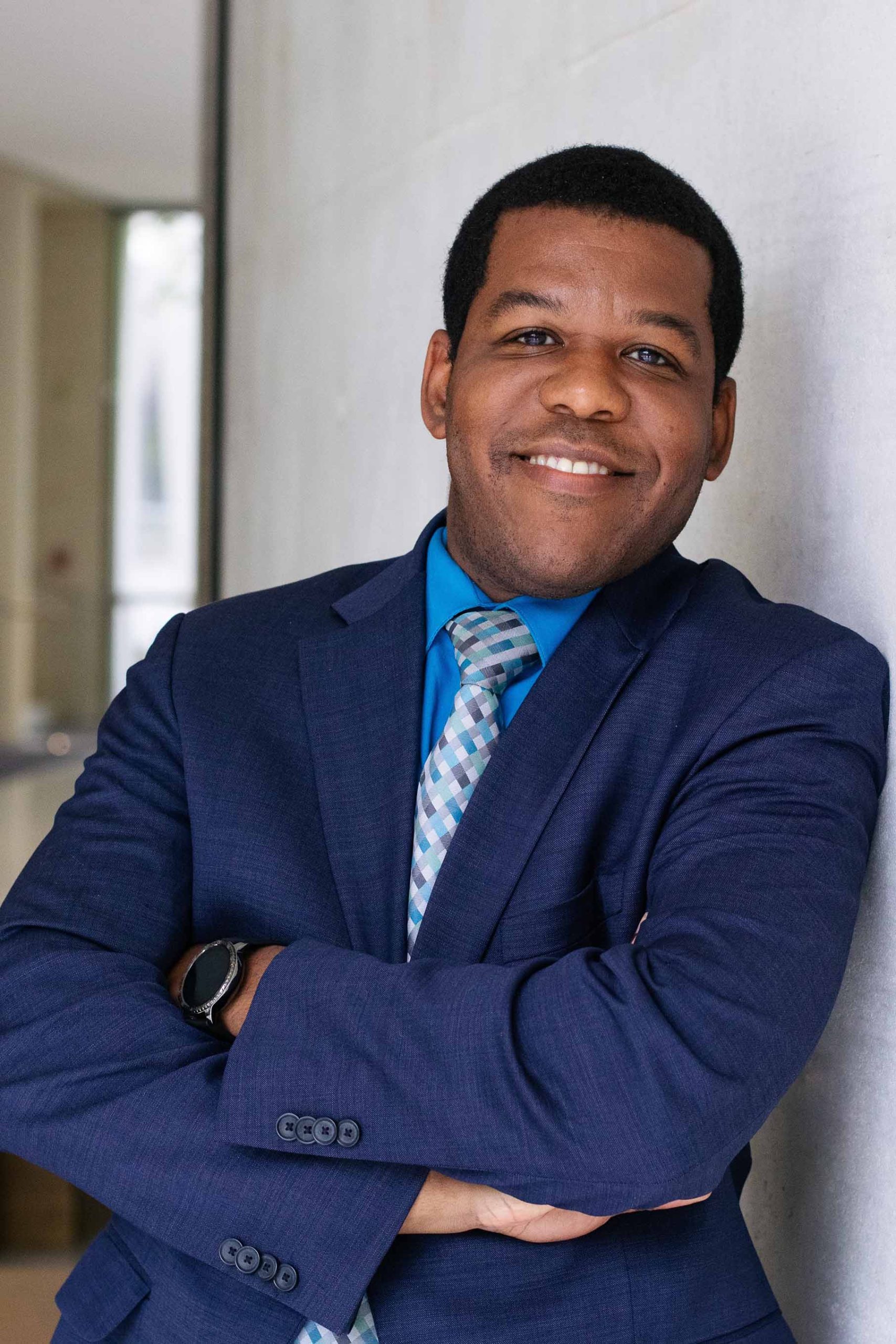 Fred Peterbark, BM '05 (voice, teaching certification), has been appointed dean of enrollment and aid at the Cleveland Institute of Music. Previously, Peterbark served as the assistant dean for enrollment management and student services for the Chicago College of Performing Arts at Roosevelt University in Chicago, Illinois. Last year, he and his wife Inga welcomed a baby girl.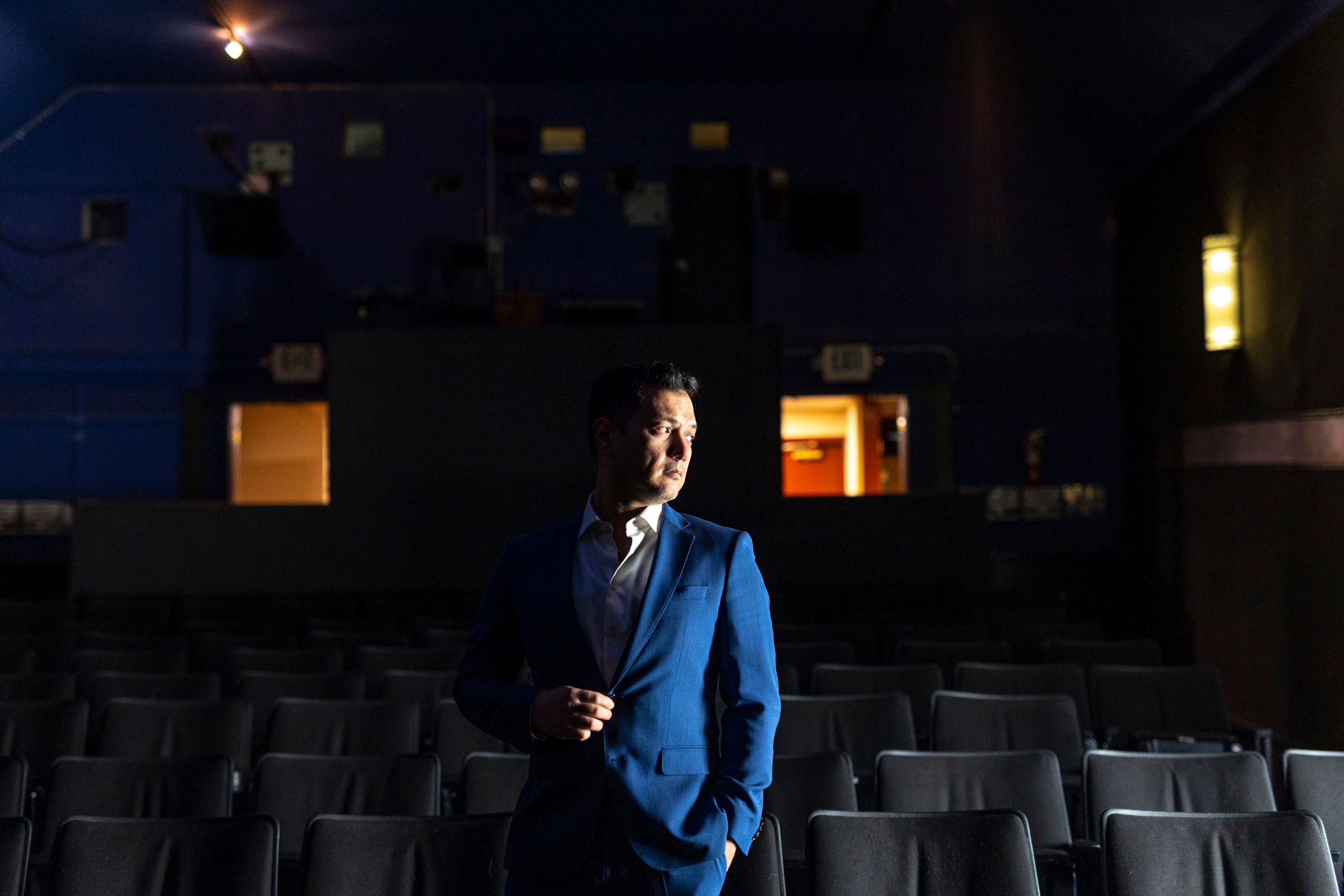 Nicholas Phan. Photo credit: Clubsoda Productions
Nicholas Phan, BM '01 (voice), released his eighth album for Avie Records, Stranger: Works for Tenor by Nico Muhly, in July 2022. The album is composed of world premiere recordings of three of the composer's major works: Impossible Things for tenor, solo violin, and orchestra; Lorne Ys My Likinge for countertenor, tenor, and piano; and Stranger for tenor and string quartet. A song cycle exploring the American immigrant experience, the album's title work was expressly written for Phan. In the cycle, Muhly juxtaposes settings of accounts of immigration through Ellis Island with those of texts protesting the United States' Chinese exclusion policies of the late 19th century.
Eric Saylor, PhD '03 (historical musicology), released his fourth book, Vaughan Williams, in conjunction with the 150th anniversary of the composer's birth. It has been published by Oxford University Press as part of their flagship Master Musicians series.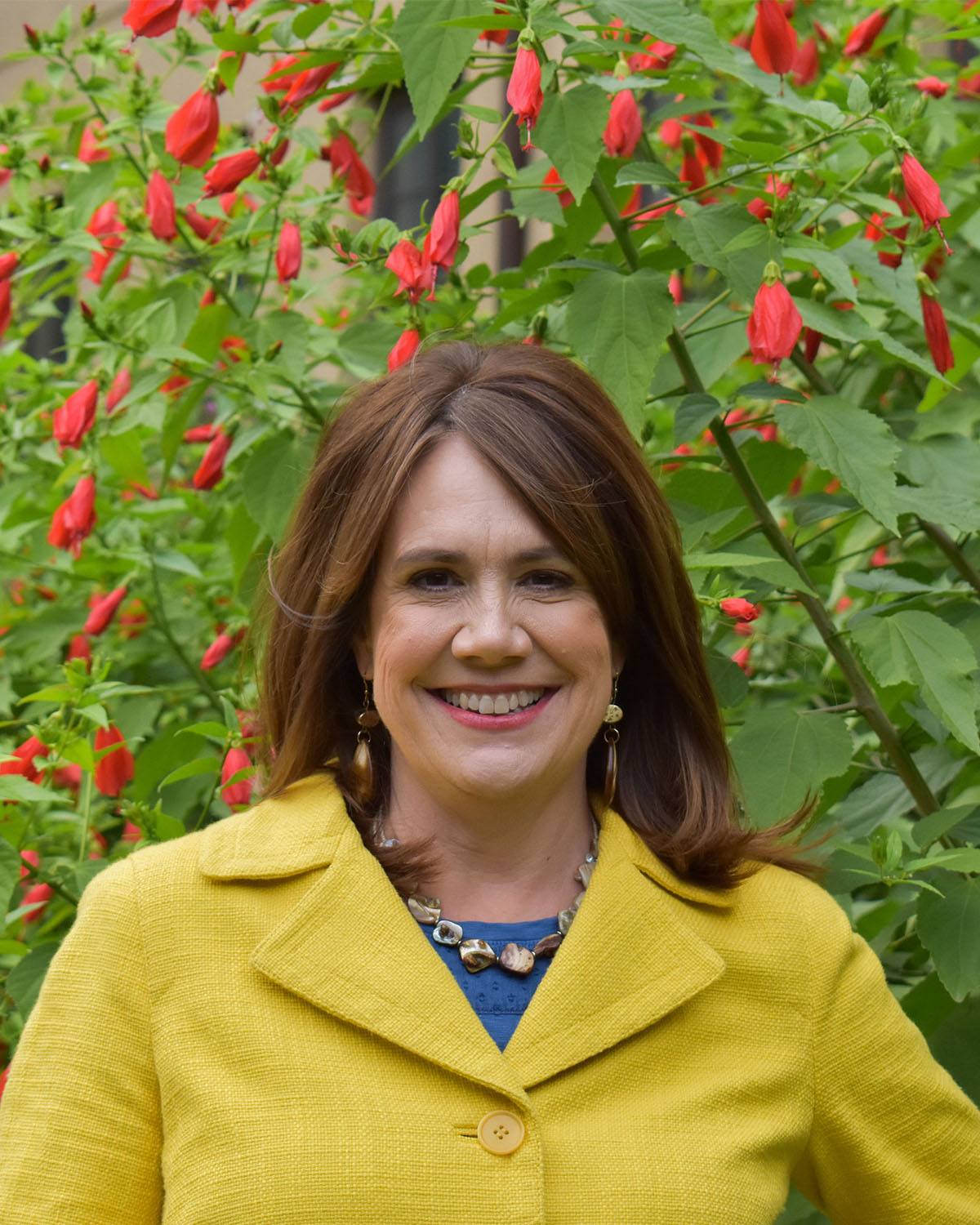 Ann Marie Stanley. Photo credit: Rylee Leroux
Ann Marie Stanley, PhD '09 (music education), Aloysia L. Barineau Professor of Music Education at Louisiana State University and past two-term chair of the Alumni Board of Governors of SMTD, has been appointed associate dean for graduate studies in LSU's College of Music and Dramatic Arts. She is also the new chair-elect of the Society for Music Teacher Education, the nation's largest organization of music education professionals serving in academia.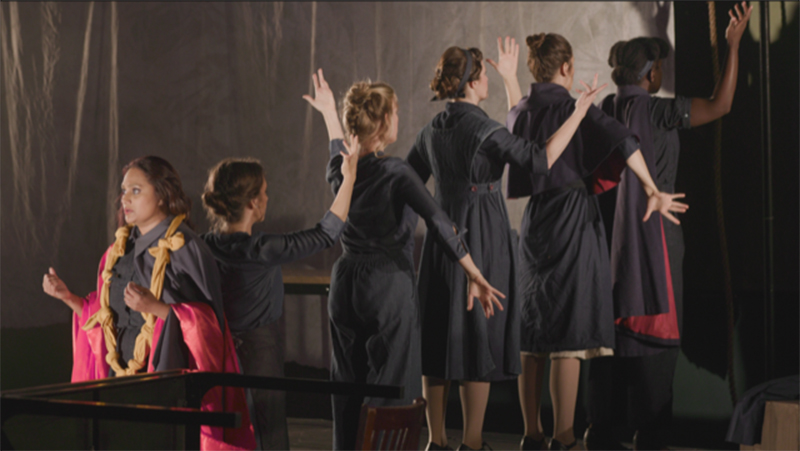 A scene from Kirsten Volness's opera Letters That You Will Not Get. Photo credit: Christopher Smith for Emitha Studios
An Opera Premiere
Kirsten Volness, MM '04, DMA '08 (composition), and the American Opera Project premiered her opera Letters That You Will Not Get: Women's Voices from the Great War, July 2022, in Brooklyn, New York, at the On Women Festival. Duo Stephanie and Saar will premiere a new commission for two pianos in February 2023. Volness received a 2022 New Music USA Creator Development Grant to write a new song cycle for Tis Kaoru Zamler-Carhart and Verdant Vibes, the new music collective she co-directs. She also continues to perform and create with houseless advocacy group Tenderloin Opera Company and teaches privately.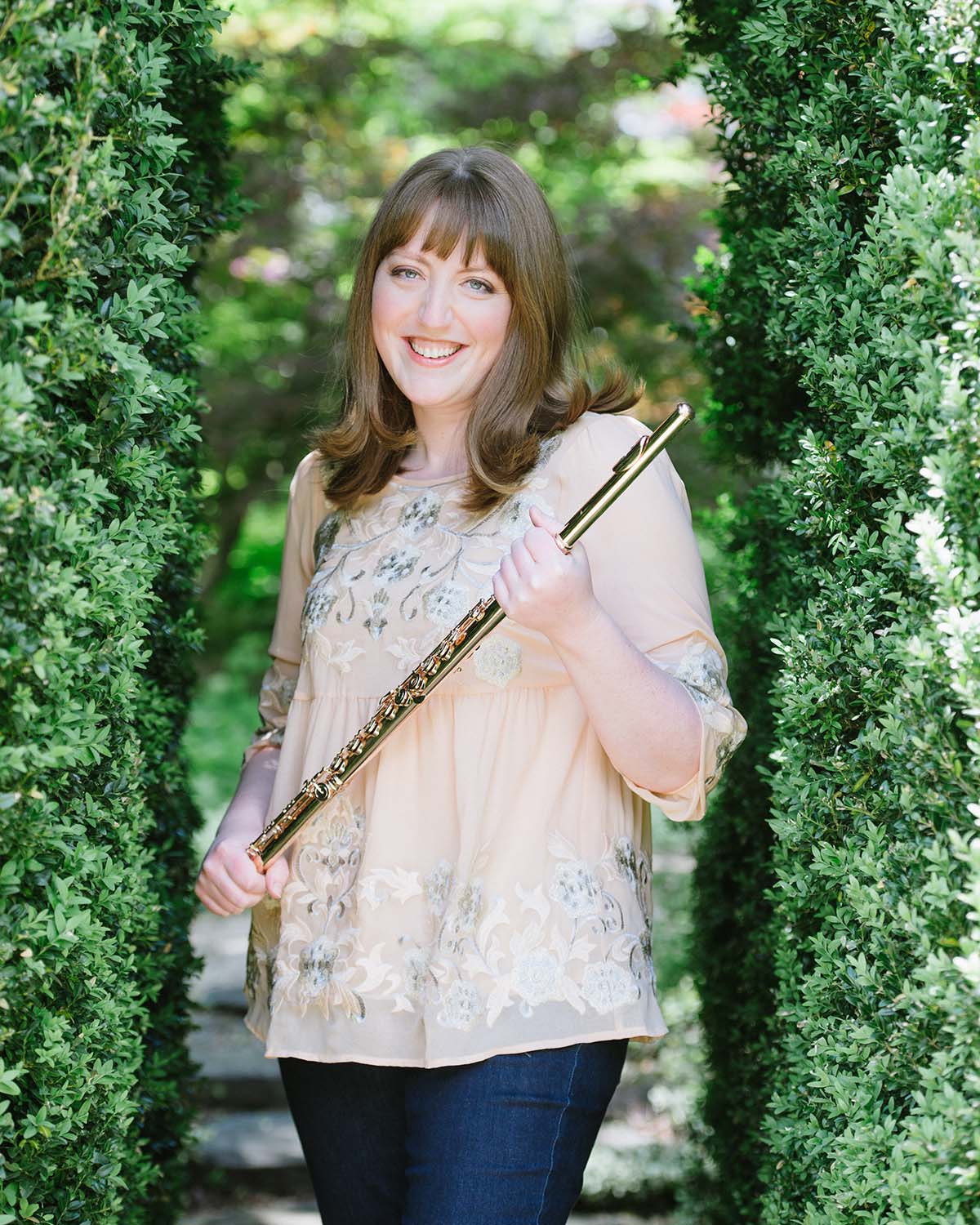 Kelly Sulick. Photo credit: Jen Fariello
Kelly Sulick, BM '04 (flute), BA '04 (English language and literature), recently released Duo, an album of 20th and 21st century American works for flute and piano, on Centaur Records. The album, recorded with pianist John Mayhood, features works by Aaron Copland, John Harbison, Jennifer Higdon, and Halsey Stevens. The album also includes the premiere recording of composition faculty member Kristin Kuster's Perpetual Afternoon. Sulick teaches flute at the University of Virginia, where she was named a Mead Honored Faculty member in 2019, and at Longwood University.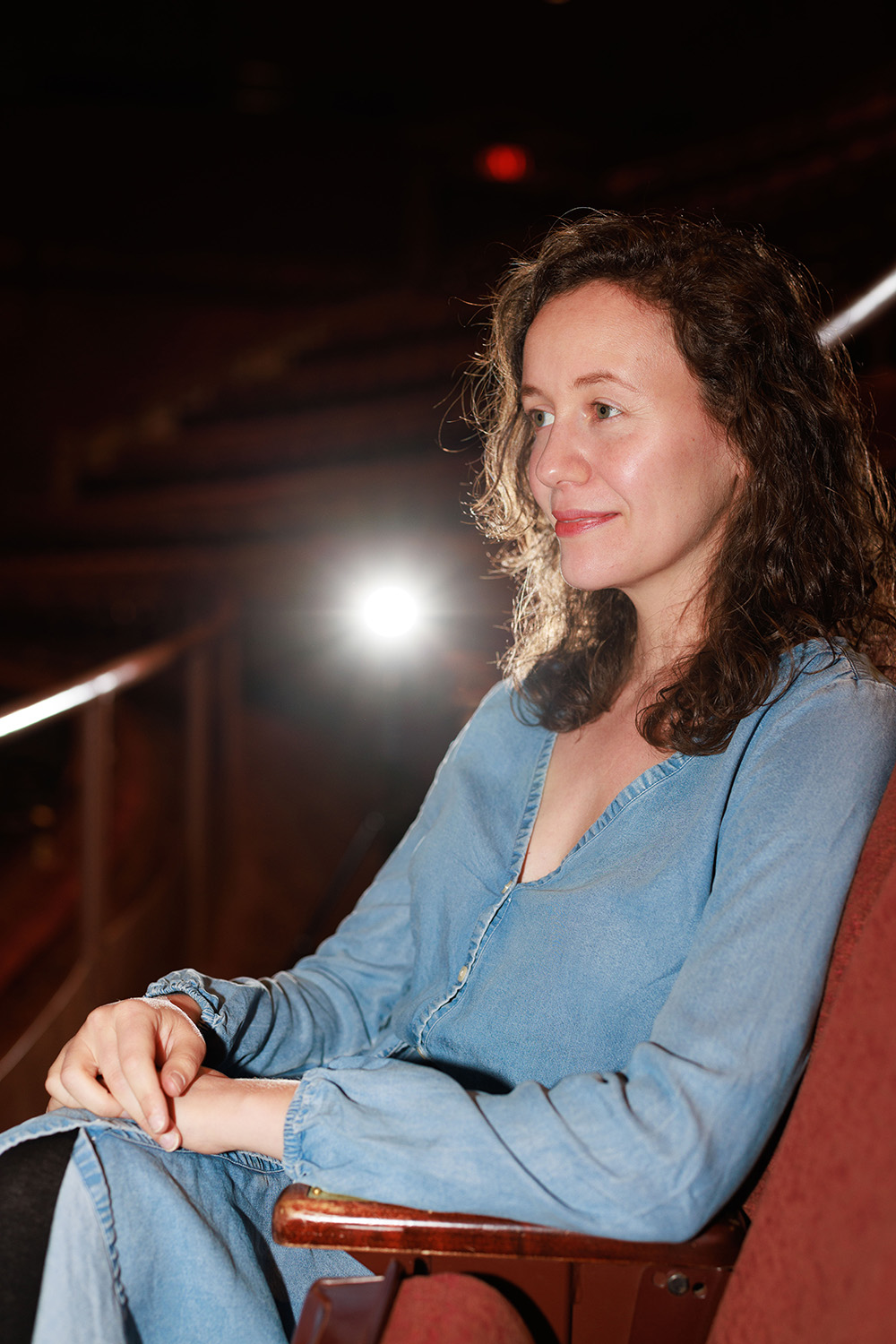 Dina Vovsi. Photo credit: Lauren Eliot Photography
Dina Vovsi, BTA '09, BA '09 (English), is a member of the 2022–23 Roundabout Directors Group and the 2022–24 WP Theater Directors' Lab. A New York-based director of primarily new plays, she is co-creating a play about the intersection of the Russian-speaking and Pakistani immigrant communities in Brighton Beach, Brooklyn, with playwright Liba Vaynberg; it is a commission with Working Theater's 5 Boroughs 1 City Initiative with public presentations in spring 2023. In July 2022, she directed readings of Brittany K. Allen's Ball Change at the Cape Cod Theatre Project, starring Tony Award nominee Gabby Beans.
In summer 2022, Martha Walvoord, MM '02, DMA '05 (violin), was named chair of the Department of Music at the University of Texas at Arlington, following a two-year term as interim chair. In October 2022, Walvoord was selected as a member of the University of Texas at Arlington's Academy of Distinguished Service Leaders.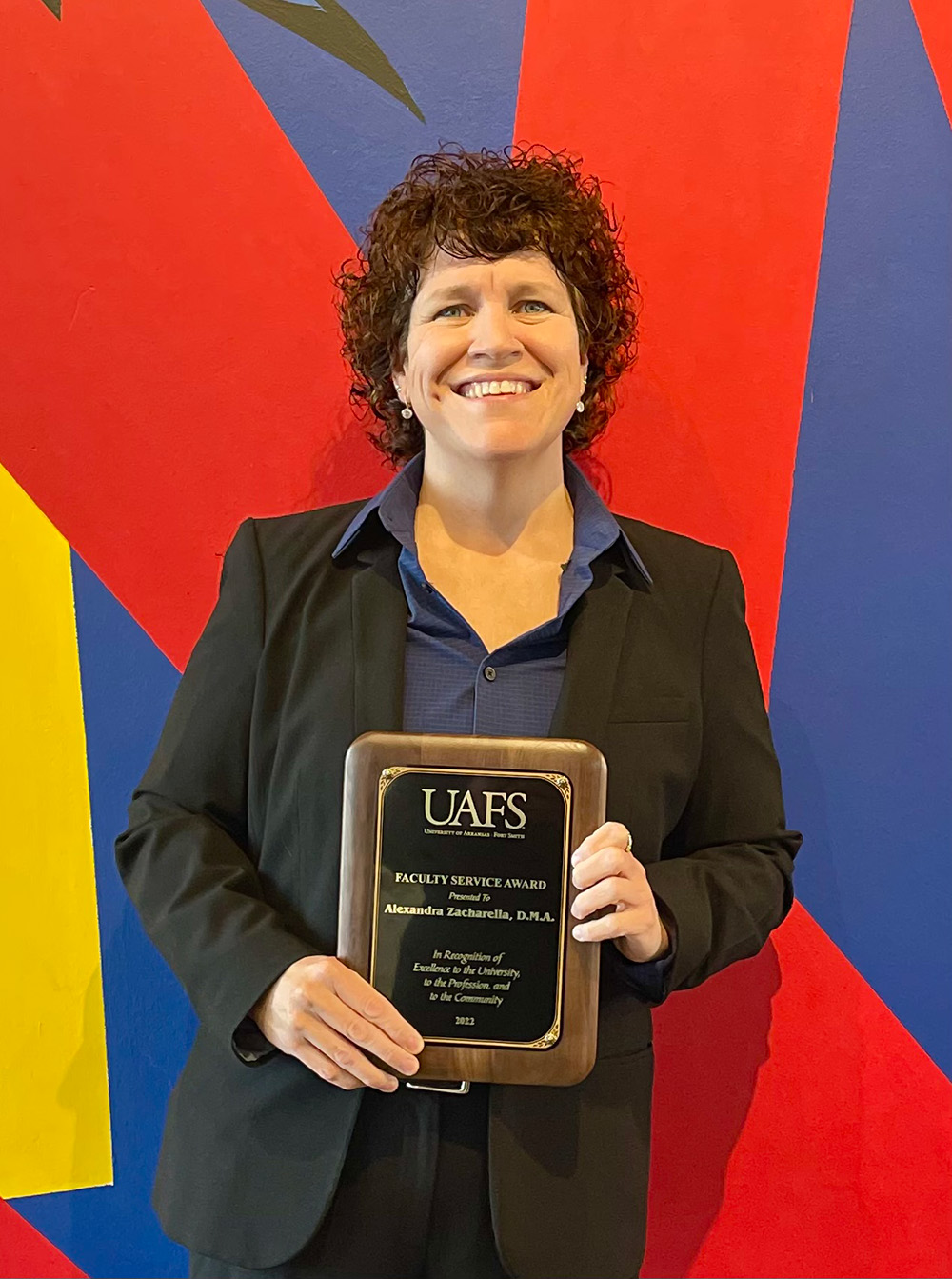 Alexandra Zacharella, MM '01 (trombone), director of bands and associate professor of low brass at the University of Arkansas-Fort Smith, was recently awarded the school's university-wide Excellence to the University, to the Profession, and Community Service Award. Zacharella currently serves as the president-elect of the South Central Chapter of the College Music Society, serves on the society's International Initiatives Committee, is a newly elected board member of the International Alliance for Women in Music, and has served as last president of the Arkansas Chapter of College Band Directors National Association.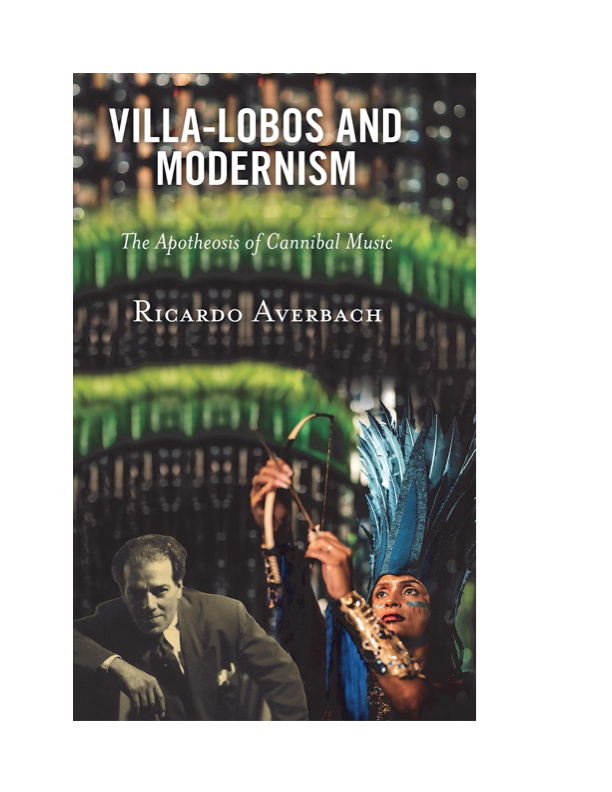 Ricardo Averbach's book cover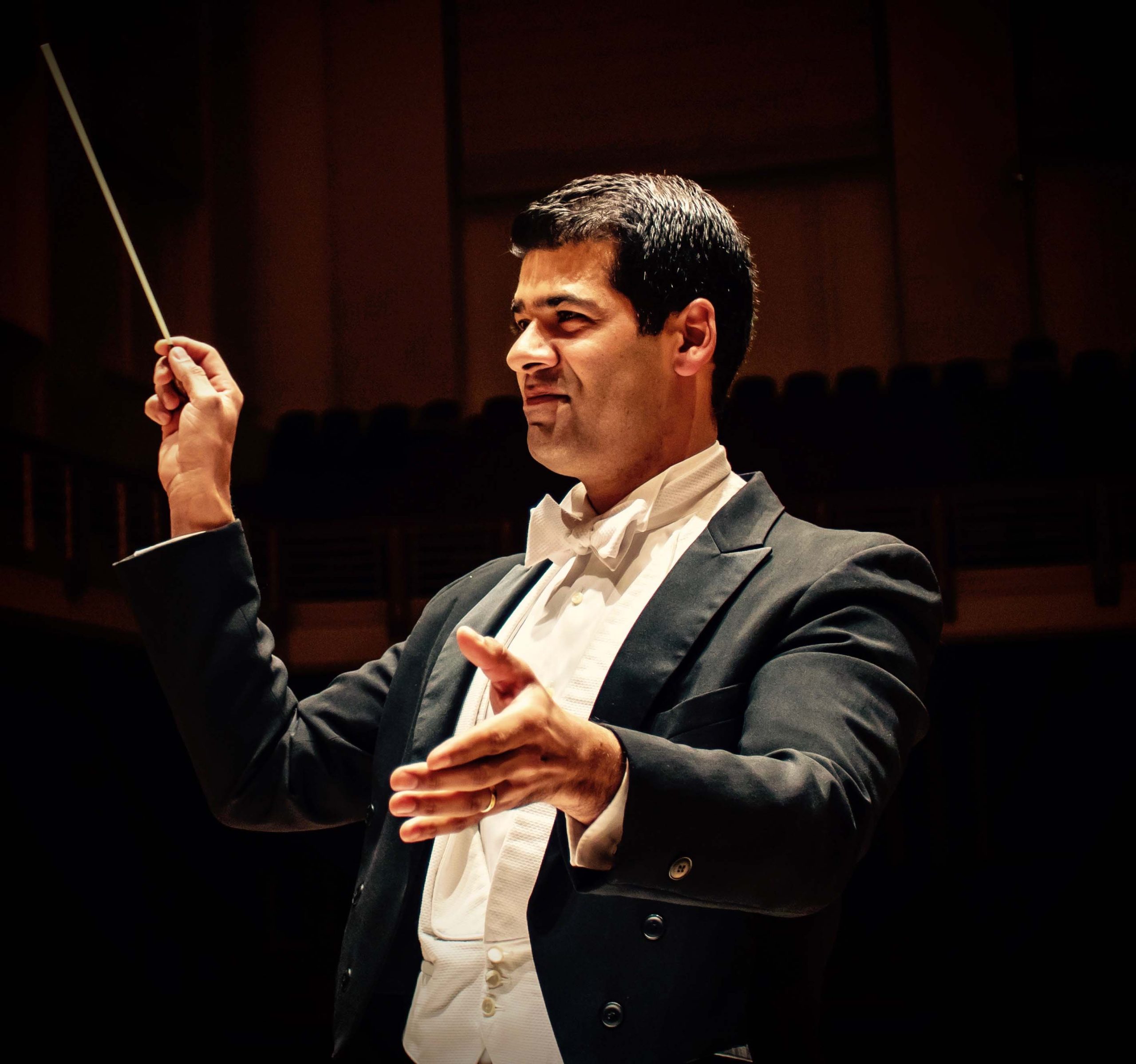 Paul Bhasin. Photo credit: Trevor Chun
Paul Bhasin, BM '99 (trumpet), was named the Donna & Marvin Schwartz Professor of Music at Emory University, where he continues as director of orchestral studies and director of undergraduate research in music. Bhasin was also named music director of the DeKalb Symphony Orchestra as well as music director of the Atlanta Chamber Music Festival.
Phillip E. Burgess, MM '88, DMA '92 (organ), was recently appointed dean of the Shuford School of Performing Arts at Catawba College. He will oversee multiple degree programs in music, theatre, and art. Founded in 1851 and ranked as one of the best regional colleges in the South, Catawba College is a four-year, private, liberal arts college located in Salisbury, North Carolina.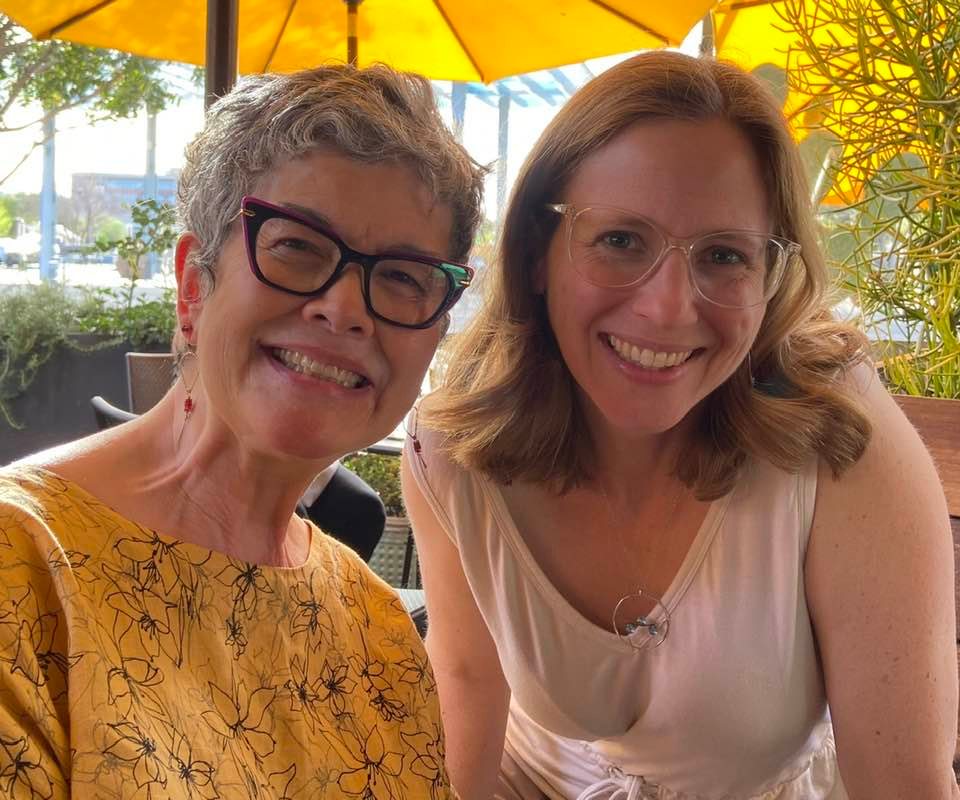 Brenda Foley (right) and Jane Vogel Mantiri. Photo credit: Aleks Hollis
Brenda (McEldowney) Foley, BFA '97 (musical theatre), is executive producing/writing her first feature-length documentary film, featuring mentor and friend Dr. Jane Vogel Mantiri, founder of Advance Gender Equity in the Arts (AGE). See Jane Run: An American Story of Surviving and Thriving presents a child refugee from Indonesia who transforms her family's trauma and sacrifice into a legacy of love and social justice through the arts.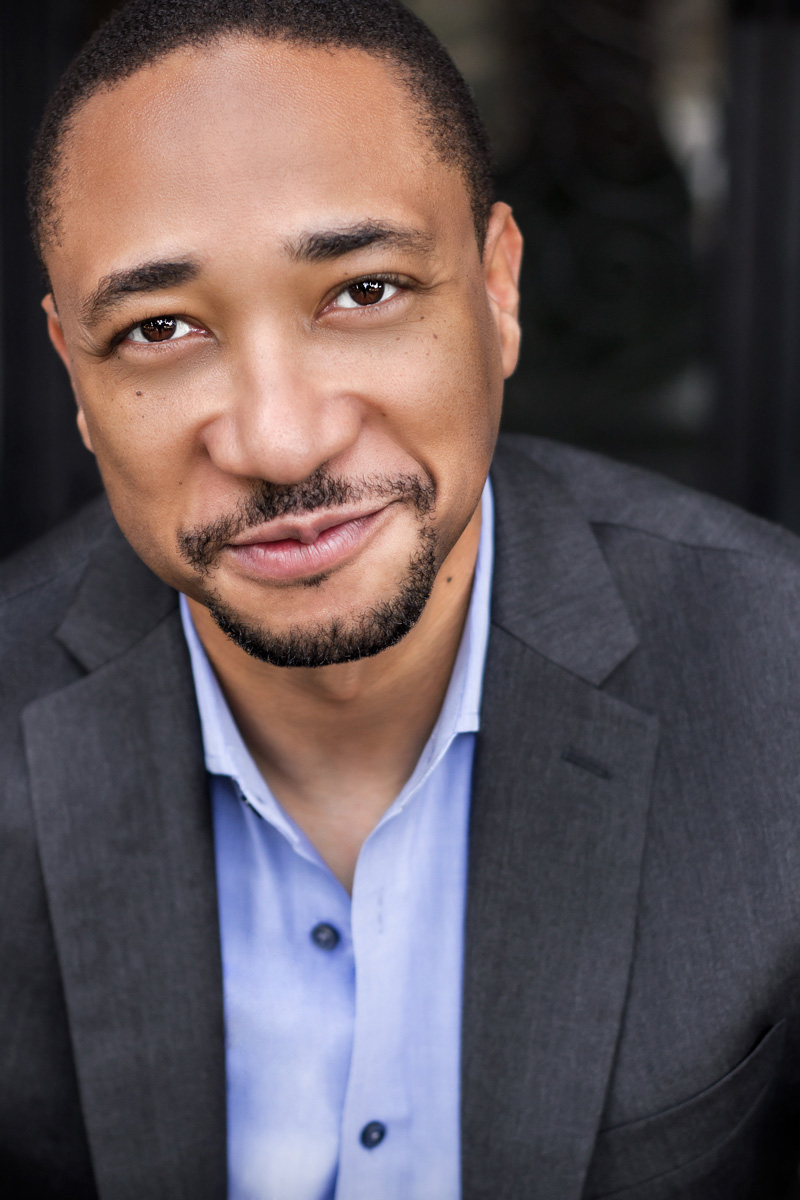 Damon Gupton. Photo credit: Damu Malik
A Multi-Faceted Career
After his Boston Pops debut, Damon Gupton, BM '94 (music education), conducted Star Wars: A New Hope with the San Francisco Symphony and Brevard Music Festival Sinfonia. As an actor, he completed filming season one of Apple TV's The Big Door Prize, Law & Order, and Nicki Micheaux's A Time for Love. He recurs in season two of Showtime's Your Honor with Bryan Cranston. As principal guest conductor of the Cincinnati Pops, he performed with Common and rang in the New Year with Quiana Lynell. He will also narrate Wynton Marsalis's The Ever Fonky Lowdown with the Juilliard Jazz Orchestra and Damien Sneed.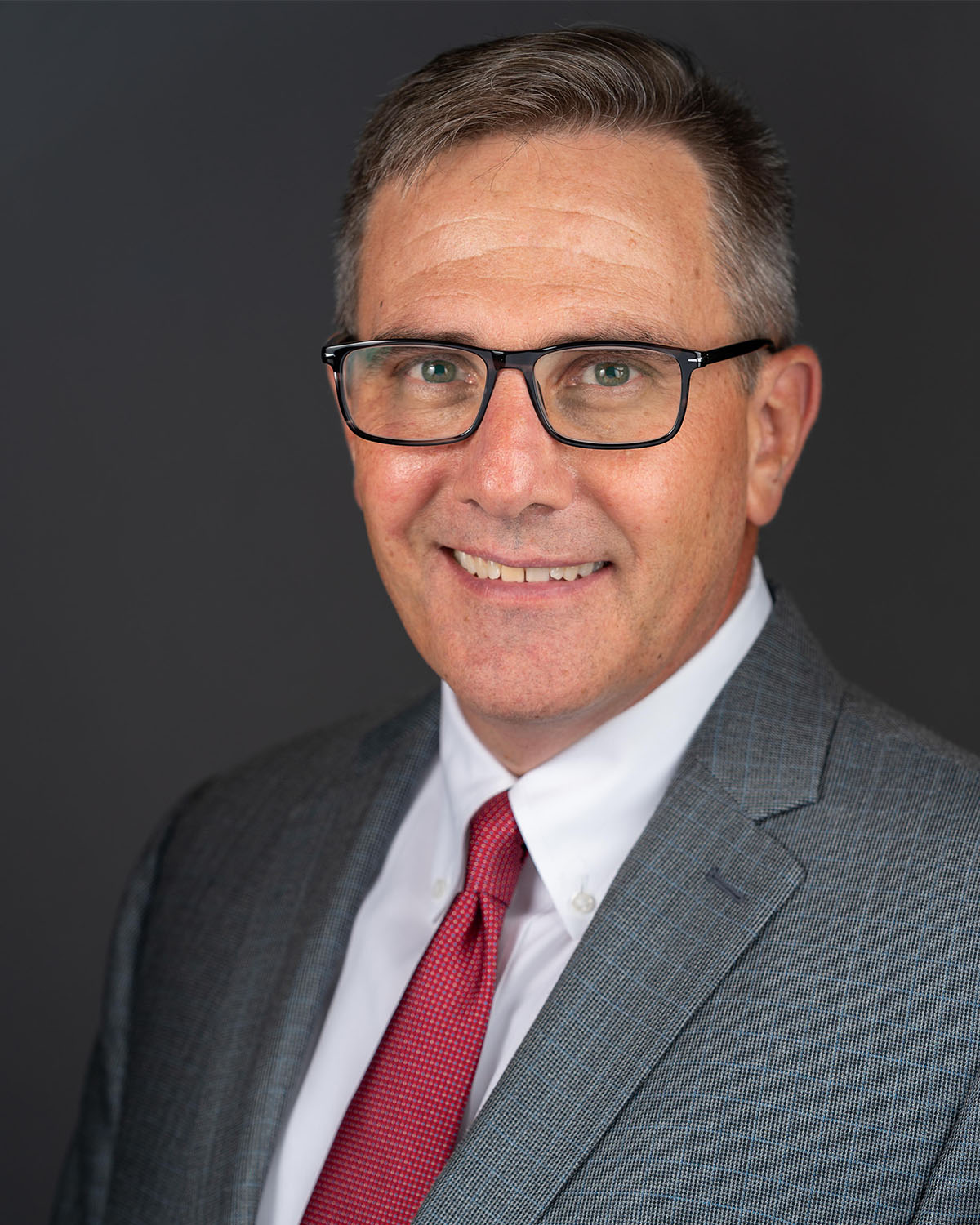 Bill Mathis, MM '87, DMA '92 (trombone), was reappointed in July 2022 for a second five-year term as dean of the College of Musical Arts at Bowling Green State University. He is proud to work with several SMTD colleagues on the music faculty at BGSU.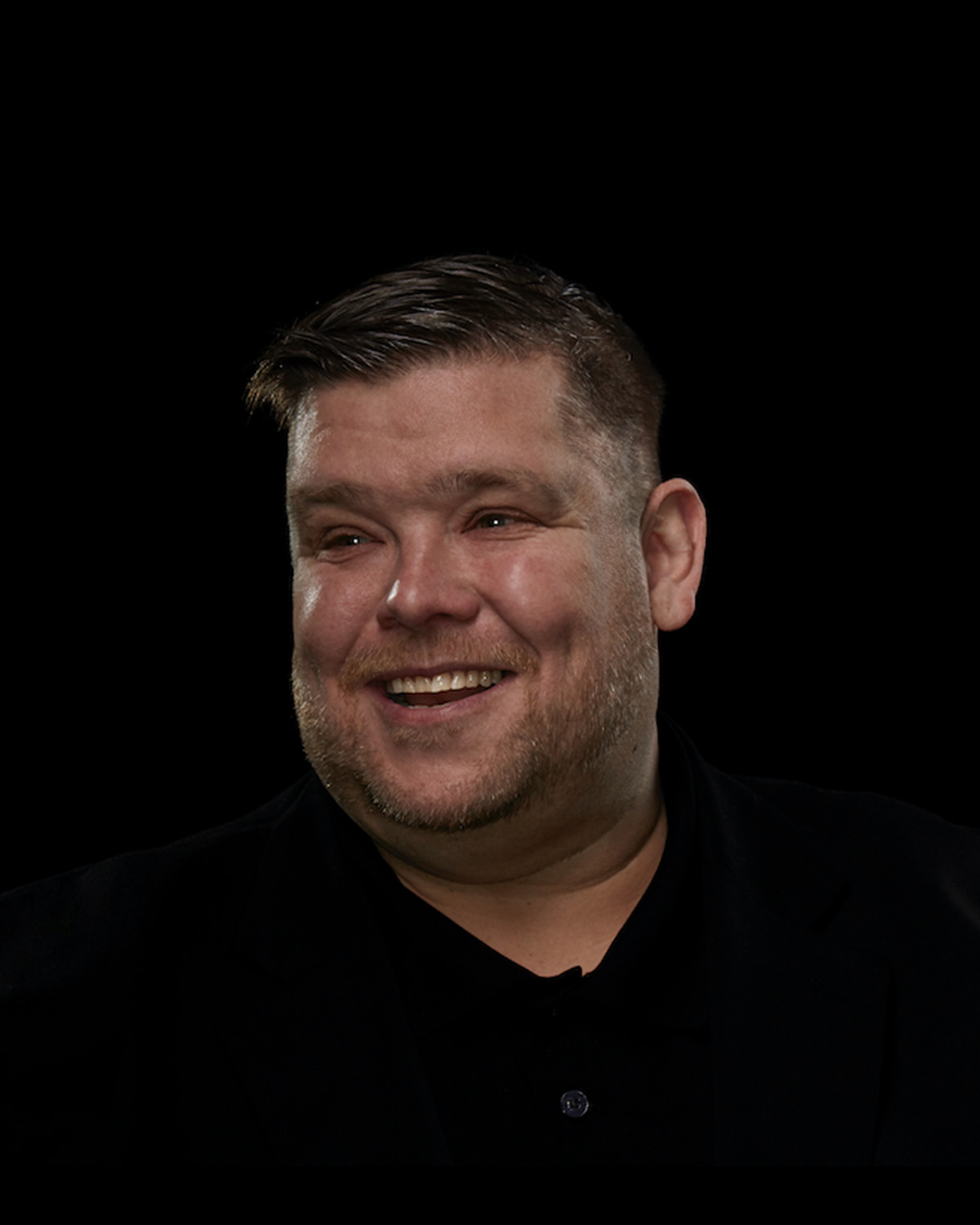 This past August, Paul Mow, BMA '99 (voice), directed and produced the musical Violet as part of the third season at the GhostLight Theatre in Benton Harbor, Michigan (where he also serves as founder and artistic director). He and GhostLight summer intern Cecilia Petrush, BFA '23 (musical theatre), were able to provide a virtual master class for the entire cast and crew with Michael McElroy, chair of musical theatre and Arthur E. and Martha S. Hearron Endowed Professor of Music. McElroy originated the role of Flick in the first production of Violet off-Broadway and, in answering questions from the cast and crew, was able to share incredible insight into the show and his career.
Deborah Wong, PhD '91 (ethnomusicology), recently joined the board of the Répertoire International de Littérature Musicale (RILM), a nonprofit organization that offers digital collections and advanced tools for locating research on all topics related to music.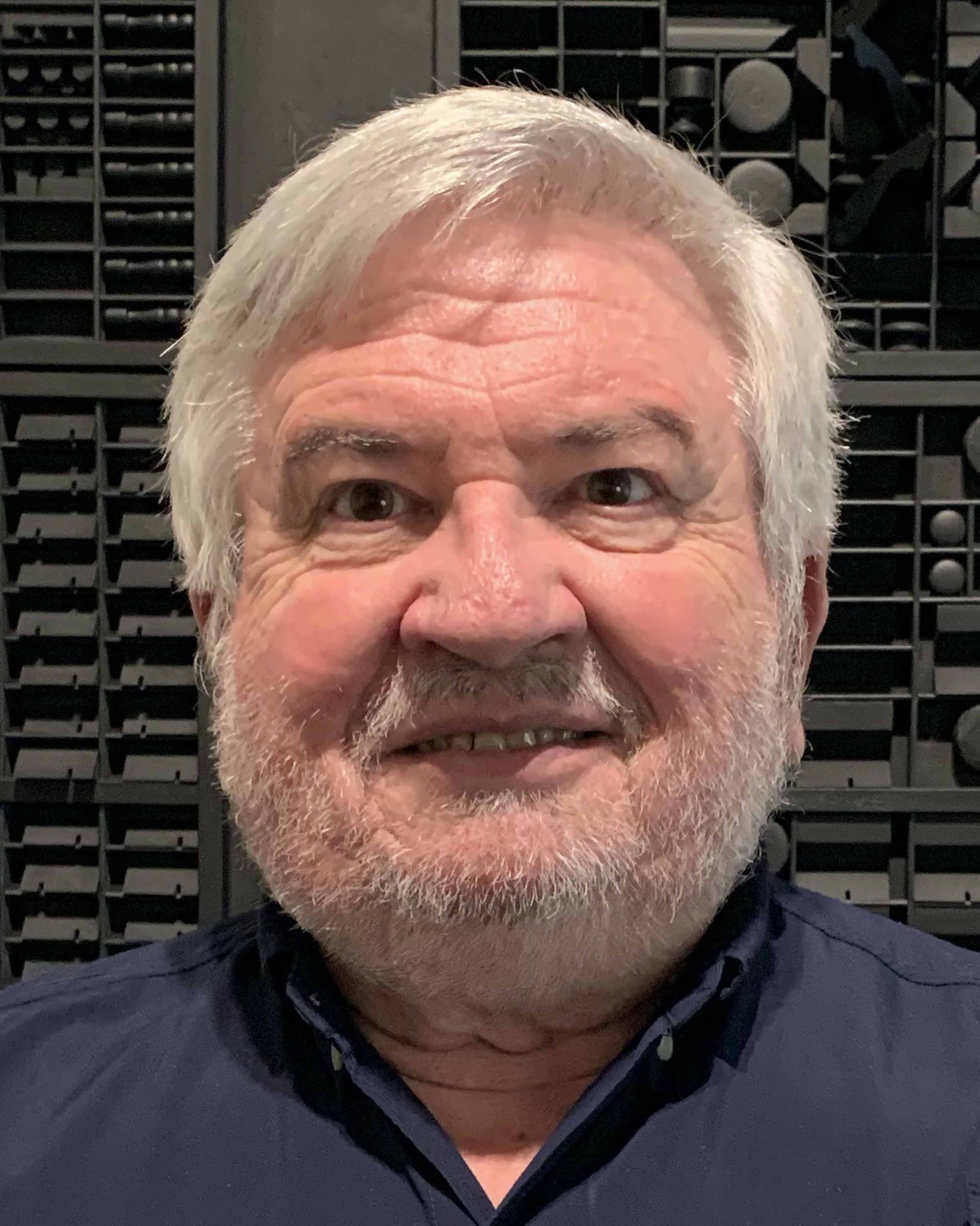 Professor Emeritus Thomas S. Clark, BM '71, MM '72, DMA '76 (composition), retired from Texas State University in 2020 after serving 12 years as director of the School of Music and previously as dean of music at the University of North Carolina School of the Arts. In the two years since administrative retirement, he has composed 23 new pieces and published 12 of his "sound sculptures" on the YouTube channel TClark Art Music. He also recently completed his fourth book, Mapping the Music Universe. Clark and his wife, Elizabeth, continue to live near their six granddaughters in San Marcos, Texas.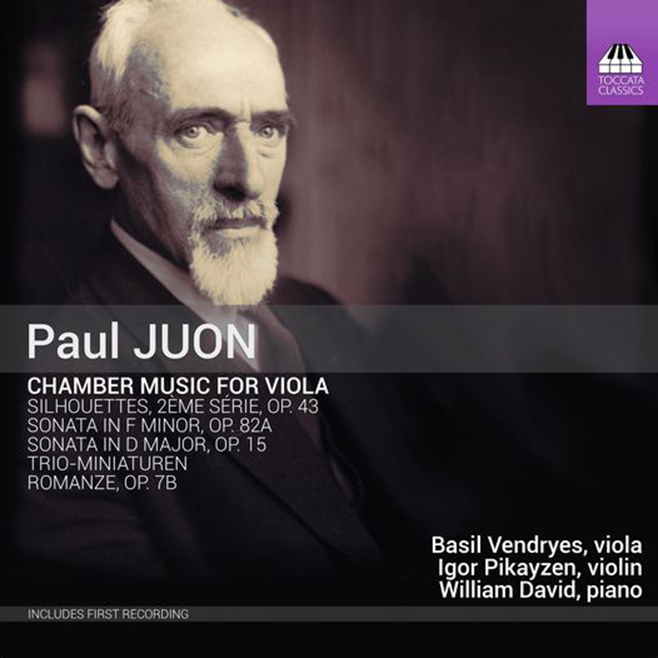 Since his retirement from Iowa State University in 2012, William David, BM '69, MM '70, DMA '72 (piano), has continued performing in collaboration with musicians in the Denver area. In 2022, the second CD he has recorded with Basil Vendryes, principal violist in the Colorado Symphony, was released by Toccata Next. It features music by Swiss/Russian composer Paul Juon.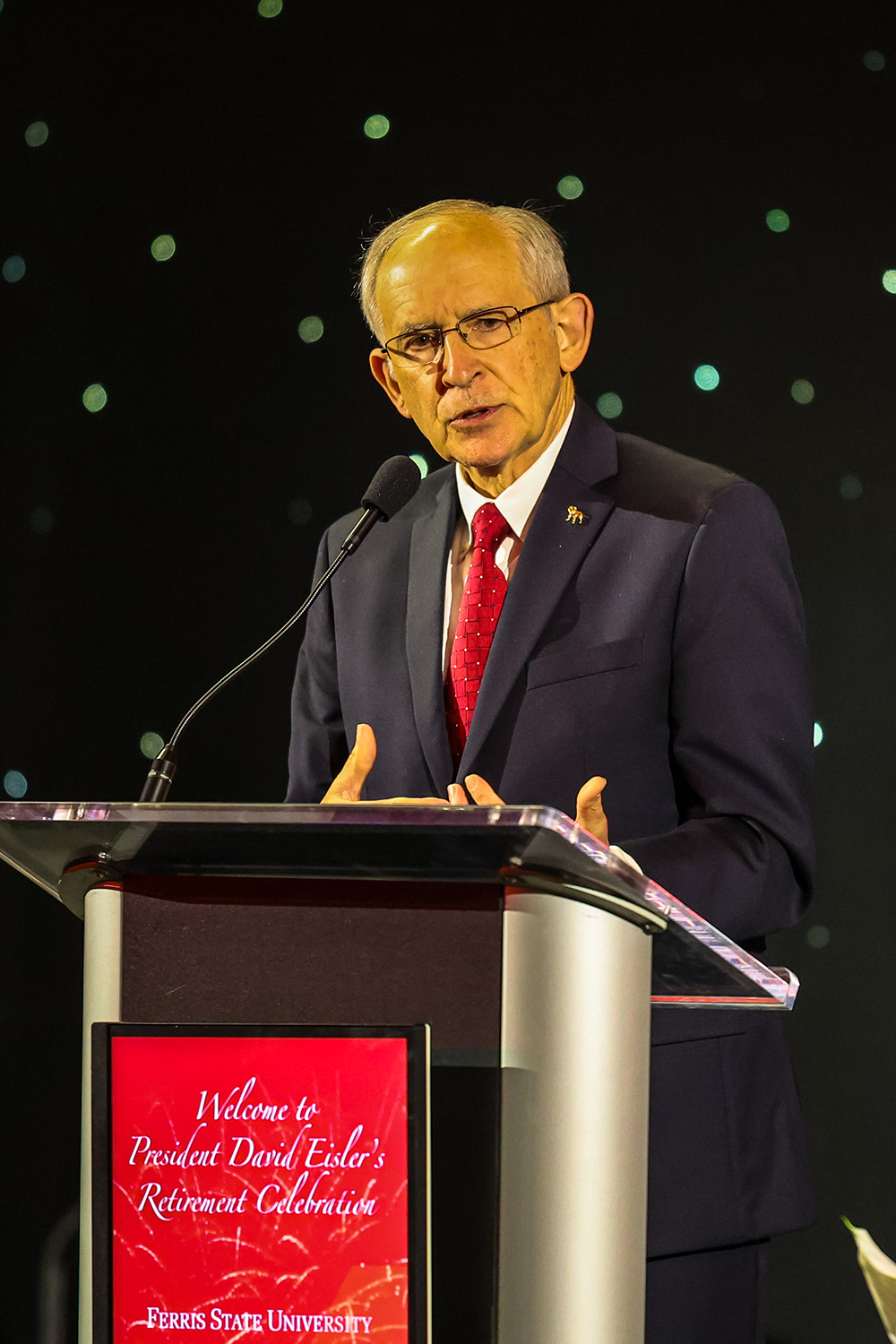 David Eisler. Photo credit: Miles Postema
Eisler Retires as President of Ferris State University
In July, David Eisler, BM '72, DMA '78 (clarinet), retired as president of Ferris State University after 19 years; he was the longest serving president other than its founder, Woodbridge Ferris. In recognition of his contributions to Ferris, the institution's Board of Trustees named the university's student center the David L. Eisler Center in his honor. In November, the Michigan College Access Network recognized Eisler's commitment to students, especially economically challenged, first-generation, and foster youth students, with the Brandy Johnson Board of Directors Award. He is the first college/university person to receive this award.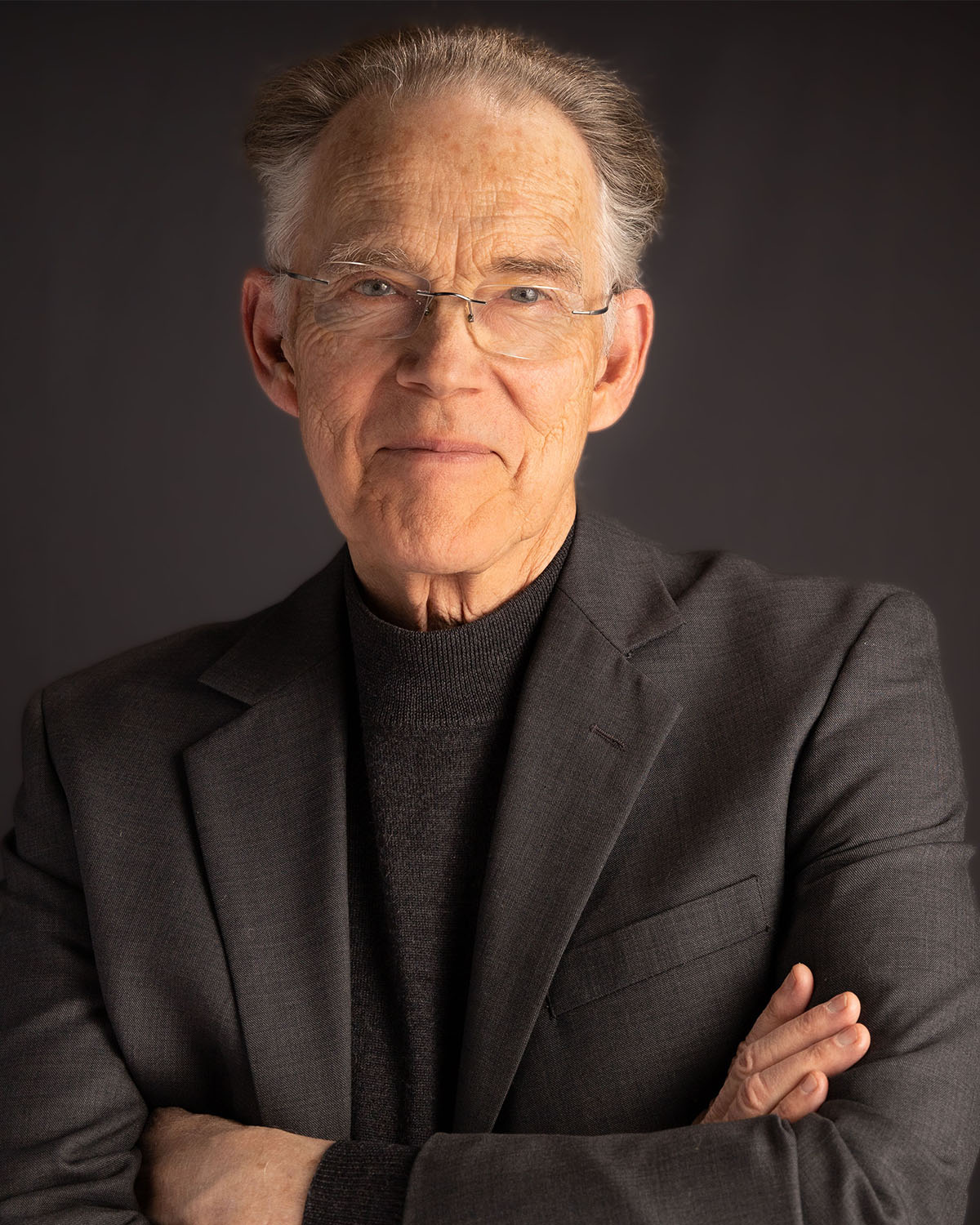 Richard Jennings, MM '78 (voice, composition), composed music for the San Francisco Shakespeare Festival's production of Much Ado About Nothing. His score set the vibe of the 1980s concept and won praise all around. His compositions are featured in EmoChART, a visual art, multimedia social practice event about human emotions. Created by visual artist Lynne-Rachel Altman, EmoChART enjoyed a very well attended run at Berkeley's Gallery 2727 and is now booked at other regional art galleries. The nonprofit Musical Cafe, of which he is a founder, continues to provide development opportunities for new musicals. Jennings still teaches private voice lessons and occasionally sings professionally.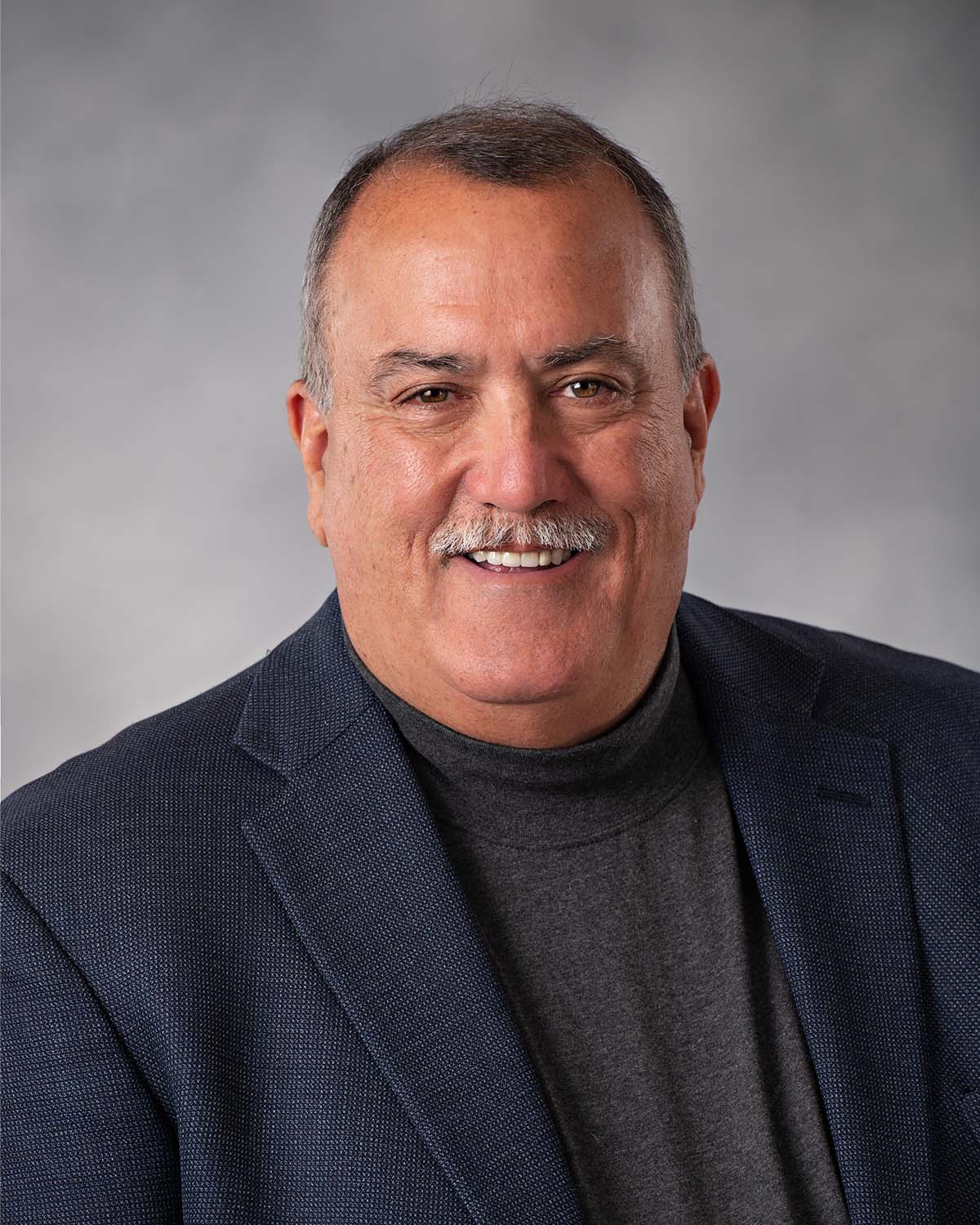 Bob Phillips. Photo credit: Kari Douma Photography
Bob Phillips, BM '76, MM '79 (music education), a 2013 SMTD Hall of Fame honoree, was awarded the Medal of Honor by the Midwest Clinic. It is awarded to "conductors, educators, composers, and others whose distinct services to instrumental music education and continuing influence on the development and improvement of bands and orchestras deserve the highest recognition." Award winners are defined as "musicians and educators of extraordinary stature in America." Other Michigan alumni and faculty to receive the award include William D. Revelli; Elizabeth A.H. Green; H. Robert Reynolds, BM '56 (music education), MM '58 (wind instruments); Joe Maddy, and Jerry Junkin. Also honored was Pam Phillips (LSA '79).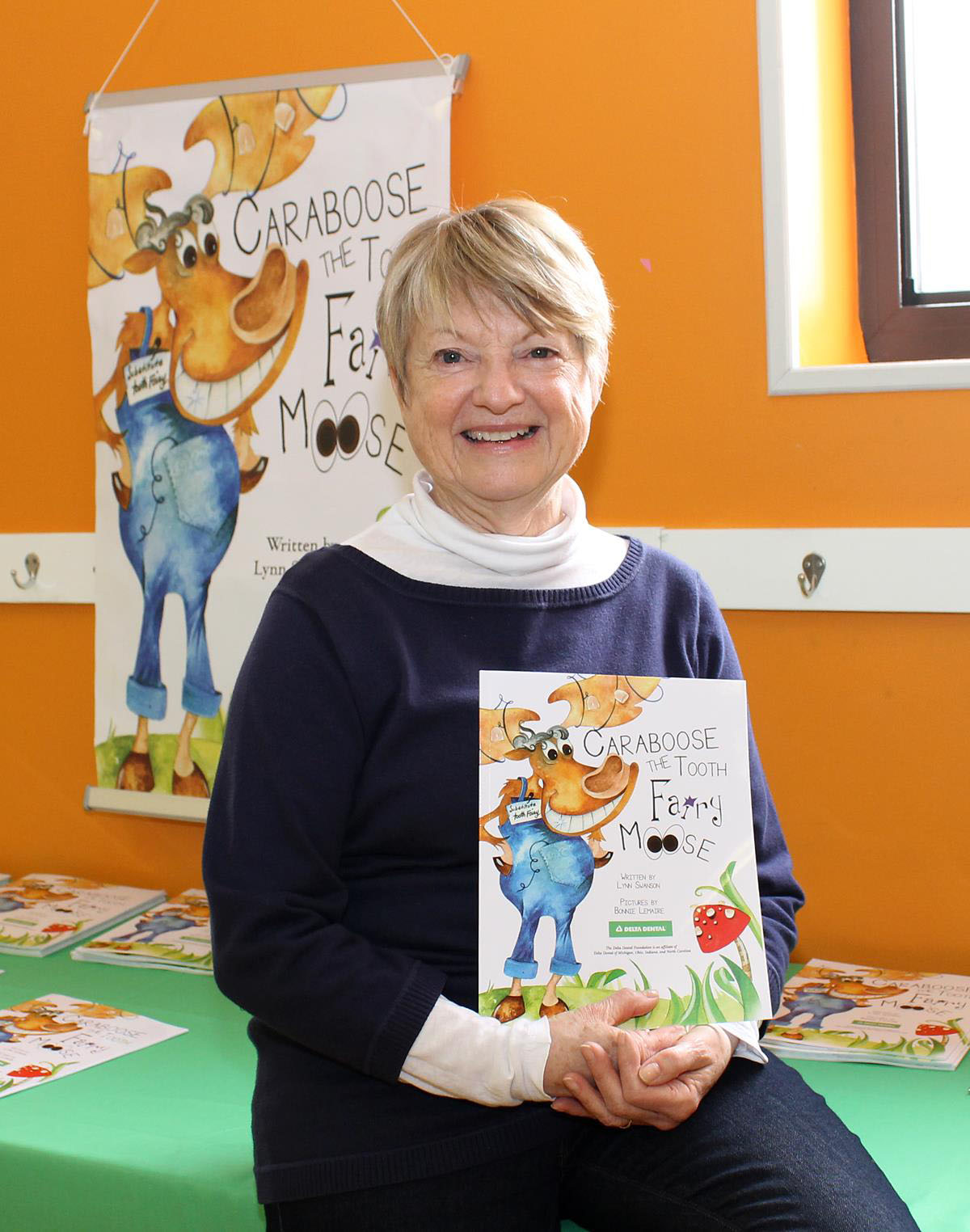 Lynn Swanson, BFA '76 (dance), uses her dance degree to teach movement to youngsters in West Virginia and is artist in residence at Pleasant View Elementary School in Berkeley Springs. She holds an MA in creative writing from Michigan State University and continues to tour schools with her fiction, Summer Dance (Silver Medal from Moonbeam Children's Book Awards), Welcome Back to Lakewood, and Caraboose, the Tooth Fairy Moose (endorsed, purchased, and distributed by the Delta Dental Foundation). Her next book will be published next year.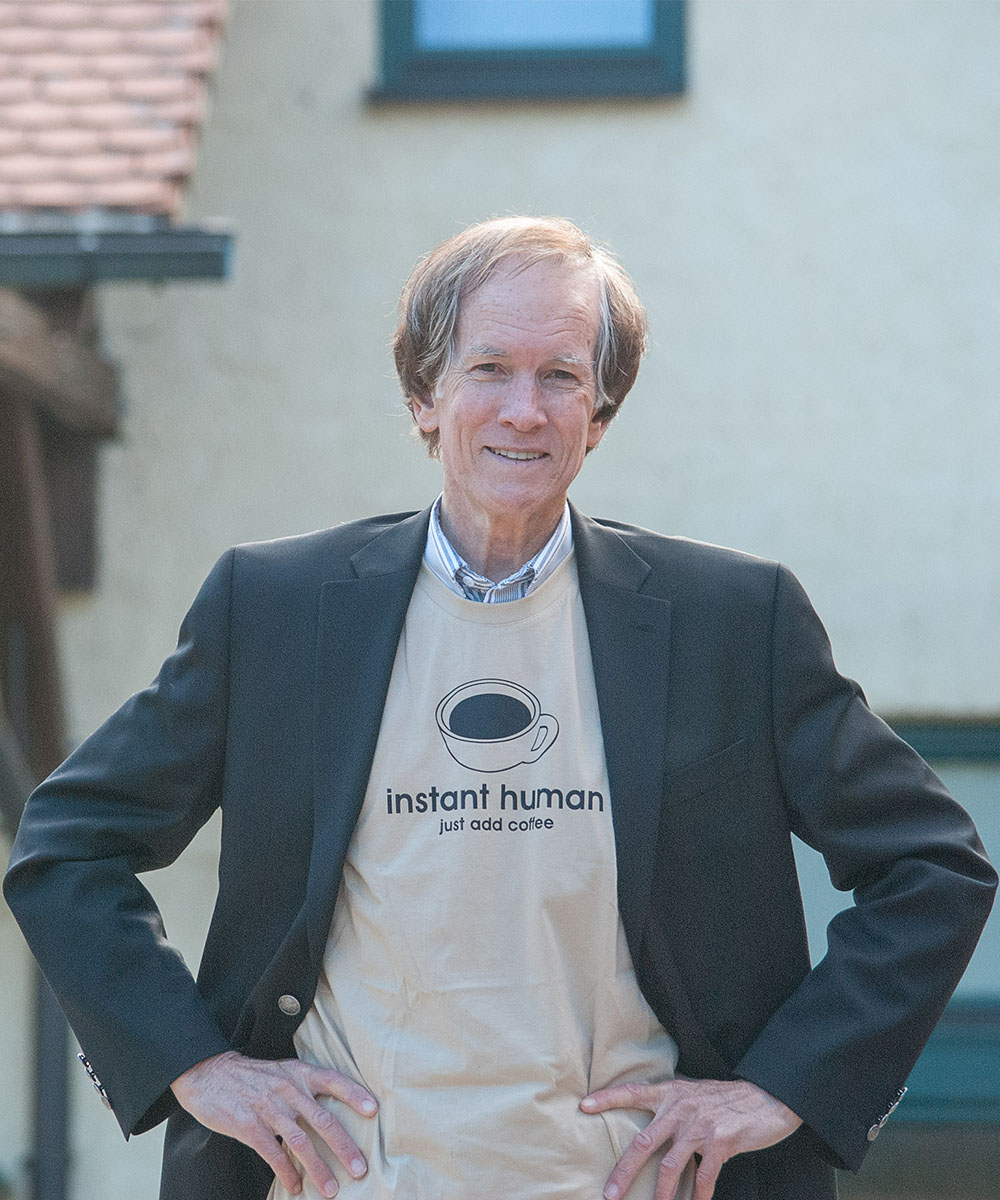 Charles Atkinson. Photo credit: Hanno Clausing
At the recent meeting of the International Musicological Society (IMS) held in Athens, Greece, August 22–26, Charles Atkinson, MM '65 (music education), presented "On Modulation in Early Medieval Chant: The φθοραί in Byzantium and the vitia in the West," a paper co-authored by Professor Gerda Wolfram of the University of Vienna. He also participated in the IMS roundtable "Translation, Transformation, and Mediation in Christian Music of the Eastern Mediterranean Region." His presentation for the roundtable was titled "On Modulation in Eastern and Western Chant." In addition to his two presentations, he also chaired the session "Tonality, Modality, Pitch."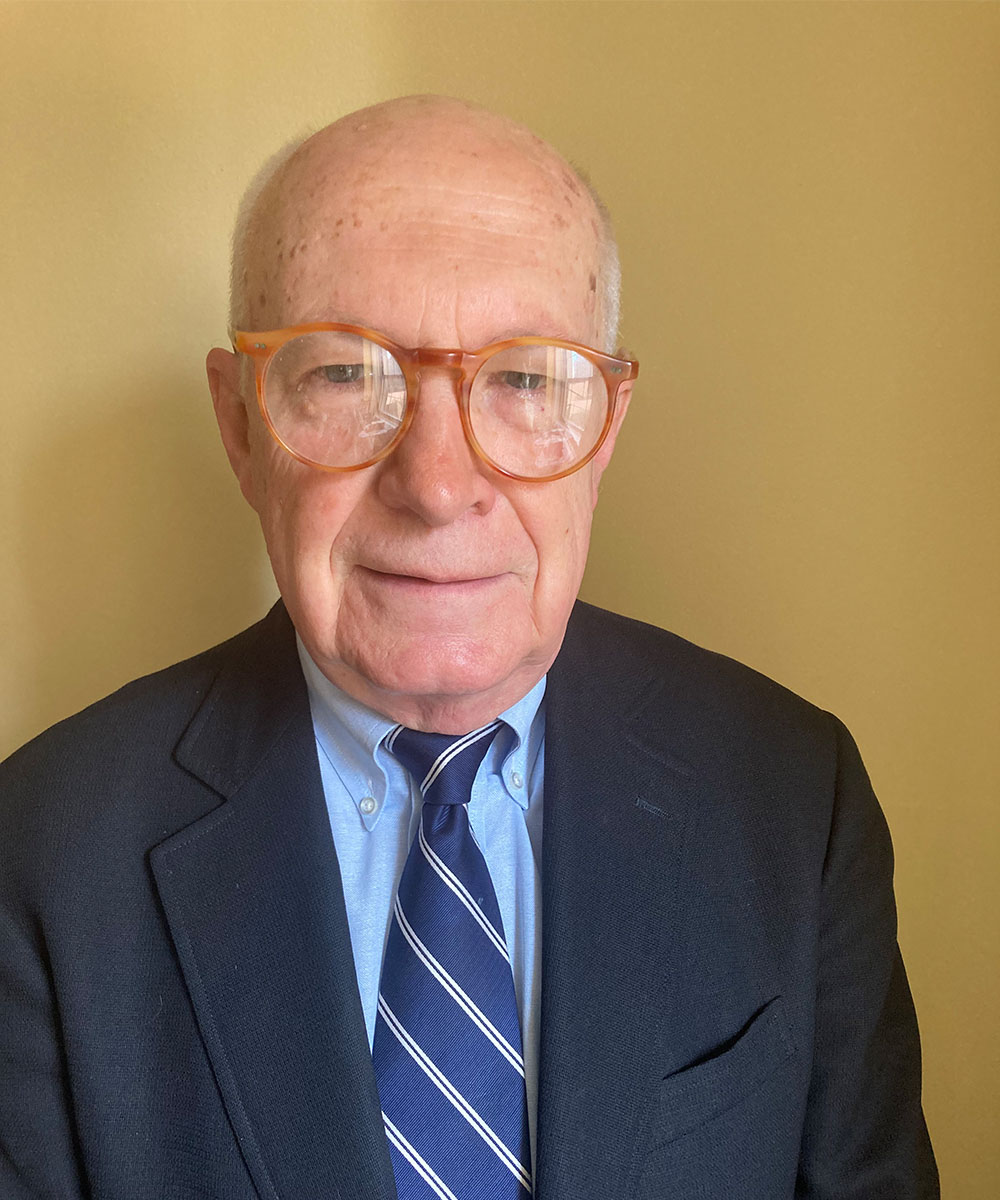 Tommaso Traetta and the Fusion of Italian and French Opera in Parma by George Loomis, BM '69 (theory), was published in October 2022 by Academica Press.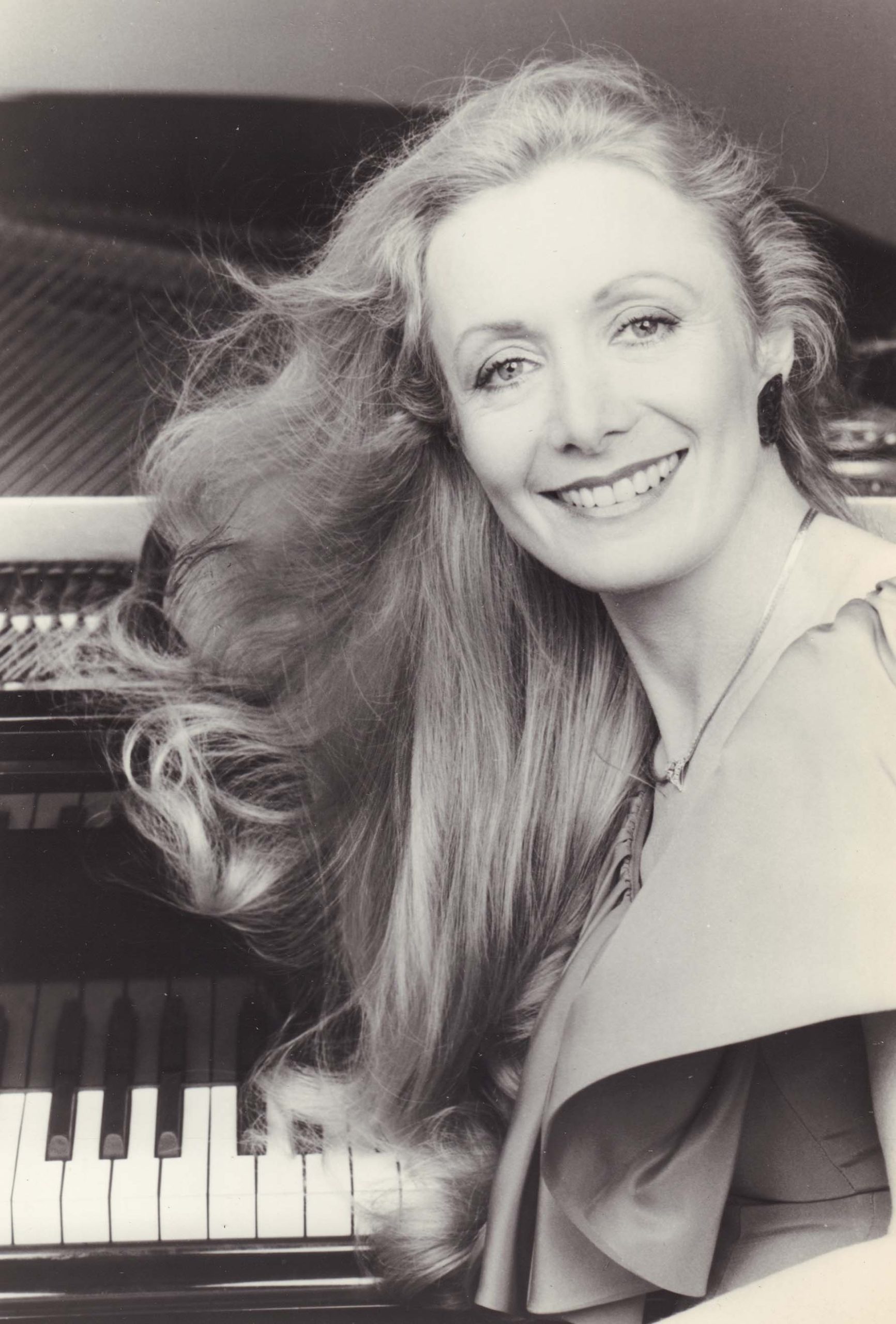 A Hall-of-Fame Pianist
Classical pianist Barbara Nissman, BM '66, MM '66, DMA '69 (piano), will be inducted into the West Virginia Music Hall of Fame in May 2023. Nissman has performed with some of the world's leading orchestras, including the London, Royal, Rotterdam, Munich, and New York Philharmonics as well as the Chicago, Pittsburgh, and St. Louis Symphonies. In addition to performing and recording, contributing to books and music publications, and presenting master classes at universities, Nissman hosted a music lecture series, Barbara & Friends, on the BBC network, and it has been adapted for children in collaboration with the Greenbrier Valley Theatre.
Lawrence Yurdin, BM '62 (music education), a member of the 1961 Michigan Symphony Band that toured the Soviet Union and an SMTD Hall of Fame honoree, is proud to have a granddaughter attending U-M, a third-generation Wolverine.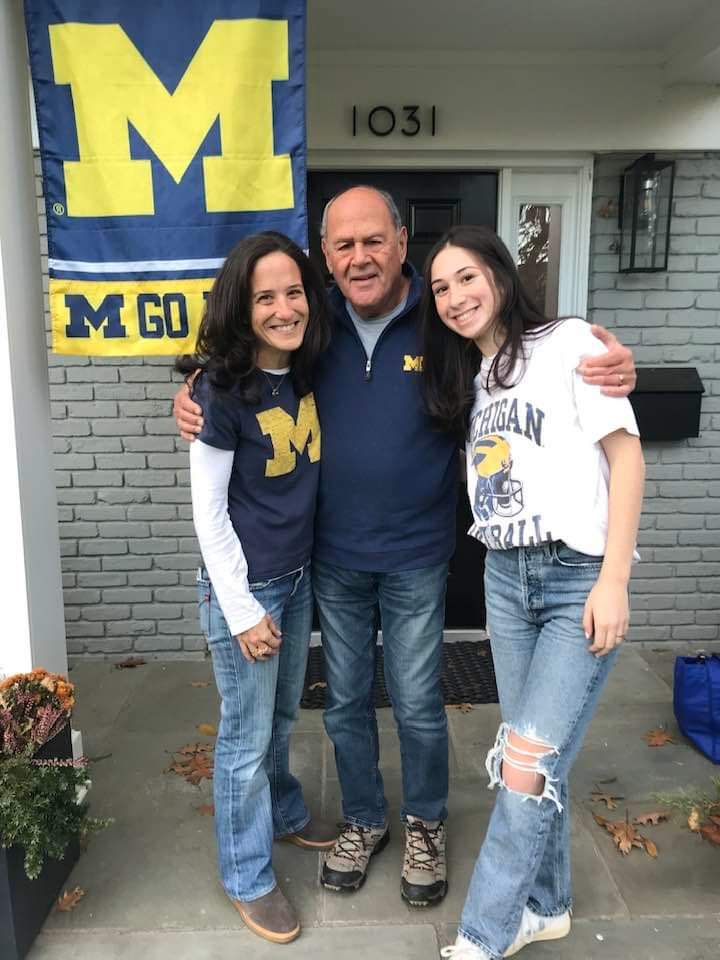 Three generations: Lawrence Yurdin ('62), daughter Beth ('93), granddaughter Kate Metzendorf ('25)