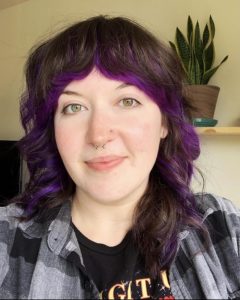 The University of Michigan School of Music, Theatre & Dance has announced that Professor Jess Fialko will join the faculty as a clinical assistant professor of theatre and drama.
"We are delighted we are able to hire Jess full time in this new faculty position as a vibrant and valued member of Theatre & Drama," shared Christianne Myers, interim chair of the department of Theatre & Drama. "They joined us this past fall in this pilot position, and over the past year both University Productions and the Department of Theatre & Drama faculty have been thoroughly impressed with their agility in adapting to our evolving curricula."
Fialko, a lighting, costume, and scenic designer who has been teaching classes in design & production, shared, "I'm thrilled to be staying with the School of Music, Theatre, & Dance! The past year has been full of rich experiences teaching and designing. I cherish the relationships I've developed with my colleagues and students and look forward to continuing our work together."
Prior to relocating to Michigan, they were based in Chicago, where they designed for Promethean Theatre Ensemble, Jedlicka Performing Arts Center, SheWolf Sacred Movement, the Actors Gym, City Lit, Profiles Theater, the side project, and Northbrook Theatre.
Regional credits include Theatreworks Colorado Springs, Colorado Springs Fine Arts Center, Riverside Theatre, Iowa Summer Repertory, Penobscot Theatre Company, Maples Repertory Theatre, Hollins University, University of Northern Iowa, Birmingham Children's Theatre, Davenport Junior Theatre, and Quad Cities Theatre Workshop.
"While their greatest experience is with lighting, their portfolio reflects production credits in costume and scenic design as well. The ability to have fluency in the different production shops is a huge asset for this particular role," Myers said.
Professor Fialko received their BFA in theatre design/technology from the University at Buffalo, and an MFA in Theatre Arts from the University of Iowa.