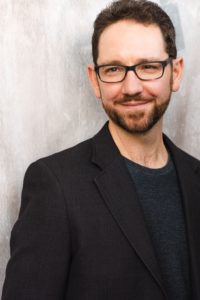 This fall, the School of Music, Theatre & Dance will welcome Jeremy Sortore to the Department of Theatre and Drama as Assistant Professor. He is an actor trainer and embodied performance educator who will bring a wealth of expertise in professional and academic instruction to the role.
"The Department of Theatre & Drama is thrilled to welcome Professor Sortore to Michigan! Jeremy's teaching philosophy centers 'a consent-based, collaborative, and identity-conscious training' to foster brave spaces for teaching and learning," said Christianne Myers, interim department chair. "We are excited to include his embodied teaching methods into our program as a member of the Performance faculty."
Sortore's teaching is informed by somatic practices and pedagogies including Fitzmaurice Voicework®, Knight-Thompson Speechwork, Alexander technique, Feldenkrais, and hatha yoga; Stanislavski-based acting techniques including Active Analysis, the work of Earle Gister, and Practical Aesthetics; critical pedagogies and trauma-informed practice; and a lifetime spent in the performing arts.
His professional coaching credits include multiple seasons at the Utah Shakespeare Festival and productions at the American Repertory Theater, the A.R.T. Institute MFA program, the Moscow Art Theater School, and the Arvada Center Theatre Company. He has previously taught at Utah Valley University, Harvard University, the American Repertory Theater Institute MFA Program, the City College of New York, the American Musical and Dramatic Academy, Muhlenberg College, New York Film Academy, and the University of Colorado, Denver.
"I am delighted to join the SMTD faculty and look forward to the rich learning and artistic opportunities at the University of Michigan," Sortore shared. "I am so excited to build a community with my student and faculty collaborators and contribute to the conversations that are leading us toward the sustainable, humane, and inspiring theatre of tomorrow."
Sortore earned an MFA from the Moscow Art Theater School / American Repertory Theater Institute at Harvard University and holds master's and bachelor's degrees in vocal performance from the University of Colorado, Boulder. He has also completed post-baccalaureate work and clinical observation hours in communication disorders and speech science and a minor in French.
His numerous professional affiliations include serving as Associate Editor of the Voice & Speech Review (Routledge), and as a contributor to the International Dialects of English Archive (IDEA), and a member of the board of directors of the Voice and Speech Trainers Association. He is a member of the National Alliance of Acting Teachers, an Associate Faculty member with Theatrical Intimacy Education, an Associate Teacher of Fitzmaurice Voicework®, a Certified Teacher of Knight-Thompson Speechwork, a former yoga instructor, and Certified Level III in Somatic Voicework™ the LoVetri Method. Sortore is a proud member of Actors' Equity Association, the union of professional actors and stage managers in the United States.