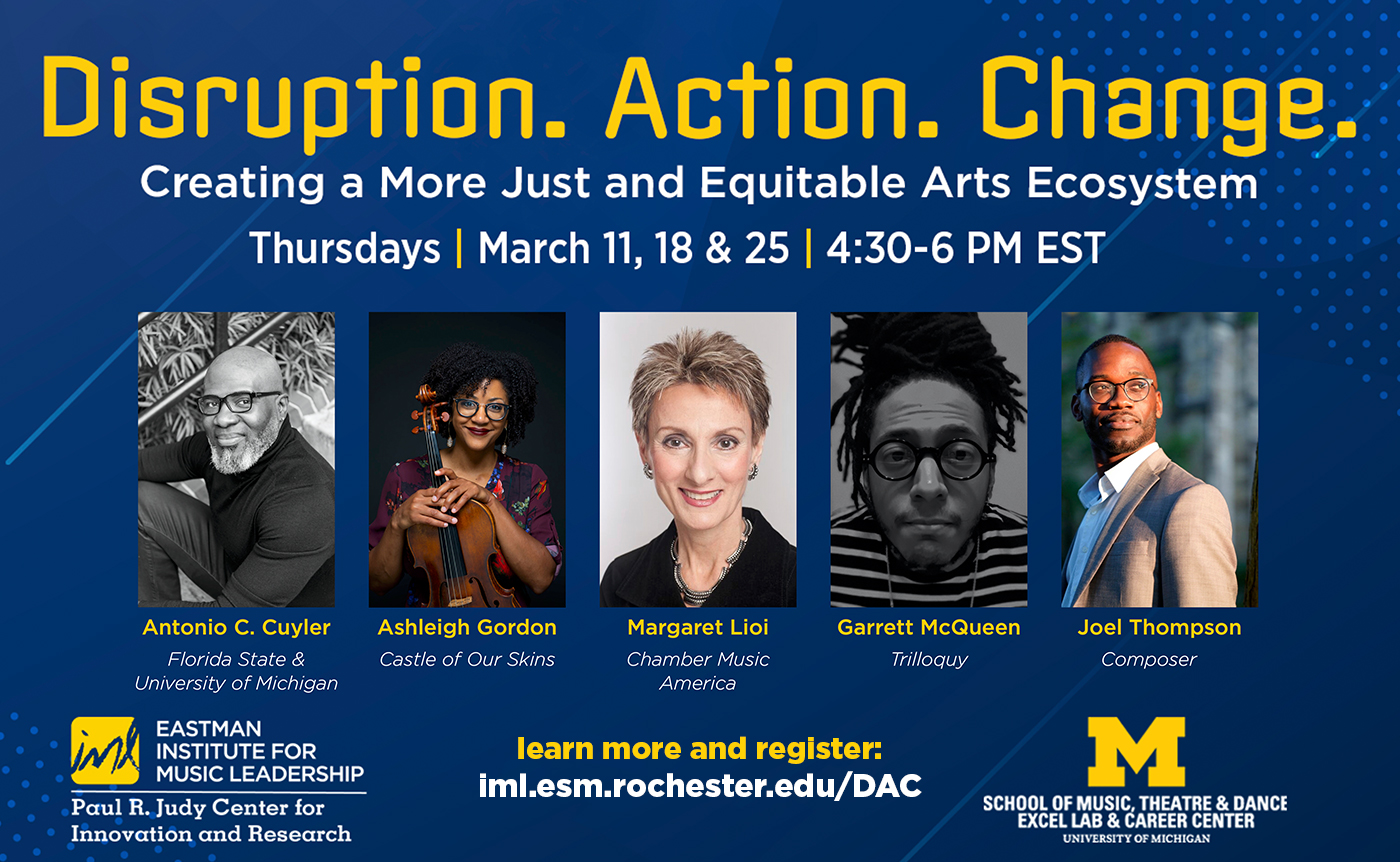 The University of Michigan School of Music, Theatre & Dance's EXCEL Lab, in collaboration with The Eastman School of Music's Paul R. Judy Center for Innovation & Research, is set to launch a multi-week symposium called Disruption. Action. Change. beginning March 8.
The three-part online series features in-depth conversations with five performing arts change-makers who will explore the role of disruption as an essential force in the pursuit of a more just and equitable arts ecosystem. 
Each speaker will write an article to be released in advance of their session to spark ideas and questions for their conversations, which will take place on Thursdays, March 11, 18, and 25  from 4:30-6 p.m. EST via Zoom. The free symposium is open to all, and is especially relevant for the next generation of arts leaders, including students and young professionals.
"New and aspiring professionals are charged up to disrupt the status quo like never before, and this series gives them a chance to learn directly from leading professionals who are on-the-ground catalyzing that change on a day-to-day basis," said Jonathan Kuuskoski, Director of EXCEL. "This kind of dialogue with practitioners is a critical, foundational element to the work of repositioning our training programs around effective strategies that traverse arts advocacy, leadership, entrepreneurship, and social impact methodologies."
Featured speakers include: Dr. Antonio C. Cuyler, Director of the MA Program and Associate Professor of Arts Administration at Florida State University, and Visiting Associate Professor in the Department of Theatre & Drama at the University of Michigan School of Music, Theatre & Dance; Ashleigh Gordon, co-founder, Artistic/Executive Director, and violist of Castle of our Skins, a Boston-based concert and educational series devoted to celebrating Black Artistry through music; Margaret M. Lioi, Chief Executive Officer of Chamber Music America; Garrett McQueen, professional bassoonist and Executive Producer of the TRILLOQUY podcast; and Joel Thompson, an Atlanta-based composer, conductor, and educator, best known for the award-winning choral work, "Seven Last Words of the Unarmed."
The symposium will conclude with a special episode of the Classically Black Podcast where hosts Dalanie Harris and Katie Brown will unpack the cumulative learnings from each session, and discuss how performing artists can use these ideas and tools to embody equity in their own work.
"Higher education in the arts often focuses exclusively on technique and history, but ultimately technique is a means to an end," said U-M School of Music, Theatre & Dance student Samantha Williams. "It is so important for students to have opportunities to critically think about the impact they want their artmaking to have, and this chance to hear from art activists, disruptors, and change-makers is such an amazing opportunity. As an aspiring arts activist, I am really excited to have this opportunity to learn from such influential people in the field."
Williams is one of several students from the U-M School of Music, Theatre & Dance and Eastman taking a leadership role in the conception and planning of Disruption. Action. Change. U-M student Gala Flagello is also a part of the project, which she saw as a natural next step after helping to plan EXCEL's Virtual Visionaries series in summer 2020. 
"As a graduate student, freelance composer, educator, and non-profit director, I saw the pandemic and the tumultuous summer of 2020 touching every facet of my life in the performing arts, which is why I was excited to help design and attend Virtual Visionaries," said Flagello. "Hearing from guests like Gabriela Lena Frank and Omari Rush allowed me to realign my priorities as an artist-activist. This sense of art-making while change-making was the conceptual spark for Disruption. Action. Change., which I'm thrilled to be organizing with my EXCEL Lab colleague Samantha Williams, Jonathan Kuuskoski, and Eastman's Paul R. Judy Center. I'm looking forward to learning from the experiences of our five panelists and the Classically Black Podcast, and in particular, their perspectives on how art can affect positive change in our world."
Kuuskoski is also happy that EXCEL and the Paul R. Judy Center could work together on Disruption. Action. Change. because he has seen how arts organizations working collectively can make a more significant impact on the field.
"We are thrilled to co-host this series with Eastman's storied Institute for Music Leadership," said Kuuskoski. "We hope this collaboration will model the ways institutions can collaborate to elevate these stories and bring our constituencies together towards the shared goal of realizing a more just and equitable arts community."'
To learn more about Disruption. Action. Change. and to register for the symposium, visit iml.esm.rochester.edu/DAC.
More Information
University of Michigan School of Music, Theatre & Dance EXCEL Lab
The Eastman School of Music Paul R. Judy Center for Innovation & Research
Virtual Visionaries
Classically Black Podcast