Community Sing: Songs of Resistance & Hope
September 14, 2023 | 5:30 pm
The Diag, 913 S University Ave, Ann Arbor, MI 48109
Free - no tickets required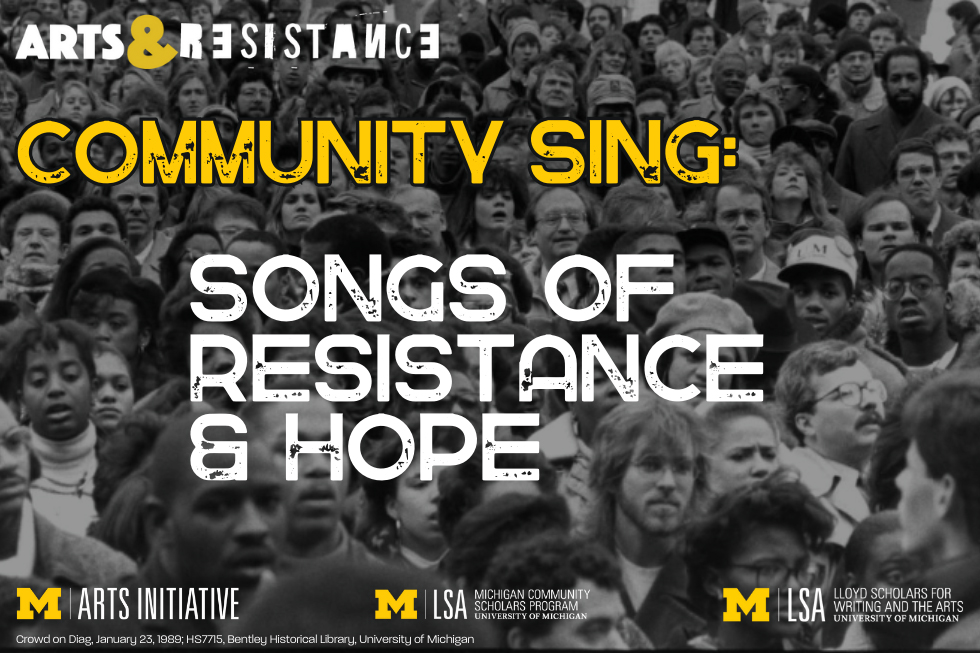 As part of the Fall Theme Semester: Arts & Resistance, the Michigan Community Scholars Program & U-M Arts Initiative are proud to present Community Sing: Songs of Resistance & Hope, a participatory community concert.
This is a chance to witness music's power to bring people together, regardless of age, background, or experience. Whether you're a seasoned singer or just love to sing in the shower, the Community Sing welcomes everyone to join in and sing songs of resistance together. Songs selected will come from historic social movements, including abolition, civil rights, and labor movements.
The event will take place on Thursday, September 14 from 5:30- 7:00pm + reception outdoors in The Diag on Central Campus.
Don't miss this opportunity to be a part of something truly special; Register now; you will be of the first to know about any changes and venue information!
Come early, come late, stay as long as you like! Stick around from 7:00 to 7:30 – reception with complimentary grab & go catering from Eggroll Diva and Pilar's Tamales!
The Community Sing will be led by Dr. Eugene Rogers, UM Director of Choirs.
This program is presented by the Michigan Community Scholars Program, U-M Arts Initiative, and Lloyd Scholars for Writing and the Arts in partnership with Ann Arbor Civic Chorus, Detroit Women's Chorus, Our Own Thing Chorale, Out Loud Chorus, UMS Choral Union, and University Choirs: U-M Chamber Choir, U-M University Choir, U-M Orpheus Singers, Michigan Men's Glee Club, Michigan Women's Glee Club, Out of the Blue, Arts Chorale.