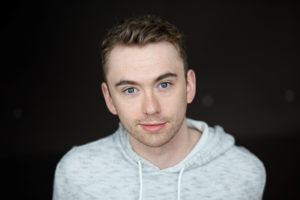 Aaron Robinson earned his Bachelor of Fine Arts in Musical Theatre this spring. He sends heaps of love and gratitude to his family, friends, and educators—without whom no successes would be possible.
Academic and career accomplishments
2014 Kentucky Performing Arts Governor's School for the Arts winner in musical theatre
2016 National YoungArts Foundation Winner in theatre
Played lead and featured roles in SMTD productions of Sweeney Todd (Adolfo Pirelli), A New Brain (The Minister), and in MUSKET's Cabaret (Herr Schultz)
Performed several readings of new works, including Shel by fellow musical theatre alumnus Noah Kieserman and James The Many by Graham Russell and Air Supply
Performed during the summers at the Lexington Theatre Company and with Stephen Foster Productions
Performed as a featured vocalist for "Concert with the Stars" at the Lexington Theatre Company, at the Trentino Music Festival, and in a solo concert, "Now and Again," at St. Catherine Hall in Springfield, Kentucky
Reflections
"From the first moment I stepped foot on the University of Michigan's North Campus as a high school senior, I knew that I had found a home—the place where I wanted to spend the next four years of my education. I had been visiting several schools across the country where I wanted to study musical theatre, but none of them had felt so warm and inviting to me as Michigan. The professors and students I met when visiting for accepted students' weekend convinced me, in record time, that I had to be there with them, come the fall.
As I sit here today, having graduated, I haven't regretted my decision to go to Michigan—not for a single moment. Every day spent in the School of Music, Theatre & Dance only served to reinforce my love for the School, the faculty, and the family I gained by coming to Ann Arbor. I feel so grateful for having been able to sit at the feet of such wonderful and brilliant minds as those in the Department of Musical Theatre faculty—I only wish I could have done it for longer than four years! I really and truly owe an eternal debt to those at the University of Michigan who believed in me, guided me, and entrusted me throughout my time as a student. It would be impossible to attempt to distill everything I've learned from my faculty over the past four years into a few brief sentences, so I'll stick to just talking about a single moment that stand out for me.
I'll never forget one particular moment in class, my second year. My classmates and I were doing some scene work in Professors Mark Madama and Jason DeBord's Sophomore Performance class. I remember feeling constrained and tight in my body. Something in the scene had required me to be a bit more physically engaged than I felt comfortable with, as I had recently had a major surgery to repair some cartilage and ligaments in my left knee (at the time, the latest in a long line of congenital knee issues). Mark kept asking me to be more engaged and to "get out of my head." I kept insisting that I had a bad knee and that I couldn't do what he wanted, but Mark was quick to refute me. This is not to say that Professor Madama was telling me to perform without care for my joints, or asking me to do anything that might have physically injured me—but rather, he was urging me to live life fearlessly, without ego. I learned in that moment (and in many subsequent moments) that the only way to perform freely is to get out of your own way! By letting go of the tremendous amount of focus, a performer tends to put on themselves, they make room for their focus to go somewhere else—hopefully the focus goes onto your goal in the scene, your tactics in achieving your goal, and how your scene partner affects that!"
Aaron possesses an extraordinary talent that is only exceeded by his formidable work ethic. This combination of talent and work, applied over four years of intense study and performance, makes him worthy of this award for outstanding achievement. — Prof. Vincent J. Cardinal