The University of Michigan School of Music, Theatre & Dance (SMTD) announces a new program that broadens and deepens the offerings of the Department of Musical Theatre and the school: the Carole Caplan Lonner Musical Theatre Writing Program.
The musical theatre writing program grew out of a desire to enhance the considerable offerings of SMTD's world-class Department of Musical Theatre. It is named in loving tribute to Carole Caplan Lonner by her daughters, Jane Och (Ross, '86) and Nancy Bernstein (Stamps, '83). A U-M alumna, Lonner had a passionate connection to the performing arts and wrote the book, music, and lyrics for The Kids Left. The Dog Died. Now What?, a musical that was performed at U-M in 2019. The gift to establish the Carole Caplan Lonner Musical Theatre Writing Program includes an endowed professorship as well as a visiting artists fund and was made possible by the Jane and Daniel Och Family Foundation and the David and Carole Caplan Charitable Foundation. "Our mother's passion was musical theater and everyone involved in the field," shared Och and Bernstein. "She would be so proud to know that her vision lives on through this program."
Academic programs focusing on musical theatre composition are few and far between, especially for undergraduates: New York University's Tisch School of the Arts has its graduate musical theatre writing program, and Berklee NYC offers a master's degree in creative media and technology, with the option of specializing in writing and design for musical theatre. SMTD's Carole Caplan Lonner Musical Theatre Writing Program gives undergraduates a unique opportunity to dive deeply into the art form, learning about song structure, dramatic structure, and the elements that make a song work in terms of its music, lyrics, and dramatic narrative.
"I'm thrilled that SMTD is breaking new ground by offering an undergraduate musical theatre writing program," noted David Gier, dean of SMTD and Paul Boylan Collegiate Professor of Music. "This program allows SMTD to remain at the forefront of performing arts institutions and provides our gifted students with a clear path to success in writing and composing for musical theatre."
Accomplished musical theatre performer and educator Michael McElroy, chair and Arthur E. and Martha S. Hearron Endowed Professor of Musical Theatre at SMTD, noted the significance of the writing program: "The Department of Musical Theatre is engaged in a level of excellence through many different lenses. If we want to transform the landscape of our art form, then, yes, we can do it as actors, but you also have to have people who are writing. With this program," he shared, "we can be part of changing the conversation through training artists to be able to go out there and to write from their perspectives."
Notable SMTD alumni Benj Pasek and Justin Paul, musical theatre graduates who went on to become Oscar, Grammy, Tony, and Golden Globe Award-winning songwriters (Dear Evan Hansen, La La Land, and The Greatest Showman), expressed their enthusiasm for the program: "As graduates of SMTD who have now made our careers in musical theatre writing, we couldn't be more excited for the creation of this one-of-a-kind musical theatre writing program. We have so much appreciation for all we learned at Michigan and cannot wait to see what the next generation of writers is able to create."
Students' Work Showcased for Industry Professionals
The academic requirements for the musical theatre writing program were devised by two SMTD professors of musical theatre, Catherine A. Walker and Jason DeBord. The program is offered as a minor to any student in SMTD. The program began in the 2019–20 academic year with a cohort of five students; the plan was to conclude that first year with a showcase in New York City to highlight the students' work. That plan, like so many others, was put on hold due to the COVID-19 pandemic.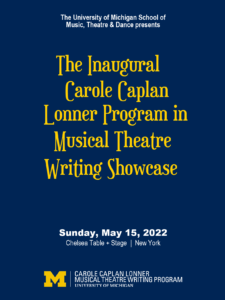 Now, two years later, the students who have participated in this program from its inception will have their work showcased at an inaugural annual event to honor their efforts, present their work to industry professionals, and formally launch the Carole Caplan Lonner Musical Theatre Writing Program. Scheduled for May 15, 2022, at Chelsea Table + Stage in New York, the showcase will be hosted by McElroy, with special guest hosts Pasek and Paul. The students' work will be performed by SMTD students, Michigan alumni working on Broadway, and guests, with attendees including agents, managers, representatives of nonprofit theaters, producers, and other industry notables. This showcase, McElroy stated, will "make sure the industry knows: these are the people to look out for. This is the next generation of songwriters and composers and lyricists. They have a voice and they have something to say."
Cornerstones of the Musical Theatre Writing Program
Lynne Shankel, SMTD assistant professor of music and a composer, lyricist, arranger, and orchestrator, oversees the coursework and projects the students must complete to earn the minor in musical theatre writing. She noted that, prior to the establishment of this program, a number of SMTD alumni – including Pasek and Paul, Andrew Lippa (The Wild Party, The Addams Family, You're a Good Man, Charlie Brown), and Jeff Marx (Avenue Q) – have enjoyed major award-winning success as composers and lyricists for musical theatre and film. "This minor was created," Shankel stated, "to give students who want to be writers an opportunity to funnel that creative energy and learn the craft." To underscore his belief in the program and its students, Paul, along with his wife Asher, established an enrichment fund to bring in guest artists and support students in the creation and presentation of their work.
After completing prerequisites in music theory, students interested in pursuing the minor take two iterations of the Musical Theatre Writing Seminar. They put the principles of the course to use writing individually and in pairs, and the semester culminates with the writing of a 15-minute musical. After completing the coursework, students embark on a capstone project, writing both music and lyrics for an original work. This project, Shankel noted, "is often the beginning of a larger piece the students plan to make a full-length musical after they graduate."
For musical theatre students, the writing minor offers the chance to explore creative expression from a different angle. "I decided to pursue this minor because I wanted to challenge myself and stretch myself in ways that I wouldn't have been able to do on my own," noted senior Helen Shen. "This minor," she said, "as an addition to the BFA Musical Theatre program, gave me such an all-around education about the industry I'm about to enter into, as well as reminding me that the theater industry is changing and improving because of the people who make it up." Shen, along with fellow seniors Andrew Cekala and Christopher Tamayo, applied the skills acquired through this program to a recent songwriting project in collaboration with Michigan Medicine. After spending time talking with U-M nurses and other healthcare professionals about all they've endured throughout the pandemic, the three students wrote and produced a video of "The Spark," a moving tribute to these frontline medical workers. McElroy praised this song as an important example of "how you use your art in service, to give back, especially in this moment."
While the program focuses on writing for the musical theatre, the minor is open to students from across SMTD and has been pursued by those majoring in classical and jazz composition. Having students from a variety of disciplines participate offers significant benefits; the diverse makeup of the program is "immediately going to crack things open in different ways," noted McElroy, "because we have different perspectives coming to the space. They inspire each other and they challenge each other." Senior Sammy Sussman, earning a bachelor of music degree in composition, was drawn to the program because of the chance to work both on his own and in groups, and to learn more about musical theatre. "The class taught me so much about dramatic arc and character development," Sussman said. "It changed how I think about tension and form in both my theater works and my general music composition work. I'm so excited to leave SMTD with both a two-act musical that I wrote as a capstone project and an understanding of how I could try to find a way forward in this industry."
"The students have really dived head first into the minor," noted Shankel. "I have seen them grow and flourish in ways they didn't know were possible when they started. These students will be part of the next generation of writers expanding the musical theater canon."