By Claudia Capos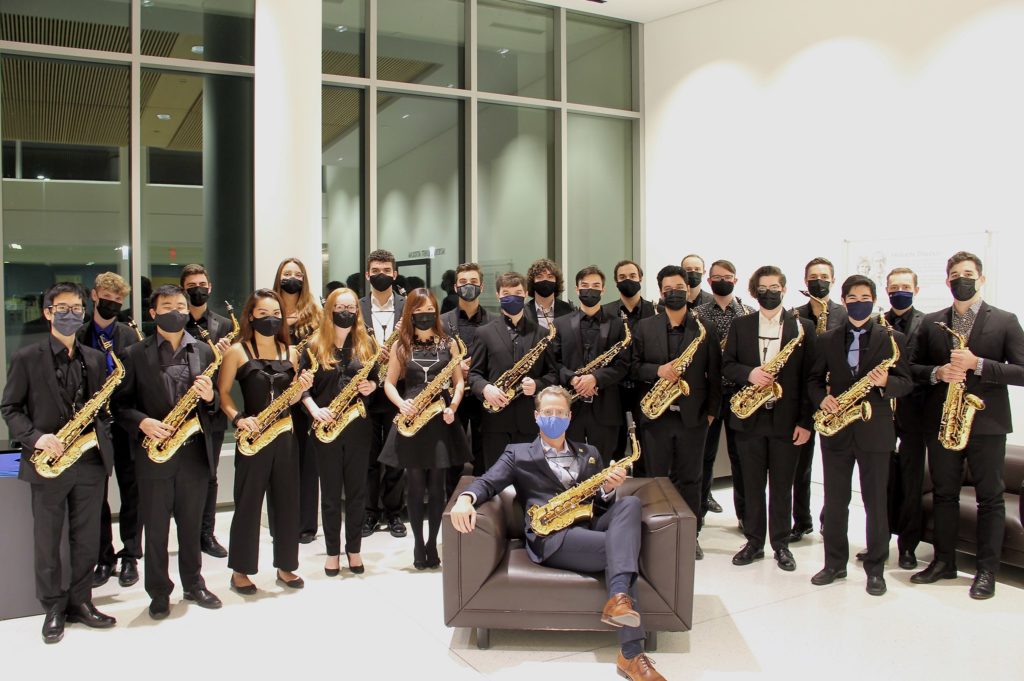 The 2021 season was a banner one for the SMTD's Saxophone Studio under the leadership of Professor of Saxophone Timothy McAllister, BM '95, MM '97, DMA '02.
In just one year, undergraduate and graduate students in the studio won 24 accolades for their outstanding solo and/or ensemble performances at SMTD, collegiate, national, and international music competitions.
Two saxophone ensembles, the Aero Quartet and the Eros Quartet, took the first-place gold medal and the second-place silver medal, respectively, at the prestigious 2021 Fischoff National Chamber Music Competition―marking a new milestone in the studio's 68-year history.
"This was the greatest single year for the Saxophone Studio in the history of the program," McAllister says. "I credit my students for embracing the digital realm and taking advantage of grants and other opportunities to do online projects and make virtual videos. They basically flooded the Internet with high-quality recordings that presented the studio's virtuosity on a much larger platform."
The Saxophone Studio's worldwide reputation for excellence reflects the prominence of its successive directors as well as the high caliber of students who are selected to participate.
Legendary saxophonist Laurence Lyon (Larry) Teal, who attended the University of Michigan from 1923 to 1925, became the first full-time professor of saxophone at an American university when he joined the U-M faculty in 1953. During his 21-year tenure, he taught more than 100 college saxophone students who went on to pursue successful careers as performers and teachers. Teal also conferred legitimacy on the saxophone within the music world and academe.
One of his students, saxophone virtuoso Donald J. Sinta, MM '62, succeeded Teal, who retired in 1974. Sinta, the Arthur F. Thurnau Emeritus Professor of Music, continued to build the saxophone studio into a global program during the 40 years he helmed the class.
"I studied with my greatest idol, Donald Sinta," says McAllister, who won some of SMTD's most distinguished honors ― the Albert A. Stanley Medal, the Earl V. Moore Award, the Paul C. Boylan Alumni Award, and the Christopher Kendall Alumni Award ― before taking over leadership of the Saxophone Studio when Sinta stepped down in 2014.
"The legacy goes on and on," McAllister says. "Our graduates hold a wide range of positions in higher education, artistic administrations, touring ensembles, premier military bands, and much more."
Salvador Flores, BM '21, MM '23, the 2021 Albert A. Stanley Medal winner, became interested in the University of Michigan during his sophomore year in high school. He says he applied to Interlochen Center for the Arts in Michigan specifically to meet McAllister, who teaches classes in the summer Arts Camp, and "absolutely resonated" with his teaching.
"The Saxophone Studio can only be described as awe-inspiring," Flores says. "Having such incredible, hard-working colleagues around me has pushed me further than I ever thought possible. On top of that, having such an amazing professor has raised the ceiling for all of us as studio members. Dr. McAllister not only does an incredible job teaching us but also goes above and beyond to advocate and guide our careers in the right direction."
To be accepted into the Saxophone Studio, students must meet high standards for musical ability and academic achievement. Competition is keen and only a few of the top candidates make the final cut.
McAllister's teaching approach revolves around the application of a blueprint that helped him reach his own career goals.
"I try to alter that blueprint according to each student's strengths and weaknesses," he says. "My diverse background, training, and education enable me to create an individually-tailored plan for every student. That is probably one of my greatest strengths as a teacher."
During the Covid year, McAllister switched to a hybrid teaching model that alternated between in-person lessons and Zoom teaching sessions. By leveraging Zoom's technological bells and whistles, he was able to create a different, and, in some ways, more informative experience for his students. This all served a robust recording regimen that his students capitalize on both in quartet settings and frequent collaboration with SMTD staff pianist Dr. Liz Ames.
"While training under Dr. McAllister alongside my studio mates, I became a much better musician in terms of fingers and tuning," Flores says. "The real lesson, however, was recognizing the importance of not losing yourself in the process―or, in the words of Dr. McAllister, 'Never lose that spark.'"
This fall, Flores will be back at the Saxophone Studio working on his master's degree.
"My fantastic undergraduate experience in combination with the amazing student body, rich history of the school, incredible faculty, and many university-wide opportunities solidified my desire to return to Michigan for my master's degree," says Flores who plans to pursue a professional career in music performance and education.
Maria Torres Melgares, MM '22, met McAllister in a summer academy in Switzerland and immediately set her sights on studying with him.
"The environment of U.S. universities is very different from that of universities in my home country, Spain, so trying to experience it personally was a dream," Melgares says. "When I started looking into all the possibilities that SMTD offers students, I did my best to come."
Being surrounded by a phenomenal faculty and very talented studio mates from different backgrounds helped her grow musically and personally, she says.
"We push each other to keep improving and also support and help one another," Melgares explains. "The mastery of Dr. McAllister makes every lesson a new chapter in discovering and learning new ideas that help us grow as artists."
Melgares won several impressive awards in 2021. She took first prize in three international competitions: the 8th Vitor Santos International Saxophone Competition (Portugal), the Elise Hall Emerging Saxophonists Competition, and the Concours International de Musique et d'Art Dramatique Leopold Bellan (France).
"Participating in these competitions helps me stay focused, set some goals, and keep trying to improve," Melgares says. "I've met new friends, learned about different cultures and languages, and gained different musical points of view."
In the future she envisions herself starting a chamber music group, sharing her knowledge through teaching, and working "to make the path a little easier for women who wish to pursue this beautiful instrument."
The start of the fall term promises to bring a semblance of normalcy to the Saxophone Studio and SMTD, as well as the rest of the University.
"I'm looking forward to more live music-making and the return of large ensembles," McAllister says. "I'm also excited to continue the momentum we've generated over the past year. We want to take all the work and accomplishments we created in the digital realm and transfer it to live performance, so we can showcase what we've achieved."
Highlights of the 2020–21 Season, Dr. Timothy McAllister's Saxophone Studio
Aero Quartet
(Salvador Flores, soprano; Walt Puyear, alto; Matthew Koester, tenor; Brian Kachur, baritone)
• First Prize & Gold Medal, 2021 Fischoff National Chamber Music Competition (Senior Winds Division)
• First Prize Winners, National MTNA Collegiate Winds Chamber Music Competition
• First Prize, SMTD Briggs Chamber Music Competition
• First Prize, NOLA Chamber Fest Competition (Graduate Division)
Eros Quartet
(Philip Kleutgens, soprano; Jordan Savage, alto; Roberto Campa, tenor; Jason Frazier, baritone)
• Second Prize & Silver Medal, 2021 Fischoff National Chamber Music Competition (Senior Winds Division)
• Second Prize, the SMTD Briggs Chamber Music Competition
• First Prize, NOLA Chamber Fest Competition (Collegiate Division)
• Finalists, the National MTNA Collegiate Winds Chamber Music Competition
Roberto Campa (BM '23)
• Soloist & online feature with The Little Orchestra Society of NYC, David Alan Miller, conductor
Samuel Dishon (BM '24)
• Winner of the Euclid Symphony Orchestra (OH) Young Artist Concerto Competition
Salvador Flores (BM '21, MM '23)
• 2021 Albert A. Stanley Medal winner (SMTD)
• Soloist (winner of the 19-20 SMTD Undergraduate Concerto Competition) in Fall 2020
Salvador Flores/Walt Puyear Duo
• First Prize, 2021 Online SAXIANA International Competition (Duet Category)
Matthew Koester, ABD (DMA '22)
• Named Lecturer of Classical Saxophone, The University of Wisconsin-Madison
Valentin Kovalev (MM '22)
• National Winner, 2021 Astral Artists National Auditions, awarded Astral Artists Management roster spot
• Winner, SMTD Graduate Concerto Competition
• Semi-Finalist, Concert Artists Guild 2021 National Solo Competition
• First Prize Winner, 2021 National MTNA Collegiate Solo Young Artists Competition (Woodwinds)
• First Prize Winner (Unanimous), 2021 Online SAXIANA International Competition
Maria Torres Melgares (MM '22)
• First Prize, 8th 'Vitor Santos' International Saxophone Competition (Portugal)
• First Prize, Elise Hall Emerging Saxophonists Competition
• First Prize ex-aequo, Concours International de Musique et d'Art Dramatique Leopold Bellan (France's oldest performance competition)
• Semi-Finalist, 2021 Astral Artists National Auditions
• Second Prize Winner (Alternate), Michigan MTNA Collegiate Solo Young Artists Competition (Woodwinds)
Walt Puyear (MM '21)
• 2021 Earl V. Moore Award (SMTD)
• First Prize, 2021 Vandoren Emerging Artists Classical Solo Competition
Laura Ramsay (BM '24)
• Second Prize & Alternate, Michigan MTNA Senior Solo Performance Competition (Woodwinds)
Jason Frazier (BM '22)
• Winner, Hans Schaeuble Award, Arosa Music Academy, Arosa, Switzerland