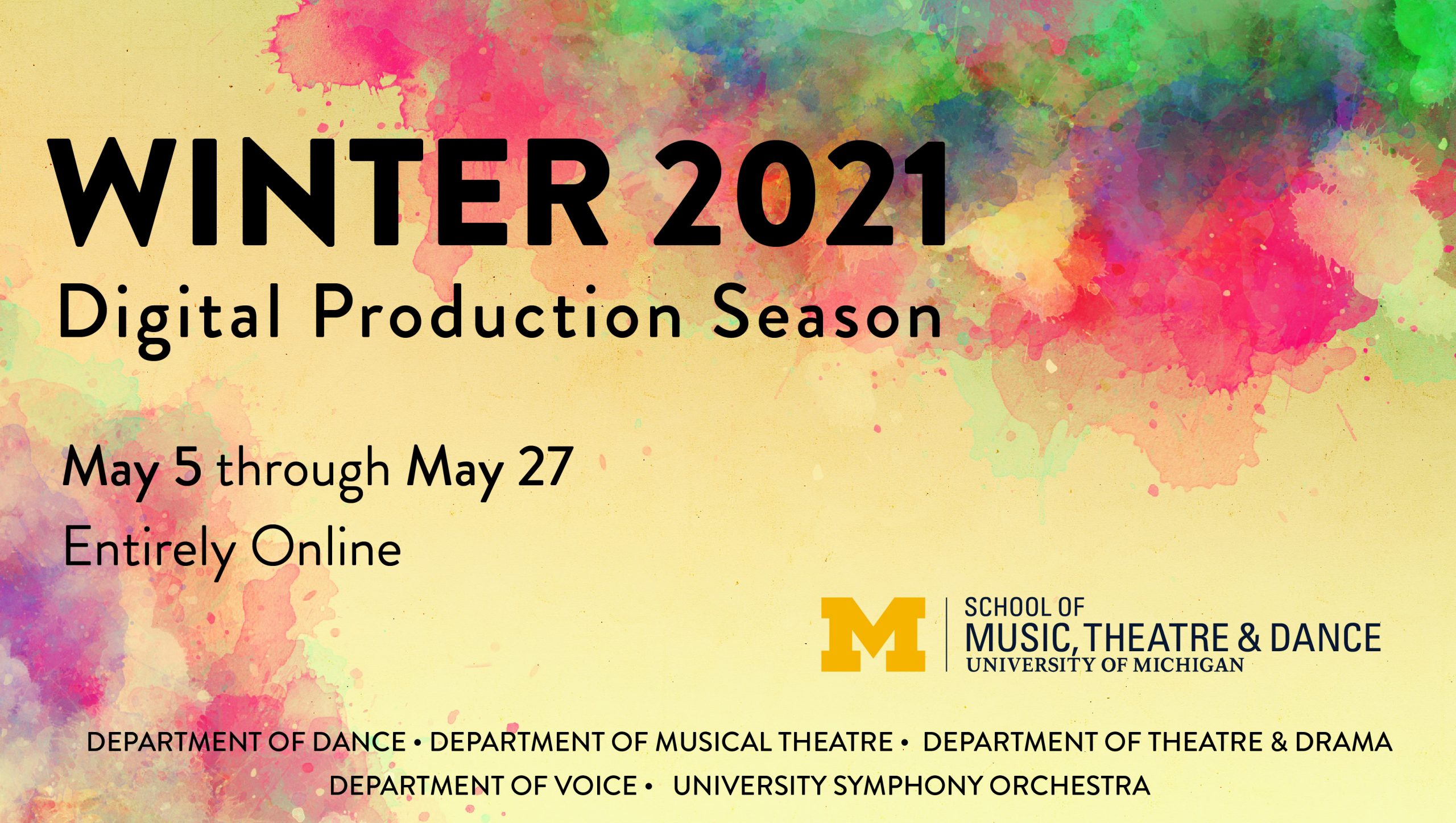 The University of Michigan's School of Music, Theatre & Dance is celebrating the end of the 2020-21 academic year with its second fully online production season. Beginning Wednesday, May 5, the school will release six innovative, student-driven productions over the course of three weeks. A new production will be released every Wednesday and Friday through May 21. All performances will be free and available to the public for a limited time.
The digital season will begin with the release of Dance Despite COVID, the Department of Dance's annual concert; it will conclude with the Department of Musical Theatre's production of Godspell, directed by Telly Leung, who starred in the Godspell revival on Broadway in 2011.
The rest of the season will include two Shakespearean classics, Romeo & Juliet (presented by the Department of Theatre & Drama) and As You Like It (presented by the Department of Musical Theatre); the comic opera masterpiece Don Pasquale; and Playfest, a celebration of student-written, student-directed plays.
Each production this semester honors the challenges and ingenuity necessary to continue creating performance during turbulent times.
The season has been filmed in-person and remotely throughout the semester according to the School of Music, Theatre & Dance's approved safety plan. All safety protocols for the performing arts to prevent the spread of COVID-19 were observed.
Release Schedule
Dance Despite COVID // Department of Dance
Wednesday, May 5 at 8pm EDT on YouTube
Featuring new works by three faculty members and one alumna (under the artistic direction of Associate Professor Judy Rice), DANCE DESPITE COVID celebrates the ingenuity, tenacity, and talent within the Department of Dance as they create beautiful movement together despite the challenges of a pandemic.
Romeo & Juliet // Department of Theatre & Drama
Friday, May 7 at 8pm EDT on YouTube
This modern take on Shakespeare's most beloved tragedy–led by Sam White from Shakespeare in Detroit–leans into the parallels between our divisive era and the period during which Shakespeare wrote the play originally, pandemic and all.
"The SMTD students may be one of the most fiercest groups of actors I have ever worked with," said guest director Sam White, who joined the Department of Theatre & Drama from her home base at Shakespeare in Detroit. "I believe we created this piece of art [Romeo & Juliet] with lots of grit to accommodate the safety measures in place but also with the grace to make it creative and beautiful. And I think, in so many ways, that's the story of Verona and our world today. We exist in multitudes."
As You Like It // Department of Musical Theatre Studio Production
Wednesday, May 12 at 8pm on YouTube
Assistant Professor Malcolm Tulip guides the Department of Musical Theatre students in this expressionist approach to one of Shakespeare's best-known romantic comedies. What might appear at first look to be a romantic game is at its roots a test of binary gender assignations and expectations, made all the more interesting by the challenge of depicting romance when your actors must stay 6 feet apart.
Don Pasquale // University Opera Theatre & the University Symphony Orchestra
Friday, May 14 at 8pm EDT on YouTube; Featuring Two Casts
One of the three most popular Italian comic operas, DON PASQUALE tells the tale of an old, wealthy bachelor, his nephew, a fake wife, and the scheme to get him to support his nephew's marriage to young widow Norina. Stage director Abbigail Cote and music director Kirk Severtson have set their production in the 1940s and filmed it live in the Power Center over two successive nights. In grand opera tradition, each performance features a different cast, and both casts' performances will be available to view simultaneously.
Playfest // Department of Theatre & Drama Studio Production
Wednesday, May 19 at 8pm EDT on YouTube
Associate Professor Jose Casas, himself an award-winning playwright, leads the playwriting students in this showcase of original works, all directed by fellow students. These plays may contain adult themes, and viewer discretion is advised.
Godspell // Department of Musical Theatre
Friday, May 21 at 8pm EDT
Saturday, May 22 at 8pm EDT
Sunday, May 23 at 8pm EDT
Monday, May 24 at 8pm EDT
Tuesday, May 25 at 8pm EDT
Wednesday, May 26 at 8pm EDT
Thursday, May 27 at 8pm EDT
Broadway actor Telly Leung directs for the first time as he leads the Musical Theatre students in this fresh interpretation of this iconic show. Leung, who starred in Godspell during the 2011 revival, helped guide the cast in making the flexible script as relevant today as it was when Godspell first premiered in 1971. Featuring such showtune standards as "Turn Back, O Man," "Day by Day," and "Learn Your Lessons Well", Godspell is a tribute to vaudeville, breathing parable, and protest piece all at the same time. Prepare ye for the Godspell you know and love from 50 years ago, but told through the perspective of these incredible young theater-makers.
"Godspell is a show that requires 'collaboration' in the truest sense of the word. It is a show that is meant to be created from scratch with the unique personalities and talents of every cast that is assembled, and I was thrilled to get to mine that talent from this group of young and promising up-and-coming artists in the U of M musical theater department," Leung said. "They represent the future of this artform that I love so much, and getting to work with them in the rehearsal room to create our unique 2021 version of this show gave me the greatest sense of hope for not only the future of theater, but the future of humanity as we use the music and storytelling to heal and unpack everything we've been through during this challenging time."
Godspell will be available online for 7 individual airings; you must reserve space in advance. Reservations will be available soon.
Leung's residency was made possible by the Benard L. Maas Foundation.