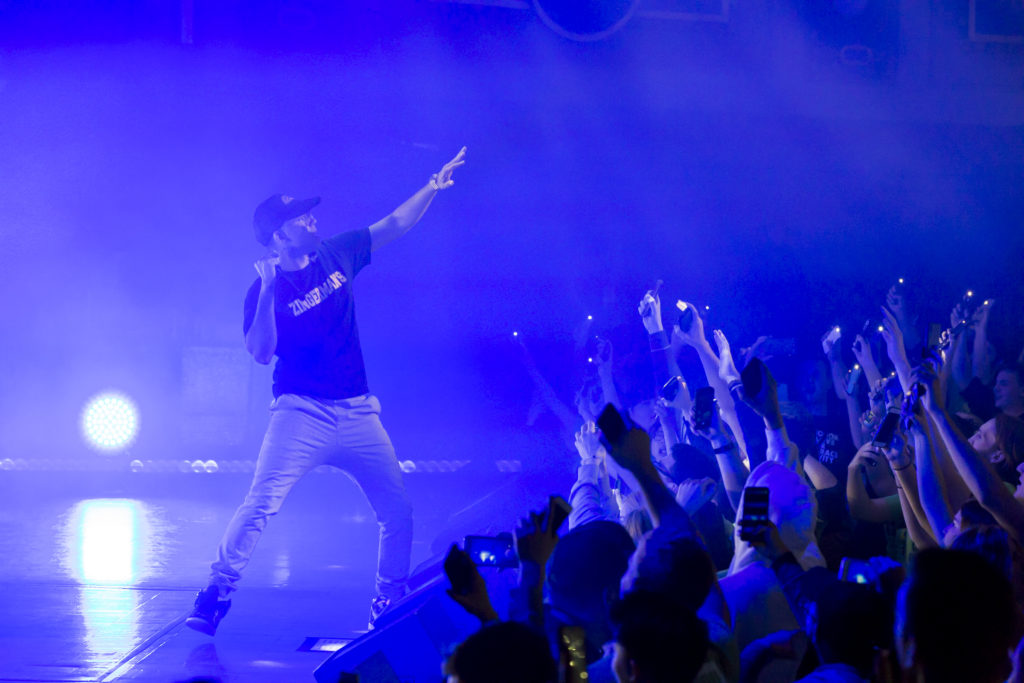 In March of 2018, the University of Michigan partnered with Grammy nominee Logic, Tony Award-winner Glenn Close, NFL All-Star Brandon Marshal and his wife Michi, and the Steven Schwartzberg Foundation to host the largest mental health awareness event to ever take place on a college campus. It launched a national campaign designed to initiate conversations, build awareness, and reduce the stigma associated with mental illness, especially among young people.
Using music as its catalyst, this national mental health awareness campaign is titled "Who Can Relate?," taking its name from a line in the hit song "800-273-8255" by Logic, the chart-topping recording artist. The song, which is about suicide prevention, helped catapult Logic to international fame in 2017.
The weeklong event at U-M culminated in a concert by Logic at Hill Auditorium and also featured the Michigan Men's Glee Club (MGC) and special guests. It concluded with the MGC and musical theatre students singing "You Will Be Found," the moving anthem about suicide prevention by SMTD alumni Benj Pasek and Justin Paul (BFA '06, musical theatre) from their Tony Award-winning musical Dear Evan Hansen. Pasek and Paul generously gave permission for the performance.
Profits from the concert were donated to two organizations that share the same goal of destigmatizing mental illness: BringChange2Mind, co-founded by Glenn Close after her sister was diagnosed with bipolar disorder and her nephew with schizoaffective disorder; and Project 375, co-founded by Brandon Marshall, with his wife Michi Marshall, after he was diagnosed with borderline personality disorder.
The event was the idea of Harris Schwartzberg (BA '89, economics), who sits on the board of BringChange2Mind. Schwartzberg is an advisory board member of U-M's Depression Center (UMDC), and also serves on SMTD's Victors for Michigan Campaign Advisory Committee. The concert was presented by Visionary Music Group and the Steven Schwartzberg Foundation, named for Harris's brother, who died after a long struggle with bipolar disorder.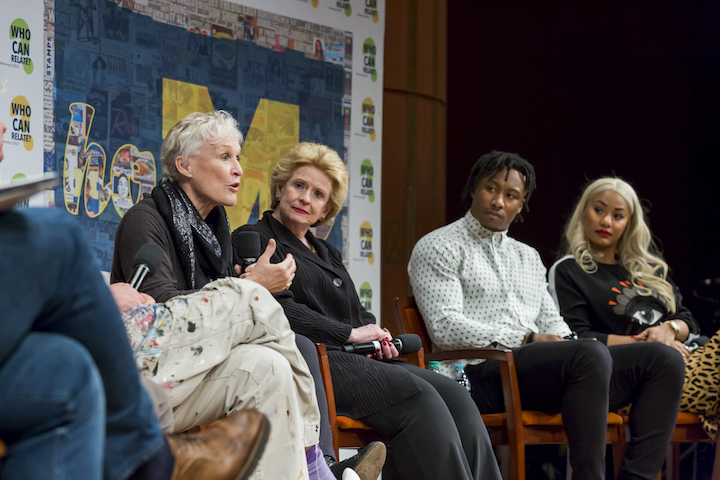 "Logic, Glenn, Michi, and Brandon made this all possible," said Schwartzberg. "By using the public platform that they've created, we were able to get people to focus on the issues surrounding mental health. Once that happened, the kids took over! The University has been a great partner and understands the importance of mental well-being for the student population. It was time to come out of the darkness and discuss this important issue."
The University-wide Mental Health Awareness Week was led by student groups and featured an array of events exploring the topic of mental illness. They included:
Youth Mental Health First Aid, provided by Project375, an eight-hour public education program addressing the unique risk factors and warning signs of mental health problems in adolescents, the importance of early intervention, and techniques for helping adolescents in crisis;
A roundtable discussion at Rackham Auditorium, with Close, the Marshalls, and celebrated visual artist and social activist Peter Tunney. It was led by U-M alumnus Dr. Alec Miller (BA '88), co-founder and clinical director of Cognitive Behavioral Consultants;
A presentation by nationally renowned mental health speaker Hakeem Rahim, founder of the I Am Acceptance organization, which seeks to create a culture of mental wellness on campuses nationwide;
Workshops with Tunney at SMTD and the Stamps School of Art & Design; and
A giant yoga event held at the Oosterbaan Field House.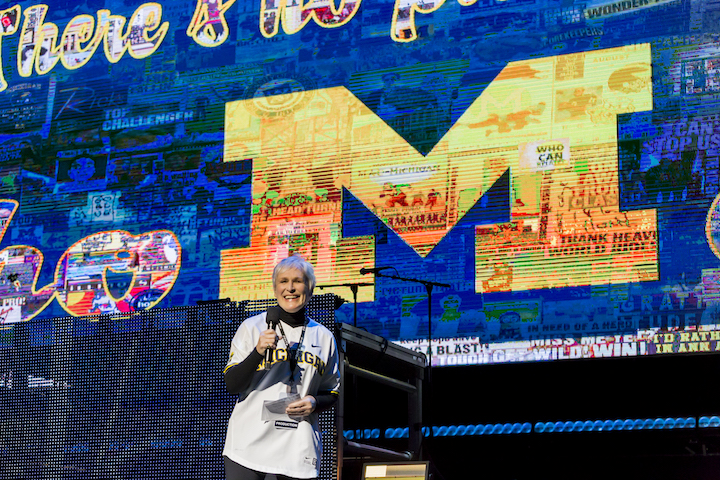 Peter Tunney created two paintings specifically for "Who Can Relate," which were used as backdrops at the Hill concert and at other events throughout the week. The Schwartzberg family then donated one of the works, "There's No Place Like Home," to U-M. The collage, valued at $250,000, features iconic places on the U-M campus and highlights a spectrum of Michigan alumni including Gavin Creel, Tom Brady, Warde Manuel, Benj Pasek, Justin Paul, Mike Wallace, Gilda Radner, Gerald Ford, Michael Phelps, and many more.
Since U-M's March launch of the "Who Can Relate?' program, Logic has been named "Person of the Year" by the Suicide Prevention Hotline Network and recent U-M graduates Max Rothman and Sam Orley received the JED Student Voice of Mental Health Award for their work in helping to found and run the Wolverine Support Network, a key partner in the "Who Can Relate?" event at Michigan.
In addition to the Wolverine Support Network, Awareness Week was organized by campus student groups including Athletes Connected, CAPS Student Advisory Board, CAPS in Action, Active Minds, Music Matters, Interfraternity Council, and Delta Delta Delta sorority.
"Who Can Relate?" set the stage for future mental health events on college campuses; discussions are now underway with two other Big Ten universities to host similar events. One of North America's largest "out of home" media companies, Outfront Media, was inspired to donate 20 billboards to promote "Who Can Relate" and have committed to doing the same for future events. Meanwhile, the primary sponsor, PRVT, a private aviation service,  has made it possible for event organizers to donate 50 tickets per concert to the Suicide Prevention Hotline for eight upcoming Logic concerts. The tickets will be distributed to local Hotline offices to share with individuals suffering from mental illness.
"We showed the students and Ann Arbor that anything is possible and that you need to be there to support your friends and fellow students and community members.," said Schwartzberg. "These kids were engaged and want to be engaged. It is now up to the University to continue the work."