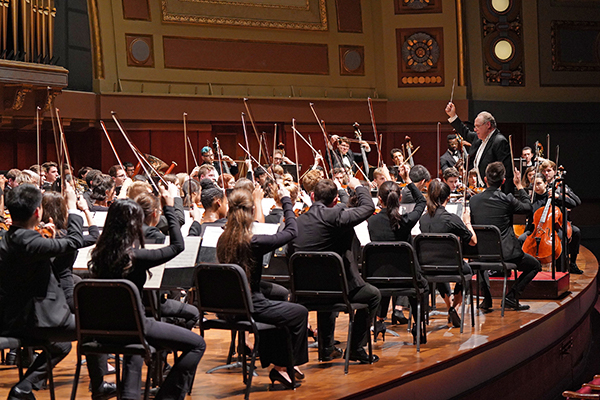 The GRAMMY-winning University of Michigan Symphony Orchestra (USO) will unveil the new performing edition of Aaron Copland's original ballet score of Appalachian Spring on October 20 at 8 p.m. EDT via livestream performance from Michigan's famed Hill Auditorium. The performance will be conducted by its music director and GRAMMY nominee, Kenneth Kiesler, who has a long and distinguished association with the work, having conducted performances with the Martha Graham Dance Company, and previously, having won the jury's special prize for the best performance of the Appalachian Spring Suite  in the Leopold Stokowski Conducting Competition at Lincoln Center.
Appalachian Spring, which premiered in 1944 and won the Pulitzer prize, tells of a spring celebration of the American pioneers of the 19th century, after building a new Pennsylvania farmhouse. Copland was commissioned to create the work by the famed choreographer and dancer Martha Graham with funding from the Coolidge Foundation.
The new score was edited by SMTD alumna Jennifer DeLapp-Birkett PhD '97 (musicology) from the Aaron Copland Fund and Aaron Sherber, former conductor of the Martha Graham Dance Company. The edition was created at the School of Music, Theatre & Dance by MUSA (Music of the United States of America, a project of the American Musicological Society devoted to showcasing the legacy of American music available for performance and study by publishing a forty-volume series of scholarly editions of music that addresses the wide variety of American musical styles. Mark Clague, Associate Dean for Undergraduate Academic Affairs and Professor of Musicology, serves as MUSA's co-editor-in-chief and Andrew Kuster, Lecturer for EXCEL, serves as MUSA's executive editor. 
Appalachian Spring will be the final piece of this concert, which features an All-American program including another Copland work, Fanfare for the Common Man, as well as Howard Hanson's Serenade for Flute, Harp, and Strings, and George Walker's Lyric for Strings.
Learn more about the performance and tune in online on October 20 at 8 p.m. EDT.
More Information
MUSA
Martha Graham Dance Company