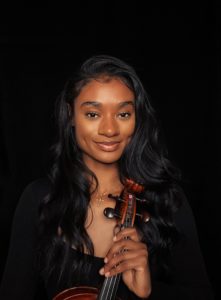 Harper Randolph (SM '23), a student in Professor Caroline Coade's viola studio, earned third place in the senior division of the prestigious Sphinx Competition in January 2022. This national competition, celebrating its 25th anniversary, is held every year in Detroit and is open to young Black and Latinx classical string players competing in either the junior division (age 17 and under) or the senior division (age 18–30).
"I am so thrilled for Harper and her accomplishment," said Coade, "and so thrilled for the recognition that this award gives to U-M and SMTD. Harper is a huge talent, as were the other two finalists. This is a world-class competition with top-notch talent."
Randolph will receive a $10,000 award as well as the opportunity to perform with the Sphinx Symphony Orchestra, which consists entirely of Black and Latinx performers. "I am so blessed and grateful to have won third place in this year's Sphinx Competition," noted Randolph. "I am especially thankful for the immense support from my studio professor, Caroline Coade, who motivated and guided me through my entire preparation process. I am also thankful for my wonderful studio-mates, who have cheered me on since day one and always provided valuable feedback every time I played in studio class. The journey to this point wouldn't have been as enriching without you all, so thank you!"
The Sphinx Competition is held by the Sphinx Organization, a group focused on increasing representation of Black and Latinx artists in classical music. The Sphinx Organization was founded in 1997 by Aaron Dworkin, former SMTD dean and current professor in the Department of Entrepreneurship & Leadership.