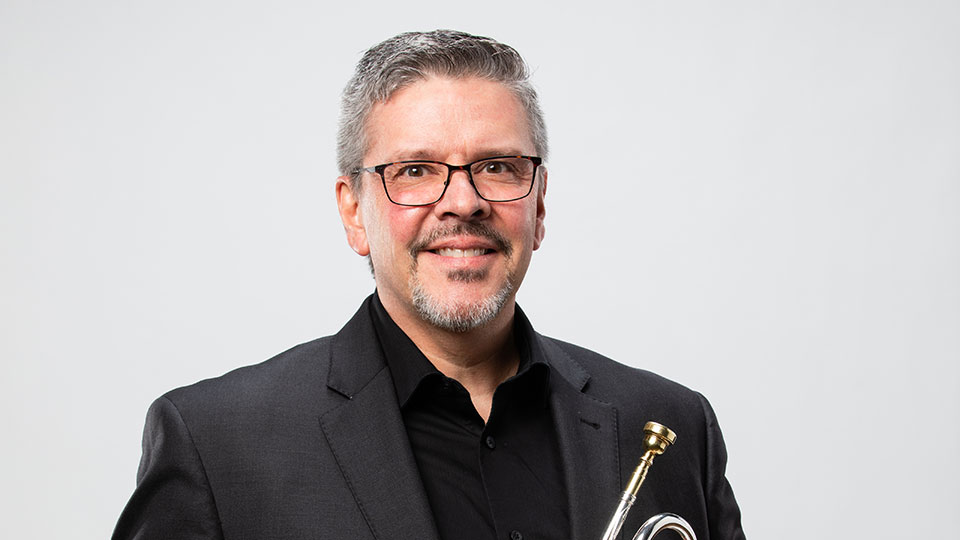 The University of Michigan School of Music, Theatre & Dance announces that Professor Robert Sullivan will join the faculty as professor of trumpet in the winds and percussion instruments department in fall 2022. Sullivan has most recently served as principal trumpet of the Cincinnati Symphony and Pops Orchestras; he has also been a lecturer at SMTD and on the faculty of the Brevard Music Festival. An SMTD alumnus, Sullivan studied trumpet with Armando Ghitalla and was the recipient of the Earl V. Moore scholarship award.
"I am beyond excited to be starting the next chapter of my career at the University of Michigan School of Music, Theater & Dance," Sullivan shared. "It is humbling to be chosen to take over the trumpet studio where I began to learn and hone my craft so many years ago with Armando Ghitalla's tutelage and mentorship. I look forward to joining the incredible community of artists, from the students to the administration, faculty, and staff, on our mutual path of learning and striving for excellence."
Sullivan has twice served as principal trumpet in Cincinnati, where he was featured as soloist with the orchestra on five occasions. He has performed newly commissioned works by Peter Boyer and Christopher Cerrone, as well as works by John Adams, John Williams, and Johann Baptist Georg Neruda.
Previous orchestral positions have included tenured appointments as associate principal
trumpet with the New York Philharmonic and the Cleveland Orchestra and second trumpet with the Charleston Symphony. He has also been a member of the US Air Force Band and a faculty member at the Cleveland Institute of Music, the Manhattan School of Music, and the
Mannes College of Music. He served for five years as professor of trumpet at Northwestern University, during which time he was a regular performer with the Chicago Symphony and Lyric Opera Orchestra of Chicago.
Sullivan is an active recitalist and clinician. Recent solo performances outside of Cincinnati include appearances with the Chicago Philharmonic and Hilton Head Symphony. He was a member of the Principal Brass of the New York Philharmonic, collaborated with the Canadian Brass and German Brass, recorded and performed with Summit Brass and Empire Brass, and can be heard on the soundtracks of dozens of Hollywood film scores. Prior to joining the New York Philharmonic, Sullivan toured the US for three years as solo trumpet with the Chicago Chamber Brass and the trumpet and organ duo Toccatas and Flourishes. In 2000, Sullivan was awarded the "Special Citation from the Congress of the United States in recognition of community service."
"We are extremely fortunate to have Professor Robert Sullivan joining our faculty," commented Daniel Gilbert, professor of clarinet and chair of the winds and percussion instruments department. "He brings with him his vast experience as a world-class soloist, chamber musician, and orchestral performer, and he is a fount of knowledge as a pedagogue who will no doubt create a dynasty in preparing the next generation of professional trumpeters at the University of Michigan."