Wayne C. Petty
Associate Professor of Music
---
Bio
Wayne C. Petty earned his BA, MPhil, and PhD degrees from Yale University, where his teachers included Allen Forte, David Lewin, William Rothstein, David Damschroder, Kevin Korsyn, Claude Palisca, Janet Schmalfeldt, Arnold Whittall, and Maury Yeston. His 1995 dissertation, "Compositional Techniques in the Keyboard Sonatas of Carl Philipp Emanuel Bach" reflects his varied research interests: in the history and practice of Schenkerian theory and analysis, in early sonata practice, and in the analysis of musical form. His publications address these issues, as well as questions of musical influence and the organization of multimovement instrumental works. He is a frequent presenter at the annual meetings of the Society for Music Theory, including as a speaker on a 2012 plenary session organized in honor of Carl Schachter. He has also presented at several recent European Music Analysis conferences.
A professor at the University of Michigan since 1995, Professor Petty has taught nearly every course in the music theory curriculum, including graduate seminars on multimovement instrumental works, problems in contemporary music theory, and partimento. His Basic Tonal Analysis, a three-volume draft, is used at U-M and as a reference work at other institutions. He has served in many capacities at U-M, including as chair of the Council of Departmental Representatives (the undergraduate curriculum committee) and, from 2017–2020, as chair of the Department of Music Theory.
Professor Petty has served many organizations. For the Society for Music Theory, he has served on the Publications Committee, Program Committee for the annual meeting, and Publication Awards Committee. He edited the Society's newsletter in 2004-06. He has served on the editorial boards of several journals in the field of music theory and as reviews editor for Theory and Practice. He currently serves as treasurer of the Academy of Early Music, one of the country's leading early music presenters, having served previously as the Academy's president and secretary. With Judith V. Petty, he founded Musicalia Press in 2001, a publisher dedicated to the reprinting of important books on music. In recent years, he has become a regular speaker for the Gilmore Keyboard Festival, presenting pre-concert talks for recitals by Richard Goode, Murray Perahia, and Sir András Schiff.
In his spare time, Professor Petty enjoys spending time with his family, making music on piano and clavichord, and playing recreational softball.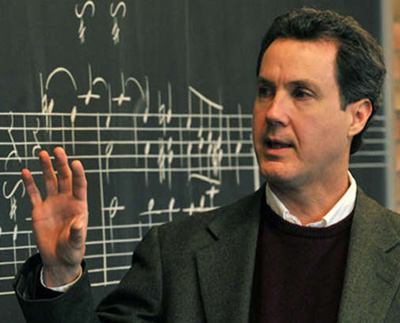 Education
Education
BA, MPhil, and PhD, Yale University