Bio
Tom Sherwood joined the percussion section of the Cleveland Orchestra in September 2015. He previously served as principal percussion of the Atlanta Symphony Orchestra from 1999-2015. A native of Fairfax, Virginia, his musical career began at a young age when he discovered his father's old drum set packed away in the garage. He graduated with a bachelor of music degree in percussion performance from the University of Illinois – Urbana-Champaign, where he was a student of Tom Siwe and was the youngest recipient of the Edgard Varese Memorial Scholarship. He subsequently earned a master of music degree from Temple University, studying with Alan Abel. Prior to joining the Atlanta Symphony, he was a member of the New World Symphony in Miami for three seasons. For the past 10 years, Sherwood has also been regularly performing at the Grand Teton Music Festival. He can be heard on over 25 recordings with the ASO and the New World Symphony on the Telarc, Deutsche Grammophon, RCA Red Seal, and ASO Media labels.
Sherwood made his solo debut with the Atlanta Symphony Orchestra in the 2004-05 season, performing Tan Dun's Concerto for Water Percussion and Orchestra under the baton of Maestro Robert Spano. His final appearance with the ASO in 2015 featured him performing Avner Dorman's Spices, Perfumes, Toxins!
In addition to his orchestral work, Sherwood is an avid chamber musician with a passion for contemporary music. He was the founding artistic director and percussionist of Sonic Generator, a contemporary chamber ensemble specializing in the performance of electro-acoustic music. Conceived in 2006, the ensemble played a vital role in Atlanta's vibrant new music scene, as the Atlanta Journal-Constitution noted that the group was "…the most stimulating addition to Atlanta's musical life…"
With a keen interest in the education and support of aspiring young percussionists, Sherwood started the Modern Snare Drum Competition in 2008. The annual event attracts students from all over the country and has led to the commission of more than 20 new works for the snare drum.
Sherwood is a proud endorser of Pearl Drums, Adams Musical Instruments, Freer Percussion, and Zildjian.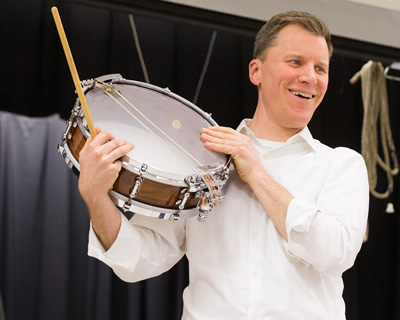 Education
BM (percussion performance), University of Illinois – Urbana-Champaign
MM (percussion performance), Temple University