Michael Gould
Professor of Music
---
Bio
Michael Gould is a professor of Music at the University of Michigan in the Jazz and Contemporary Improvisation Department in the School of Music, Theater & Dance and the Residential College (College of Literature, Science and the Arts).
Dr. Gould has received international recognition as a performer and scholar in the field of drumset, contemporary percussion performance, and pedagogy. He has performed and given clinics all over the world. He has released over 100 educational percussion videos through playalongmusic. Gould has also composed and performed music for a wide range of ensembles and venues, from the Münich Opera and Ballet to National Public Radio. He has had unique collaborations with engineers, material scientists, painters, poets, dancers, athletes, and business professionals.
Gould's new book for the iPad, The Drum Diaries, is available worldwide through the Apple iTunes store. He is also the music director for Tangente Dance Company in Berlin, Germany. Gould is also a member of the board of advisors for the Percussive Arts Society.  His latest piece Remember Me was just performed at the Kunsthaus Dahlem in Berlin, Germany and included dance, theater, percussion, electronics, and original artwork. The work has been published by Alternative Press, Ann Arbor, MI.
Gould has also recently worked with Henry Pollack (the co-recipient of the Nobel Peace Prize) on an art installation piece entitled A World Without Ice. The piece focuses on both poles and addresses issues of climate change.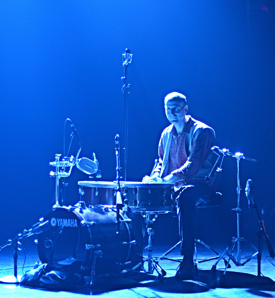 Education
BM, University of Illinois
MM, University of Nevada-Las Vegas
DMA, University of Kentucky