Diana Gannett
Professor Emerita of Music
---
---
Bio
Diana Gannett has spent a significant portion of her professional life on the east coast as teacher and performer. As a chamber musician, she has performed with the artists of the Guarneri, Emerson, Laurentian, and Stanford Quartets and the Borodin Trio, as well as the Iowa Center for New Music, American Chamber Players, New Band, and the Oberlin Dance Collective. As a soloist, her programs have included over twenty contemporary premieres and several solo improvisations, as well as traditional repertoire. She is recorded on Irida records, has a solo CD titled Ladybass and a duo CD Duetti Dolce, and a few more in progress.
Previous appointments include the faculties of Yale University School of Music, Theatre & Dance and Hartt School of Music, Theatre & Dance in Connecticut, Oberlin College Conservatory in Ohio, University of Iowa School of Music, Theatre & Dance, and the University of South Florida. For many years she held the position of principal double bass at Eastern Music Festival in Greensboro, North Carolina. Her students have been winners in many solo competitions (ISB, ASTA, EMF, Aspen, and various regional competitions) and have also won positions in many fine professional orchestras and teaching institutions. She frequently teaches in the summers at the Golden Gate Bass Camp in San Francisco, Marrowstone Music Festival in Bellingham, Washington, and Music in the Valley, in Jezreel Valley, Israel.
Professor Gannett is Past President of the International Society of Bassists and hosted the 1999 convention at the University of Iowa. Her studies with Eldon Obrecht, Stuart Sankey, and Gary Karr culminated in the first Yale doctorate awarded in double bass. She has worked as an instrument builder with luthier Carleen Hutchins of the Catgut Acoustical Society. Mrs. Hutchins built one of the instruments on which Dr. Gannett performs. Diana built a copy of the Hutchins instrument with the help of luthier James Reck, and currenty performs on the new bass by Mario Lamarre.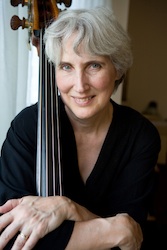 Education
Education
BMus, University of Iowa
MMusA, DMA, Yale University