David Halen
Chair of Strings and Professor of Music
---
---
Bio
David Halen, concertmaster of the St. Louis Symphony (SLS), is professor of violin in the Department of Strings. Halen earned a BM from Central Missouri State University and an MM from the University of Illinois at Urbana-Champaign where he studied with the late Sergiu Luca. He joined the SLS in 1991 and was named concertmaster in September 1995, serving under music directors Leonard Slatkin, the late Hans Vonk and, currently, David Robertson. He has soloed with the orchestra in many of the major concerti in the violin repertoire and has also soloed with the Houston, San Francisco and West German Radio (Cologne) Symphonies. Prior to joining the SLS, Halen was assistant concertmaster with the Houston Symphony Orchestra.
Born in Bellevue, Ohio, Halen grew up in Warrensburg, Missouri.  His father, the late Walter J. Halen, was also his violin professor at Central Missouri State University, where Halen earned his bachelor's degree at the age of 19.  In that same year, he won the Music Teachers' National Association Competition and was granted a Fulbright scholarship for study with Wolfgang Marschner at the Freiburg Hochschule für Musik in Germany, the youngest recipient ever to have been honored with this prestigious award.
During the summer, Halen teaches and performs extensively, serving as concertmaster at the Aspen Music Festival and School under Robert Spano. He has also soloed, taught, and served as concertmaster extensively at the Orford Arts Centre in Quebec, the Manhattan School of Music, Indiana University, the National Orchestra Institute at the University of Maryland, the Academy of the West in Santa Barbara, and the New World Symphony in Miami Beach. In 2007 he was appointed Distinguished Visiting Artist at Yale University and at the new Robert Mcduffie Center for Strings at Mercer University in Macon Georgia.
As co-founder and artistic director of the Innsbrook Institute, Halen coordinates a week-long festival each June, creating exciting musical performances and an enclave for aspiring artists. In August, he is artistic director of the Missouri River Festival of the Arts held in one of the oldest opera houses in the mid-United States in Boonville, Missouri. His numerous accolades include the 2002 St. Louis Arts and Entertainment Award for Excellence, and honorary doctorates from Central Missouri State University and from the University of Missouri – Saint Louis.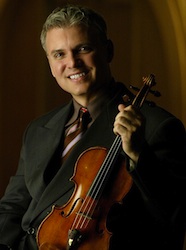 Education
BM, Central Missouri State University
MM, University of Illinois – Urbana-Champaign