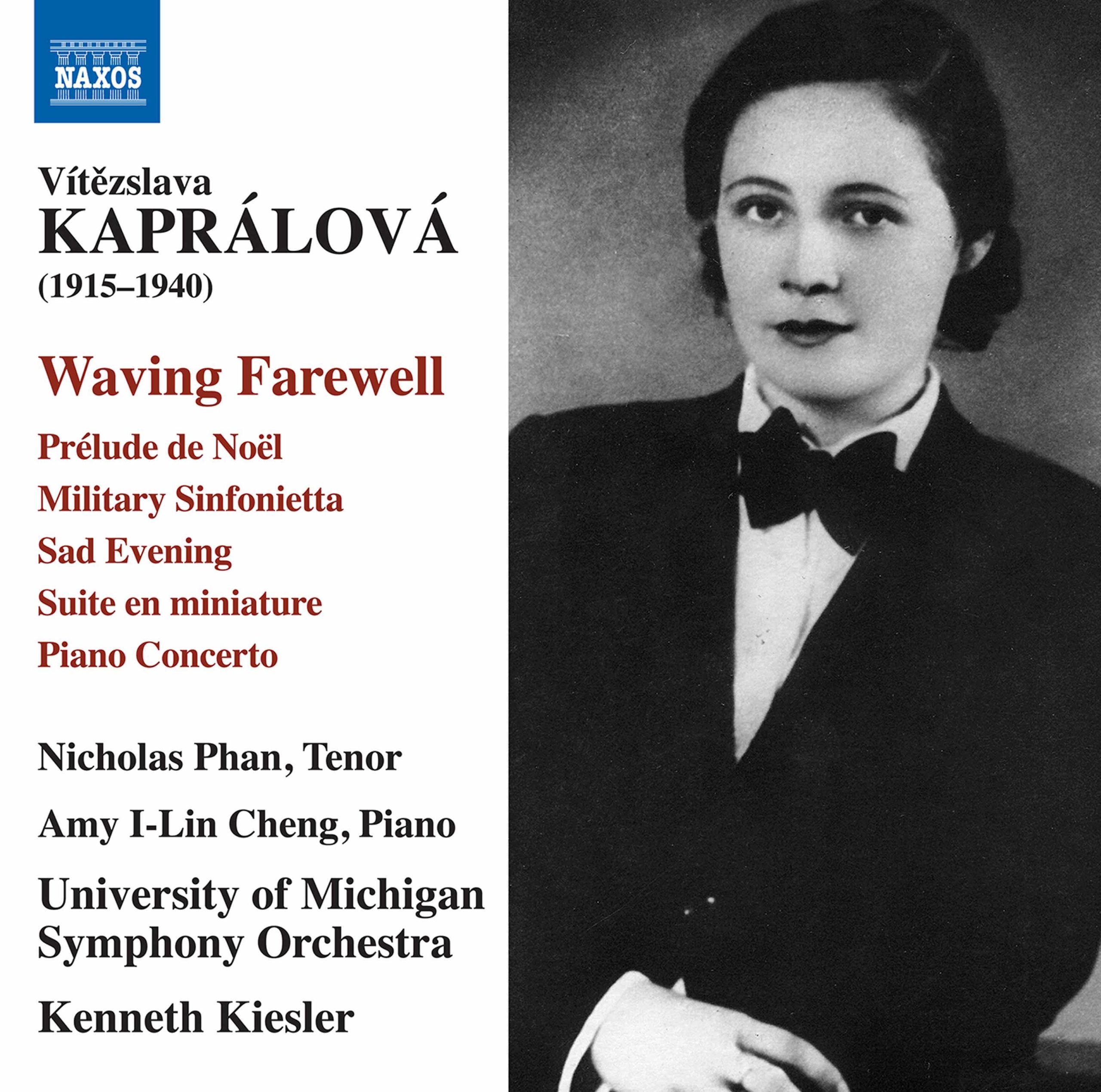 On June 25, Naxos released a new album Waving Farewell featuring the works of Vítězslava Kaprálová and recorded by the University of Michigan Symphony Orchestra (UMSO), under conductor Professor Kenneth Kiesler as part of U-M's Kaprálová Festival. The album features tenor Nicholas Phan (BM '01, voice) and SMTD Professor Amy I-Lin Cheng (piano). The UMSO recorded the album over three sessions between 2015 and 2016 at Hill Auditorium in Ann Arbor. Prof. Jason Corey (PAT) served as engineer and Kiesler and former professor Oriol Sans served as producers.  
Despite her tragically early death at the age of 25, Kaprálová left a portfolio of more than 50 works of the highest craftsmanship and inspiration. This selection of her orchestral music includes the work that won her international esteem in 1938, the Military Sinfonietta. Abounding in youthful energy and brilliant colors, the Piano Concerto marries virtuosity with lyricism, while the orchestral songs are both atmospheric and striking
To give us an in-depth look at the new album and its historical importance, Professor Timothy Cheek, an expert on Czech music and Kaprálová who provided booklet notes for the recording, broke down the album, giving insight into Kaprálová and her importance to the orchestral world.
---
Track 1: Prélude de Noël (1939)
---
Track 2: Vojenská symfonieta, Op. 11 ('Military Sinfonietta') (1936–37)
---
Track 3: Smutný večer ('Sad Evening') (final bars of orchestration reconstructed by Timothy Cheek, c. 1936), World Premiere
---
Track 4: Sbohem a šáteček, Op. 14 ('Waving Farewell') (for voice and orchestra, 1938)
---
Track 5: Suite en miniature, Op. 1 (version for orchestra, 1935)
---
Track 6: Piano Concerto in D minor, Op. 7 (1935)
More Information
Kaprálová Society
Naxos Records: Kaprálová Album Page