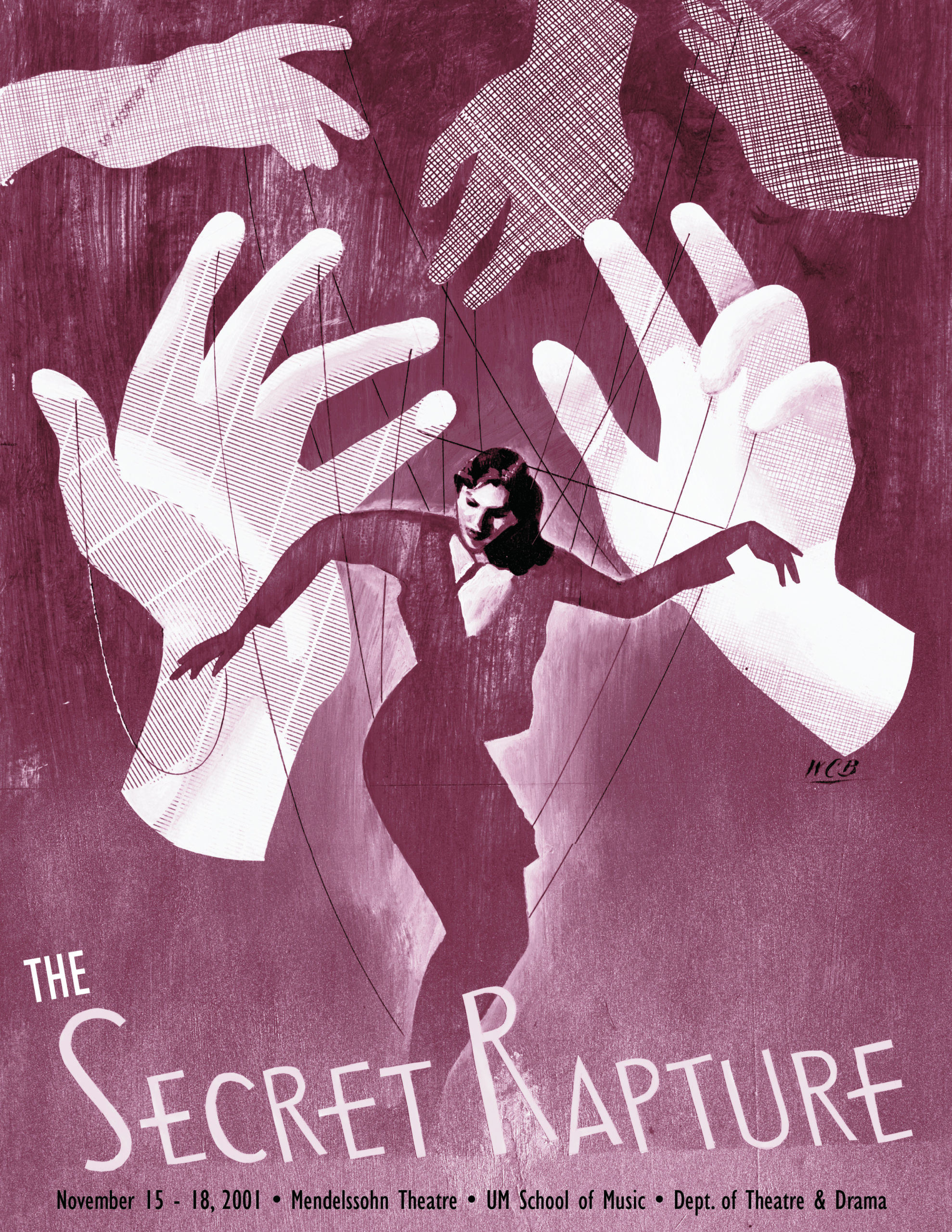 The Secret Rapture
By David Hare
Department of Theatre & Drama
November 15-18, 2001 • Lydia Mendelssohn Theatre

David Hare is perhaps best known to American audiences for his 1998 play The Blue Room, which earned international attention due to a bare-all performance by Nicole Kidman. His body of work, however, spans three decades and has earned him a reputation, according to The New York Times Review of Books, as "the finest British dramatist of his generation." His playwriting career began in 1969 while he was working as an actor for Britain's Portable Theatre. Stepping in when another playwright failed to deliver a script on time, Hare's gift for writing dialogue made others take notice. He was immediately commissioned to write his first full-length play, for which he won the Evening Standard's Drama Award for most promising new playwright. His extraordinary theatrical portfolio includes Plenty, Racing Demon, Skylight, Amy's View, and The Judas Kiss. Between 1978 and 1999 Great Britain's National Theatre produced 12 of his plays, and in 1984 they appointed him associate director. He has also written seven feature films (including the adaptation of Damage directed by Louis Malle), as well as five produced teleplays, two books and various other projects.
Written in 1988, The Secret Rapture is one of David Hare's most successful and controversial works. The play tells the story of a family in crisis after the death of their patriarch, Robert. Robert's daughter Isobel is pressured by her sister to hire their alcoholic stepmother (a role written for Hare's one-time girlfriend, Blair Brown) to work in her small design firm. Hare builds the rest of the plot on the theme that "good people bring out the worst in us." As the firm and family disintegrate simultaneously, the audience is forced to address questions of integrity, family, and the pursuit of wealth. Like many British playwrights born in the 1940s, Hare has always been interested in drama as a vehicle for political commentary. His plays all address British postcolonial status and class structure, and Hare additionally uses this play to address the alarming effects of Thatcherism. "Good playwrights describe the collision between people and ideas," he adds.
The Secret Rapture is also notable for being the source of the war of words between New York Times critic Frank Rich and the playwright in 1989. Rich penned a brutal critique of Hare's self-directed Broadway production. Hare responded with his own scathing denunciation of Rich, and Rich ultimately praised the writing of the play, but still could not approve of the production itself as anything more than a "pallid imitation of life."
Artistic Staff
Director: John Neville-Andrews
Scenic/Lighting Designer: Gary Decker
Costume Designer: Jessica Hahn
Wig Designer: Guy Beck
Vocal Coach: Annette Masson
Dramaturg: Mark Seamon
Stage Manager: Emily Cornelius
Cast
Isobel Glass: Audra Ewing
Marion French: Elizabeh Hoyt
Tom French: Robert Weiner
Katherine Glass: Julie Strassel
Irwin Posner: Jason Smith
Rhonda Milne: Kellie Matteson
Sponsors
The School of Music acknowledges the generosity of McKinley Associates, Inc. whose support has helped make this production possible.
Resources
[accordion title="Author's Note"]
The Secret Rapture is that moment when a nun expects to be united with Christ. In other words; it's death. I had the idea for this play from my closeness to a friend whose father had recently died, I should say circumstances entirely different from those shown here. Anything you have used from real life tends, by the time it appears in a play, to be so transformed as to be unrecognizable, mercifully.
[/accordion][accordion title="Dramaturg's Notes"]
Only half of us is sane: only part of us loves pleasure and the longer day of happiness, wants to live to our nineties and die in peace, in a house that we built, that shall shelter those who come after us. The other half of us is nearly mad. It prefers the disagreeable to the agreeable, loves pain and its darker night despair, and wants to die in a catastrophe that will set back life to its beginnings and leave nothing of our house save its blackened foundations.

— Rebecca West
If you don't like my peaches,
Why do you shake my tree?
Get out of my orchard
And let a poor girl be.

— Popular Song
Directed by Howard Davies, the original production of The Secret Rapture opened on October 4, 1988 at the Lyttelton Theatre to favorable reviews. Critic Michael Billington observed, "As a portrait of our times, the play is lethal, accurate and witty." Satirical treatment of political subject matter is a common thread in the fabric of David Hare's body of work. Written just prior to Margaret Thatcher's re-election to a third term as prime minister, The Secret Rapture is no exception. The play takes up issues of good and evil, as Hare himself has noted, in its examination of the tensions between and among individuals and the society they inhabit. That Hare's exploration of the socio-political values of Thatcherite Britain should still resonate for us today is evidenced in the play's success since its premiere and, at once, is tribute to the playwright who Billington referred to as "Britain's most accessible political writer."
[/accordion]
Media
Program