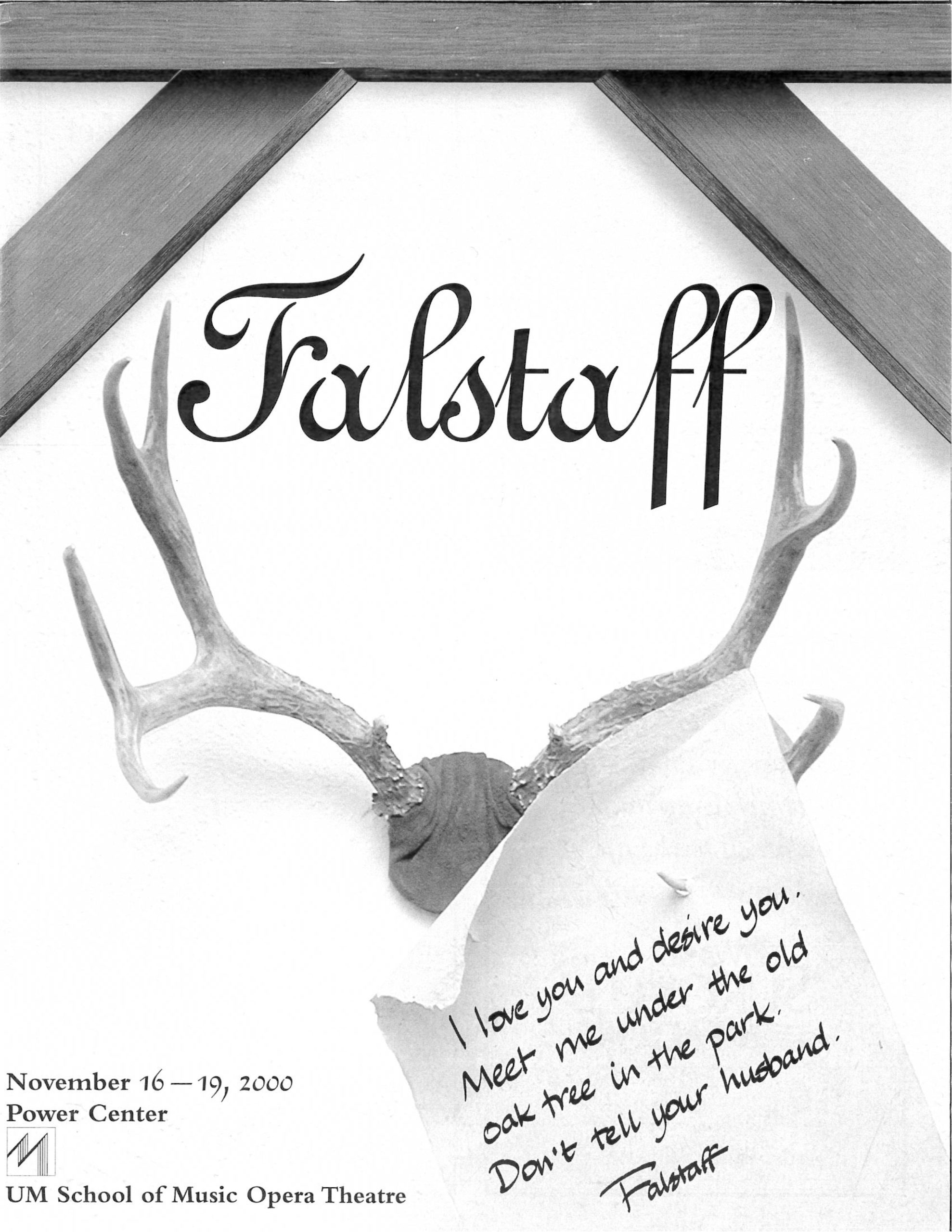 Falstaff
Music by Giuseppe Verdi
Libretto by Arrigo Boito
University Opera Theatre • University Symphony Orchestra
November 16-19, 2000 • Power Center
The University of Michigan's Opera Theatre presents Verdi's effervescent comic masterpiece Falstaff. This enchanting and amusing opera based on Shakespeare's notorious protagonist is a mercurial, quicksilver musical masterpiece from a composer at his height of genius.
"It is not often that a man's strength is so immense that he can remain an athlete after bartering half of it to old age for experience; but the thing happens occasionally, and need not so greatly surprise us in Verdi's case," said George Bernard Shaw. Best known for his dramatic operas such as La Traviata and Otello, Verdi attempted only two comic operas in his long career – his first and his last. According to legend, Falstaff was prompted in part by Rossini's assertion that "Verdi was incapable of writing a comic opera." At the age of 78 after almost fifteen years of retirement, Verdi teamed with Arrigo Boito, composer of the opera Mefistofele and a noted librettist with whom he had collaborated on Otello. Working in secret for two years, the pair premiered Falstaff in 1893 to immediate and resounding acclaim.
Boito's libretto is one of the most significant adaptations of Shakespeare in opera. Condensing The Merry Wives of Windsor and incorporating aspects of Henry IV, Parts I and II, the opera captures both the delicacy and wit of Shakespearean comedy as well as the prodigious personality of Shakespeare's rotund antihero. In combination with Verdi's music, the show is one of the most integrated in opera repertoire.
Falstaff follows the antics of Sir John Falstaff, a portly, old cad who, being short of drinking funds, decides to write love letters to two wealthy married women. Discovering his trickery, the two women decide to teach Falstaff a lesson. They lure him into several humiliating situations, even dumping him into the River Thames. At the end Falstaff concedes his defeat, but admits that "Were it not for the salt I give your lives when you laugh at me, your life would be really boring."
Artistic Staff
Director: Joshua Major
Conductor: Martin Katz
Assistant Conductor: Mei-Ann Chen
Scenic Designer: Vincent Mountain
Costume Designer: Janice Benning
Lighting Designer: Heather Chockley
Wig Designer: Guy Beck
Italian Diction: Timothy Cheek
Chorus Master: Scott Hanoian
Musical Preparation: Lynn Kompass, Eric Melear
Stage Manager: Brett Finley
Cast (Thursday-Saturday/Friday-Sunday)
Sir John Falstaff: Tyler T. Oliphant/Matthew Carroll
Ford, Alice's Husband: Gary Moss/Guilherme N. Rogano
Fenton: Michael Gallant/Nicholas Phan
Pistola: Mark Edward Kent/Gregory Fair
Bardolfo, a follower of Falstaff: Thomas Glenn/Brian Bennett
Dott. Cajus: Chris Meerdink
Mistress Alice: Julia Broxholm/Loren Allardyce
Mistress Meg Page: Pei Yi Wang/Megan Besley
Mistress Quickly: Christine Field/Betsy Williams
Nannetta, daughter of Alice and Ford: Kathryn Alexander/Erika L. Banks
Host of the Garter Inn: Tom Oram
Robin, Falstaff's page: Claire Molloy
Ensemble
Soprano: Marla Beider, Arielle Doneson, Emily Johnson, Claire Molloy, Valerie Ogbonnaya, Annie Radcliffe
Alto: Leah Dexter, Amy Laupp, Lindsay Anne Shipps, Rachal Solomon, Sara Taetle, Kim Walton
Tenor: Ryan Banar, Joshua Breitzer, Jeffrey Krause, Tom Oram
Bass: Dana Haynes, Sean Panikkar, Larry Rodgers, James Turner
Sponsors
The School of Music acknowledges the generosity of McKinley Associates, Inc. whose support has helped make this production possible.
Resources
[accordion title="Synopsis"]
Act I
Sir John Falstaff, a rogue knight, drinks enormous quantities of ale at the Garter Inn with his two cronies, Bardolph and Pistol. Dr. Caius accuses them of picking his pocket the night before, but they ridicule him. Falstaff, short of funds, plots to woo the wives of two wealthy men. He writes identical letters to the two women, Mistress Page and Mistress Ford. Feigning shock at such debauchery, Bardolph and Pistol refuse to deliver the letters. Falstaff throws them out of the inn and orders his page to deliver the letters. Meg Page and Alice Ford compare their love letters from Falstaff and discover they are identical. Assisted by their neighbor, Dame Quickly, and Mistress Ford's daughter Nannetta, they plan to teach Falstaff a lesson. Meanwhile, Bardolph and Pistol disclose Falstaff's treachery to Mr. Ford. Joined by Dr. Caius and Fenton, Nannetta's sweetheart, they plot revenge against the rogue knight.
Act II
At the Garter Inn, Dame Quickly tells Falstaff that Mistress Ford would like to see him that afternoon. Bardolph and Pistol, once again in Falstaff's favor, introduce a disguised Ford to the Knight as "Signor Fontana," who offers to pay Falstaff to help him win Mistress Ford's favors. Falstaff accepts and the two men leave together. Back at the Ford house, Dame Quickly tells the ladies that their revenge is under way. When Nannetta complains that her father has promised Dr. Caius her hand in marriage, the women promise to help her marry her beloved Fenton. Falstaff arrives and clumsily woos Alice. He must hide behind a screen, however, when Mr. Ford, Caius, Bardolph, and Pistol arrive to search the house for the Knight. When the men leave the room, the ladies hide Falstaff in a laundry basket full of dirty clothes. Ford returns and is incensed to hear the sound of smooching from behind the screen, but it turns out to be Nannetta and Fenton. Alice orders the servants to empty the laundry basket into the river Thames, and all assemble to laugh at the soaked and humiliated Falstaff.
Act III
Falstaff returns to the Garter Inn to drown his sorrows. But Dame Quickly convinces him that Mistress Ford indeed desires his company. The plan for Falstaff to meet Alice in the park at midnight is overheard by Ford and Dr. Caius, who arrange for Falstaff's come-uppance and Caius' marriage to Nannetta that very night. Falstaff and Alice rendezvous in the park. The knight begins his clumsy wooing, but spooky sounds in the dark interrupt him. Alice flees and Falstaff falls to the ground in terror as the entire company, disguised as supernatural creatures, tortures Falstaff until he promises to change his evil ways. Ford, revealing his true identity, blesses the union of two disguised couples, one of which he believes to be his daughter and Dr. Caius. However, unmasking reveals that Ford has actually married his daughter to her beloved Fenton, and Caius to Bardolph! Ford finally blesses the union of Nannetta and Fenton. Everyone agrees that "all the world's a jest."
– synopsis courtesy New York City Opera
[/accordion]
Media
Program