Oboists studying at the University of Michigan School of Music, Theatre & Dance graduate as thoughtful, comprehensive, and analytical musicians knowledgeable in all musical genres and styles. They develop a complete, thorough understanding and competency of the oboe's repertoire and pedagogy, which serves as the foundation for their artistry. Each student, through lessons, studio class, ensembles, chamber music, academic study, and practice, strives to reach their full musical potential. Opportunities for baroque and contemporary music performance round out their experience.
Dr. Nancy Ambrose King, Professor of Oboe
Caroline Giassi, Continuing Guest Artist in Baroque Oboe
Each student's course of study is individualized, however certain lesson requirements and structure apply to all. Those working on reed fundamentals and concepts bring three reeds in various stages: blanks, half-finished, and finished. The Hite book's Major and minor scales, arpeggios, and scales in intervals are played at each lesson until completed. Etudes range from Ferling and Singer, Barret, Salviani, Vade Mecum, Bozza, and Gillet, depending on the level and previous experience. Repertoire study covers all musical periods. Excerpts are learned and played in both studio classes and lessons. If you have an iPad or MacBook, I encourage you to purchase "Making Reeds from Start to Finish with Nancy Ambrose King," an Apple ibook on iTunes.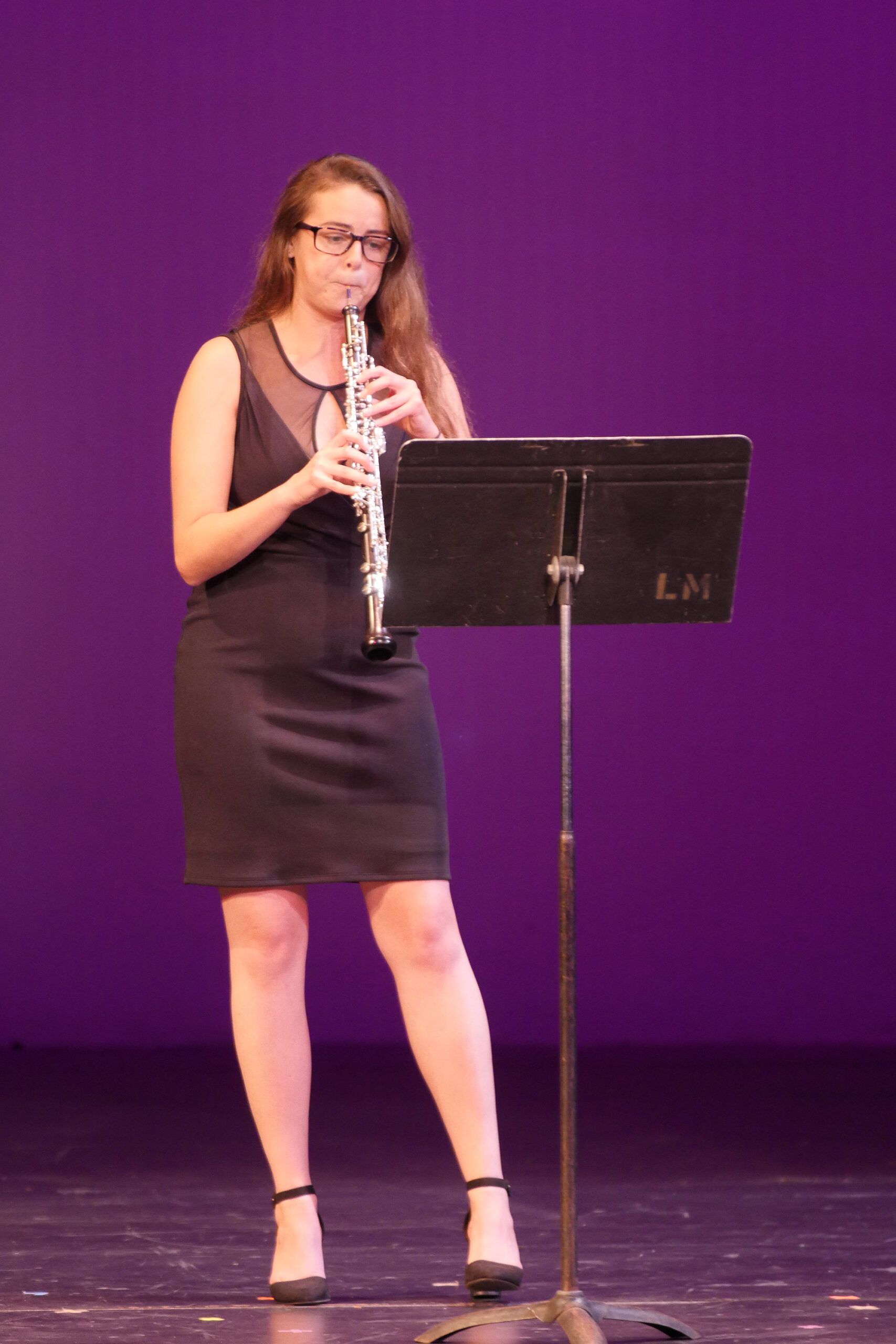 Studio/ Performance Class
This weekly class is a forum for performance and discussion of oboe playing and repertoire. Its primary purpose is to give students the opportunity to perform for each other and receive feedback from fellow students and Professor King. Students perform repertoire as well as prepare excerpts for mock auditions. A portion of class is devoted to reed-making assistance for those in need. Guest Artists often present master classes during Studio Class, and visitors to campus are welcome to sit in on our class as well.
Equipment
We are fortunate to have a school-owned RDG 10.75 gouging machine, an Innoledy gouging machine, and two Kunibert Michel gouging machines for student use, in addition to a Mack + and Caleb -1 oboe shaper tip, Mimi EH shaper tip, Reeds 'n Stuff pre-gouger, RDG pre-gouger, splitters, micrometers, sharpening stones, etc.
We are also fortunate to have seven English horns, an oboe d'amore, and two baroque oboes.
Oboe students have access to the Reed Room in the Moore Building, where equipment is housed and students have space to make reeds.
Guest Artists/Master Classes
We are proud to host many guest artists who visit our campus to present Master Classes for U-M oboists. In recent years, students have had the opportunity to  perform for:
Allan Vogel  (LA Chamber Orchestra)

Dwight Parry (Cincinnati Symphony Orchestra)

Eugene Izotov, Jonathan Fischer, William Bennett, Russ DeLuna (San Francisco Symphony)
Liang Wang, Joseph Robinson, Thomas Stacy (New York Philharmonic)
Michael Henoch (Chicago Symphony)
Christoph Hartmann (Berlin Philharmonic)
Jana Brozkova (Czech Philharmonic Orchestra)
Katherine Needleman (Baltimore Symphony)
John Snow (Minnesota Orchestra)
Debra Nagy (oboist from Apollo's Fire)
Christian Schmitt (Stuttgart Hochschule)
James Austin Smith (Manhattan School of Music)
Andrew Parker, Rebecca Henderson (UT-Austin)
Nermis Mieses (Bowling Green University)
Mark Hill (University of Maryland)
Martin Schuring (Arizona State University)
Courtney Miller (University of Iowa)
Paige Morgan (Ithaca College)
Celeste Johnson (UMKC)
Jared Hauser (Vanderbilt University)
Margaret Marco (University of Kansas)
Alison Robuck (Bradley Univeristy)
Marlen Vavrikova (Grand Valley State University)
Harry Sargous (University of Michigan Emeritus Professor)
Aaron Jakubiec (Eastern Illinois University)
Charles Huang (Hartt School of Music)
Melissa Peña (University of Oregon)
Aaron Hill (University of Nevada-Reno)
Merideth Hite-Estevez (N. Carolina School for the Arts)
Anna Hendrickson (SUNY Potsdam)
Dan Schwartz (University of Oklahoma School of Music)
Alain DeGourdon (President, F. Loré Hautbois)
Akropolis Reed Quintet
Aryn Sweeney (Ball State University)
Caroline Giassi, baroque oboe specialist
Philippe Tondre , principal oboe Philadelphia Orchestra
Toyin Spellman-Diaz, Imani Winds
Marion Kuczyk, Los Angeles Philharmonic
Andreas Oeste, Penn State University
Timothy Gocklin, Akropolis Quintet
Keve Wilson, NYC freelance
Aaron Robinson, Wichita State University
Gary Powell Nash, Fisk University
Jaren Atherholt, N Carolina School for the Arts
Jeremiah Quarles, Heidelberg University
Colin Maier, Quartetto Gelato, Toronto, Canada
Do all students get to study with you?
NAK: All music majors declaring oboe as their major instrument are a member of the U-M Oboe Studio and receive lessons from me. When oboe study is a secondary instrument or minor area, a student is assigned to the Graduate Student Instructor for private instruction.
How often do lessons occur, and what is the duration?
NAK: All oboe majors will receive one lesson each week. Students pursuing music performance or music education will receive a 60-minute lesson. In addition, we meet weekly for studio class. I meet with first-semester freshmen for an additional hour to address reed-making and perform oboe/English horn chamber music together.
What material is covered in lessons?
NAK: Lessons extensively cover all aspects of music and oboe fundamentals, including tone, technique, intonation, articulation, contemporary techniques, and reed-making. Both technical and melodic etudes are prepared each week, as well as comprehensive repertoire choices covering standard literature and lesser known works. I work closely with each student to design an appropriate curriculum and repertoire selection.
What about baroque oboe?
NAK: We are fortunate to have a continuing guest artist Caroline Giassi on campus once each semester for baroque oboe lessons. She is also available for Skype lessons. Students learning baroque oboe can perform in the Baroque Chamber Orchestra with Early Music Professor Joseph Gascho.
What opportunities exist for chamber music?
NAK: Chamber music definitely plays an important part of the music major experience here at Michigan. Apart from large ensemble requirements, most oboe majors will participate in a chamber ensemble, either small woodwind ensembles or mixed chamber ensembles with strings or piano, through the Department of Chamber Music. They have the opportunity to perform in Department of Winds and Percussion chamber recitals, as well as enter the SMTD Briggs Chamber Music Competition. Students can perform baroque chamber music on modern instruments in Professor Gascho's Early Music ensembles, and perform new music in the Contemporary Directions Ensemble with Professor Oriol Sans.
Performance Opportunities
From large ensembles in celebrated concert halls to chamber groups in intimate recital spaces, performance opportunities across all disciplines abound, with nearly 900 student performances each academic year. Whether your focus is on early, classical, or contemporary music, whether your passion is for jazz, electronic, or world music, there is an ensemble—or in many cases, multiple ensembles—to suit your interests.