Rebecca Horvath
1934-2022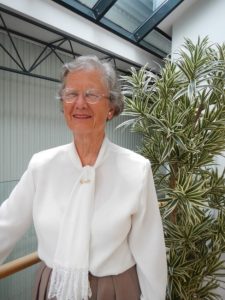 Rebecca Horvath (née Badger), BM '56 (music education), a longtime School of Music, Theatre & Dance supporter who also served two full terms (2004–09) on SMTD's Alumni Board, passed away on October 17, 2022.
A lifelong resident of Ann Arbor, Becky married William Horvath in 1963, a year after earning her master's degree at the U-M School of Education. They had two children, Susan and John, and Horvath later returned to U-M to obtain a PhD in child psychology, which she received in 1980. She went on to teach psychology at Henry Ford Community College for 18 years.
Although she spent her career as an educator, Horvath remained actively involved in music throughout her life. She sang in the choir of the Dixboro United Methodist Church, sometimes directing it, and played oboe with the Washtenaw Community Band for several years. She was a generous supporter of the Ann Arbor Symphony and SMTD's Allen Purdue Britton Scholarship in Music Education, and in 2018 she established the Dr. Rebecca Sue Horvath Scholarship for need-based aid at SMTD. Horvath is survived by her children, two grandchildren, and several nieces and nephews.
Gifts in memory of Rebecca Horvath can be made to the Dr. Rebecca Sue Horvath Scholarship Fund.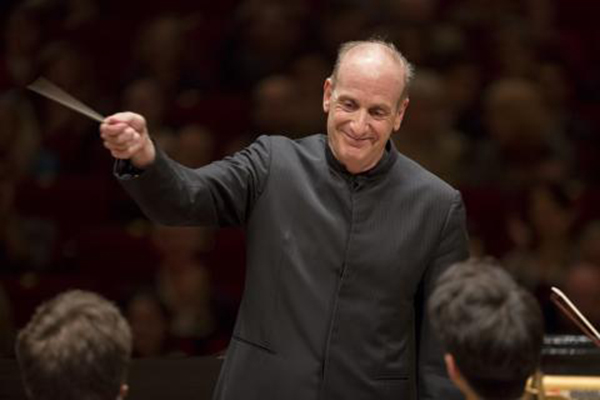 Larry Rachleff, MM '79 (wind conducting and percussion), died on August 8, 2022, following a long battle with non-Hodgkins lymphoma. Rachleff was a beloved and venerated professor at Rice University's Shepherd School of Music, where he served as music director of the symphony and chamber orchestras for 30 years. In a press release from the Shepherd School, Dean Matthew Loden described Rachleff as "a once-in-a-generation musician and educator of the highest caliber."
"On the podium, he was a clear and inspired conductor who routinely expected his ensembles to collectively outperform individual talent and ability," said Loden. "Teamwork, disciplined listening, and joint responsibility for bringing the best possible music to an audience are just a few of the legacies of excellence that Larry leaves behind."
Beginning in 1991, Rachleff served as the Walter Kris Hubert Professor of Orchestral Conducting at Shepherd, and he was credited with helping to elevate the school to world-class standing.
Prior to his tenure at Shepherd, Rachleff was on the faculty of Oberlin Conservatory, where he was music director of orchestras and conductor of the Contemporary Ensemble. He also served terms as music director of the San Antonio Symphony, conductor of the Opera Theatre at the University of Southern California, and for 23 years, as music director of the Rhode Island Philharmonic Orchestra, during a period when the orchestra merged with the Rhode Island Music School.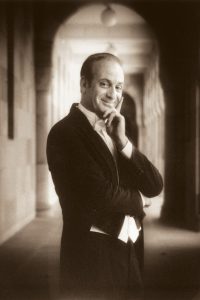 Rachleff was a busy and in-demand guest conductor who led a wide array of orchestras, including the Utah Symphony, Houston Symphony, Seattle Symphony, Indianapolis Symphony, Kansas City Symphony, Phoenix Symphony, Dayton Philharmonic, and Toledo Symphony, among many others. He was also a frequent conductor at the nation's top music festivals, an internationally sought master-class instructor, and principal conducting teacher for the American Symphony Orchestra League, the Conductors' Guild, and the International Workshop for Conductors in the Czech Republic.
A native of Connecticut, Rachleff received a bachelor of science degree from the University of Connecticut prior to his graduate studies at U-M. He held honorary doctorates in music from Roger Williams University and Providence College (RI). He was a passionate advocate for contemporary music and collaborated with many leading composers, including Samuel Adler, Luciano Berio, George Crumb, John Harbison, and U-M's Professor Michael Daugherty.
Larry Rachleff is survived by his wife, Susan Lorette Dunn, a mezzo soprano with whom he frequently collaborated, and by their son Sam.
1940s
Grayson W. Brottmiller, MM '48 (organ), died November 27, 2022
Helen E. Heel, MM '48 (music education), died August 4, 2022
Eugene R. Heffelfinger, BM '48 and MM '49 (music education), died September 15, 2022
1950s
Lois Batchelor Howard, BM '54 (organ), died June 7, 2022
Mary A. Elder, BM '55 (music education), died June 5, 2022
Jean Gregory, MM '55 (viola), died June 8, 2022
Homer F. Haworth, MM '52 (music education), died May 16, 2022
Mabelle Hsueh, BM '57 (piano), died June 18, 2022
Virginia L. Lootens-Palmer, BM '58 (music literature), died July 31, 2022
Nancy L. Martin, MM '57 (music education), died May 16, 2022
Alex F. Popp, BM '51 and MM '52 (piano), died May 15, 2022
Joanna Rainey, MM '51 (music education), died May 10, 2022
Carol C. Reynolds, BM '56 (music education), died June 19, 2022
Norman K. Stockberger, MM '55 (music education), died June 23, 2022
Robert R. Trevarthen, MM '57 (music theory), died August 17, 2022
Sarah T. Turner, BM '53 (music education), died September 21, 2022
Marylin N. Van Giessen, BM '50 (music education), died July 2, 2022
1960s
Michael A. Lang, BM '63 (music literature), died August 2, 2022
Lucille M. Monsour, MM '67 (music education), died November 23, 2022
Daniel T. Politoske, MM '60 (music literature) and PhD '67 (musicology), died October 14, 2022
Sharon L. Rogers, MM '66 (string instruments), died July 3, 2022
Peter B. Spring, BM '63 and MM '67 (double bass), died November 11, 2022
Nancy A. Wigginton, BM '65 (string instruments), died July 1, 2022
1970s
Lee O. Brooks, DMA '75 (clarinet), died May 27, 2022
Lynn G. Cooper, BM '66 and MM '78 (music education), died October 18, 2022
Catherine E. Currier, BM '79 (percussion), died April 26, 2022
Delbert D. Disselhorst, DMA '70 (organ), died September 1, 2022
James F. Keene, BM '70 and MM '74 (music education), died June 27, 2022
Jill W. Marderness, BM '76 and MM '77 (bassoon), died September 27, 2022
1990s
Andrea Wirth, BMA '92 (percussion), died May 12, 2022
<< Table of Contents
Michigan Muse Winter 2023