In January, I attended an event that has been a highlight of the SMTD performance calendar for more than four decades: the Collage Concert. I'm never more proud to work on behalf of the School of Music, Theatre & Dance than on the night of Collage.
With its array of student performances from every part of the school, Collage features an astounding breadth of excellence and diversity of expression. It's an extraordinary creative and logistical feat involving students, faculty, and staff.
First held in 1978, the Collage Concert is a cherished SMTD tradition, but it is also, every year, an impressive display of creativity, imagination, and artistic vision. That vibrant interplay between tradition and innovation is at the heart of SMTD's academic mission, in both performance and scholarship. While SMTD is built on honored, time-tested pedagogical traditions, these traditions are continually expanded, challenged, and reimagined in response to our evolving disciplines – a process that is driven, in large part, by the students. Year after year, these dynamic and gifted people bring their boundless energy to campus, leaving it a better place than when they arrived.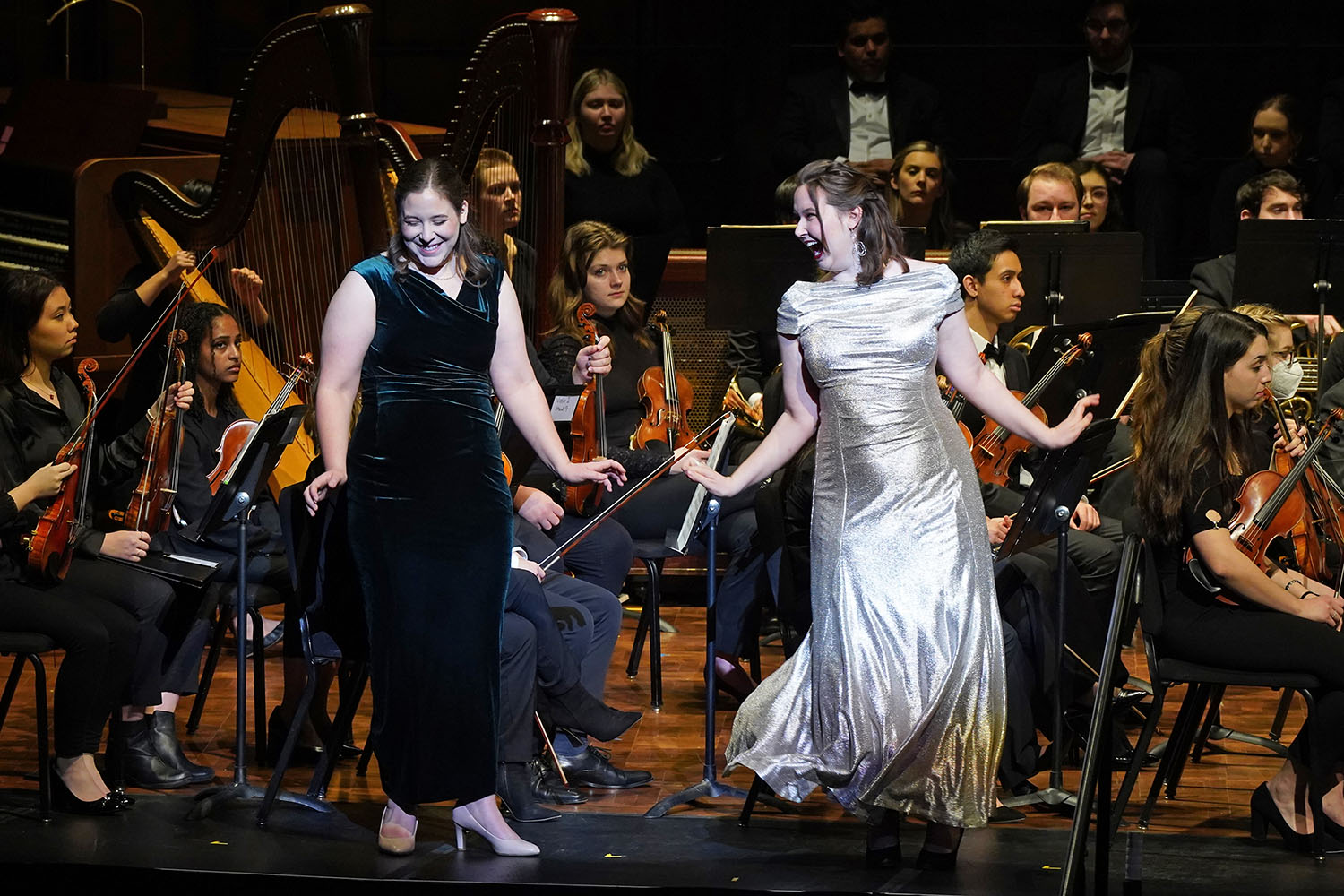 Danielle Casós (left) and Juliet Schlefer perform with the University Symphony Orchestra at the 2023 Collage Concert. Photo credit: Peter Smith Photography
Every area of SMTD embraces the dichotomy of honoring its legacy while also continually evolving. One clear example of the relationship between tradition and innovation at SMTD can be found in the large ensembles. Whether it's the band program – which celebrated its 125-year anniversary in 2022 – the orchestras, or the choirs, adherence to tradition is part of their DNA. But so is breaking new ground, as exemplified by a long-standing commitment to commissioning and performing new works and ensuring a more inclusive and equitable community for its members.
When theatre & drama students requested greater agency in choosing the department's productions, the Season Selection Advisory course was created. As a way to contribute to contemporary discourse, PhD candidates in the music theory and musicology departments started the online journal Music & Politics in the Moment, the counterpart to the long-standing print journal Music & Politics. The music education department continues to explore new ways to involve the community in its educational mission, as exemplified by its partnership with Crescendo Detroit (cofounded by Damien Crutcher, MM '96, conducting).
Innovation is also apparent in the many dynamic collaborations among SMTD departments. Sleek Disturbances, the dance department's annual Power Center show, featured the premiere of Mirror Ritual: a ballet in three tableaus, a new work composed by Griffin Candey (DMA '23); choreographed by Jillian Hopper, assistant professor of dance; and performed by dance and music students. And the recent performance of JOINT, co-directed by Danielle Belen, associate professor of music, and Shannon Gillen, associate professor of dance, was the result of a months-long collaboration between the directors and several violin and dance students, culminating in a standing-room-only performance in the Dance Performance Studio Theatre.
This issue of Michigan Muse – with the theme "The Intersection of Technology and the Performing Arts" – offers abundant examples of innovation from around the school, including exciting endeavors in the performing arts technology department; the balance between high-tech and traditional methods in theatre design & production; how online auditions have made the admissions process more accessible; the creative explosion in the field of screendance, and the gift of technology that makes it possible. In many of these instances, tradition is not abandoned in favor of new technology; rather, it provides a foundation on which innovation can thrive.
Be well, and Forever Go Blue,
Dave Gier, Dean
Paul Boylan Collegiate Professor of Music
School of Music, Theatre & Dance