Q&A with Antonio C. Cuyler
For several years, Antonio C. Cuyler, professor of music in SMTD's Department of Entrepreneurship & Leadership, has incorporated service learning into his teaching, leading to valuable real-world experience for his students. In this interview, Cuyler explains the importance of approaching leadership and management as a deliberate practice, which psychologist K. Anders Ericsson described as "considerable, specific, and sustained efforts to do something you can't do well – or even at all." He also shares his views on community engagement and his students' service learning experiences.
Tell me about the courses you taught at SMTD this past year.
This year I taught three classes: "Ethics and Arts Leadership," "The Arts in Community Engagement," and "Managing Cultural Organizations about, by, for, and near People of the Global Majority." For almost 11 years I have incorporated service learning into my courses. I identify co-educators at cultural organizations; they host a student for the semester, and the student will complete a managerial project that advances their mission by the end of the semester. In the course itself, students are discussing, reading, watching videos, and thinking critically. But then they are also leading and managing by completing the service learning project as another learning modality.
Coming to Michigan enabled me to lean more deeply into using service learning. I base 50 percent of the student's grade on their completion of 50 hours of service learning. I finally made the connection: for dancers, musicians, and theatre professionals, we know how important practice is, but we've never applied that framing to leadership and management. Leadership and management is a practice, and not only are the students learning how to lead and manage their projects, but they're also learning how to lead and manage themselves.
This past year, students served and learned with the Afro-Latin Jazz Alliance, Arts Administrators of Color Network, Asian American Arts Initiative, Asian Opera Alliance, Black and Brown Theater, Kennedy Center, and Sphinx Organization. The students benefit from developing their deliberate practice, and the organizations benefit from human capital that they would not otherwise have access to.
What criteria are you using to select these co-educators at cultural organizations?
Students serve and learn with organizations that have community engagement or social impact departments for the arts in community engagement course. For the global majority cultural organizations course, as long as their mission is about, by, for, and near African, Arab, Asian, Hispanic, Indigenous, or Jewish Americans – and they have a clear managerial project that advances their mission – then I will work with them.
What does community engagement mean to you?
There are levels to community engagement. Level one is what we used to call outreach – the practice of saying, "Hey, people, we have concerts. We want you to come." The highest level of community engagement is where we create art and engage in art with the community, not for or to the community. It is a process of cultural organizations coming down from their pedestals and getting into the process of creating art. If we want dance, music, and theatre to thrive and continue to exist seven generations from now, we have to revitalize these art forms in ways that open the door for more people to come in and participate.
What kinds of projects have your students participated in for their service learning?
Emani Barber (MM '23, chamber music; SM '23, double bass) worked on Sphinx's Venture Fund, competitive grants that catalyze initiatives designed to solve a challenge or an issue related to diversity, equity, and inclusion in the sphere of the performing arts, with an emphasis on classical music. KJ Ludwig (BMA '23, voice) worked on the Sphinx Lead Fund, which is a two-year leadership program designed to evolve the industry landscape by empowering the next generation of Black and LatinX executive leaders. Aquila Sol (BFA '25, musical theatre), who served and learned with the Asian Opera Alliance, managed a social media campaign around Stop Asian Hate, and she promoted the idea that Asian opera singers can sing more than Madame Butterfly, Turandot, and Miss Saigon. The project pushed back against and subverted stereotypes.
After almost 11 years, collectively, students in my courses have served and learned for over 7,000 hours with more than 66 cultural organizations across the country. The learning possibilities are just everywhere.
Celebrating the Class of 2023
In a ceremony marked by exuberance and artistry, commencement for the SMTD class of 2023 took place on April 28 at Hill Auditorium.
Award-winning playwright Dominique Morisseau (BFA '00, theatre) was an inspiring guest speaker, eliciting enthusiastic applause from the students throughout her address. She began by telling the graduates, "I greet you on the brink of your next level…you are leaving high ground for higher ground."
Speaking of the lessons she has learned throughout her career, Morisseau encouraged graduates to focus on making art that is "purposeful and laced in vision and meaning." She spoke of the importance of working together with peers, building community, and harnessing "the power of our collective human voices." She urged the class of 2023 to "make bold, unapologetic, unflinching, imaginative, social-defying, humanity-inducing, liberation kinda art." Concluding her address to cheers from the graduates, Morisseau told them, "It's your turn now… It is time for you to level up, launch, and liberate!"
SMTD commencement is distinguished by an array of performances from student award winners. This year's winners, each introduced via video by a professor of their choosing, shared their exceptional talents across a range of disciplines and musical styles. The winners are:
Chloe Cuff, BFA in theatre performance (directing)
Earl V. Moore Award, Theatre
Nick Daly, BFA in musical theatre and minor in playwriting
Earl V. Moore Award, Musical Theatre
Nya Johnson, BTA (concentration in performing arts management) and minor in business administration (Ross)
Albert A. Stanley Medal
Sasha Kasman Laude, DMA in piano performance
Earl V. Moore Award, Music
Isabella Payne, BFA in dance, BA in communication and media (LSA)
Earl V. Moore Award, Dance
Gavin Ryan, MA in media arts and pursuing a DMA in percussion
Earl V. Moore Award, Music
Timmy Thompson, BFA in musical theatre
Willis Patterson Diversity Award
In her address, student speaker Brooke Taylor, who earned her BFA in dance with a minor in education for empowerment, shared advice given to her by teachers, mentors, her high school counselor, and her mother. She acknowledged that, when thinking about the next chapter in her life, she felt "kinda scared to flip that page." She spoke of taking comfort, however, in the vast potential of her graduating class: "Everyone in this room is an artist, and that means we all can create something out of nothing. Now, with that creative ability, or dare I say superpower, we have the tools to build community, to bring healing to spaces, and to uplift voices that have been silenced."
To see videos of several speeches and performances from commencement, check out the SMTD Commencement 2023 playlist at youtube.com/@UMICHSMTD.
The U-M Jazz Ensemble Goes on Tour
Under the direction of Ellen Rowe, chair of conducting and Arthur F. Thurnau Professor of Music in the Department of Jazz & Contemporary Improvisation, the twenty-member U-M Jazz Ensemble hit the road in May 2023, immediately after graduation.
The ensemble toured the East Coast, giving clinics and concerts at 10 schools and after-school programs, including schools in urban and suburban areas. The ensemble visited the Ethical Culture Fieldston School in the Bronx and the New Jersey schools Newark Arts High School, Senator Frank R. Lautenberg School (Paterson), and Jazz House Kids (Montclair). In Maryland, the ensemble visited Suitland High School (District Heights), Baltimore School for the Arts, Walt Whitman High School (Bethesda), and Benjamin Foulois Performing Arts School (Suitland). And in Washington, DC, the ensemble visited Georgetown Day School and Levine School for the Arts.
Rowe explained that the goals of the trip were to give the U-M students a chance to provide inspiration and mentorship to the younger students, to expose ensemble members to jazz pedagogy in a wide range of secondary schools, and especially to provide directors in underserved communities with support for their programs. Reflecting on the success of the tour, Rowe said, "Several of the U-M students were so inspired by what they saw that they have made the decision to add an education degree to their current jazz performance degree." A highlight of the tour for the U-M students was a sold-out performance at Dizzy's Club, a Jazz at Lincoln Center venue, with special guest trombonist Marshall Gilkes.
SMTD Welcomed International Society of Bassists Convention
In early June, SMTD hosted the International Society of Bassists (ISB) for its biennial convention. More than 1,200 bassists of all ages, exhibitors, collaborative musicians, family members, and guests from more than 20 countries arrived in Ann Arbor for the convention, which included eight international competitions and 130 events – seminars, workshops, master classes, panel discussions, and performances.
Highlights of the convention included the performance competitions in various categories as well as the tenth biennial ISB Maker's Competition, with a team of more than 30 luthiers building five double basses onsite over the course of the week. One of the completed professional-quality, performance-ready instruments was raffled off as part of the 2023 ISB Build a Bass Sweepstakes.
Each day of the convention was capped off by an evening concert at the historic Michigan Theater featuring a diverse array of double bass performers. One such concert was a tribute to Michigan bassists; the lineup included Nicholas Walker, SMTD professor of double bass, and this year's first-prize ISB solo competition winner, Jacob Warren, an SMTD alum. The late Motown bass legend, James Jamerson, was honored with a bass ensemble tribute of My Girl, with the Jamerson family in attendance.
SMTD double bass students, alumni, and faculty – including bassist Robert Hurst, associate professor of music and a Detroit native, and Walker, who is a past president of ISB – participated in the convention as volunteers and performers. Walker noted, "We have a wonderfully diverse and supportive community who gather together as 'a bass family' for our biennial conventions. These events are filled with life-changing experiences and positive connections that underscore and celebrate our shared commitments to great artistry, boundless creativity, and unmitigated generosity of spirit."
SMTD and the Inauguration of President Ono
On Tuesday, March 7, the University of Michigan celebrated the inauguration of Santa J. Ono as its fifteenth president. Throughout the day, faculty and students from across SMTD lent their talents to the festivities. Wherever music was heard, attendees found our gifted performers.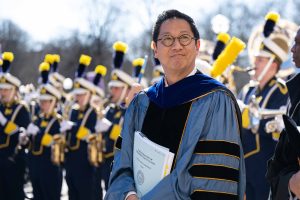 The Michigan Marching Band (MMB) led the procession – including hundreds of delegates from colleges and universities from Michigan and across the nation, the Board of Regents, and university leaders, deans, and faculty members – from the Rackham Building to the Diag and then to Hill Auditorium for the installation ceremony. The MMB also played at the community reception later in the afternoon. Tiffany Ng, chair of the Department of Organ, associate professor of music, and University Carillonist, performed several selections on the Baird Carillon in Burton Memorial Tower prior to and after the ceremony.
John Taos Foster (BFA '23, musical theatre), accompanied by Tyler Driskill, assistant professor of music, sang the national anthem. Nicole Keller, assistant professor of music and University Organist, played the organ during the ceremony. The Inauguration Cello Choir, consisting of SMTD students and conducted by Professor Richard L. Aaron, performed a rousing rendition of "The Victors" as well as Heitor Villa-Lobos's Bachianas brasileiras no. 5, featuring the vocals of Juliet Schlefer (MM '24, voice). The ceremony also included Professor Arthur Greene playing piano with President Ono's brother, Momoro Ono, professor of piano at Creighton University.
SMTD was honored to serve the U-M community in this way, providing the joy of music to each of the events and activities.
The entire inauguration ceremony can be viewed here: myumi.ch/QqGGy
The 2023 DEI Awards
Each year, the SMTD Office for Diversity, Equity & Inclusion (DEI) presents awards to students, faculty, and staff to recognize contributions toward the advancement of DEI principles in service, scholarship, musicianship, artistry, or advocacy.
The following members of the SMTD community were honored with a 2023 DEI Award.
The recipients of the Breaking Ground Award were Timmy Thompson (BFA '23, musical theatre) and Courtney Snyder, associate director of bands and associate professor of conducting. The Breaking Ground Award recognizes the efforts behind new projects, initiatives, and performances that demonstrate a high level of commitment to diversity, equity, and inclusion.
Mattie Levy (MA '24, composition; MM '24, oboe) received the 2023 Belonging Award, which celebrates efforts to create and cultivate inclusive, equitable, and safe spaces, whether in the classroom, work environment, club environment, or other gathering spaces within SMTD.
Recipients of the 2023 Scholarship Award were Marc Hannaford, assistant professor of music, and Fangfei Miao, assistant professor of dance. The Scholarship Award recognizes those who advance diversity, equity, and inclusion within their academic responsibilities and performance portfolio. Those honored display an ongoing commitment to DEI within their field, including academic theses, publications, coursework or course creation, performances, projects, or lectures.
For an expanded version of this article, please visit the SMTD website, smtd.umich.edu/news.
Theme Semester Fall 2023: "Arts & Resistance"
Since the 1980s, U-M has devised dozens of theme semesters, opportunities to collectively explore a particular topic across the university and the community through coursework, lectures, art exhibits, music or theatre performances, workshops, and more. A cross-campus partnership of the U-M Museum of Art, the U-M Arts Initiative, and the College of Literature, Science, and the Arts, the fall 2023 theme semester, "Arts & Resistance," will explore how the arts play a central role in shaping cultural and political narratives, as well as challenging and criticizing dominant regimes. All schools and colleges have been invited to participate in this campus-wide engagement, and many events will be open to the public and presented in partnership with community organizations.
SMTD will be involved in "Arts & Resistance" in a number of ways, including two courses. "The Hula," taught by Amy Stillman, Arthur F. Thurnau Professor of Musicology & American Culture, will be an immersive introduction to the Indigenous Hawaiian tradition of hula. And "The Black Soviet: Black Culture, Music, and Politics in 20th Century Russia," taught by Piper Foulon, PhD candidate in historical musicology, will examine the lives of Black American and Black Russian musicians and writers living and traveling in the Soviet Union in the twentieth century.
SMTD will participate in many other events throughout the semester. "Community Sing: Songs of Resistance & Hope," which involves participation from several SMTD, campus, and community choirs, will take place on the Diag on September 14. Charles Lwanga, assistant professor of musicology, will hold the Music & Resistance Symposium, September 28–29. In late October, Stephen Rush, professor of music in the performing arts technology department, and the Digital Music Ensemble will present "Pond Music: The Underground Railroad Project," a site-specific sound installation on and in the pond behind the Earl V. Moore Building.
Many additional events will take place throughout the semester. For more details on the events of the "Arts & Resistance" theme semester, visit umma.umich.edu/exhibitions/2023/arts-resistance-fall-2023-theme-semester