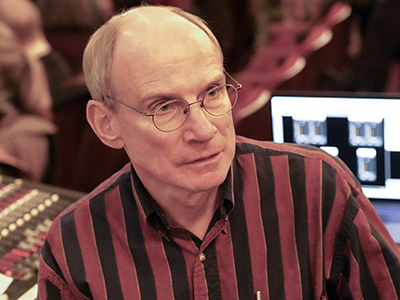 After 45 years at SMTD, Roger Arnett, performing arts sound and recording engineer, has retired. Arnett worked on countless productions, supporting a wide range of artists through the sound design of more than 150 events annually. In addition, he worked closely with SMTD students and faculty to produce archival recordings, and he oversaw the sound reinforcement of innumerable concerts, operas, musical theatre productions, dance productions, and special events with the school's ensembles. For many years, Arnett taught SMTD courses on sound recording and live sound reinforcement, making sure to involve students in his work so they could get hands-on experience and connect theoretical information with its practical application.
Arnett's expertise goes well beyond sound engineering. He frequently used specialized skills such as welding, carpentry, and rigging to build customized equipment and to solve any problems that arose. Tributes to Arnett upon his retirement repeatedly mentioned his vast institutional knowledge, his ingenuity, and his generosity.
In 2018, Arnett was honored with U-M's Staff Impact Award. Professor emeritus and former SMTD dean Christopher Kendall said of Arnett, "One of the more interesting things about Roger's work is that when all is going well, no one tends to notice. It is when problems occur (equipment failure, usually) that all eyes turn to Roger, who then comes consistently to the rescue – quietly, efficiently, and with a degree of professionalism that is difficult to match under such pressure and visibility."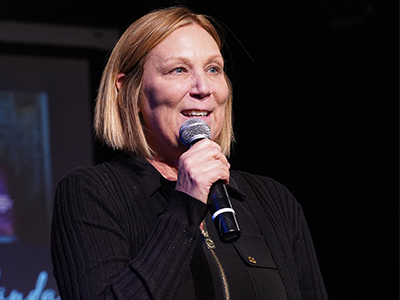 Since joining the faculty of the Department of Musical Theatre in 1996, Linda Goodrich (BFA '85, dance) shared her talents with students in a variety of courses – dance, acting, and performance – and she served as director or choreographer for approximately 30 U-M productions. She also served as producer of the New Works Festival.
Throughout her teaching career, Goodrich maintained an active slate of directing and choreography roles, working in New York City and throughout the United States, Europe, and Japan. She has also been a master teacher and director at the Trentino Music Festival in Italy.
After her May 2023 retirement, she relocated to New York, where she continued directing and choreographing, as well as maintaining a musical theatre coaching studio. Her current project, in collaboration with alumnus Gavin Creel, is a new work, Walk on Through: Confessions of a Museum Novice, which was initially commissioned by the Metropolitan Museum of Art. Plans are underway for an upcoming off-Broadway theatre run. Reflecting on her time at SMTD, Goodrich shared, "It has been my passion, joy, and privilege to be a part of the artistic journey of so many extraordinary students. The relationships with alums continue to grow and enrich my life."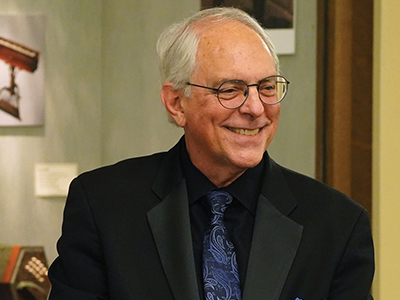 Upon his retirement in May 2023, Michael Haithcock, Arthur F. Thurnau Professor of Music, had served for 22 years at U-M as director of bands and conductor of the Symphony Band, following 23 years on the faculty of Baylor University. Haithcock approached his role as director of U-M bands with several key goals, including upholding the program's high artistic standards for both musicians and conductors, contributing substantially to the band repertoire through commissions, and raising the profile of the band program. His successes in these areas will have an enduring impact on the university's storied bands.
"My time at SMTD has been a joy! So many wonderful musical moments and collaborations with composers, faculty or guest artists, and generations of terrific students," remarked Haithcock. "I will always hold close the many relationships with students and colleagues that have been enlivened through the process of our work together and enriched by personal interactions beyond the classroom, conference room, and rehearsal hall."
Among many notable accomplishments under Haithcock's directorship, 115 pieces were commissioned or premiered, 10 CD recordings of the Symphony Band were made, and the highly successful Symphony Band YouTube channel was established. He also built up the doctoral conducting program; Haithcock's former students are now directors of bands at schools all over the country, including University of Illinois, University of Minnesota, and University of Colorado.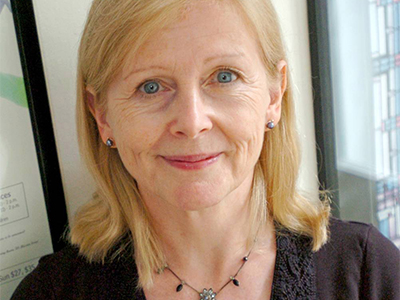 Angela Kane joined SMTD as professor and chair of the Department of Dance in 2007. She served as chair for eight years and as director of graduate studies from 2020–22. Her dance career spans ballet and modern dance as well as dance history and criticism. Alongside teaching and research in the UK, she worked as company historian for the Paul Taylor Dance Company, and she has published extensively on Taylor's work.
Kane has contributed articles to Dance Research, Dance Theatre Journal, and Dancing Times, as well as several entries in Fifty Contemporary Choreographers (Routledge) and the International Encyclopedia of Dance (Oxford University Press). She was one of four commissioned writers for the anniversary publication Paul Taylor Dance Company: The First Fifty Years.
Kane was a member of the Quality Assurance Agency's benchmarking panel for dance, drama, and performance, charged with formulating national standards and criteria for all undergraduate programs in the UK. In the United States, she has served as a visiting evaluator for the National Association of Schools of Dance (NASD) and has chaired several site visits.
Until her retirement in December 2022, Kane contributed her deep expertise in curriculum design and development at both undergraduate and graduate levels and served as a doctoral supervisor and examiner. Looking back on her time at SMTD, she noted, "I've truly valued meeting and working with so many SMTD colleagues and students over the years, and I'm now looking forward to an equally full retirement: more time with family, more daytime tennis, writing, gardening, and working with my dog Rosie in both school and adult literacy programs."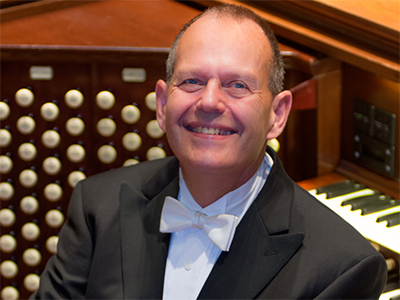 James Kibbie joined SMTD's faculty in 1980 while studying for his DMA ('81), and he assumed the role of chair of the Department of Organ in 2014. At that time, he also stepped into the role of University Organist, and he has since performed at honors convocations, university presidential inaugurations, and other high-profile events.
Kibbie is internationally renowned as an authority on the organ music of Johann Sebastian Bach. Among his extensive concert, recording, and festival engagements, he recently performed all of Bach's extant organ works in a series of eighteen recitals (a feat he also accomplished in 2000). Kibbie is in significant demand as a Bach recitalist and clinician, and his recordings of the complete Bach works on historic baroque organs in Germany have received critical and audience acclaim.
Reflecting on his time at Michigan, Kibbie shared, "The greatest joy of my 42 years on the Michigan faculty has been working with our wonderful students. As I continue to perform and teach master classes during retirement, I look forward to keeping in touch with former students and watching how they shape the future of our profession."
Among the honors he has received, he is particularly proud of the James Kibbie Scholarship, endowed in perpetuity by the University of Michigan to support students majoring in organ performance and sacred music.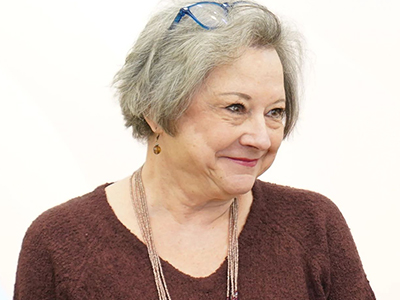 Priscilla Lindsay (BA '71, MA '72, theatre), Claribel Baird Halstead Collegiate Professor of Theatre, joined the faculty of SMTD's Department of Theatre & Drama as its chair in 2010, serving in that position until spring 2021. She then focused on teaching and directing, serving in that capacity until her May 2023 retirement.
As chair, Lindsay had several priorities for the department, including bringing new voices into the department and elevating the profile of theatre & drama within the school, the university, and beyond. Lindsay also set out to bolster alumni relations, understanding the importance of those connections for the department and the alumni themselves. And she worked toward building scholarship support for T&D students, a vital effort in terms of attracting talented students and reducing their student loan burden after graduation.
Lindsay directed a number of plays at U-M, including Tartuffe; You Never Can Tell; The Beaux's Stratagem; Three Sisters; Henry IV, Part I; You for Me for You; Sense and Sensibility; and, most recently, Jen Silverman's Bonnets: How Ladies of Good Breeding Are Induced to Murder.
"My thirteen years at Michigan have been fulfilling, challenging, and deeply satisfying. The people I've come to know and cherish as colleagues, the students who brightened my days and from whom I learned as much as I taught, and the pride I felt each and every day for my department, my school, and my alma mater, will stay with me always," shared Lindsay. As for what comes next, "I plan to kick back for a while, do some directing and maybe some more acting, and enjoy my children and grandchildren!"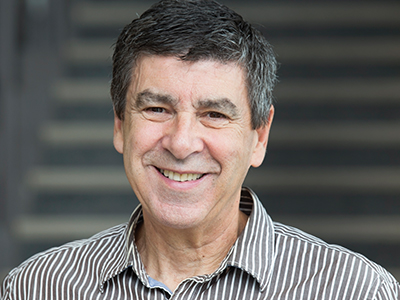 Mark Madama began teaching musical theatre performance and musical theatre history classes in SMTD's Department of Musical Theatre in 2000. Before his retirement in September 2022, he directed numerous productions, including Assassins, Rent, Big River, Guys and Dolls, Company, City of Angels, The Pajama Game, Nine, Ragtime, Into the Woods, Children of Eden, Good News!, The Full Monty, and the Horton Foote play 1918. He also worked on the Senior Showcase, which is presented annually in Ann Arbor and New York.
Prior to his tenure at Michigan, Madama worked as a director, writer, and actor throughout the world. He has worked at numerous regional theatres and served as one of the resident directors at Music Theatre of Wichita for over twenty years. He has taught master classes in many of the top performing arts studios, high schools, and universities throughout the country, and continues to coach many professionals on upcoming auditions.
"After 22 glorious years in Ann Arbor, I am happy to call my time at the university my life's work," Madama said. "I am now living blissfully in Palm Springs, California. I play tennis and take Italian lessons daily. I am working on my memoir, recently completed my life coach training, teach one day a week for the Palm Springs Unified School District, continue to coach potential future Wolverines privately, and I am becoming active in community projects."