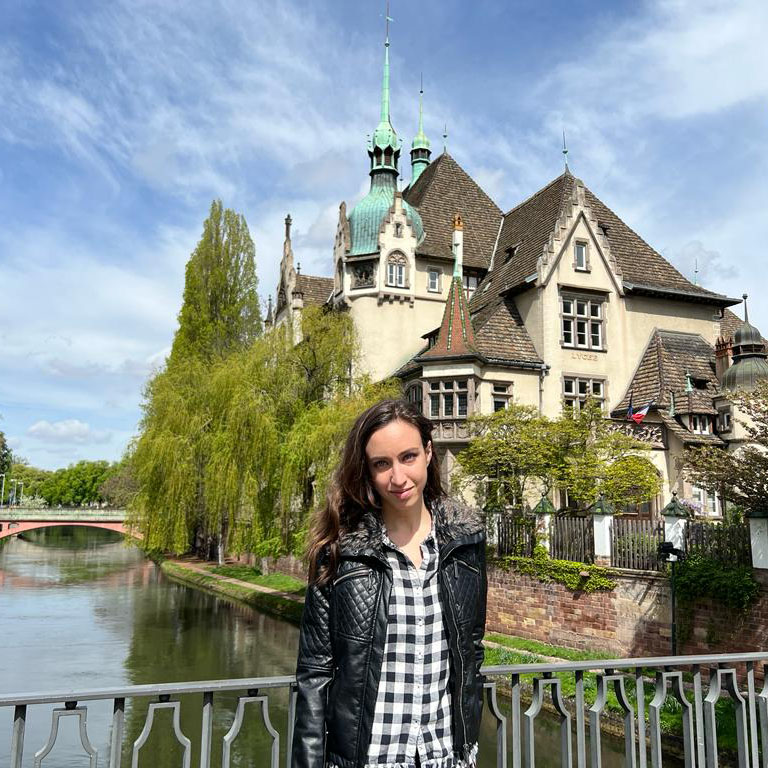 Arianna Dotto (DMA '21, violin) was appointed principal leader of the second violin section at the Orchestre Philharmonique de Strasbourg (France) in March 2023.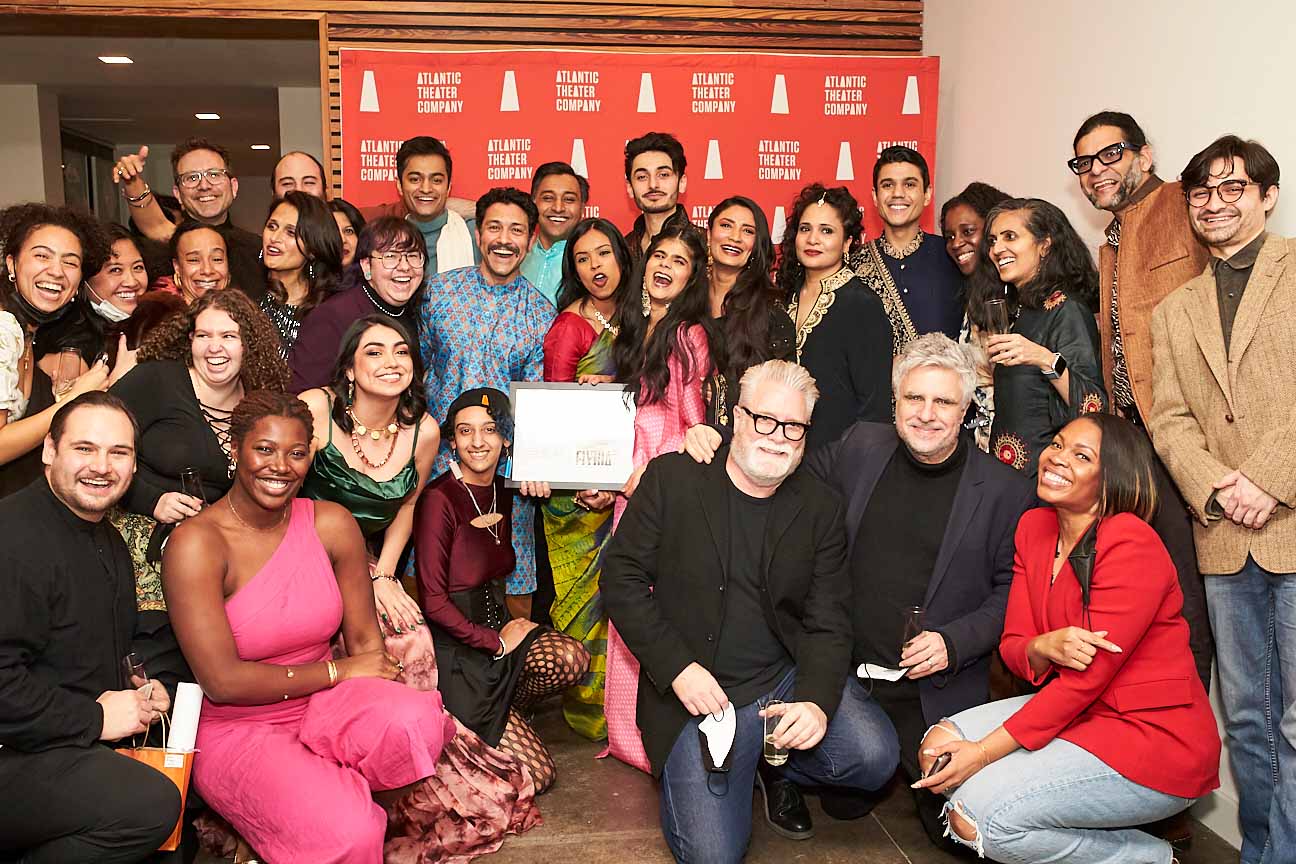 Samantha Estrella (far left) and the company of Elyria. Photo credit: Gregory Costanzo
Samantha Estrella (BFA '22, theatre & drama: directing) expressed gratitude for being able to share space, collaborate with, and witness a generative corner of care-based artistry these past few months. During 2023, she served a directing observership under Awoye Timpo during the world premiere of Deepa Purohit's Elyria at the Atlantic Theatre. She assistant-directed Dominique Rider's Off-Broadway debut of Diane Exavier's Bernarda's Daughters, a world premiere through the New Group and the National Black Theatre in May. The summer brought the end of her mentorship with Wingspace Theatrical Design.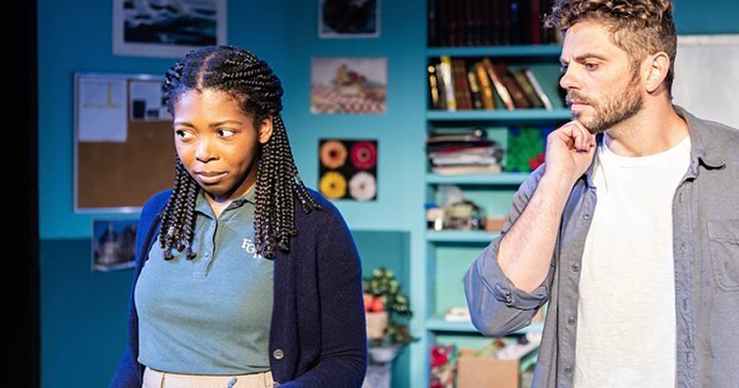 Vincent Ford directed God Kinda Looks Like Tupac, featuring MJ Handsome (BFA '22, theatre & drama) and Nate Brassfield, at Ann Arbor's TheatreNOVA. Photo credit: Sean Carter
Vincent Ford (BFA '20, theatre & drama) has earned a master of science degree from Northwestern University's Leadership for Creative Enterprises program ('21). He serves as the assistant director of the Center of Campus Involvement at U-M, overseeing the campus resources and major events portion of that unit, including the Michigan Union Ticket Office, the Student Theatre Arts Complex, the Major Event Office, and the Student Organization Resource Center. In fall 2022 he became a Michigan Wilde Award winner for directing God Kinda Looks Like Tupac at TheatreNOVA in Ann Arbor. The production won Best Play of the Year and Best New Script.
Gregory Gropper (BM '22, voice) completed the first year in a master's program in classical voice at Manhattan School of Music. During summer 2023 he performed in operas at the Israel Conservatory of Music.
Katie Jewell (MM '23, music education) has been teaching band/music in southwest Michigan for 15 years, the last 13 of which were in Coldwater, Michigan. Her ensembles have consistently earned Division I ratings at Michigan School Band and Orchestra Association (MSBOA) district and state festivals. Jewell is a member of American School Band Directors Association (ASBDA) and MSBOA. In 2022, she was voted MSBOA District XI Band Director of the Year by her colleagues.
Earnest and Beyond
From January to March, Ella Olesen (BFA '22, musical theatre) played witty ingenue Cecily Cardew in the Florida Repertory Theatre's extended production of Oscar Wilde's most famous play, The Importance of Being Earnest. Olesen acted in-the-round alongside Broadway actors Jan Neuberger and Max Roll, to audiences' delight. In July 2023, She traveled to Oxford University to study Shakespeare in the British American Drama Academy's Midsummer in Oxford program. She was one of just 90 applicants accepted worldwide and received training from leading British theatre practitioners and faculty from top American graduate programs. Midsummer in Oxford is run in association with the David Geffen School of Drama at Yale University.
Danielle Kim (BM '21, flute) performed Carl Reinecke's Concerto for Flute and Orchestra with the Flint Symphony Orchestra on February 11, 2023. This performance was part of her prize for winning first place in the 2022 William C. Byrd Young Artist Competition.
In fall 2022, Mi-Eun Kim (MM '14, piano, chamber music; DMA '21, SM '22, piano) joined the faculty at Massachusetts Institute of Technology as lecturer, teaching piano in the Emerson/Harris Scholarship program, as well as coaching for the Chamber Music Society and collaborative piano. She continues to return to Ann Arbor in the summer as collaborative piano faculty for Center Stage Strings, an MPulse institute. She also joins fellow alums in the Four Corner Ensemble at Operation Opera at Sacramento State.
Anthony Larson (MM '22, voice) is performing two major operatic roles this summer. He will sing Sarastro in Die Zauberflöte with Alexandria Summer Nights and Frank Maurrant in Street Scene with Varna International Music Academy in South Carolina, where he will also perform the bass solo in Verdi's Requiem and sing bass in choral works.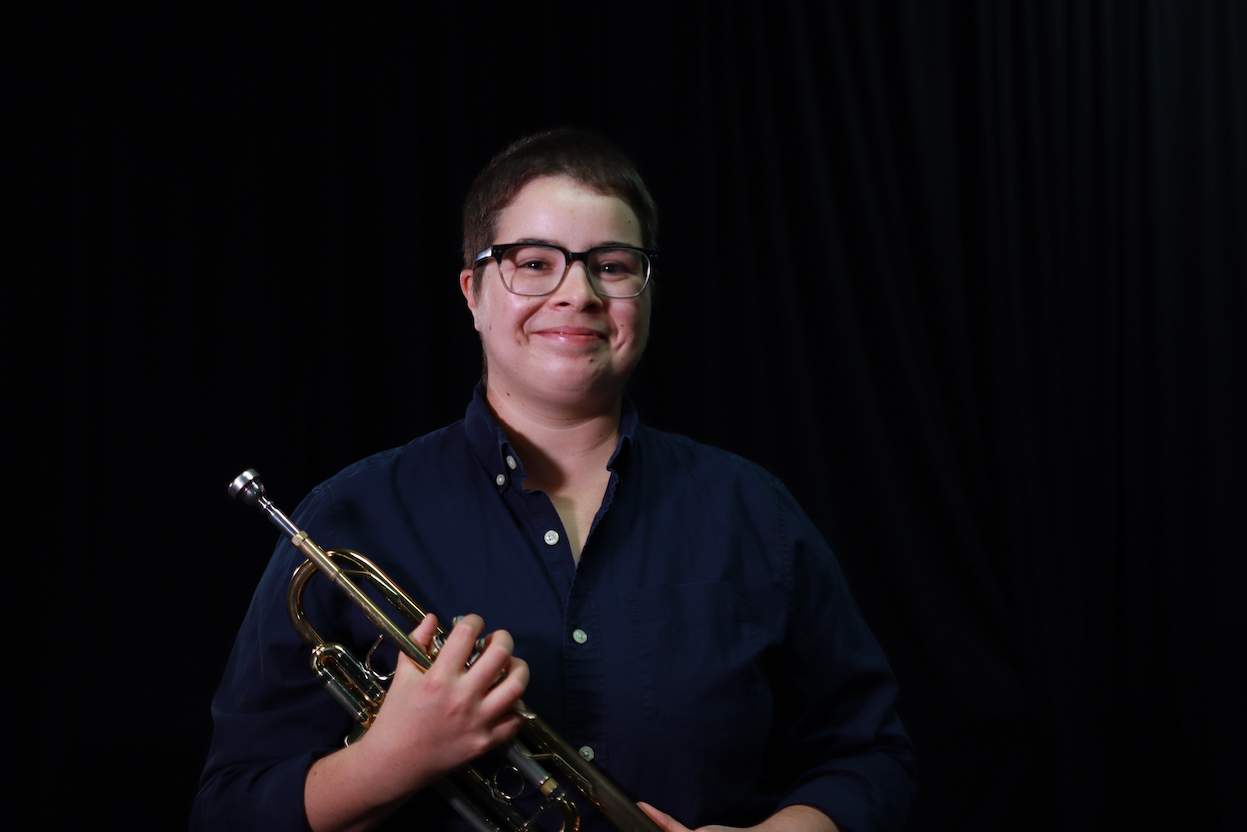 Amanda Ross (DMA '20, trumpet) has been reappointed to the position of visiting assistant professor of applied trumpet at Oakland University in Rochester, Michigan, for the 2023–24 academic year. Ross will teach private trumpet lessons, brass chamber music, and other brass-related courses. She also serves as principal trumpet of the Oakland Symphony Orchestra, Oakland University's orchestra-in-residence.
Jazz Musician Heads to U-M Med School
Alain Sullivan (BFA '20, jazz studies), who also earned a BS in biomolecular science, has continued to be a major presence in the west Michigan jazz scene, performing with the Grand Rapids and Holland Jazz Orchestras. Most recently, he was a featured soloist with the Vintage Parlor Orchestra, in a unique collaboration to pay tribute to the landmark recording, Charlie Parker with Strings. Sullivan will be returning to Ann Arbor this summer to begin his studies at the University of Michigan Medical School in pursuit of his MD; he plans to continue to perform in the area, especially with the Ann Arbor-based funk group, Sabbatical Bob.
Eric M. Schroeder (BM '20, music education, euphonium) has successfully started a K-5 music program and a middle school band program at Schulze Academy for Technology and the Arts in Detroit. He has also established himself as a wind band composer; his works have premiered across Michigan and been performed across the nation. He is currently accepting commissions for new works and is excited to continue serving the ensembles of Michigan and beyond.
Katherine Shrader (BFA '21, theatre design & production) works as a stitcher at Euroco Costumes in New York City, helping to create costumes for Broadway musicals, film, and TV. Recently she has worked on New York, New York; Some Like It Hot; Beetlejuice; Moulin Rouge; and The Marvelous Mrs. Maisel.
"Cultivating Supportive Musical Communities," an article by Ellen Sirower (BMA '20, piano), who also earned a BA in philosophy, was published in the spring 2023 issue of Piano Magazine, a publication by the Frances Clark Center for Keyboard Pedagogy. The article explores the idea of "psychological safety" – a group climate characterized by interpersonal trust and mutual respect where people are comfortable taking risks and being themselves – and its practical applications to private and group teaching in all age groups and levels.
Mike Sulecki (MM '21, music education) teaches band for grades 6–12 in Portland, Michigan. He is finishing up his sixth year in the district, and he loves seeing his students work towards reaching their true potential. While at Michigan, he focused on designing a grade 6–12 jazz curriculum and is proud to announce that next year he gets to fully implement it. After years of recruiting and planning, he will have a 7th–8th grade jazz band and a 9th–12th grade jazz band, both offered during the school day as full elective classes.
Morton Achter (BM '61, MM '63, music theory; PhD '72, musicology) directed a production of Noel Coward's comedy Private Lives in March 2023 for the Chocolate Church Arts Center in Bath, Maine. He serves on the board of directors and teaches music-related courses for Midcoast Senior College based in Brunswick, Maine, and delivers pre-opera talks at the Lincoln Theater in Damariscotta, Maine, for the Metropolitan Opera's Saturday HD broadcasts.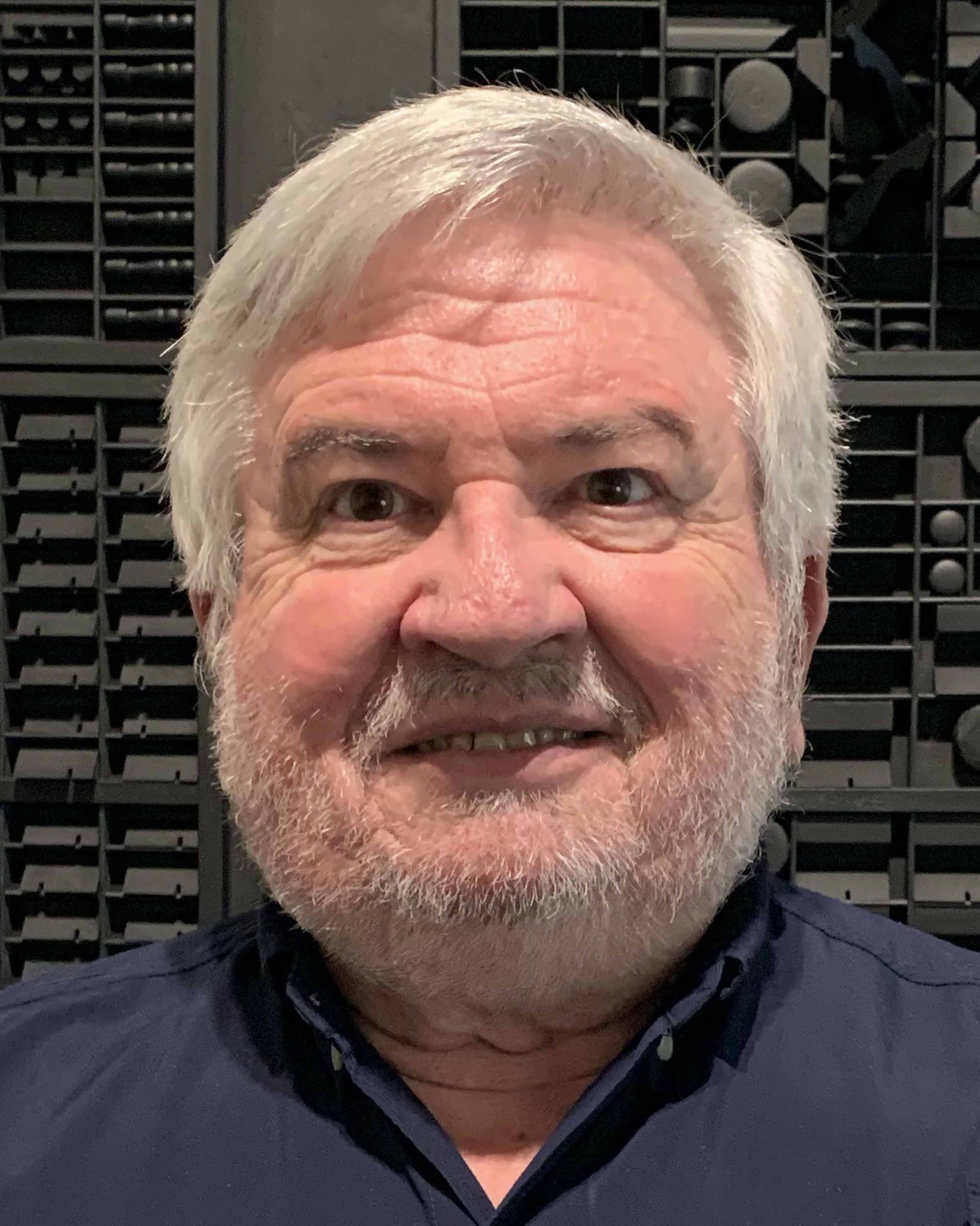 University of North Texas professor emeritus Thomas S. Clark (BM '71, MM '72, DMA '76, composition) retired from Texas State University in 2020, having served 12 years as director of the School of Music. He previously served as dean of music at the University of North Carolina School of the Arts. In the last two years since administrative retirement, he has composed 24 new pieces and published 12 of his "sound sculptures" on the TClark Art Music YouTube channel. He also recently wrote his fourth book, published at MappingTheMusicUniverse.com. Clark and his wife, Elizabeth, continue to live near their six granddaughters in San Marcos, Texas.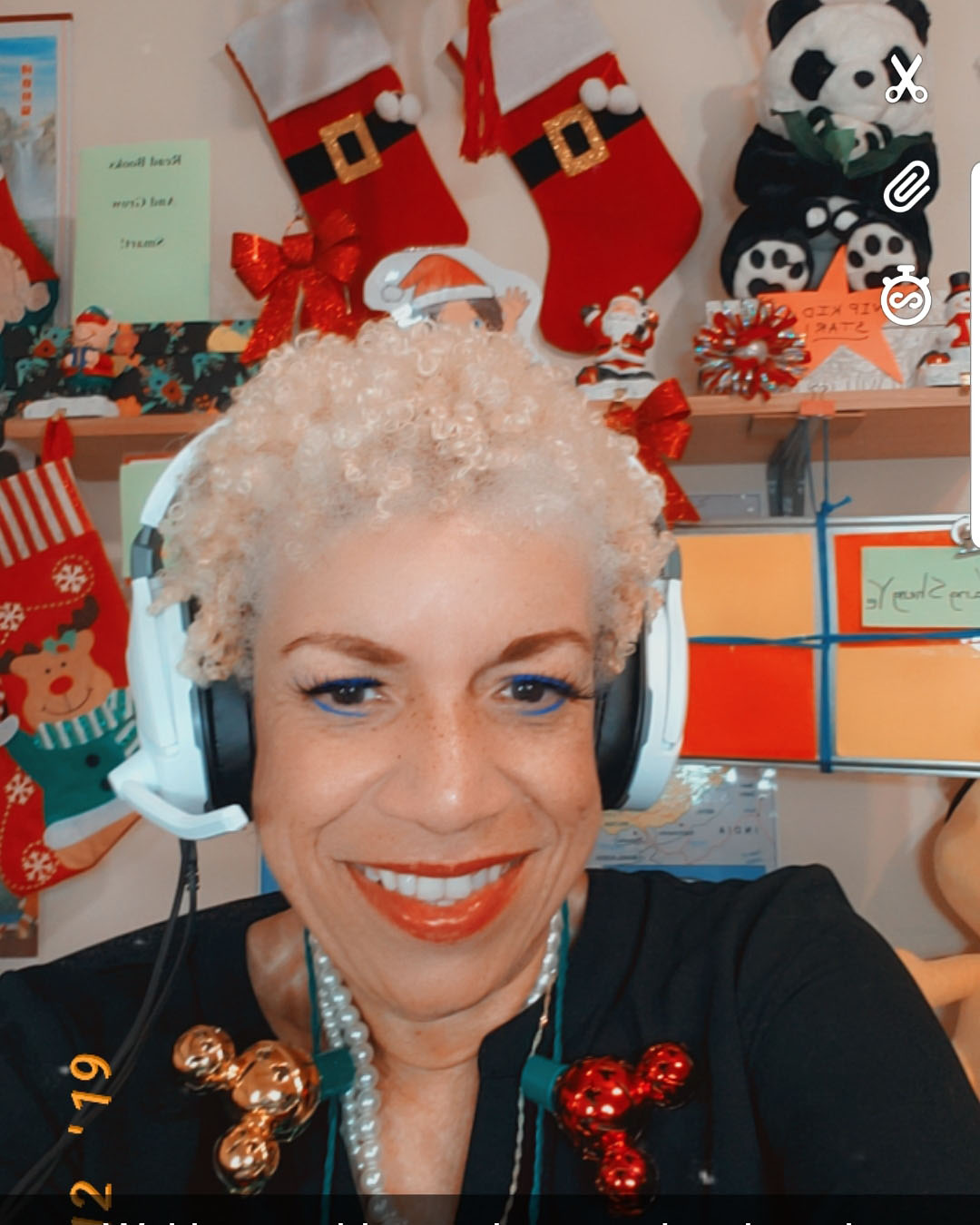 Jacqueline DeBoey (BM '72, viola, music education) has had a varied career in financial services, the legal field, real estate, private teaching of piano, organ, and viola, as well as freelancing on the harp. For the last four years she has been teaching ESL (English as a second language) online to children in China.
Connie (Bergstein) Dow (MFA '76, dance) is publishing two picture books about dance in 2023: Beastie Jamboree (Young Dragons Press, April 2023), and Tap and Rap, Move and Groove (Free Spirit Publishing, October 2023).
Peter Kentes (MFA '78, dance) is the instructor of the Lifetime Fitness Program at Briarwood Mall in Ann Arbor, a Kinesiology Community Program offered through the U-M School of Kinesiology, where he has taught for over 30 years. Kentes is also active in professional and community dance and theatre performances and choreography. He most recently performed the role of R.H. Macy in the Croswell Opera House production of Miracle on 34th Street in Adrian, Michigan. Kentes is currently involved with a three-part premium documentary series about Madonna to be filmed by Optomen Television, a UK Emmy Award-winning production company, to be shown on Sky Documentaries on BBC, ITV, Discovery+, and Netflix.
Timor et Tremor, a motet by Jeffrey Quick (BM '78, music history & musicology) that was commissioned by the Benedict XVI Institute, was premiered by Band of Voices under Alfred Calabrese in Mission Dolores, San Francisco, on March 11, and broadcast live on EWTN. On May 19, the finale of his opera-in-progress, The Little Hen, was sung on a concert of the Cleveland Chamber Symphony.
Bill Ritchie (MM '77, double bass), assistant principal bass of the Omaha Symphony, retired in June after serving in this position for the past forty years. He began his career as the director of orchestras for the St. Joseph Public Schools in his hometown of St. Joseph, Michigan, after graduating with a bachelor of music degree from Western Michigan University in 1975 and a master's degree from U-M in 1977. He is frequently asked to coach bass players from the Omaha Area Youth Orchestras and has given master classes at the University of Michigan, Michigan State University, Western Michigan University, and the University of Nebraska. He is married to Patty Ritchie, a professional cellist and conductor.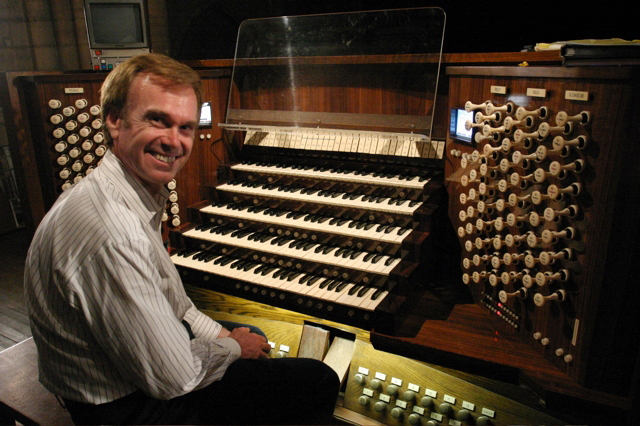 James Warren at Notre Dame de Paris. Photo credit: Tom McAfee
James Warren (BA '74, music literature, organ) is an active church organist and recitalist. He has recorded three commercial CDs for Regent Records (UK) and has played recitals at Notre Dame de Paris, Madelleine (Paris), and St. Paul's (London). He is also active in software implementation.
After teaching instrumental music in public schools, Janet Harmon (BM '56, music education) became an adjunct instructor at Olivet College. She had a choral anthem published and later began accompanying Dr. Eugenia Yau, a soprano soloist, in Michigan, Kansas, and Hong Kong. Harmon is retired now and living in California.