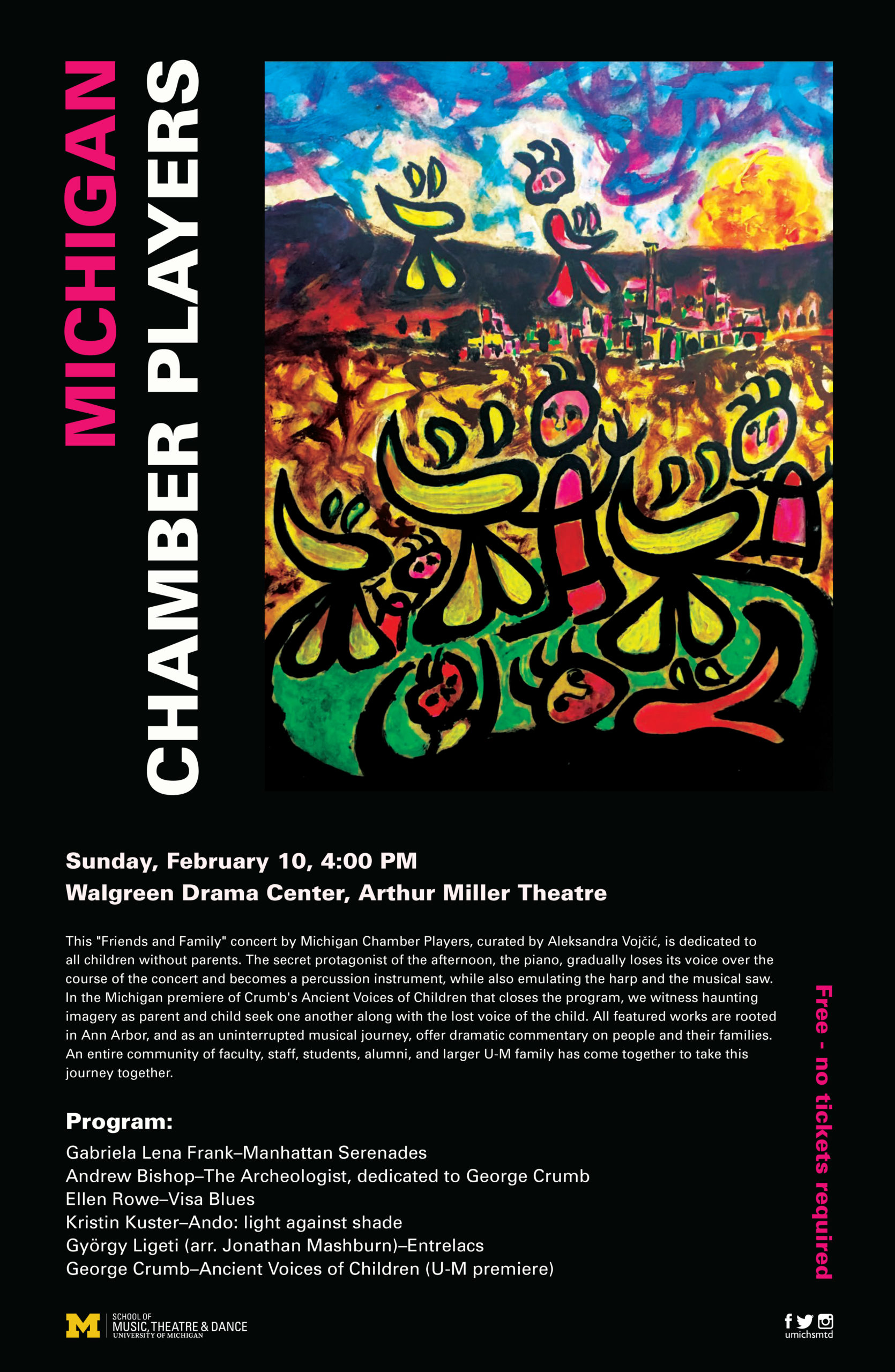 Faculty and students at the School of Music, Theatre & Dance will perform a unique concert on Sunday, February 10 at 4 pm that is dedicated to children without parents. Titled "Friends and Family," the performance features the all-faculty Michigan Chamber Players with a program curated by Aleksandra Vojčić, pianist and associate professor of music theory. The free concert takes place at the Arthur Miller Theater in the Walgreen Drama Center on North Campus.
With a variety of works that reflect the theme of family, the concert will conclude with Ancient Voices of Children by George Crumb (DMA '59), the internationally renowned Grammy and Pulitzer Prize-winning composer and SMTD alumnus. The concert celebrates Crumb's 90th birthday and the 60th anniversary of his graduation from SMTD.
"The primary theme of this concert is one of unity, resulting in a somewhat unprecedented breadth of representation from all corners of our School," said Vojčić. "In the current social climate of extreme disunity and myriad social deficits, chamber music is a medium that demonstrates an important model: It is music of a common language to all humans. Ensemble playing fosters the creation and experience of something meaningful and beautiful, accomplished together."
In addition to faculty representing jazz, violin, harp, piano, flute, percussion, voice, and conducting, performers will also include students of many disciplines. Works by faculty Kristin Kuster, Andrew Bishop, and Ellen Rowe will be featured, along with alumna Gabriela Lena Frank's Manhattan Serenade and György Ligeti's piano etude Entrelacs, arranged by SMTD's daily operations coordinator and alumnus Jonathan Mashburn.
Vojčić explains that the performance features "a secret protagonist," the piano, which will gradually lose its voice over the course of the concert and become a percussion instrument. In Crumb's work, the piano will also emulate the harp and the musical saw. The work is set to the poetry of Garcia Llorca and deals with loss, separation, and grief.
"Since we were not able to use a real metal chisel on the metal strings of the piano, we had to come up with a novel solution," said Vojčić. The solution was realized by Prof. John Granzow (performing arts technology) who developed 3-D printed non-marring chisels. "This 3-D printing approach may prove revolutionary for other prepared piano applications," said Vojčić.
The concert will conclude with Crumb's Voices of Children. "Crumb's work ends on a cliffhanger," said Vojčić. "What will happen to the children – our children, the future of humanity?"