William Lucas is an Assistant Professor of Jazz and Contemporary Improvisation at the SMTD. His trumpet teaching studio includes both jazz and classical trumpeters. His class, "The Inner Business of Music" changes the lives of his students with insights into the egoic mind, solutions for performance anxiety, and tools for success as post-graduate artists.
What does it mean to you to be an artist in these times?
With the absence of the ability to perform live and in public, our voices as artists during this pandemic have been greatly diminished. Our artistic avenues now being all virtual—Youtube, Instagram, Facebook—we have only the hope that our work and message reaches others. Our biggest job as artists today may be to prepare and hone our art for what is to come. On the heels of political unrest, and with the advent of life returning to some normal, I believe opportunities for artists to exercise our voices will explode, and we should be ready. The world needs us and always will.
How are you incorporating social justice issues into your work?
It is important and vital to speak with students about a white America that seeks to undermine voter rights, human rights, and denies dignity and freedom to people of color. The underhanded tools that have been used to prevent voices of color from sharing authority must be addressed publicly. Time needs to be allowed in class for students to share their thoughts and speak their mind. Our students have high degrees of awareness for today's social issues, but we as professors have the responsibility to encourage and foster open discussion, to help our students feel empowered to speak with their voices as they move into their career lives.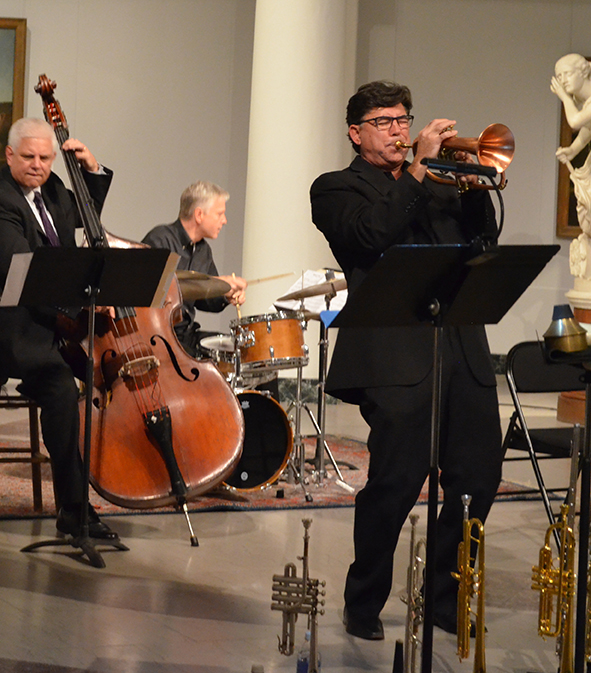 How are you approaching teaching this year? Any adaptations and/or unexpected opportunities?
Teaching remotely has its challenges and shortcomings for sure. Adapting to a virtual environment is surprisingly exhausting, so being sure to maintain a teaching schedule that is smart and includes sufficient breaks in between lesson hours is critical to being able to accomplish the job in the best possible way. The biggest adaptation I have had to accomplish has been setting up a remote teaching studio to work in a variety of ways, allowing me to best hear my students as they play their instruments, and for them to hear me as accurately as possible. Because the learning process is somewhat compromised, it is important to realize that this is as frustrating to a student as it is to a professor. Pulling the scholastic pace down by a few percentage points and interjecting periodic conversation prevents the lesson hour from dragging on.
What inspires you as a performer and teacher?
As a performer what inspires me is life. The life that I live, all that I have lived, and all that surrounds me in this life. Even more inspiring to me are the lives that others live, have lived, and what the result of that living has brought to the world. The world of nature is incredibly inspirational to me. Spending time one-on-one with Mother Nature is where the answers to all questions reside. As a teacher, I am equally inspired by hearing and seeing artists and students overcome challenges, particularly in this virtual world COVID has forced us into, rising to the occasion by displaying their artistry at the very highest levels.