Ann And Robert H. Lurie Carillon
The Ann and Robert H. Lurie Carillon was built in 1996 on the university's North Campus. A gift to the School of Engineering from the Robert and Ann Lurie Family Foundation, it contains 60 bells, with the lowest bell (bourdon) weighing 6 tons. The Royal Eijsbouts Bell Foundry of Asten, The Netherlands, cast the bells. The tower was built to the design of Charles Moore (AB 1947, Hon Arch Ph.D. 1992) and Arthur Anderson.
Visiting the Carillon
Thirty-minute recitals are performed on the Lurie Carillon at 1:30 p.m. every weekday that classes are in session. During these recitals, visitors may take the elevator to level 2 to view the largest bells, or to level 3 to see the carillonist performing. (Visitors subject to acrophobia are recommended to visit level 2 only.) An optional spiral stairway between levels 2 and 3 allows for up-close views of some of the largest bells.
There are no open recitals on campus holidays, study days, or final examination days. An online schedule of recitals, rehearsals, and instructional playing time on the Lurie Carillon is available on Google Calendar.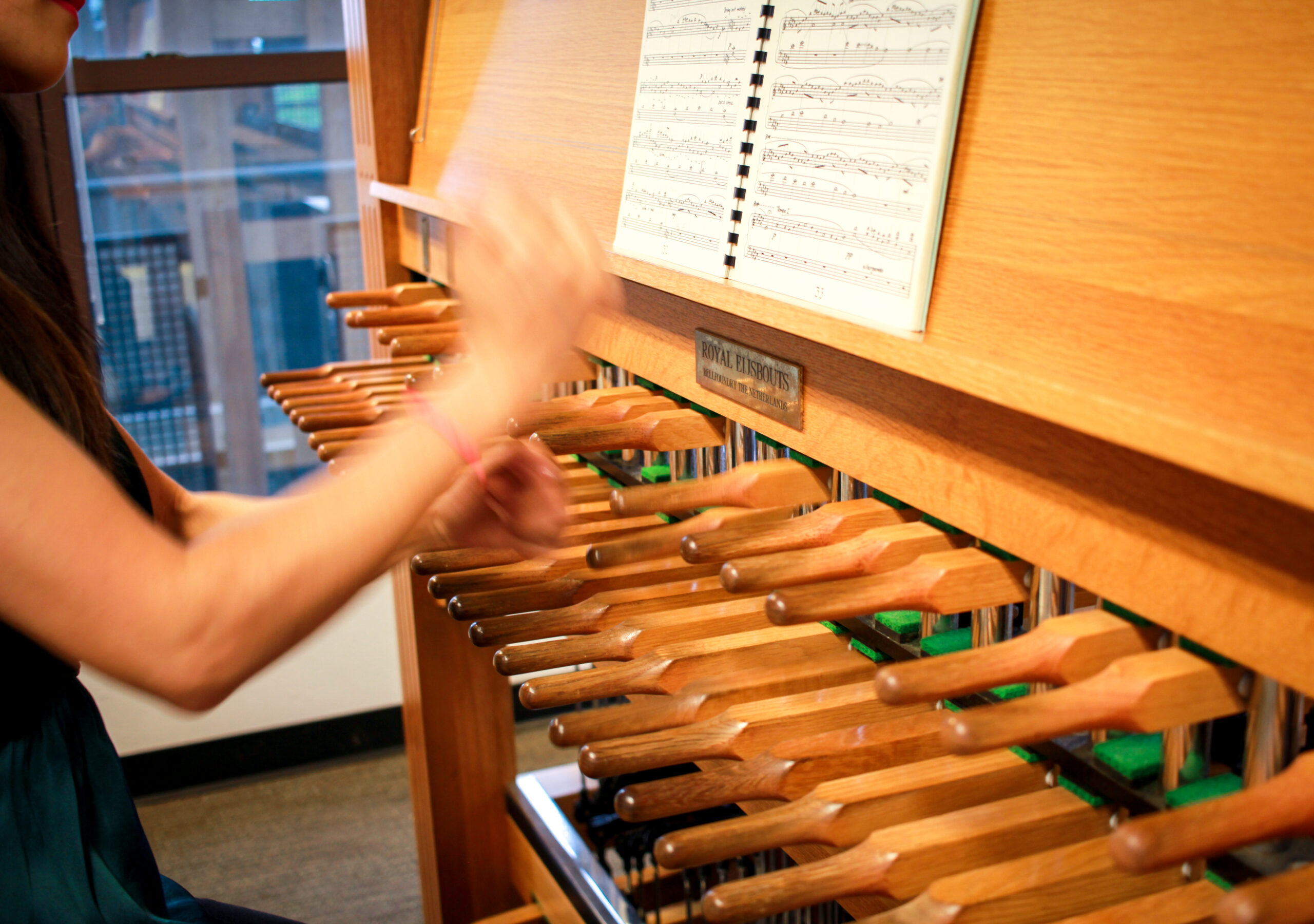 Streaming Media and Downloads
What is a carillon?
A carillon is a musical instrument consisting of at least two octaves of bells arranged in a chromatic series and played from a keyboard that permits control of expression through variations of touch. A carillon bell is a cast bronze cup-shaped bell whose overtones are in such harmonious relationship to each other as to permit multiple bells to be sounded together.
The carillon developed in the area of Europe that is now the Netherlands, Belgium, and northern France in the fifteenth and sixteenth centuries. There are over 180 carillons in North America, and new ones are installed every year.
The carillon keyboard, located in a small room at the center of the bell chamber, is connected to the bells via a system of wires, levers, and springs. To play the bells, the carillonist uses loosely-closed fists to push down wooden keys, which are arranged like the keys of a piano keyboard. The lowest bells may also be played from a pedal keyboard. No electricity is required for the functioning of this system.
The U-M Music Library offers an online carillon research guide. A worldwide directory of carillons and an 8-minute video explainer about carillons is available from the World Carillon Federation.
Carillon Instruction
Students learn to play on carillon practice keyboards that are not audible beyond the practice room. Current students interested in carillon lessons, please visit the carillon studio page.
Land Acknowledgement
The Department of Organ acknowledges that the Ann & Robert H. Lurie Tower and its carillon physically and sonically occupy land stewarded by Niswi Ishkodewan Anishinaabeg—the Three Fires People, who are the Ojibwe, Odawa, and Potawatomi—along with their neighbors the Seneca, Delaware, Shawnee, and Wyandot nations. We further acknowledge that our university stands, like almost all property in the United States, on lands obtained, generally in unconscionable ways, from Indigenous peoples. We recognize Michigan's 12 federally recognized Native Nations, historic Indigenous communities in Michigan, Indigenous individuals and communities who live here now, and those who were forcibly removed from their homelands. In offering this land acknowledgement, we affirm Indigenous sovereignty, history, and experiences.