It's not every day that an opportunity arises to attend concerts that take the audience on a sonic journey through time and space, featuring not only music from another era or a distant locale, but instruments that span centuries and continents.
On Wednesday, February 23, and Thursday, February 24, the School of Music, Theatre & Dance presents the inaugural William P. Malm Performance Series, named for William Malm, Professor Emeritus of Musicology and former director of the Stearns Collection of Musical Instruments. These performances, livestreamed and held before an audience in the Walgreen Drama Center's Stamps Auditorium (Wednesday) and the E. V. Moore Building's Britton Recital Hall (Thursday), feature newly composed and centuries-old musical works from around the world. At the Wednesday evening performance, ensembles made up of U-M faculty and students will be playing dozens of instruments from SMTD's renowned Stearns Collection. The Thursday performance features special guest ensemble Theatre Nohgaku, an international performance ensemble devoted to Noh, the ancient Japanese stage art that synthesizes poetry, dance, drama, music, and costume. The Theatre Nohgaku performance has been organized by founding member David Crandall, a composer, playwright, and performer. Crandall is also a U-M alumnus ('79) and former student of Malm.
The William P. Malm Performance Series honors Malm's distinguished career at the University of Michigan. Malm took a leading role in the early establishment of a highly ranked graduate program in ethnomusicology at U-M, and he is recognized internationally for nurturing and raising the stature of the Stearns Collection, which is among the largest and most diverse holdings of musical instruments on a university campus. The series is supported by the William P. Malm Stearns Collection Concert Series and Instrument Preservation Fund, which was established by Malm's wife, Jutta Gerber-Malm, in 2021. Joseph Gascho, associate professor of music and director of the Stearns Collection, noted that the fund arose from Malm's great love for the collection: "Of all the things he did at U-M, the Stearns Collection had the most personal meaning for Bill, and Jutta wanted to find a way to continue ensuring its future. I've been so heartened to see other donors step forward to help expand these opportunities and to honor Professor Malm's legacy."
---
Inaugural William P. Malm Performance Series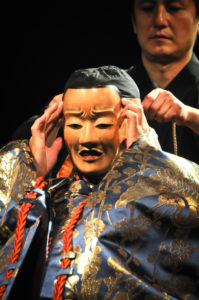 Instruments from the Stearns Collection Concert
Wednesday, February 23 | 8PM
Stamps Auditorium
Watch the livestream
Theatre Nohgaku
Thursday, February 24 | 8PM
Britton Recital Hall
Watch the livestream
---
Wednesday's program includes several ensembles, from electronic music groups, to the Residential College Chinese Music Ensemble, to Baroque ensembles, which will feature several instruments new to the Stearns Collection, including a viola d'amore, Baroque guitar, harpsichord, traverso, and viola da gamba. Also performing will be Balinese and Javanese gamelan ensembles. Gamelan, the traditional music of the Javanese, Sundanese, and Balinese peoples of Indonesia, is a collection of instruments tuned to be performed together. Consisting of primarily percussive instruments, gamelans include gongs, drums, and types of metallophones.
The Javanese gamelan ensemble will be playing the gamelan named Kyai Telaga Madu (the Venerable Lake of Honey), which was acquired for the Stearns Collection by Malm in 1966. This gamelan comprises seventy-five gongs and other instruments, and it has become an integral part of the teaching and performance of world music at U-M.
While some instruments in the Stearns Collection are too delicate or too rare for any purpose other than display, the philosophy behind the collection is that these are instruments to be played. "There are certain parts of our collection definitely that we wouldn't share," noted Gascho, "but in general we go out of our way to make it accessible." In some cases, that means having replicas built so students can still experience playing these instruments without endangering the originals.
When students play the Stearns instruments, Gascho explained, "they're experiencing a much richer range of sonic colors, timbres. Through experience, your knowledge increases and therefore your respect and your love increases." He went on to say, "You can read about these things in books, you can even listen to recordings, but it's much different to put your finger on it, or put the flute to your mouth and see what actually happens." Best of all, he said, there are no barriers for students wishing to experience the Stearns instruments: "You just have to show up and say I'm interested, and we find a way to make it work for you."
For more information on the inaugural William P. Malm Performance Series on February 23–24, please consult the calendar of events on the SMTD website.