Saxophone Institute
The MPulse Saxophone Institute is a one-week program focusing on a wide range of educational topics catered to serious high school saxophone players. The program includes courses on warm-ups, saxophone techniques, reeds, aural skills, music history, working with a pianist, saxophone quartet & saxophone ensemble, and daily masterclasses. Special attention will be given to preparation for college auditions and competitions.
Dates: June 30 – July 6, 2024
Tuition (Including Room & Board): $1,830
Application Status: OPEN
Non-Refundable Application Fee: $75
Email mpulse@umich.edu if a waiver code is needed for the $75 application fee due to financial need.
Priority Application Deadline: February 1, 2024*
Priority Admissions Notification: March 1, 2024
*Applications will remain open until the program is full. Rolling application submissions will be reviewed on a monthly basis. Please check the application status above to see if we are still accepting applications on a rolling basis.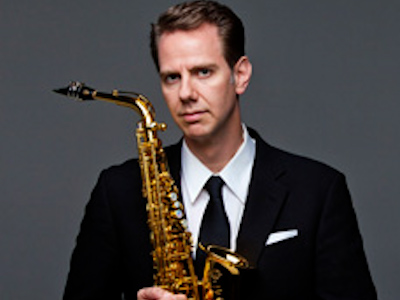 Dr. Timothy McAllister
Professor of Saxophone, Institute Director
Saxophonist Timothy McAllister has been hailed as an "exemplary soloist" (Gramophone Magazine), "a virtuoso, one of the foremost saxophonists of his generation" (The New York Times) and "a titan of contemporary music and the instrument, in general" (The Cleveland Plain Dealer). He is one of today's premier wind soloists, a member of the 2018 GRAMMY® Award-winning PRISM Quartet, and a champion of contemporary music credited with over 40 recordings and 200 premieres of new compositions by eminent and emerging composers worldwide.
His rise to international fame came in 2009 with his celebrated work in John Adams's City Noir, filmed as part of Gustavo Dudamel's inaugural concert as Music Director of the Los Angeles Philharmonic, and the World Premiere of John Adams's Saxophone Concerto in August 2013 with the Sydney Symphony Orchestra under the baton of the composer in the Sydney Opera House. Subsequent performances included the Baltimore Symphony Orchestra, St. Louis Symphony, Milwaukee Symphony Orchestra, Orquestra Sinfônica do Estado de São Paulo, Cabrillo Festival Orchestra, BBC Symphony Orchestra, Hong Kong Philharmonic, Royal Liverpool Philharmonic and the New World Symphony, among many others.
As part of the 70th Birthday celebrations worldwide honoring Adams in 2017, he performed the Saxophone Concerto with the Houston Symphony Orchestra, Netherlands Radio Philharmonic Orchestra at the Concertgebouw, Orchestre National de Lyon, Indianapolis Symphony, along with other performances and recordings of Adams's music, including City Noir, with the Los Angeles Philharmonic, San Diego Symphony, and the Berlin Philharmonic.
To date he has appeared with over forty of the world's top orchestras and ensembles in twenty-five countries, and he has the distinction of being only the second saxophonist to appear as soloist in the 125-year history of the BBC Proms concerts. He has recorded for the Nonesuch, ECM, Deutsche Grammophon, Stradivarius, Soundset, Berlin Philharmonic Recordings, Centaur, Albany, Naxos, Equilibrium, New Focus, AUR, Summit, New Dynamic, Parma, XAS/Symphonic, and Innova labels. McAllister won a 2015 GRAMMY® Award with the St. Louis Symphony Orchestra and David Robertson as soloist on the album "John Adams: City Noir" featuring the Saxophone Concerto. His recording of Kenneth Fuchs's Saxophone Concerto, RUSH, with JoAnn Falletta and the London Symphony Orchestra was released on NAXOS in August 2018, winning the 2019 GRAMMY® Award as part of the "Best Classical Compendium" category. In April 2021, he gives the World Premiere of John Corigliano's Triathlon: Concerto for Saxophonist and Orchestra with Giancarlo Guerrero and the San Francisco Symphony.
A revered teacher of his instrument, he is regularly invited to appear at the world's leading conservatories, music festivals, and summer academies. Previously on the faculty of Northwestern University and other leading institutions, he was appointed Professor of Saxophone at the University of Michigan School of Music, Theatre and Dance in September 2014, succeeding his legendary mentor, the American classical saxophonist Donald Sinta.
Program Sample Schedule
While schedules vary year-to-year, the 2023 schedule will provide insight into the programming provided.
Eligibility & Audition Requirements
The MPulse Saxophone Institute is open to students entering grades 9 (nine) through 12 (twelve) in Fall of 2024, as well as students graduating high school in 2023.
Audition Video
Upload a 5-8 minute long video audition of one or more pieces, with or without accompaniment. The selection(s) should demonstrate both technical and lyrical skills.
For example:
A piece performed at Solo and Ensemble Festival.
An etude.
An excerpt from something being played at school.

The selection(s) should demonstrate both technical and lyrical skills.
Recommendation
Applicants must submit one teacher evaluation (artistic teacher or mentor(s) preferred), academic teacher, or non-relative who can speak directly to the student's academic aptitude, potential, and classroom performance. Applicants will need to provide the email address for their recommender via the Acceptd application platform.  Recommenders will then privately submit their letters of recommendation via Acceptd. 
Please note – Your recommender will not be prompted to submit your recommendation until you hit "submit" on your application.  Please make sure your recommendation is also in by the deadline given above.
MPulse Scholarships
Merit Awards
A limited number of scholarships are available for extremely talented students based on Faculty discretion. Consideration for these scholarships is automatic for applications received by the priority application deadline.
Need-Based Awards
A limited number of need-based scholarships are available to families with an Adjusted Gross Income (AGI) of $100,000 or under in the previous calendar year, or with special circumstances due to the pandemic. To be considered you must upload your financial aid materials by the application deadline as part of your application.  This includes:
Monthly Expenses
Previous Year's Tax Return
Statement of Need
Watson Scholarship (For Michigan Residents Only)
In the spirit of the life of a graduate of the University of Michigan Medical School (1942) and Michigan physician, the Watson A. Young Scholarship promotes academic excellence and college aspiration among students with financial need. These need-based scholarships support middle and high school students' participation in summer opportunities at U-M that seek to develop students' interests and abilities in academic disciplines and expose students to the experiences and possibilities provided by higher education.
Resources
Application Resources: Coming Soon!
MPulse Policies: Refund Policy
Questions?
MPulse Summer Performing Arts Institutes
Office of Engagement & Outreach-Youth & Adult Programs
University of Michigan School of Music, Theatre & Dance
Stearns Building │ 2005 Baits Drive │ Ann Arbor, MI 48109
Phone: (734) 936-2660
Email: mpulse@umich.edu