Harp Institute
The MPulse Harp Institute is a one-week program focusing on individual and group instruction for high school harpists. Sessions that enhance the musical and technical skills of the dedicated harpist fill each day, with built in time for individual practice. The MPulse Harp Institute will provide 2 private lessons, daily harp ensemble, studio classes, and potential guest artists. Additional inspirational activities can include yoga class, dalcroze eurythmics and/or Alexander Technique sessions. Socially, there are gatherings for all the students attending the concurrent MPulse Institutes. It is a very enthusiastic community.
Specific topics of focus will include solo repertoire, standard harp cadenzas, performance concentration and confidence, use of the inner ear and imagination for musical delivery, playing with relaxed, organized technique and peer-to-peer observation. Studio Classes provide a productive way to explore not only harp playing, but collegial support and "real time" experience. The week finishes with a grand recital of harp solos and ensemble.
Dates: July 23 – July 29, 2023
Tuition (Including Room & Board): $1,785
Application Status: CLOSED for 2023
Non-Refundable Application Fee: $75
Email mpulse@umich.edu if a waiver code is needed for the $75 application fee due to financial need.
Priority Application Deadline: February 1, 2023*
Priority Admissions Notification: March 1, 2023
*Applications will remain open until all spots are filled in the program. Please check the application status above to see if we are still accepting applications on a rolling basis. Rolling basis applications will be reviewed on a monthly basis following the priority application.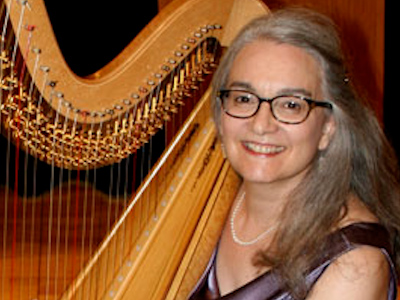 Joan Holland
Associate Professor of Harp
Joan Holland is Associate Professor of Harp for the School of Music, Theatre and Dance of the University of Michigan. She is also the resident harpist and Instructor of harp at the Interlochen Center for the Arts. Joan maintains an active career in solo, chamber, concerto performances and orchestral performing. She is currently principal harpist for the Midland (MI) Symphony Orchestra, co-principal of the Traverse Symphony Orchestra, Traverse City, MI, and substitute harpist for a number of Michigan orchestras.
Program Sample Schedule
While schedules vary year-to-year, the 2022 Schedule will provide insight into the programming provided.
Audition Requirements
MPulse Harp is open to students entering grades 9 (nine) through 12 (twelve) in Fall of 2023.
Audition Videos
Students should submit two separate audition videos. Each video should have only one musical piece on it. Students should select two pieces of contrasting nature from their harp repertoire for these video submissions.
MPulse Scholarships
Merit Awards
A limited number of scholarships are available for extremely talented students based on Faculty discretion. Consideration for these scholarships is automatic for applications received by the priority application deadline.
Need-Based Awards
A limited number of need-based scholarships are available to families with an Adjusted Gross Income (AGI) of $100,000 or under in the previous calendar year, or with special circumstances due to the pandemic. To be considered you must upload your financial aid materials by the application deadline as part of your application.  This includes:
Monthly Expenses
Previous Year's Tax Return
Statement of Need
Watson Scholarship (For Michigan Residents Only)
In the spirit of the life of a graduate of the University of Michigan Medical School (1942) and Michigan physician, the Watson A. Young Scholarship promotes academic excellence and college aspiration among students with financial need. These need-based scholarships support middle and high school students' participation in summer opportunities at U-M that seek to develop students' interests and abilities in academic disciplines and expose students to the experiences and possibilities provided by higher education.
Resources
Application Resources: Coming Soon!
MPulse Policies: Refund Policy
Questions?
MPulse Summer Performing Arts Institutes
Office of Engagement & Outreach-Youth & Adult Programs
University of Michigan School of Music, Theatre & Dance
Stearns Building │ 2005 Baits Drive │ Ann Arbor, MI 48109
Phone: (734) 936-2660
Email: mpulse@umich.edu