Performance Engagement Educational Residencies (PEERs)
PEERs provides mentorship and mini grants of up to $500 to music, theatre and dance students to help create educational performance residencies with underserved communities throughout Michigan. Whether students are working with children in Flint, communities in Detroit, veterans, foster care centers, residents in senior centers or in hospitals, prisoners or runaway teens, they will have the opportunity to discover and engage in new peer relationships with people all across Michigan and see the impact their art forms can have on others, as well as learn from community members.
For Students
MENTORSHIP
PEERs provides guidance to individual students, groups, and student organizations who are interested in working with underserved communities, whether this is their first time or not. In cases where students have a concept for a project but do not have a partnering community, PEERs will help pair them with a community. Non-SMTD students may participate in a PEERs funded project, but the primary member must be a currently enrolled SMTD student. Throughout the entire length of any given project, students will receive support and guidance from the PEERs office.
FUNDING
PEERs provides mini grants of up to $500 for SMTD students to support individual or team projects that have significant community impact. Funding for a PEERs project helps to eliminate or minimize costs for students. Funding may go towards travel, supplies, hosting, personnel and any other materials needed to support the project. Students are expected to request the amount that is desired for their project, and does not need to equal $500. We also ask that students submit a budget proposal for the entire project including all other income sources. All budget submissions should show a balanced ratio of expenses to income. If students need more than $500 for their project, they are encouraged to apply for additional funding sources on campus. PEERs staff would be happy to recommend additional resources.
Students may apply for funding with a community partner in mind or not.
Apply
Funding Cycles and Deadlines – Due to COVID-19 restrictions, PEERs funding will be paused for the Fall 2020 semester
The application includes:
Basic information of participants
Project Outline – upload a document addressing the following:

The goal of the project
The impact you hope your project will make on a community.
If you already have a community partner: community partner's name, location, and what categorizes them as underserved.
If you do not have a community partner, please tell us the type of community with whom you would like to work. Please also give a general idea of the days of the week and times during the day that would work for your entire group. (ex: M/W/Th from 3-6PM.)
Timeline for your project (number of performances, number of visits)

Budget
Faculty Approval
2017-2018
Voice Student Working with Alpena Community
Student: Elise Eden, MM Vocal Performance '18
Community Partner: Alpena Community
Number of visits: 2
Project: Elise performed a song cycle entitled "Craigslist Lieder" for members of the Alpena Community at Alpena Community High School and led masterclasses for youth. In addition, Elise helped raise funds to support music lessons for youth from Alpena.
Performing Arts Technology (PAT) students teach Detroit youth how to use a recording studio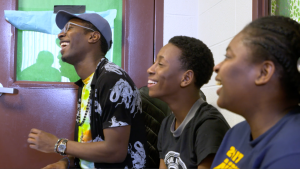 Students: Everett Reid, PAT and Jazz '18, Ben Brown, PAT '18, Stone Stewart, PAT '18
Community Partner: Boys and Girls Club of Highland Park, Detroit
Number of visits: 20+
Project: Four Performing Arts Technology (PAT) students partnered with the Boys and Girls Club of Highland Park. They helped rebuild a recording studio and then visited weekly to teach students how to use it.
Front Porch Quartet teaches music storytelling to youth
Students: Benjamin Jackson, Violin '19, Jacob Rogers, Percussion '19, Karalyn Schubring, Composition '20, Maddy Wildman, Bassoon '19
Community Partner: Detroit Leadership Academy
Number of visits: 3
Project: Front Porch presented workshops to teach students how to tell stories through three guiding statements: "Music can tell a story," "I can tell my story through music," and "we can create group stories through playing music together."
Their curriculum largely drew from two educational programs put on regularly by Fifth House Ensemble, a Chicago-based chamber ensemble that is known for its community outreach work. As part of their PEERs project, Front Porch had advising sessions with Fifth House and were given permission to use and adapt their curriculum.