Every Halloween concert since 1997 has opened with Adam Glaser's (MM '98, MBA '02) "March of the Little Goblins." Learn more about the composer of this Ann Arbor favorite.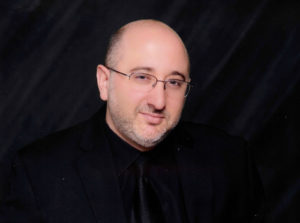 Adam Glaser is Music Director of the professional-caliber Juilliard Pre-College Orchestras and Director of Orchestras at Hofstra University where he serves as Associate Professor of Music. Notable conducting engagements include a world premiere with the New York City Opera, a post as Principal Conductor of the NYU Orchestras, a nine-concert residency with the Symphonia Boca Raton, and multiple concerts with the Interlochen Philharmonic. An avid jazz pianist, he recently released his debut CD Wide Awake leading the Adam Glaser Trio. Commissioned compositions include his Passacaglia for String Orchestra and "Launch" for orchestra and optional chorus. Prior to his graduate studies at Michigan, Glaser served as the Marketing Director for the University Musical Society in Ann Arbor.
What was the inspiration for March of the Little Goblins?
It was definitely the humorous spirit of the U-M Halloween concerts at Hill Auditorium that spurred me to compose "March of the Little Goblins." I wanted to write a piece that would open our 1997 concert and, ideally, showcase the great costumes the orchestra musicians would be wearing. This is why the "entrance version" starts with a two-bar vamp the musicians play while walking onstage so the audience can see the costumes one at a time. I'm so grateful to Kenneth Kiesler for programming it back then, and honored that SMTD has opened every Halloween concert with it ever since. Beyond Ann Arbor, the piece has been performed by over 40 ensembles including the orchestras of Philadelphia, Atlanta, Baltimore, St. Louis and Toronto, primarily featured on Halloween concerts.
What is special about Michigan?
There was always a palpable sense of generosity and community at SMTD, particularly in the orchestral conducting studio and the orchestras. Even with a full slate of classes and commitments, so many students would find the time to play in volunteer ensembles or help with special projects. Of course, I loved the beautiful setting on North Campus…and the close proximity to Zingerman's. And then there is the amazing concert culture created by UMS and SMTD; the quality of music I heard at Hill Auditorium alone was just incredible.
Do you have a favorite memory to share?
When USO was rehearsing Stravinsky's The Rite of Spring, Kenneth Kiesler invited the graduate conducting students to conduct the "Sacrificial Dance," a movement with ridiculously tricky rhythms and mixed meters. It was terrifying but thrilling, and I think it was an important milestone for us. I also remember a great masterclass with conductor Christoph Eschenbach. He was in town with the Chicago Symphony Orchestra, and a few of us got to conduct the USO in Beethoven's Leonore Overture No. 3 under his guidance.
What are you currently working on?
Since the pandemic began, most of my work at Juilliard and Hofstra has been remote. Of course, the upside of a reduced conducting calendar is that I have more time to compose. In the near future, I'm hoping to complete two unfinished works for symphony orchestra and chamber orchestra, and to release a second jazz album. And, as always, there is a growing stack of scores staring at me from a nearby shelf, waiting to be studied.
Anything else you'd like to share?
Two tracks from my album Wide Awake have a direct connection to my student days at Michigan: "Day Trip to Cologne," inspired by Schumann's Rhenish Symphony, and "Sacrificial Rhumba," inspired by the "Sacrificial Dance" from The Rite of Spring. Both of these songs were conceived in Ann Arbor while I was studying those scores, so they hold a special place in my heart.