During the summer of 2023, Fangfei Miao, assistant professor of dance, created an institutional exchange project between the SMTD Department of Dance and the Shanghai Theatre Academy College of Dance. She and five dance students traveled to China for 10 days, performing and learning in Shanghai and Harbin.
Below, Professor Miao and the students describe their experiences.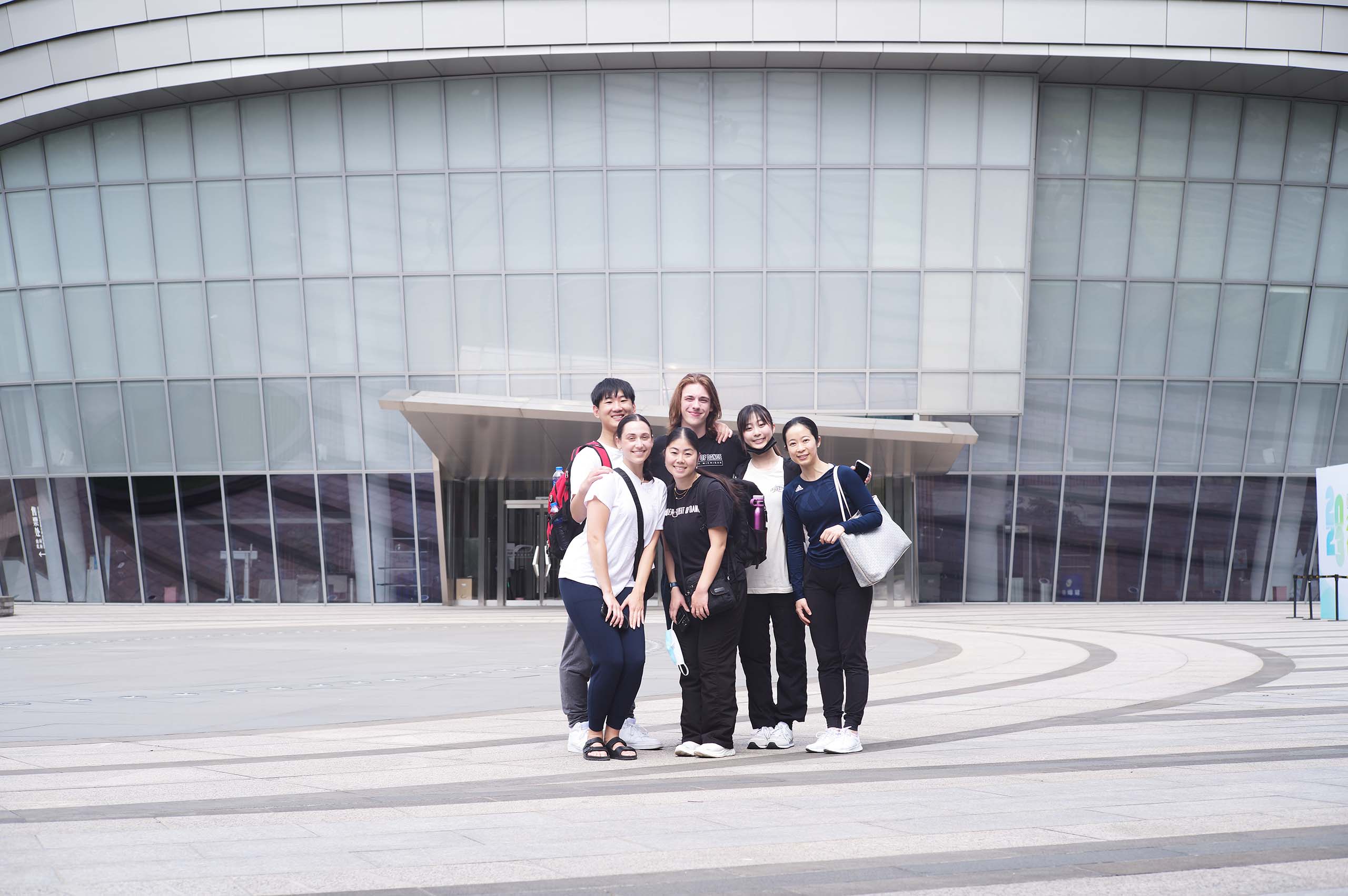 The SMTD group – from left, Kevin Wang, Rileigh Goldsmith, Nana Otaka, Robert Farr-Jones, Reina Kitasato, and Professor Fangfei Miao – at the Shanghai International Center for Performing Arts
Fangei Miao, Assistant Professor of Dance
I am very proud that this is the first U-M faculty-led student team to go to China and China's first visiting American dance student team after the pandemic. Five dance-major students and I presented two evening-length concerts in two cities: a joint performance in Shanghai with student and faculty works from the Shanghai Theatre Academy College of Dance, and a U-M dance concert in Harbin composed of four student works and my major piece Hereafter.
Besides these performances, U-M dance students took classes of classical sword dance and Chinese folk fan dance (Anhui Flower Drum dance) at the Shanghai Theatre Academy, as well as Chinese folk handkerchief dance (Northeast Yangge) at Harbin Grand Theatre, taught by teachers from the Heilongjiang Art Academy. U-M students Rileigh Goldsmith and Kevin Wang co-taught a hip-hop class to dance students at the Shanghai Theatre Academy – the first time that many of the Chinese students took a hip-hop class. In addition, the U-M dance students met engineering-major students from the U-M and Shanghai Jiaotong University Joint Institute and visited historic gardens in Shanghai together.
A very successful cross-cultural dance exchange, this project illustrates the power of performing arts in building and strengthening people's connections in global space. The new embodied knowledge broadened the artistic vision of students from both countries and enlightened them to rethink the meaning of culture and profession. In this trip, the U-M students demonstrated strong artistic growth. Their impressive performances and teaching introduced the merits of American dance higher education to institutions abroad. At the start of a post-pandemic era, this project improves cross-cultural understanding through dance and paves the way for future international collaborations. The successful exchange cannot be achieved without the support of my colleagues and students. I extend my deep gratitude to them.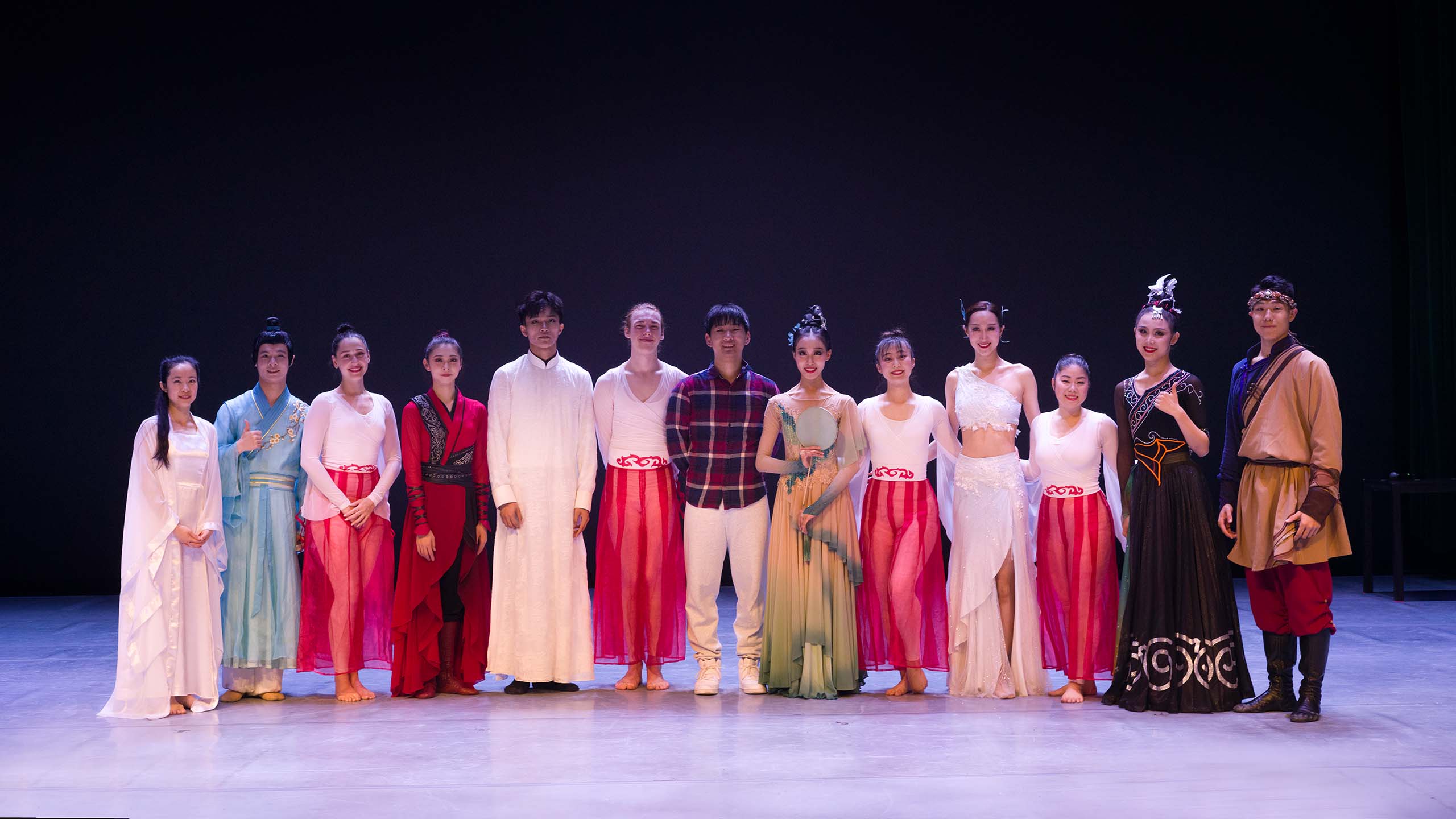 A joint performance with SMTD dancers and the Shanghai Theatre Academy College of Dance
Robert Farr-Jones (BFA '25, dance)
Traveling abroad as an undergraduate student has provided an incredible and unforgettable experience. Being totally immersed in a culture that is so different from what I am used to was quite eye-opening in the sense of finding subtle commonalities and striking differences in ways of thinking and acting. The most striking difference was certainly the varied pedagogical practices compared to US teaching styles. I hadn't really considered that there could be so many different ways to teach, and now I've been inspired to blend these teaching practices into my own work. I have started teaching dance weekly with the combined styles and have found incredible growth in both myself and my students. Had it not been for this trip, I believe it would've taken much longer for me to open up to such new perspectives and integrate them into my current lifestyle choices. I cannot state how grateful I am to have gotten to experience this fantastic opportunity with an equally incredible cohort.
Rileigh Goldsmith (BFA '24, dance)
Traveling with my peers and Professor Miao to China was absolutely a once-in-a-lifetime experience. Through both physical practice and observation, we were able to immerse ourselves in a foreign arts culture and use movement to connect across language barriers. It was an honor to present Professor Miao's work in both Harbin and Shanghai, as well as to showcase our original choreography to welcoming audiences. Engaging with movement internationally has certainly inspired me to prioritize travel in my own dance career!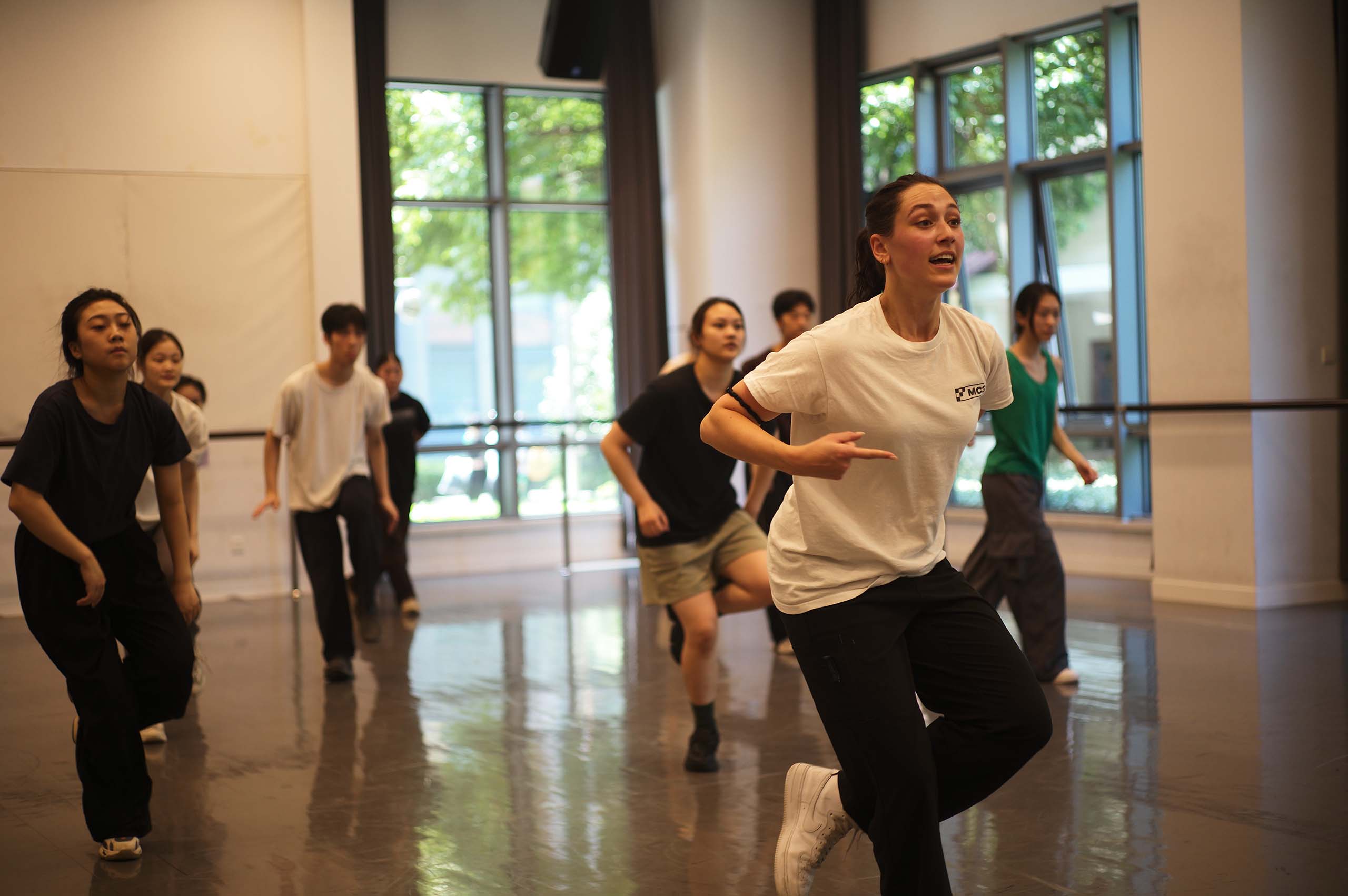 Rileigh Goldsmith teaching hip-hop at Shanghai Theatre Academy
Reina Kitasato (BFA '24, dance; BSE '24, biomedical engineering)
Throughout this cultural dance exchange in China, I was able to learn and experience many concepts that made me think about my own artistry and dance practices. Observing dance performances and Chinese dance classes, and taking hip-hop class with them, has allowed me to see a snippet of how dancers at Shanghai Theatre Academy train and spend their time. It was very intriguing to see the differences between their lifestyles and how I spend my day at the University of Michigan majoring in dance and biomedical engineering. Although the dance styles and approach towards dance may be different, seeing that their work ethic and passion towards dance is the same made me feel like we were in one dance community.
I also am very grateful to have been able to travel to Harbin and perform at the Harbin Grand Theatre. The opportunity to perform in front of dancers and non-dancers allowed me to gain a small understanding of how the people in China view dance. Most of the audience members enjoyed the upbeat hip hop piece, a style that is not commonly performed there, but they expressed during the Q&A after the performance that they enjoyed all of the pieces. Speaking with the audience was a great opportunity to express some of my thoughts as well as hearing the audience's reactions.
Overall, this exchange was a very moving and thought-provoking trip for me as an artist and dancer. I hope to be able to incorporate some dance concepts that I learned about in China into my own dance training and to think about how I can keep exploring dance. The only dance I have experienced before this trip was in the US. Being able to learn and perform in China has allowed me to expand my views and be more open to new ideas.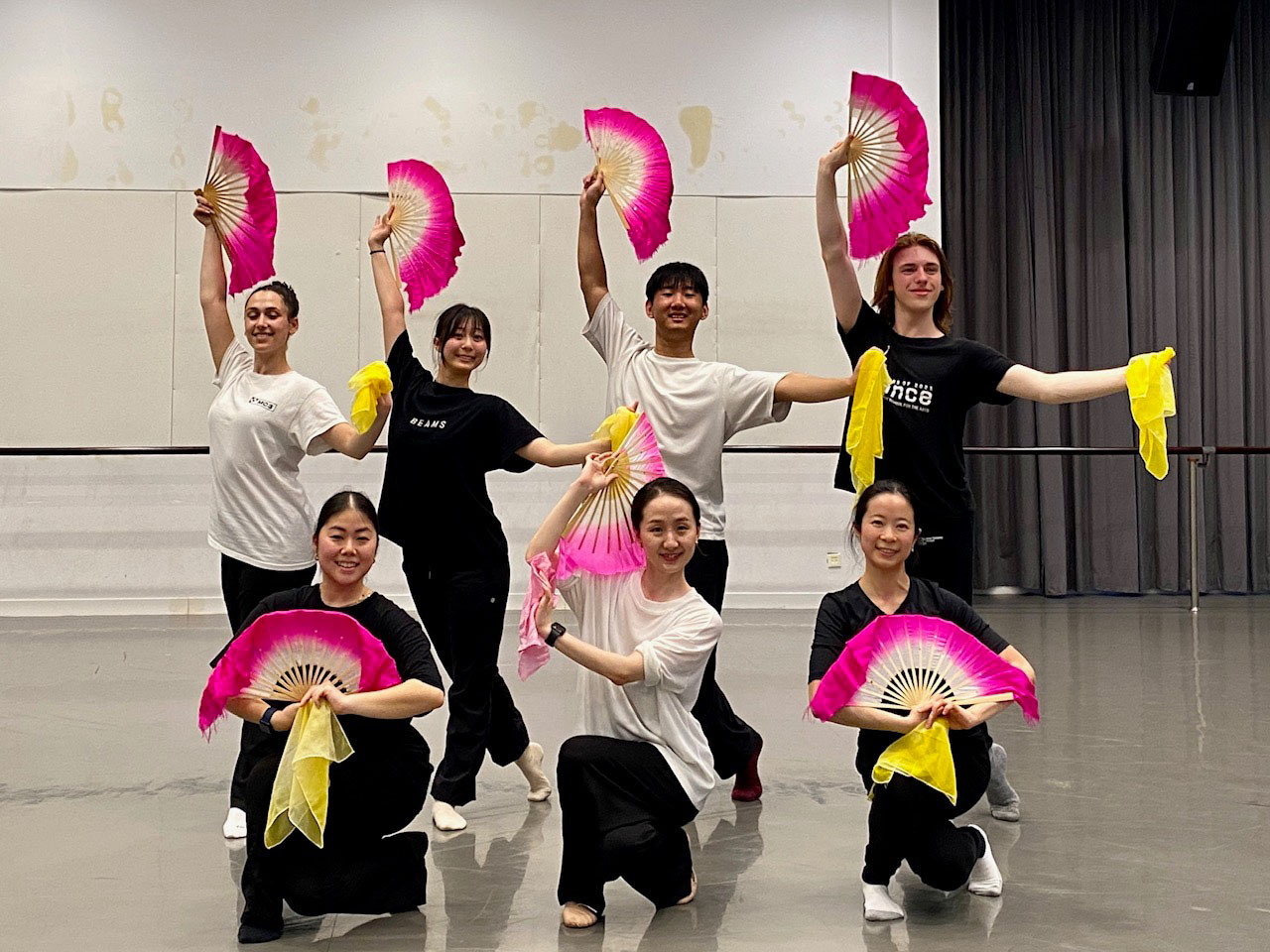 SMTD students and Professor Miao in a class on Chinese folk fan dance at the Shanghai Theatre Academy
Nana Otaka (BFA '23, dance; BA '23, psychology)
Over the course of ten jam-packed days, I experienced more than I ever thought I could while abroad for such a short period of time. We were fully immersed in the culture from the very beginning, and I was taken aback by how many similarities I found between Chinese culture and my own cultural background. Learning to dance with traditional props like swords, handkerchiefs, and fans in such an intimate and comfortable environment was thrilling – it emphasized how difficult and taxing yet so incredibly breathtaking dance can be, and how integral cultural understanding and competence are to the essence of dance.
Traveling and performing in Shanghai and Harbin was truly an eye-opening experience, not only in regards to dance but also in relation to culture and humanity, and I feel so incredibly privileged to have gone on this adventure with such a wonderful cohort. Sharing a space and community with your fellow dancers and the audience is already such a unique and rewarding feeling, but to do that in an entirely different country (twice!) was nothing short of euphoric. I have nothing but deep gratitude for everyone who made this trip possible, and I walk away from my undergraduate experience feeling as though I've left a little piece of my heart in Shanghai.
Kevin Wang (BFA '23, dance; BSE '23, materials science and engineering)
The last time I went to China was in the summer of 2019, during which I was not able to go to Shanghai. To be able to return to China and also be able to perform and teach dance was an opportunity that I thought would never happen. I found it interesting to learn how different college dance programs in China are from the US. It was amazing getting to interact with the students at the Shanghai Theatre Academy and also to watch some of them perform in their showcase. The students were a blessing to teach and were really curious and attentive to the new style I was teaching them. I also got to live out my childhood dream of learning how to sword dance.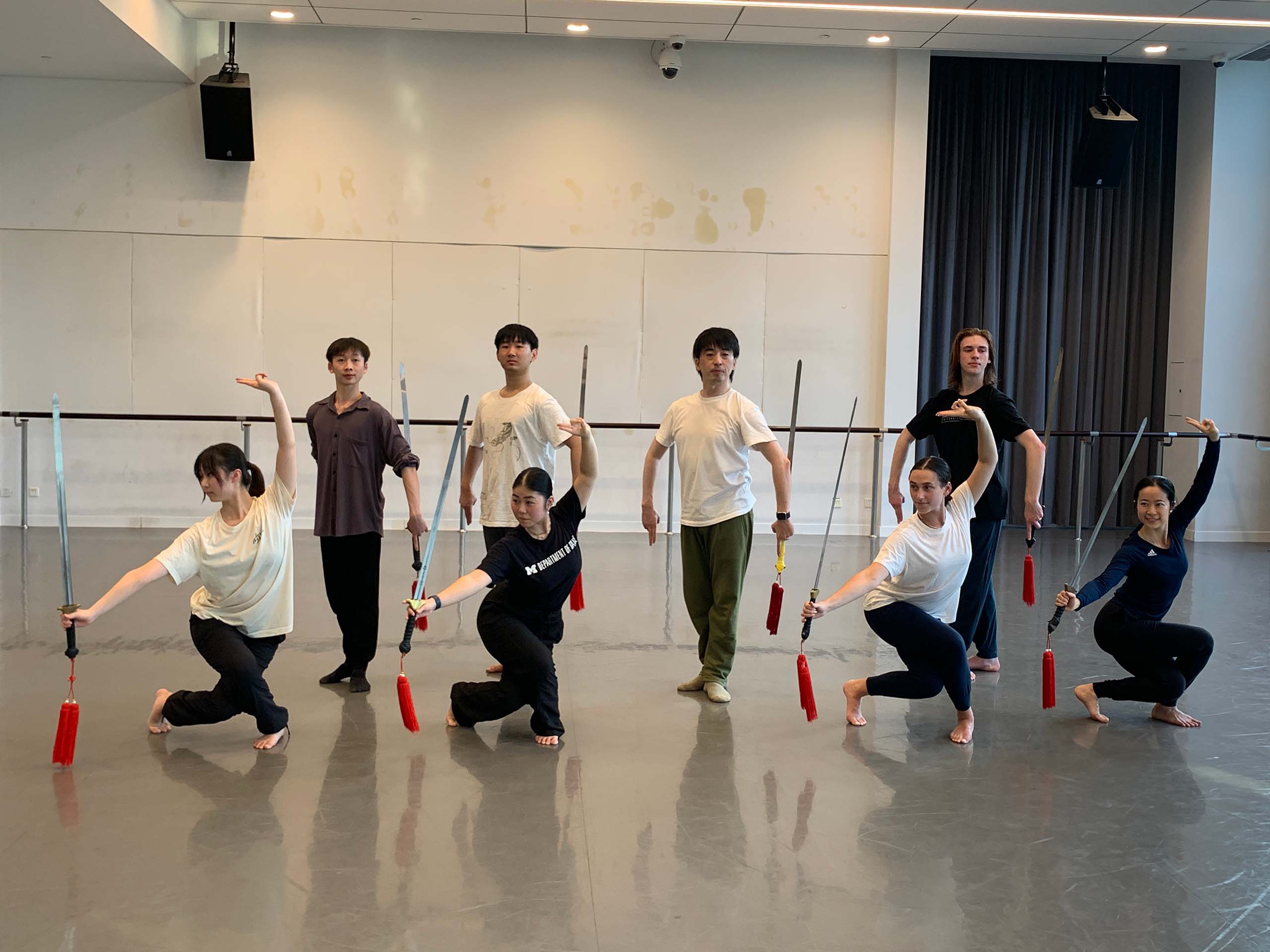 SMTD students and Professor Miao study sword dance at the Shanghai Theatre Academy