On Saturday, April 8, the 2023 Dale and Nancy Briggs Chamber Music Competition was held in Britton Recital Hall. The Briggs Competition was created to encourage the excellence of chamber music performance at SMTD and to provide performance opportunities for small ensembles. It is named in honor of its benefactors and evolved from the Dale and Nancy Briggs Chamber Music Endowed Enrichment Fund, established in 2004 and endowed in 2006, to support program and/or scholarship needs in chamber music. "We are incredibly grateful for the Dale and Nancy Briggs Chamber Music Enrichment Fund," said Amy I-Lin Cheng, assistant professor of music and piano chamber music coordinator. "This important gift from the Briggs family continues to make an impact on the growth of chamber music culture at SMTD."
The timing of this year's competition was especially poignant, taking place a few days after the passing of Nancy Briggs, who died on March 27, just over seven years after the death of her husband Dale.
The competition jury consisted of Rieko Aizawa (piano), of Horszowski Trio and the Longy School of Music and Brooklyn College; Estelle Choi (cello), of Calidore String Quartet and the University of Delaware; Joseph Lulloff (saxophone) of Capitol Quartet and Michigan State University; Jannina Norpoth (violin), of PUBLIQuartet and the Colburn School; and Jeff Scott (horn), former member of Imani Winds and of Oberlin Conservatory.
SMTD is pleased to recognize this year's winners.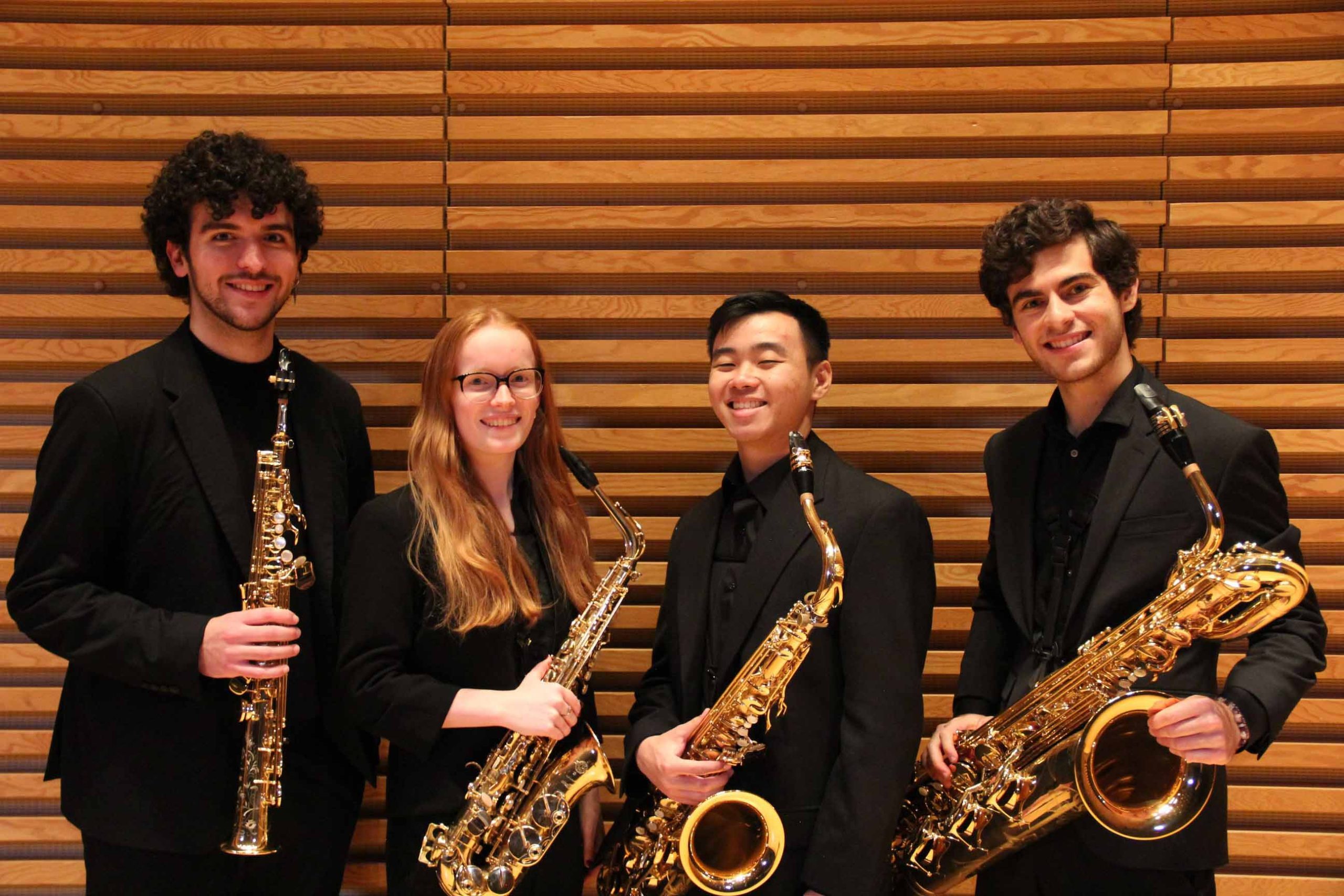 The Cerus Quartet (from left): Roberto Campa, Laura Ramsay, Kyle Kato, and Samuel Dishon
First prize and the Michigan Composition Prize were won by the Cerus Quartet, which consists of Roberto Campa (BM '23) on soprano saxophone, Laura Ramsay (BM '24) on alto saxophone, Kyle Kato (BM '24) on tenor saxophone, and Samuel Dishon (BM '24) on baritone saxophone. To be considered for the Michigan Composition Prize, which is given to the best performance of a piece written by a current or former SMTD composition student, the Cerus Quartet performed "Extrovert," the first movement of Ambivert, a composition by Karalyn Schubring (BM '20, composition, piano, media arts).
"We are honored and excited to have been named the winner of the 2023 Briggs Chamber Music Competition," stated the Cerus Quartet. "We commissioned Karalyn to write [Ambivert] over this past school year, so it was incredibly special to be able to showcase it to win the Michigan Composer Prize at the competition. We're so grateful to Dale and Nancy Briggs for having made this competition a reality!"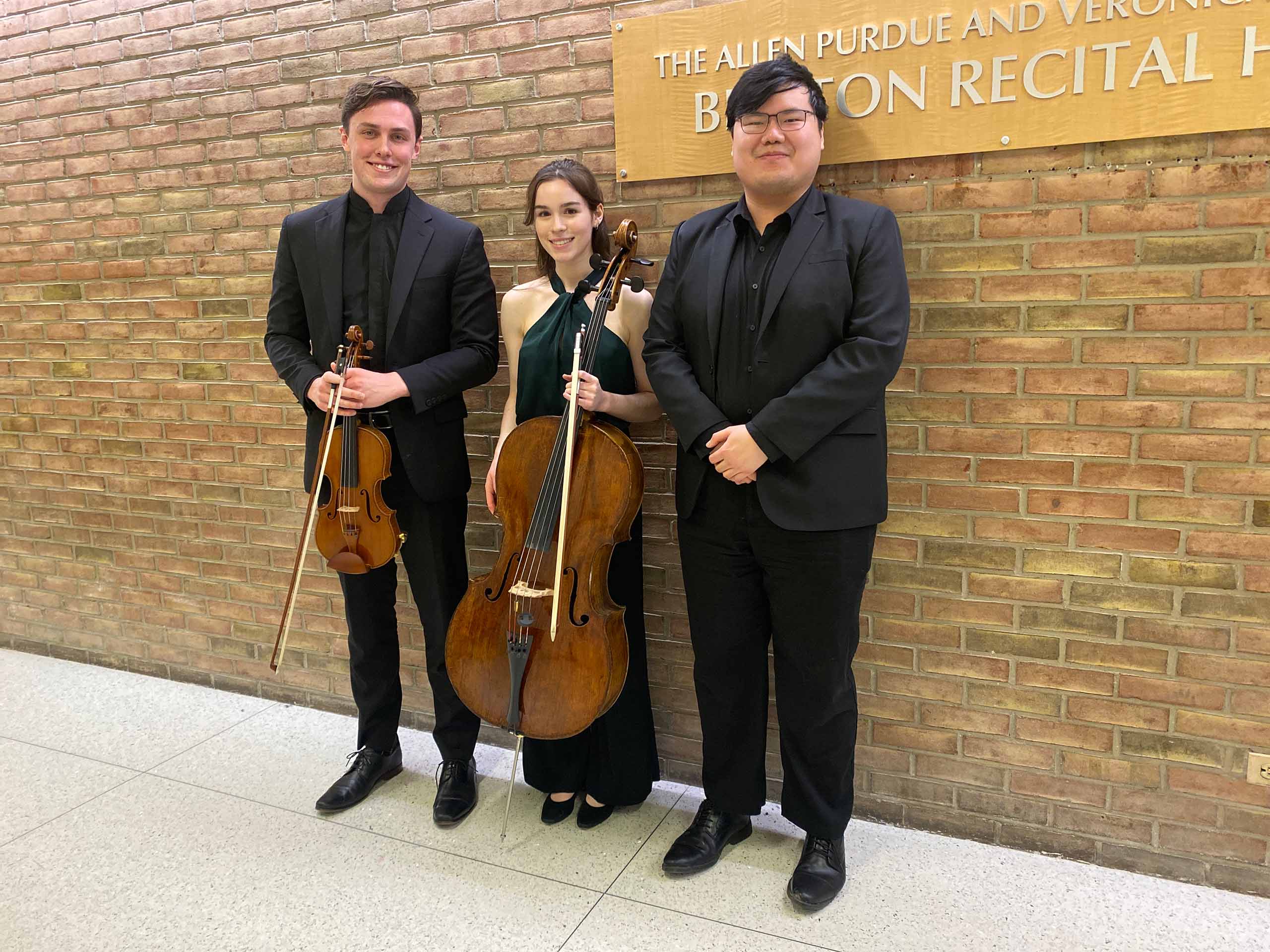 Trio Amabile (from left): Jordan Bartel, Emma Cary, and Tan Tzu Kuang
Trio Amabile – with Jordan Bartel (MM '25) on violin, Emma Cary (BM '23) on cello, and Tzu Kuang Tan (SM '23) on piano – won second prize in the competition. "It is a huge honor to place second in the Briggs Competition (for the second year in a row!)," the trio stated. "We have loved to be part of an institution with an intense love for chamber music, and to participate in music making among so many incredible ensembles. We'd like to give special thanks to Professors Aaron Berofsky and Richard Aaron for their generous time and expert guidance. Most of all, we are endlessly grateful for our coach, Professor Amy I-Lin Cheng, who has gone above and beyond mentoring all three of us personally, collectively, and especially musically the past two years."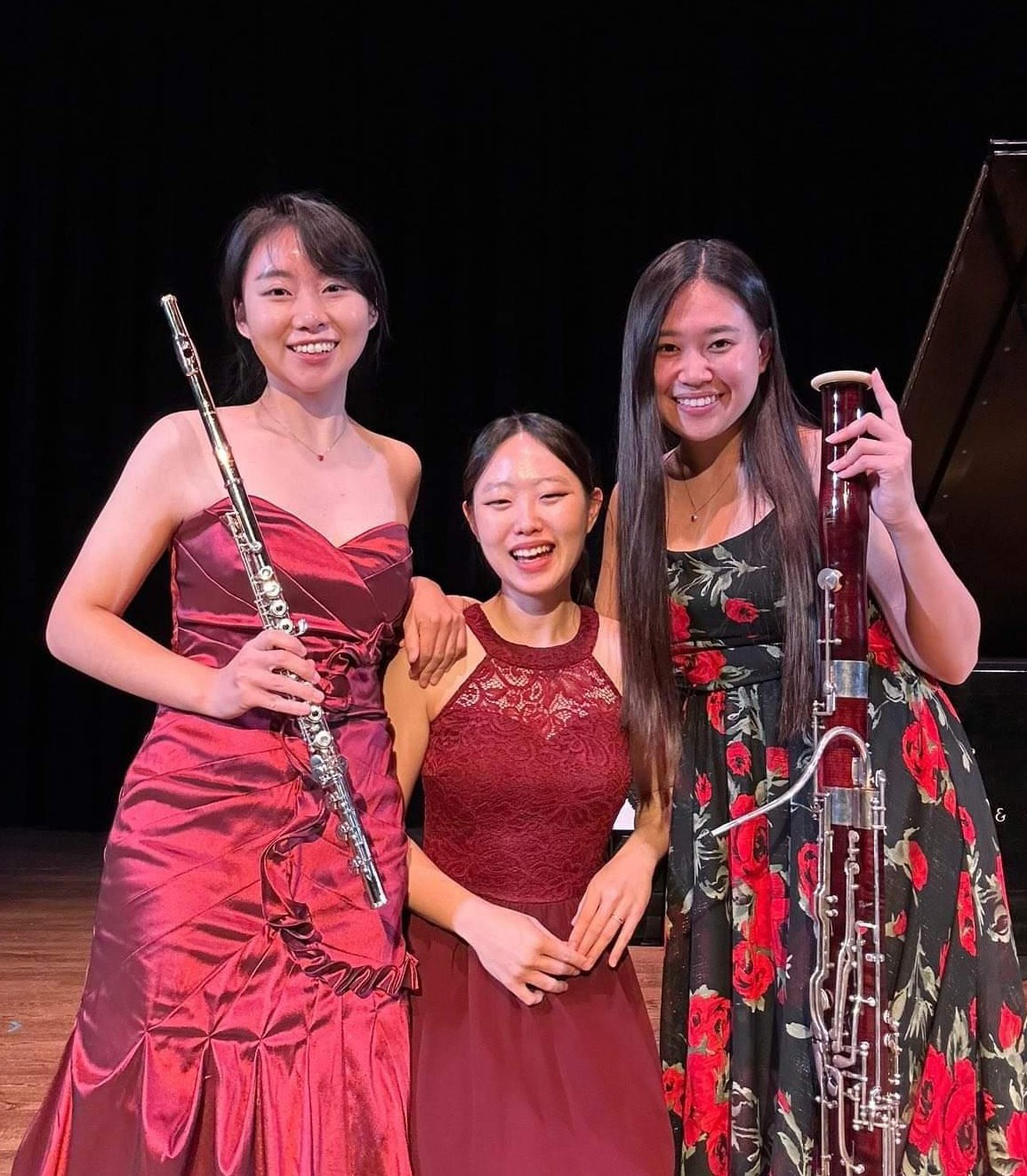 Trio Blank Slate (from left): Minseo Kim, Hyerim Lee, and Heeseung Lee
Third prize went to Trio Blank Slate, with Minseo Kim (MM '23) on flute, Heeseung Lee (MM '23) on bassoon, and Hyerim Lee (DMA '23) on piano. "This prize means so much to us because it proved the work and effort we put in," the trio stated. "We appreciate the opportunity to be a part of the Briggs Chamber Competition and share our music with the judges and the audience. We are proud to receive this after all the rehearsals, performances, and competitions – what a great way to end the academic year! We want to thank our coaches, Dr. Jeffrey Lyman, Dr. Amy Porter, Dr. Christopher Harding, and Dr. Amy Cheng for all the support and for making this possible!"
Honorable mentions were awarded to Trio Selene, which consists of Anda Jiang (BM '26, violin), Jackie Hager (BM '23, cello), and Helen Bryant (BM '23, piano), and A2ba, which consists of Kevin Fenske (MM '24, chamber music; DMA '24, euphonium), Lindsay Ring (MM '23, euphonium, chamber music), Will Halloran (MM '24, tuba, chamber music), and Nathan Shook (SM '24, tuba).
In summing up the 2023 competition, Cheng said, "The 2023 Briggs Chamber Music Competition featured 10 exceptional chamber ensembles, performing works by 28 composers of diverse backgrounds, including three world premieres. Each group worked closely with one or more faculty coaches in preparation for the competition. The chamber ensembles showcased their excellent teamwork in a collaborative spirit and shared their passion for chamber music with the audiences throughout the competition. It was truly an exceptional event!"