Department of Chamber Music
The Department of Chamber Music supports the work of 60+ student chamber music groups every semester, including students studying woodwinds, brass, strings, piano, and voice from the undergraduate through doctoral degrees. These groups receive weekly coachings from artist faculty, perform for one another and guest clinicians through a series of Chamber Music Forums, and showcase their work during live streamed end of semester Chamber Fests. Organizing and running their own rehearsal schedules allow these groups to take artistic and logistical responsibility for their unconducted ensemble work in multiple genres branching from the traditions of western classical music – not just music of the eighteenth through twentieth centuries, but also new music, renaissance to baroque music, bluegrass, improvisation, and more.
Faculty
The current chair is Matt Albert (he/him), the founding violinist/violist of Eighth Blackbird, the GRAMMY-winning new music sextet. The chair collaborates with five coordinators who oversee the group formation, coaching assignments, and repertoire choices for students in their respective areas. This structure allows the chamber music faculty to serve students cross-departmentally, supporting a wide variety of groups in a single pedagogical structure.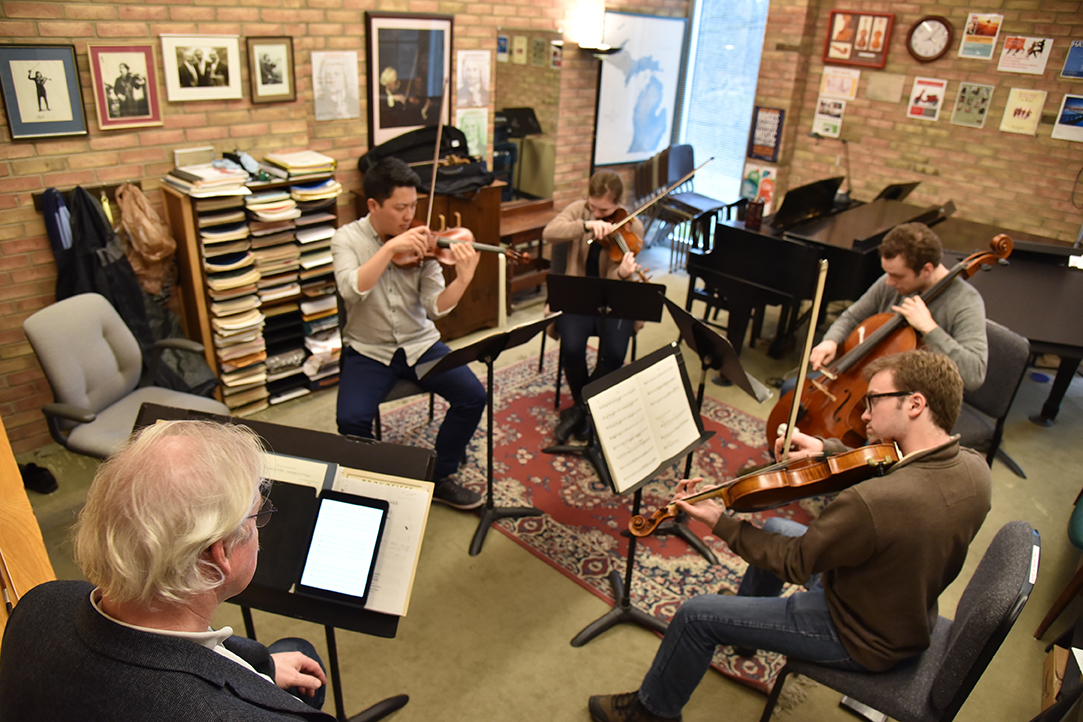 Specialist in Music
Designed for pre-formed groups at the early stages of their professional career.
Performance Opportunities
The thriving chamber music scene at SMTD offers students nearly limitless options to perform, innovate, and collaborate in small, self-driven, and diverse ensembles.
Small ensembles from the traditional to the new.
Mixed ensembles including any combination of strings, winds, piano, percussion, and voice
ensembles studying different styles: roots music, improvisation, commissions, and more.
Chamber Arts Ensemble, an advanced course providing a nose-to-tail experience of putting on mixed media events.
Competition Opportunities
Launched in 2014, with guest judges selecting winners from groups representing the breadth of SMTD's chamber music offerings, the Briggs Competition is open to any instrumentation/voice types in unconducted groups of 3-10 members. Every member of an entering group must be enrolled at the University of Michigan in the winter semester of the competition.
Show Your Support
Any gift to SMTD helps launch the next generation of artists, scholars, educators, and entrepreneurs who challenge and inspire the world.
You can support the Department of Chamber Music with a contribution to the
Explore our Campus
Meet the people who make up this dynamic community.
Apply Now
Most applications for 2024-2025 are due by December 1 - check for exact dates on the appropriate admissions page below.
Program Costs, Financial Aid & Scholarships
Explore the many options available to make Michigan an affordable choice.