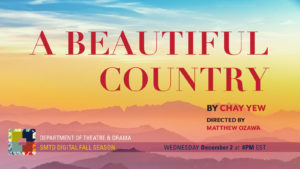 A Beautiful Country
By Chay Yew
with additional monologues written by
Alexandra Lee and Amanda Kuo
Department of Theatre & Drama
Premiered Wednesday, December 2, 2020 on YouTube
Recorded in October 2020 | Arthur Miller Theatre (and various remote locations)

Using dance, drag, drama, and documentary elements, A Beautiful Country chronicles 150 years of Asian-American immigration history. Miss Visa Denied, a transgender drag queen and performer, is the narrator who guides the audience through the turbulent history of Chinese, Filipino, and Japanese people coming to America. Heartfelt testimonials and the dramatization of some highly vibrant and egregious pieces of propaganda showcase the provocative events that have shaped this history. Addressing issues of race, gender, and appropriation, this play examines the fundamental questions surrounding the immigrant experience, including what it means to be an American.
A Beautiful Country was first produced in 1998 by Cornerstone Theater Company, in association with the Mark Taper Forum's Asian Theatre Workshop and East West Players, at Castelar School in Los Angeles' Chinatown. Playwright Chay Yew recently served as the artistic director for the Victory Gardens Theater in Chicago, and has won an Obie and DramaLogue Award for Direction. His productions have been listed as one of the "Ten Best Productions of the Year" by both the Los Angeles Times and New York Times, and Best Achievement in Theatre by the Seattle Times. While the topic is serious, Yew shows his theatrical flair by many outlandishly funny moments and outrageous situations.
This production was filmed over two weeks in the Arthur Miller Theatre and various remote locations according to the School of Music, Theatre & Dance's approved safety plan. All safety protocols for the performing arts to prevent the spread of Covid 19 were observed. The production will receive its premiere on Facebook and be available for one week on YouTube beginning on Wednesday, December 2nd.

Cast
Miss VISA Denied: Morgan Bo
VISA Voice: Ciale Charfauros
VISA Soul / Chinese Singer /Ah Ma: Kirsten Mossberg
Immigration Officer MC / Frank Blaine: William Pratt
Kristina Wong /Sam Gin / Lily Chin: Alexandra Lee
Ah Coy Chinaman / Chinese Model / Man: Aaron Klein
Lizzie Blaine / Dora Blaine / Guard: Alyssa Melani
Gunner Lindberg / William Blaine / Josephine / Guard: Jonathan Hull
Dance Hall Singer / Guard: Kendall Young
Mary / Lam Woo / Girl: Charlotte B. Um
Elizabeth Tan / Visa's Mother / Woman / Slim Chunk Pin: Amanda Kuo
Filipino Worker /Japanese Model / Yoshi: Erik Dagoberg
Jose Casas /Ralph / Geraldine: Adam Ortega
Dance of LA Massacre Refugee: Steven Jean
Music Performers
Erhu: Yinan Qui
Guzheng: Shuang Di Zhang

Artistic Staff
Director: Matthew Ozawa, Guest Director
Assistant Director: Samantha Estrella
Scenic Designer: Gary Decker, UM Faculty
Lighting Designer(Spring): Joseph Walls
Lighting Designer (Fall): Kathleen Alexandrou
Lighting Design Advisor: Rob Murphy, UM Faculty
Sound Designer: Marty Flake
Composer / Music Arranger: Faulkner Bodbyl-Mast
Associate Sound Designer: Rishane Oak
Associate Sound Designer: Aaron Willette
Sound Design Advisor: Henry Reynolds, UM Faculty
Costume Designer: Carly Behrendt
Costume Designer Advisor (Spring Only): Christianne Myers, UM Faculty
Wig Designer (Spring Only): Brittany Crinson
Associate Costume Designer: Sarah M Oliver, UM Faculty
Video / Projection Designer: Rhett Shepherd
Animation Designer: Kirsten Mossberg
Dramaturg: Lio Riley, Caroline Uy
LA Massacre / Refugee Choreographer: Steven Jean
Vogue Choreographer: Alexandria Davis
Visa Vogue Choreographer: Morgan Bo
Josephine & Geraldine Choreographer: Charlotte B. Um
Fan Dance Choreographer: Grace An
Tai Chi Choreographer: Darryl Mickens
Fight Choreographer: Nathan Correll
Fight/Int. Choreography Advisor: Christina Traister, UM Faculty
Voice, Dialect Coach (Fall): Judith Moreland, UM Faculty
Voice, Dialect Coach (Spring): Kris Danford, UM Faculty
Production Stage Manager (Fall), Assistant Scenic Designer (Spring): Angela Salazar
Production Stage Manager (Spring): Briona Reed
Stage Management Advisor: Nancy Uffner, UM Faculty
Video Production
Jamison Eisele, Sly Pup Production
David Newton, Sly Pup Production
Tom Bray, Digital Media Commons, Duderstadt Center
Presented with Permission.

Resources
A Beautiful Country references and depicts many real historical events. Caroline-Michele Uy (BFA '20, design & production) created a timeline to illustrate the sequence of events.