Bio
Clarinetist William King maintains an active and varied career in music. He is the coordinator of woodwind chamber music at the University of Michigan and holds the 2nd/bass clarinet chair (tenured) with the Michigan Opera Theatre Orchestra. He is a member of the River Raisin Ragtime Revue, an ensemble dedicated to performing the music of America's first popular repertoire, and he performs every August at the Michigan City (IN) Chamber Music Festival.
A native of Pittsburgh, King has a Doctor of Musical Arts degree from the Eastman School of Music, University of Rochester, a Master of Fine Arts degree from Carnegie-Mellon University, and a Bachelor of Music degree from Arizona State University. He performed as extra clarinet with the Pittsburgh Symphony for eight years, and has performed with the Cincinnati Symphony, the Colorado Symphony, the Phoenix Symphony, the Brevard Music Center Festival Orchestra, the Bedford Springs Music Festival Orchestra, the Pine Mountain Music Festival Orchestra, and the Strings in the Mountains Festival of Music.
King has held tenured positions in the Pittsburgh Ballet Theatre Orchestra, where he played principal clarinet for four seasons, the Illinois Symphony, and Sinfonia da Camera, and has performed in many of the local orchestras throughout southeast Michigan, northwest Ohio, and western Ontario.
Past teaching appointments include Hillsdale College, Oakland University, Millikin University, the University of Illinois, Illinois State University, Illinois Wesleyan University, Ithaca College, and the University of Pittsburgh.
In 2008, King established the Ann Arbor Clarinet Connection, an Authorized Buffet Crampon Pro-House Dealership specializing in hand-selected clarinets. He lives in Ann Arbor with his wife, oboist Nancy Ambrose King, and their two sons Ryan and Trevor.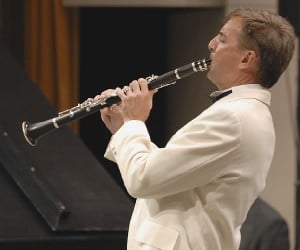 Education
Education
BM, Arizona State University
MFA, Carnegie-Mellon University
DMA, Eastman School of Music