Music, Theatre, & Dance Classes
Enjoy your fall 2023 semester with inspiring courses from SMTD!
Looking for a Fun and Refreshing Elective?
Learn to dance, sing in a choir, meditate, act, or compose music
Take classes from beginning guitar and rap songwriting to hip hop dance and the history of pop music
Escape the day-to-day stress with a fun, relaxing, creatively recharging class
Explore your talents! You can add a music minor to your degree with only 15 credits of mainly electives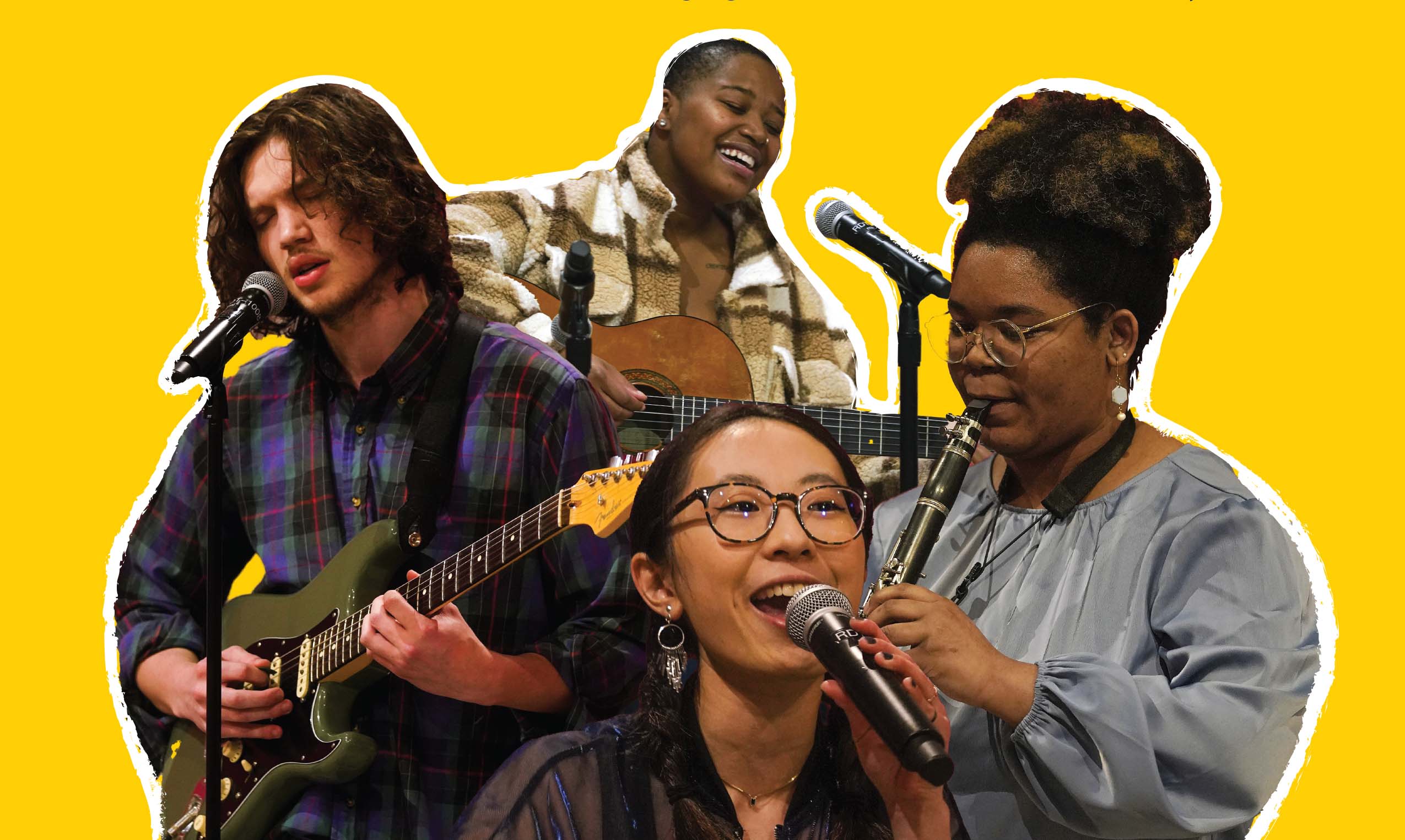 Add a Minor to Your Degree with as Few as 15 Credits
Fall 2023 Courses
Open to All U-M Students • No Experience Needed
THTREMUS 101: Intro to Acting
Designed to help students develop and strengthen acting skills, this course will cover techniques to enhance self-awareness, sensory awareness, and spatial awareness and will explore strategies to help develop characters and create stories.
ARTSADMN 406/506 Sec 002: Critical Issues in Classical Music
This seminar-style course will address issues including power relationships, race, gender, class, the roles of art and artists in society, public policy, audience behavior, and the future of classical music institutions.
ARTSADMN 406/506 Sec 003: Ethics in Arts Leadership
This course will explore the role of ethics in the practice of arts leadership, aiming to empower students in developing their own leadership philosophy viewed through the lens of ethics and moral obligation to their planet, communities, cultural organizations, society, and themselves.
ARTSADMN 406/506 Sec 004: Arts in Community Engagement
This class introduces students to the practice and theory that cultural organizations use for arts-based community engagement initiatives. In addition to coursework, students will complete 50 hours of service learning fieldwork with a cultural organization.
DANCE 100: Intro to Dance
100.001 – Non-major Somatic Floorwork
This class will use floorwork to explore basic movement patterning, to increase movement variability, and to develop healthy joints. The goal is to provide resources for the development of the student's own research and practice and to invoke a sense of play when confronting chaos and complexity.
100.002 – Non-major Bollywood
A worldwide but distinctly South Asian phenomenon named after the film genre, this dance form incorporates and blends multiple styles of dancing to create what's known as Bollywood. This high-energy dance class will cover various kinds of Bollywood dancing through short pieces and will include watching some iconic Bollywood dance videos.
100.003 – Non-major Ballet
This class invites novice and practiced dancers to use the form of ballet to explore personal artistry, musicality, and joy. Class will begin at the barre, investigating weight transfer, dynamics, and prioritizing safe anatomical alignment. Then those movement fundamentals will be incorporated in adagios, waltzes, petite allegro, and dancing with each other.
100.004 – Non-major Modern
This class explores modern dance and is taught by dance students enrolled in DANCE 481.001.
100.005 – Afro-Caribbean
This course studies the various folkloric dance forms of the Caribbean, particularly those of Cuba, Haiti, and Brazil.
100.006 – Non-major Afrobeat Jam
Afrobeat embraces elements of African music, jazz, soul, and funk. The purpose of this course is to help students grasp the basics while keeping the flow, beat, rhythm, and vibe or "feel" of this dance form.
100.007 – Non-major Modern
This contemporary technique course will use improvisation, somatic exploration, and set phrase work to explore the flow between the mind and the body. Students can expect to investigate the range of sensations and sensitivities present in the joints and hidden muscles in each class. In the final week of class, improvisational and contemporary combinations will be presented to friends and family.
100.008 – Non-major Expressive Dance
In classical Indian dance, "abhinaya" is known as the practice and philosophy of expressive dance and theatrical storytelling. In this course, through play, experimentation, and practice, students will uncover the various modes of expression : embodiment, voice, costume, and emotive illustration.
100.010 – Non-major Improvisation
Through methods based in dance and theatre, this course will explore movement improvisation as a method for thinking about self, each other, and the world. This class will prioritize the internal experience of the participants, experimenting with movement through imaginative physical exercises and reflective conversation.
100.011 – Congolese
This course will explore traditional dances of the African Congo.
100.012 – Non-major Intro to Krump
Created in South Central Los Angeles in the late '90s/early '00s, Krump has since developed into a culture that is replicated around the world. This course will explore the foundation of Krump as a dance, techniques used to improvise, and the history and traditions of this vibrant culture.
100.013 – Non-major Modern
This class explores modern dance and is taught by dance students enrolled in DANCE 481.002.
100.014 – Hip Hop
This course, designed for experienced and non-experienced hip-hop dancers, will explore the history of hip-hop culture, its evolution as a social movement, and its influence on today's social dance concepts. Students will learn the foundational elements of various styles within this dynamic dance genre.
DANCE 444: Dance Across Borders
This upper division and graduate-level seminar explores diverse dance cultures' global travel and relocation through the lens of dance and transnationalism. (Non-dance majors need to contact Katie Gunning for an override.)
Arts Chorale
A mixed choir, the Arts Chorale is open to any student at the University of Michigan and most members are not music majors. No audition is required; all are welcome.
University Band
Repertoire for University Band, which uses full wind ensemble instrumentation, consists of mainly grades 5 and 6 and is the more advanced of the non-major concert bands. Audition is required for placement. All interested students should enroll in ENS 346.001.
Campus Band
Repertoire for Campus Band, which uses full wind ensemble instrumentation, consists of grades 3 to 5. Playing assessment for part assignments only; everyone with experience playing a band instrument is welcome to join. All interested students should enroll in ENS 346.002.
The Campus Symphony Orchestra and Campus Philharmonia Orchestra offer a welcoming and collaborative environment for non-music majors, and an opportunity to perform an exciting and diverse variety of great orchestral music on the famed Hill Auditorium stage.
The University of Michigan Gamelan Ensemble is open to all, regardless of musical training. The group will learn how to play pieces on different instrument groupings from Java and Bali, Indonesia, with repertoire ranging from traditional works to contemporary compositions.
The University of Michigan's guitar ensemble, open to all guitarists, is a supportive/collaborative environment where students will learn how to perform with other guitarists and work with a conductor.
Open to all U-M students by audition, the Hockey and Basketball bands support their respective sports at all home games and selected tournament games.
Open to all U-M students by audition, the Michigan Winter Ensemble is a competitive color guard performance group that performs and competes in the MCGC circuit.
Out of the Blue is the University of Michigan's prison outreach choir, a collaboration between PCAP and SMTD, overseen by Dr. Eugene Rogers. Students from across the university, alumni, and community members are encouraged to participate in the ensemble. Members can enroll as an official class either through SMTD or the Residential College, or they can join as a club.
The Men's Glee Club welcomes you to audition for our 164th season serving as ambassadors of song. The coming year will be particularly special as we will tour to South America in May 2024 (optional for Glee Club members). The Men's Glee Club welcomes all male-identifying and non-binary students who sing tenor or bass to audition. Fall 2023 MGC Audition Information.
The Women's Glee Club is a choral ensemble representing undergraduate and graduate women from diverse fields across the U of M campus. Composed primarily of non-music majors, WGC gives female students the opportunity to express their love of music through performance, community outreach, and travel. Fall 2023 WGC Audition Information.
THTREMUS 478: Global Adornment & Attire
This course encourages the student to think critically about connections between the global history of clothing and the complexities of race and ethnicity in cultural contexts, while fostering an appreciation for the interconnected nature of the diversity in adornment and dress.
Guitar 110: Intro to Guitar
This introductory course in popular guitar style will teach students essential performance skills while building a deeper understanding of the cultural importance of the guitar in popular music. No prior guitar experience needed to enroll.
Guitar 111: Intermediate Guitar
This intermediate guitar course will teach students continued technical and performance-based skillsets on the instrument. Guitar 110: Intro to Guitar or comparable guitar experience recommended.
Guitar 112: Advanced Guitar
This advanced guitar course will explore in detail key guitarists throughout the diverse history of the popular music genre. A "case-study" approach will be taken to introduce the varied techniques, chord structures and melodic soloing styles of guitar greats such as Robert Johnson, Jimi Hendrix, Jimmy Page, B.B. King, and Joni Mitchell, to name a few. Guitar 111: Intermediate Guitar or comparable guitar experience recommended.
GUITAR 150: Individual Studio Lessons
Private studio guitar lessons are available to all university students and are tailored to meet students' specific interests and goals on the instrument. A range of engaging topics will be explored in detail from week to week while developing performance based skills on the guitar. Guitar 112: Advanced Guitar or equivalent experience recommended prior to enrolling.
MUSICOL 123: History of Popular Music
This course offers a broad survey of 20th-century popular music, exploring a diverse set of genres from the Tin Pan Alley era to the present. Designed to develop listening and analytical skills, the course aims to help students understand, describe, interpret, and write about popular music.
MUSICOL 345.001: History of Music
This introduction to European music from the Middle Ages to the mid-18th century helps students become familiar with the basic musical forms, styles, and structures of the pre-modern era. It also reflects on the role and significance of music in relation to contemporaneous issues of power structures, race and gender dynamics, and coloniality.
MUSICOL 345.002: Protest Music of the US
This course will introduce students to the history of US protest music from the 19th century to the present day, concentrating on key political movements and their revolutionary soundtracks.
MUSICOL 345.003: Bollywood Sounds
Bollywood, the Hindi cinema of India, is internationally known for its vibrant song and dance sequences. This course will explore Bollywood song and dance as it has changed through the years and circulated in live form around the globe.
JAZZ 450/550: Contemplative Practice
450/550: The Contemplative Practices Seminar
This seminar introduces sitting meditation and includes journaling, walking meditation outdoors, and contemplative reading.
455/555: Nature-based Contemplative Practice
This seminar introduces nature-based contemplative practices, which deepen our connection with the natural world by expanding our conversation with the elements.
454/554 Special Topics/"Finding Your Way"
This is a course in contemplative journal writing. Through guided, reflective writing based on weekly prompts, this course helps students explore life-path questions.
COMP 221: Intro to Elements of Composition
It's easy to take for granted that behind all music is at least one person who sat down and composed that music. In this course, students will become familiar with the practical aspects of composing – the process of thinking, listening, and working like a composer.
COMP 233: Self-Accompanied Singing Songwriting Seminar
Self-accompanied singing is an invaluable skill for any music maker in any circumstance. This course involves creating original songs to further the skill of self-accompanied singing.
THEORY 137: Intro to Music Theory
This course provides a broad introduction to the basics of music theory, designed for students who are not music majors. The course will begin with a thorough review of the fundamental concepts of music and then will apply these fundamentals to understand more complicated music-theoretic topics. The final goal of the course will be for students to write a song complete with words and instrumental accompaniment.
PAT 200: Intro to Electronic Music Production
This course is for students not majoring in Performing Arts Technology who are interested in electronic music composition, production, and performance.
The Piano 110 non-SMTD course is designed for non-music majors who are interested in learning beginner piano skills in a group class. No prior experience is required.
The Piano 111 non-SMTD course is a continuation of Piano 110. This course is designed for students looking to continue their piano study, or for non-music majors with some prior piano playing experience to further their skills in a group setting.
PIANO 150: Advanced Individual Studio Lessons
This course is designed to provide non-SMTD students, ranging from beginner to advanced, with private piano instruction. Students will receive a 30-minute lesson with a graduate student instructor each week.
PIANOLP 401/501: Piano Tuning and Technology
The course will provide an overview of piano design, construction, tuning theory, regulation, voicing, and rebuilding. Whether students are interested in becoming a skilled technician or simply seek a deeper appreciation for pianos, this course offers a greater understanding of how these incredible instruments actually work.
MUSIC 210: Rap History & Songwriting
This course will focus on message, intentionality, and style, while allowing participants to explore their own artistic expression through hip hop and spoken word. No experience is necessary.
THTREMUS 437/637 Sec 001: Theatre Pedagogy
This course explores teaching drama/theatre in the secondary school and in higher education and applies drama-in-education techniques across a variety of learning environments. The course explores ways to approach theatre in teaching and learning that promotes a student-centered, curiosity-driven environment and considers a variety of cognitive and learning styles.
PAT 305: Video Game Music
This course charts the evolution of video game music from the first synthesized "bleeps" and "bloops" of early games to the present. The course culminates with a creative final project: composition of video game music.
VOICE 111: Beginning Voice Class
VOICE 150: Individual Studio Lessons
WELLNESS 412: Yoga for Performers, Dancers & Athletes
This class is an introduction to yoga fundamentals and their application to athletic/dancer fitness and performance.